Printer-friendly version
This recipe for cranberry cookies makes the most delicious, soft cookies!  These cranberry cookies are full of bright flavor, and aren't too sweet.  They're a wonderful addition to any holiday cookie tray.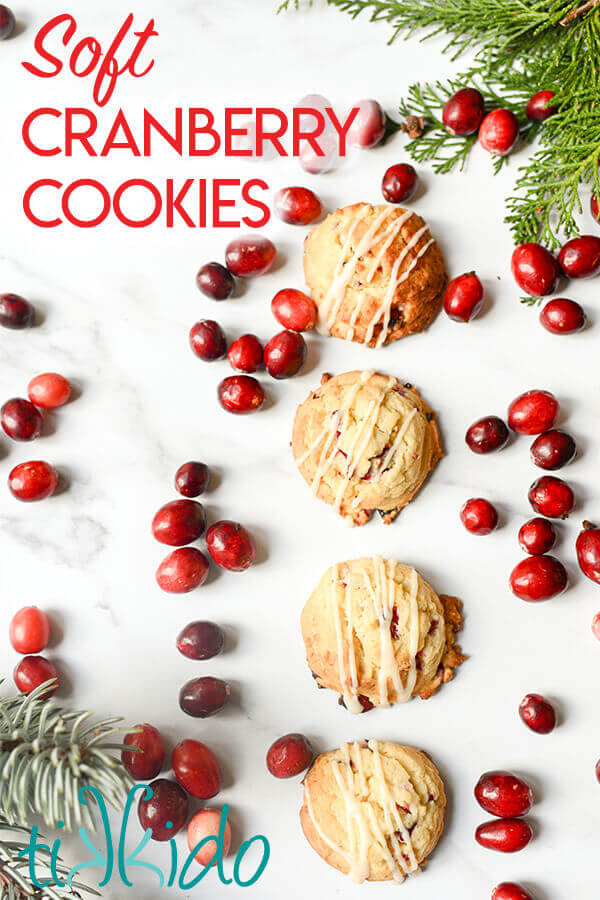 This month for the Taste Creations Blog Hop, our theme is cranberries!  I absolutely love the tart fruit!  I've had crisp cranberry cookies before (and in fact, one of the recipes in this blog hop is an amazing orange cranberry shortbread), but I'm a sucker for soft cookies, so I decided to develop a soft cranberry cookie recipe.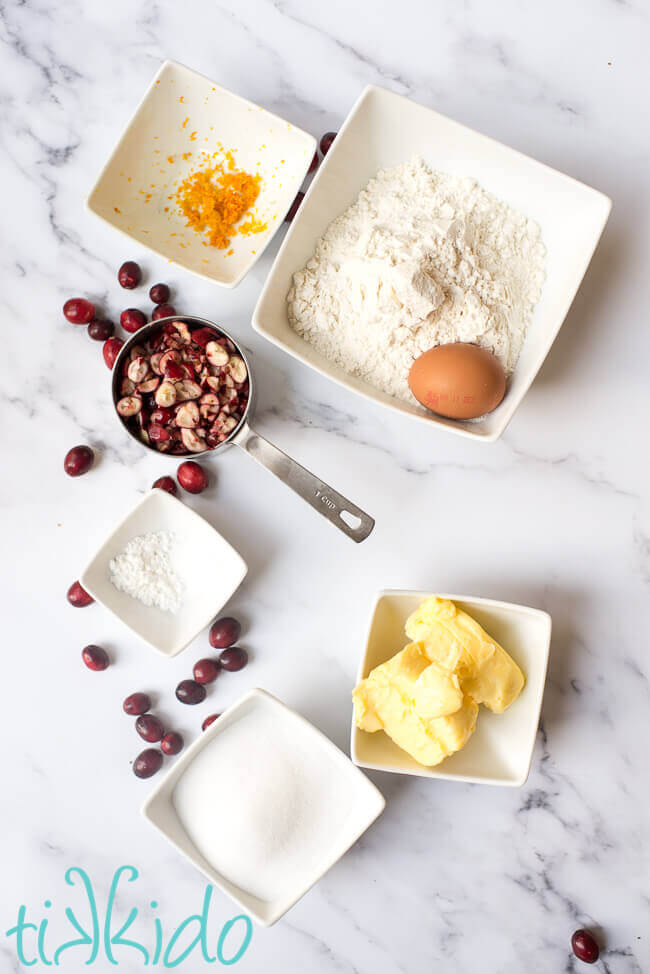 Cranberry Cookie Recipe:
2 cups flour
1 teaspoon baking powder
1/2 teaspoon salt
3/4 cup butter, softened
1 egg
3/4 cup sugar
1 teaspoon vanilla
zest of one orange
1 cup chopped cranberries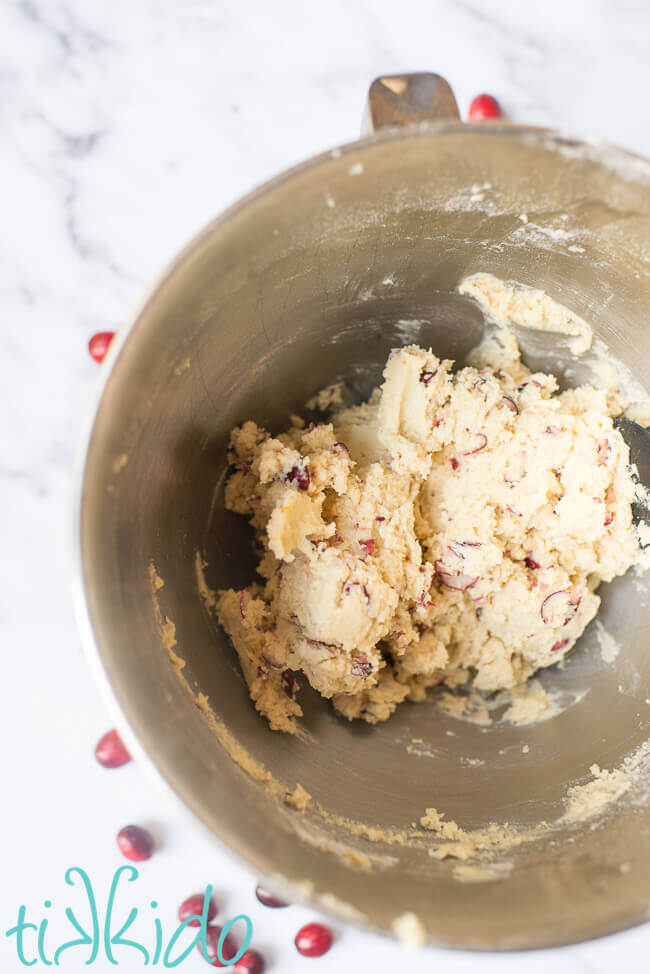 Beat the butter and sugar together.  Add the egg and beat until combined.  
Add the salt, vanilla, orange zest, baking powder, and chopped cranberries and mix well.  Add the flour, and mix just until combined.
What Can I Substitute for Fresh Cranberries in this Cranberry Cookie Recipe?
No fresh cranberries?  No problem!  Dried cranberries also work very well in this recipe.
You can even use leftover cranberry sauce from Thanksgiving in this recipe (though you may need to adjust the baking time due to different liquid content of different cranberry relishes)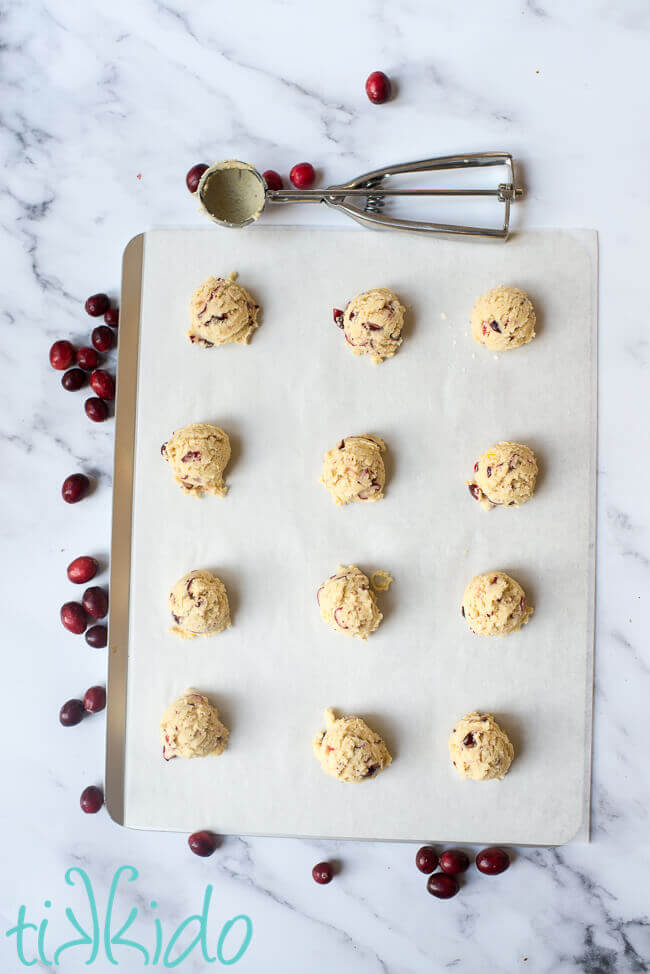 Scoop the cookie dough on a parchment lined baking sheet.  (I love my cookie scoop for this job; it was a PITA making cookies without a scoop these past few months as we waited for our shipment of goods to arrive in the UK!)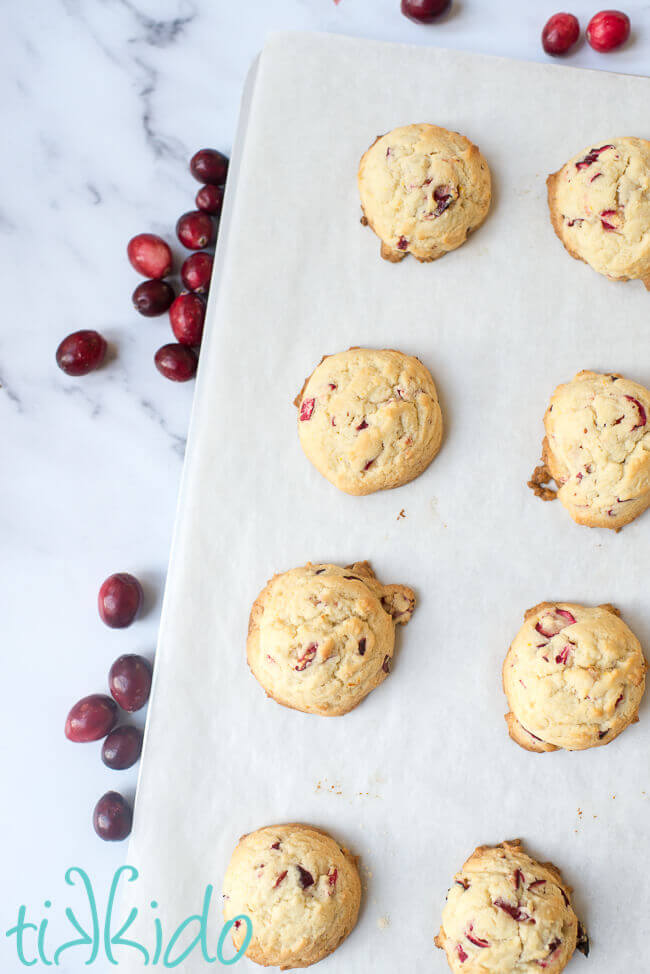 Bake at 350 degrees fahrenheit for 12-15 minutes, until the cookies just start to turn golden at the edges.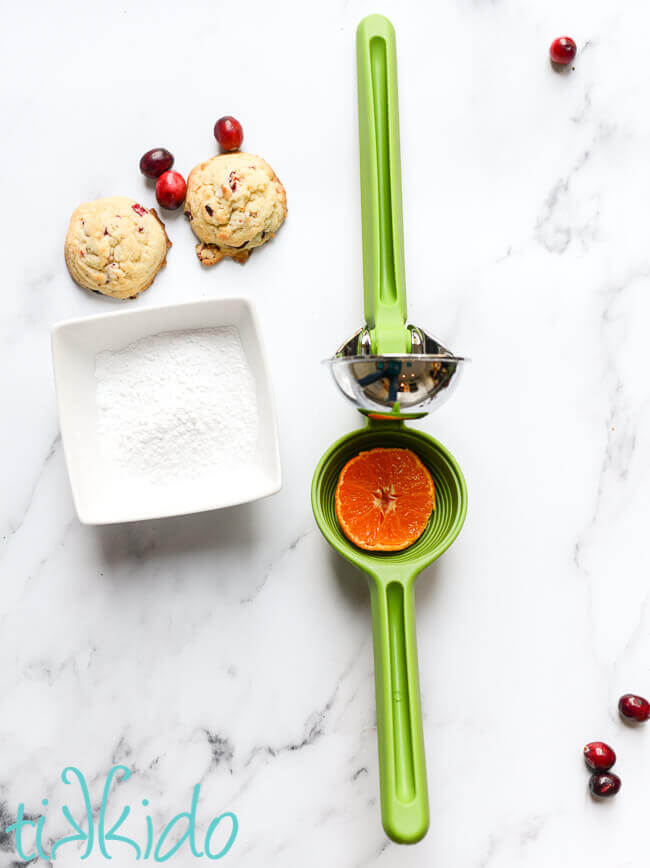 Once the cookies have cooled, you can add a drizzle of glaze to the top for some extra flavor.
Glaze for Cranberry Cookies
1/2 cup powdered sugar
approximately 2-3 teaspoons of orange juice (or cranberry juice)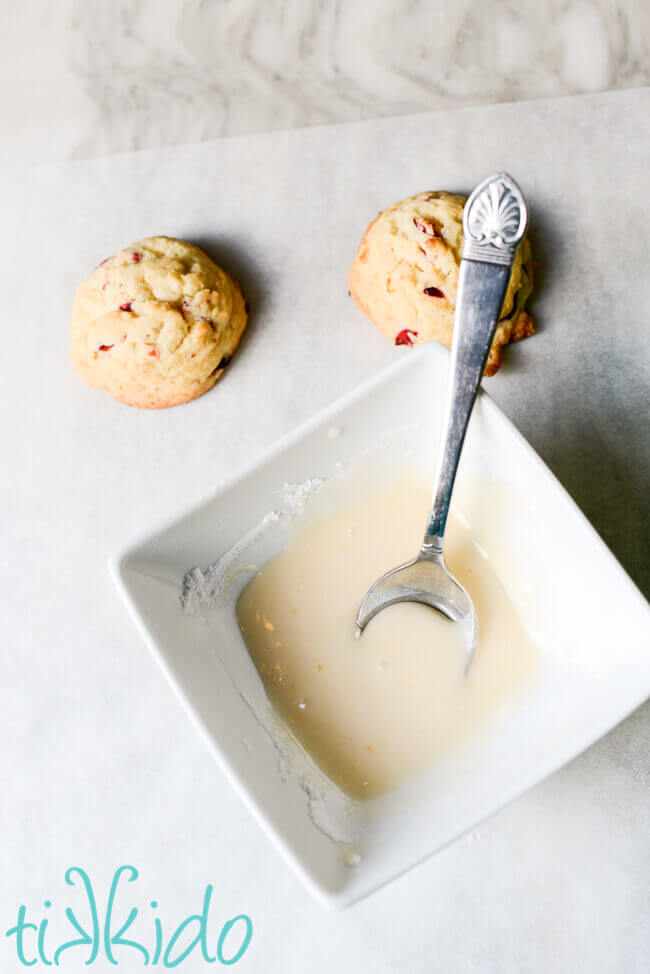 Mix in the fresh orange juice (or cranberry juice, if you have it) a teaspoon at a time into a half cup of powdered sugar.  It doesn't take much liquid to make a simple, delicious glaze to drizzle on the cranberry cookies.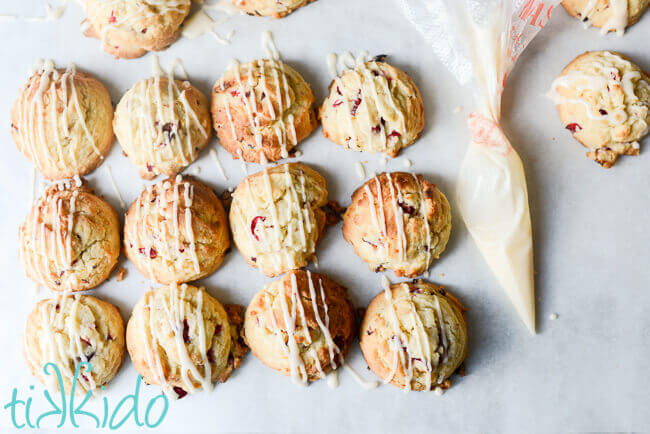 You can drizzle the glaze on the cookies with a spoon, or with a piping bag.  Both are delicious, but if you want nice neat lines, I have much better luck with a piping bag.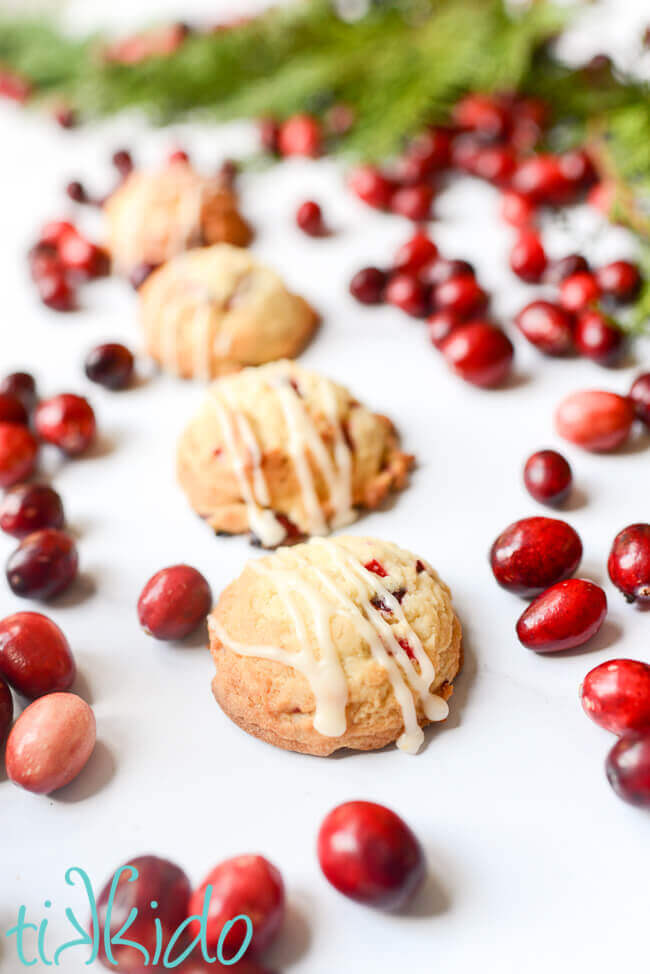 The glaze adds an extra punch of bright citrus flavor to these delicious cranberry cookies.
Printable, One Page Cranberry Cookies Recipe:
Be sure to check out the other amazing cranberry recipes from my blogger friends in the Taste Creations Blog Hop this month.
More Cranberry Recipes from the Taste Creations Blog Hop: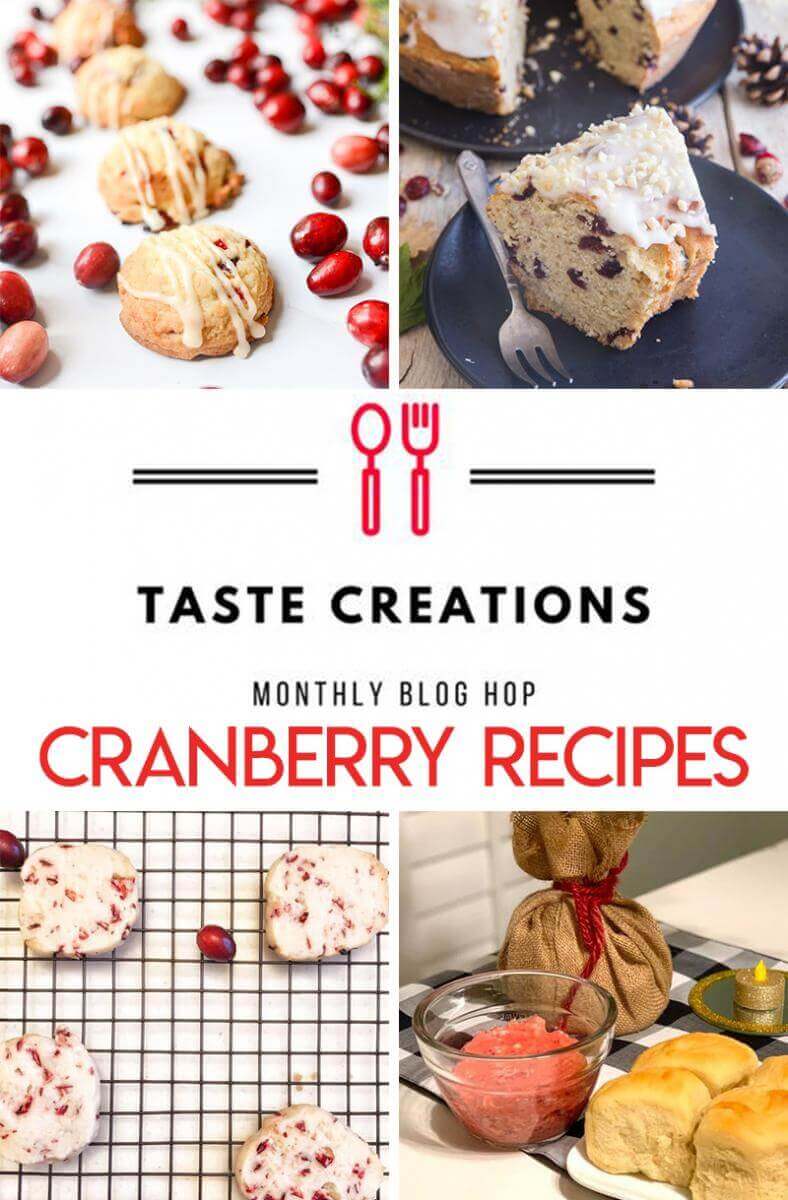 Our Good Life:  Cranberry Butter
An Italian in my Kitchen: Almond Cranberry Cake
Mom Home Guide: Lemon Cranberry Shortbread Cookies
Other Cranberry Recipes You Might Like: