Printer-friendly version
Sour cream coffee cake is an easy-to-make Christmas morning breakfast.  This sour cream coffee cake recipe is topped with delicious streusel and can be made in about 35 minutes.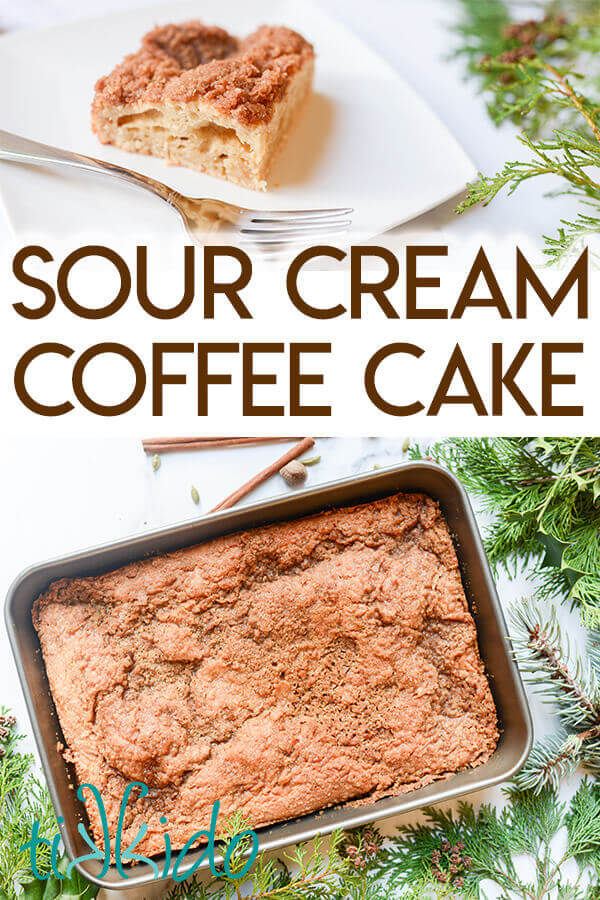 My family's Christmas morning breakfast tradition is poppy seed kolache and homemade cinnamon rolls.  My husband's is this sour cream coffee cake.   I couldn't possibly ask anyone to give up a beloved Christmas morning tradition, so I asked my mother-in-law for the recipe and added it to my Christmas repertoire.  The recipe my MIL made was from Joy of Cooking (an excellent resource I've owned for many years), but I've adapted it slightly for my tastes.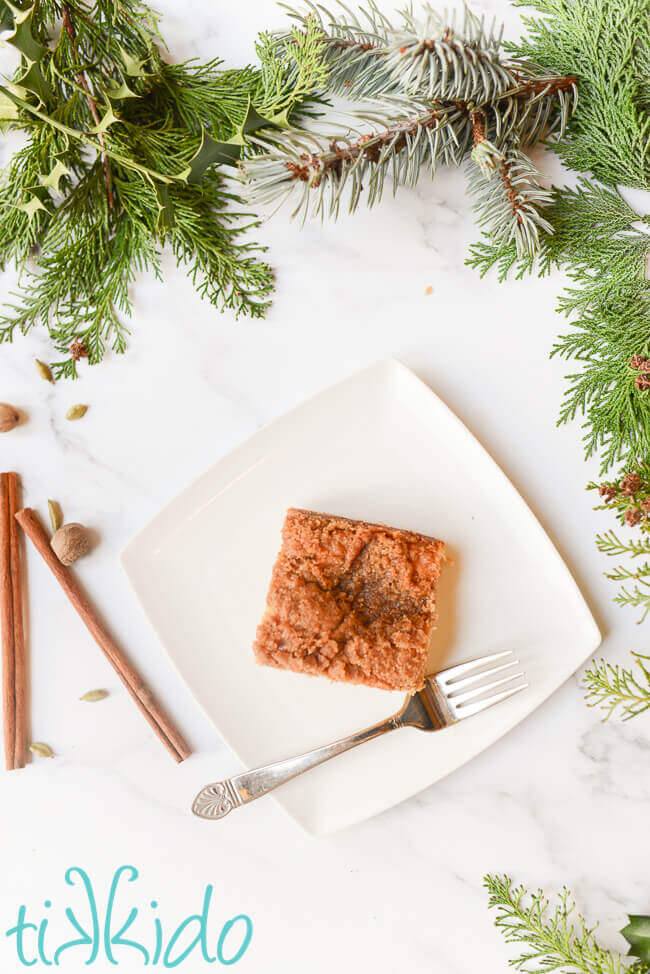 This is an absolutely classic streusel coffee cake recipe, with a fabulous, crunchy, flavorful top and a tender cake base.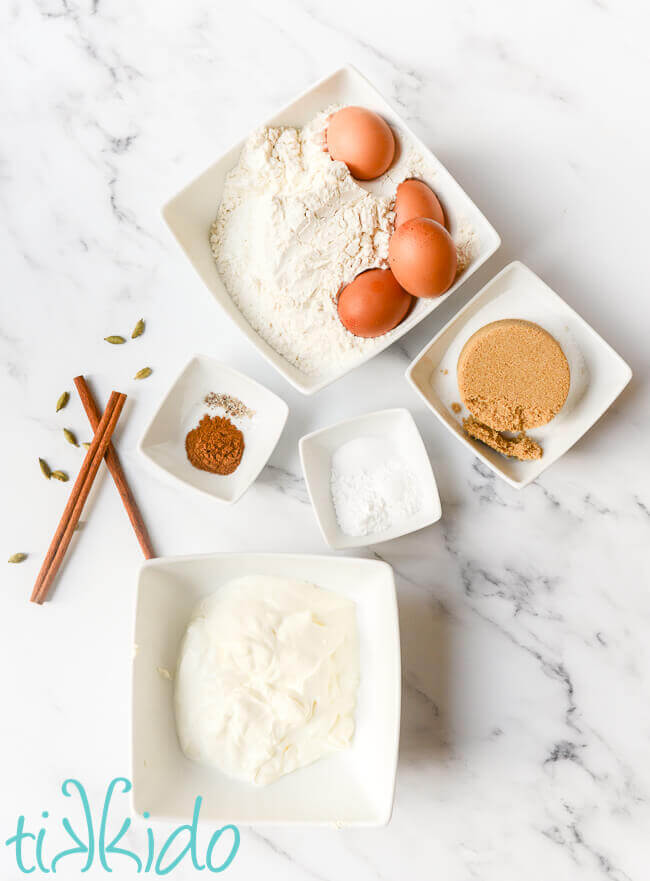 Sour Cream Coffee Cake Recipe:
3 cups flour
1 cup sugar
1/2 cup brown sugar
4 teaspoons baking powder
1 teaspoon baking soda
1 teaspoon salt
1 teaspoon cinnamon
1/4 teaspoon cardamom
2 cups sour cream
4 eggs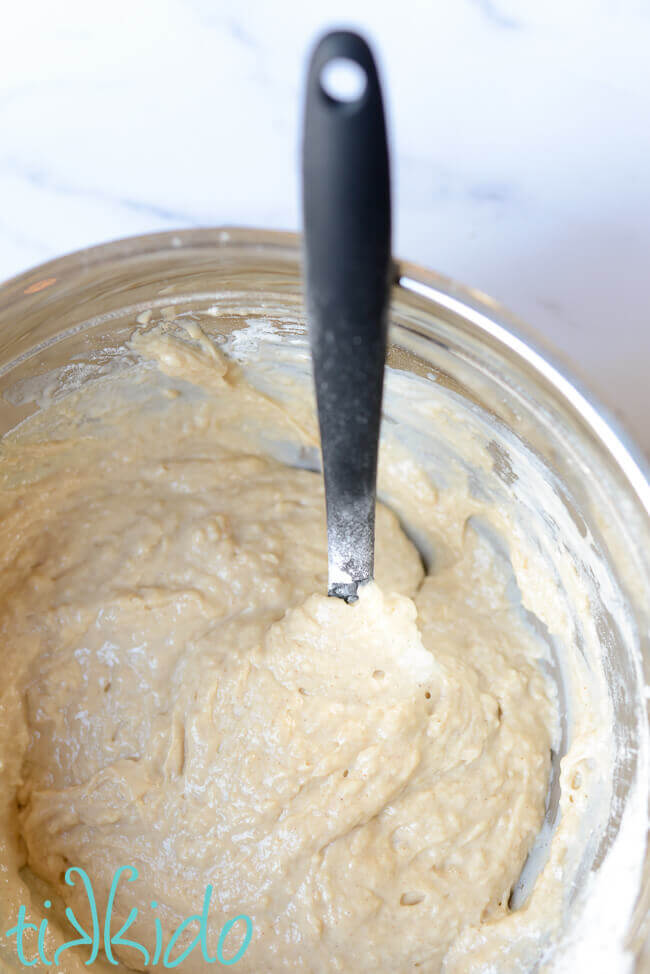 Beat the eggs.  Mix in the sour cream, spices, sugar, and salt.
Add the flour, baking powder, and baking soda, and mix to form a batter.
Spread the batter in a 9x13 pan.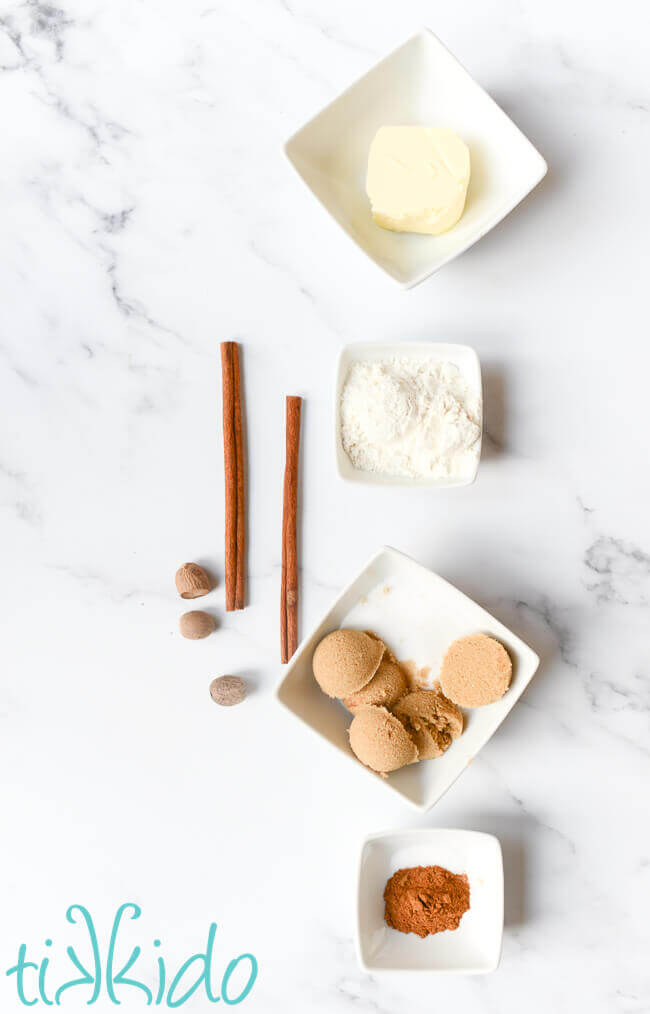 Make a streusel topping for the coffee cake.
Streusel Topping For Sour Cream Coffee Cake:
4 Tablespoons flour
4 Tablespoons butter
5 Tablespoons sugar
5 Tablespoons brown sugar
1 teaspoon cinnamon
1/4 teaspoon nutmeg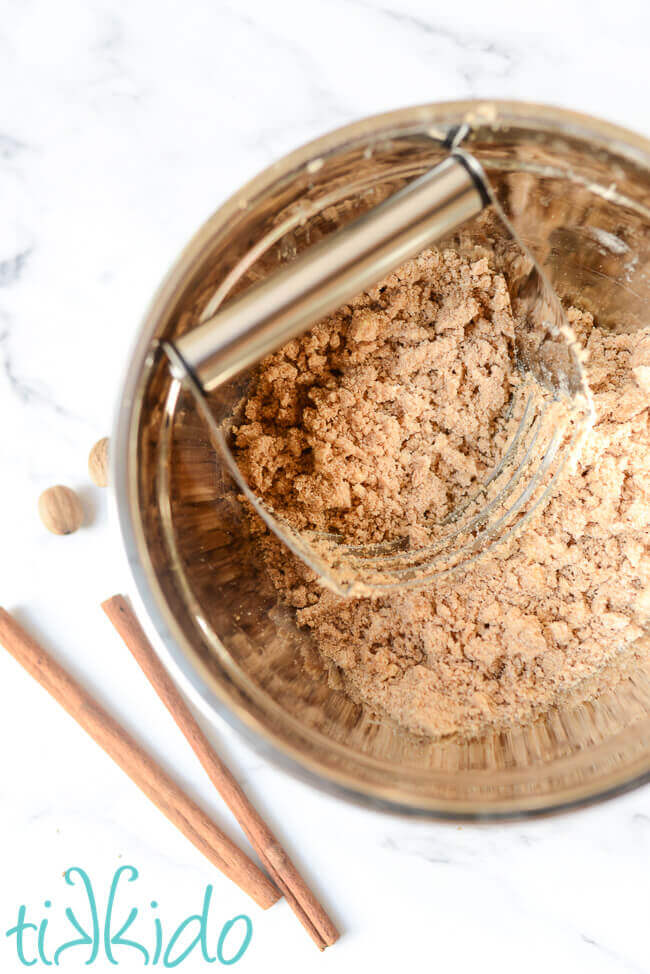 Mix the dry ingredients together.  Add the cold butter and cut in with a pastry cutter or two knives until the mixture is crumbly.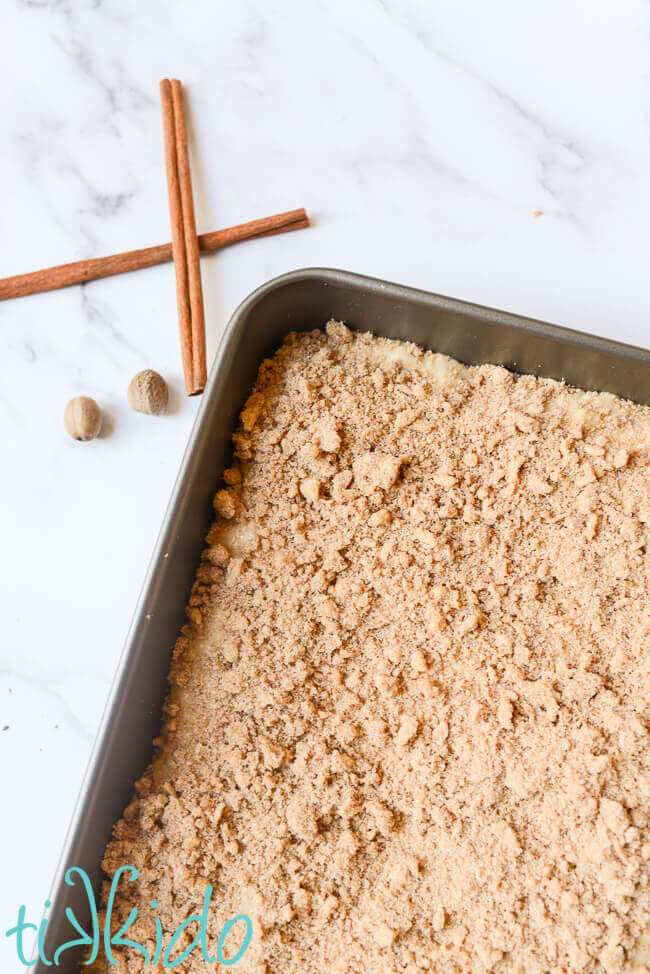 Sprinkle the streusel mixture over the top of the unbaked coffee cake.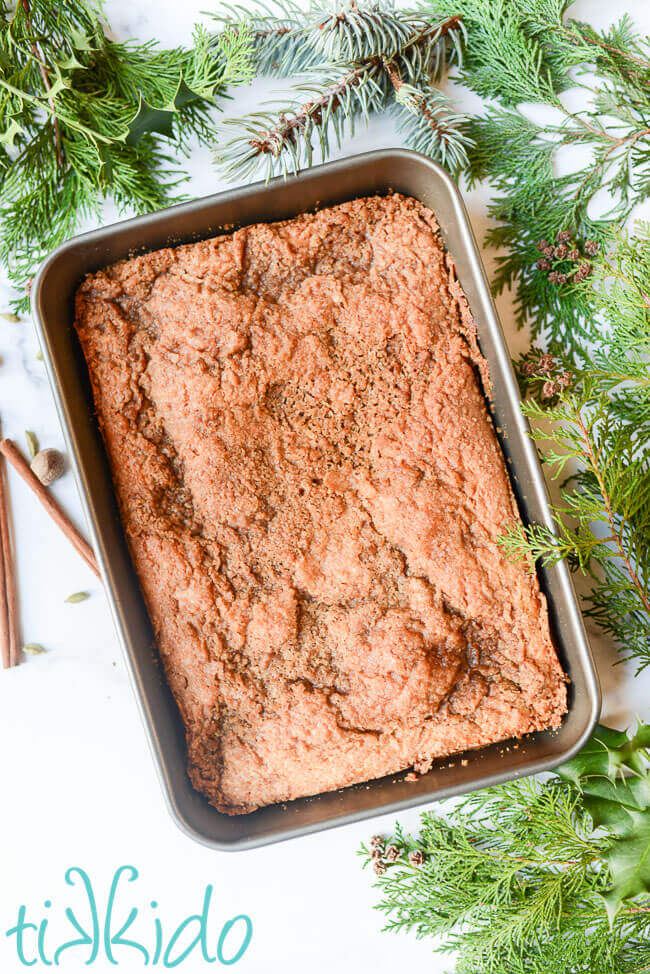 Bake at 350 degrees Fahrenheit for 25-35 minutes (I find that the bake time really varies depending on the oven I'm using and the moisture content in my eggs and sour cream).  A toothpick stuck in the center of the cake should come out clean when the coffee cake is done.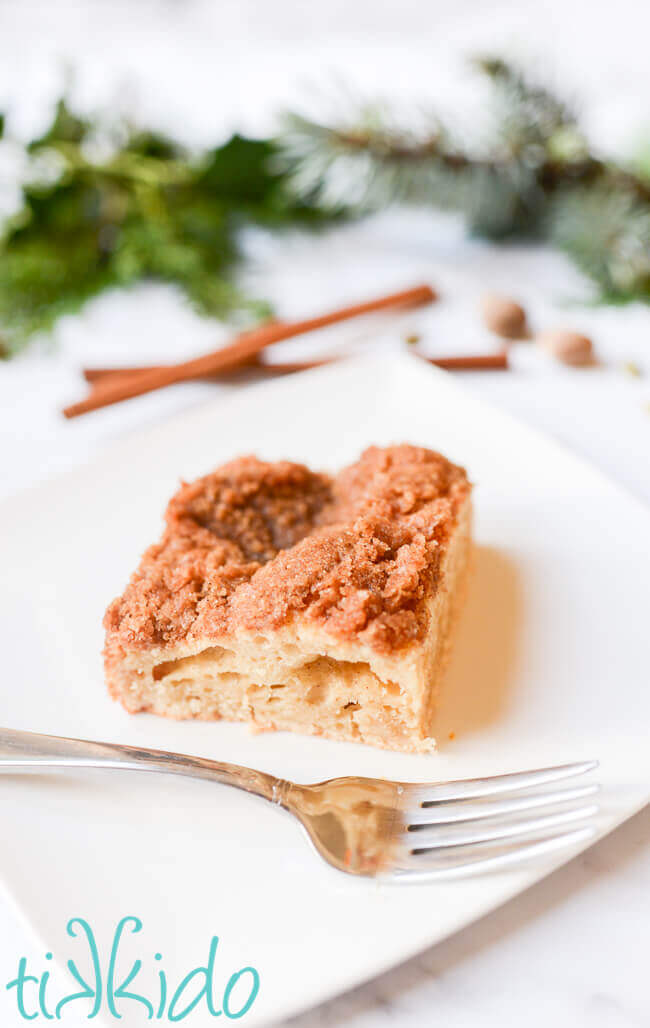 This can be made the day before if you don't want to bake anything on Christmas morning, but it does come together really quickly and easily, and is amazing warm, too.  If you're baking on Christmas morning, you can speed things along by making the streusel topping ahead of time.  
What is your Christmas morning tradition?
Printable Sour Cream Coffee Cake Recipe:
Want a one page, printable version of this sour cream coffee cake recipe?  Click the image below to print directly or download the PDF to your device.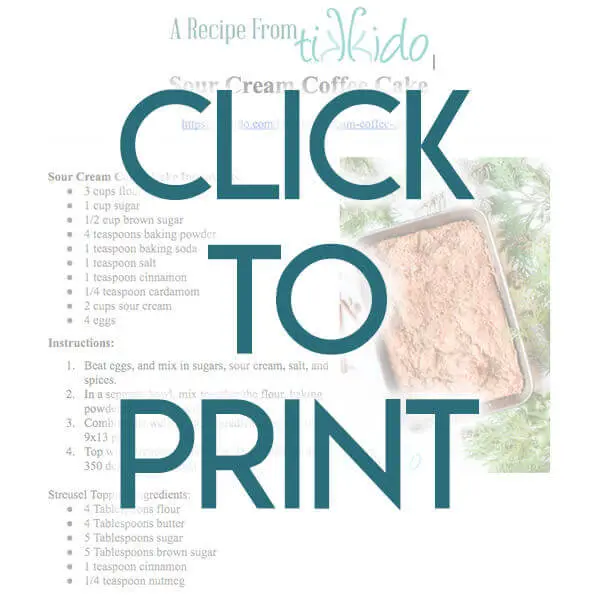 Other Christmas Breakfast Recipes You Might Like: