Printer-friendly version
Jalapeño cheddar bagels are full of flavor from the sharp cheddar cheese and just the right touch of heat from jalapeño peppers.  Don't be intimidated--making bagels is actually really easy!  This Jalapeño cheddar bagel recipe will walk you through making the dough, shaping the bagels, and baking them to perfection.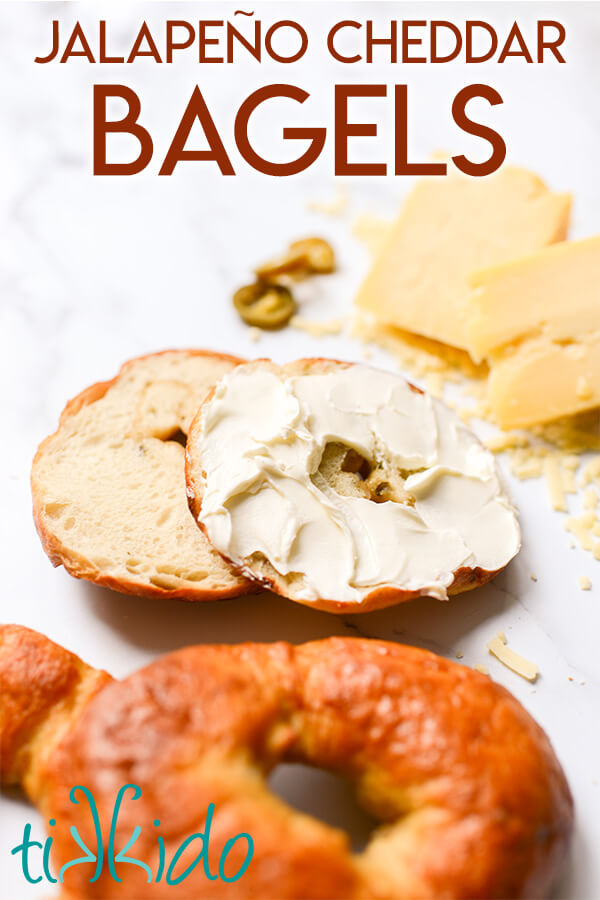 It's the first Monday of the month, and that means it's time for the Taste Creation Blog Hop.  This month, our theme is bread!
Jalapeño cheddar bagels are my husband's favorite, so when we decided to bake breads this month, I knew I wanted to adapt my favorite plain bagel recipe to make a jalapeño cheddar variety.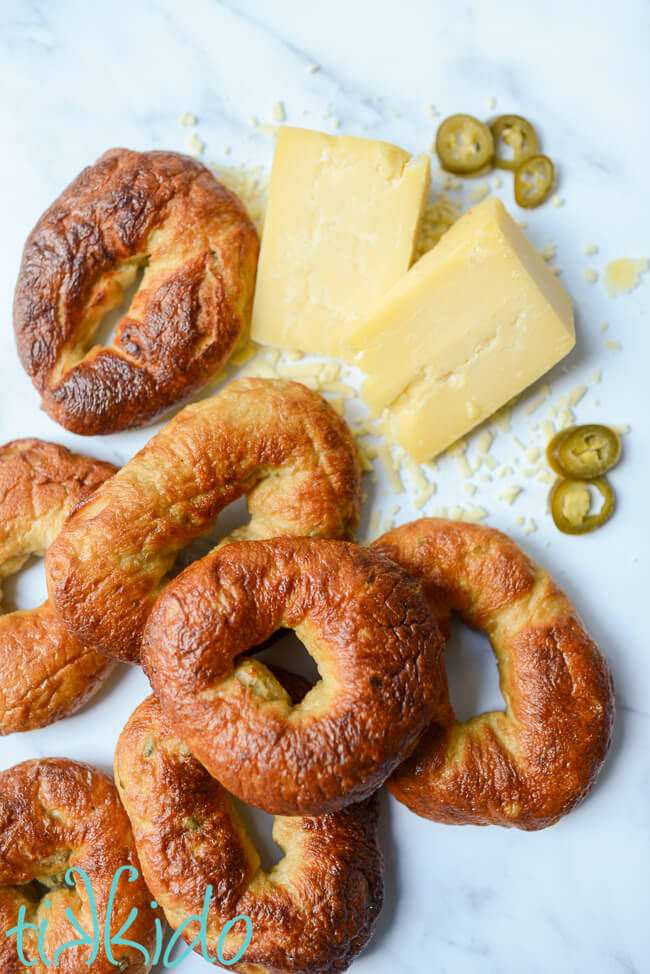 This recipe isn't very spicy at all, but it is extremely flavorful.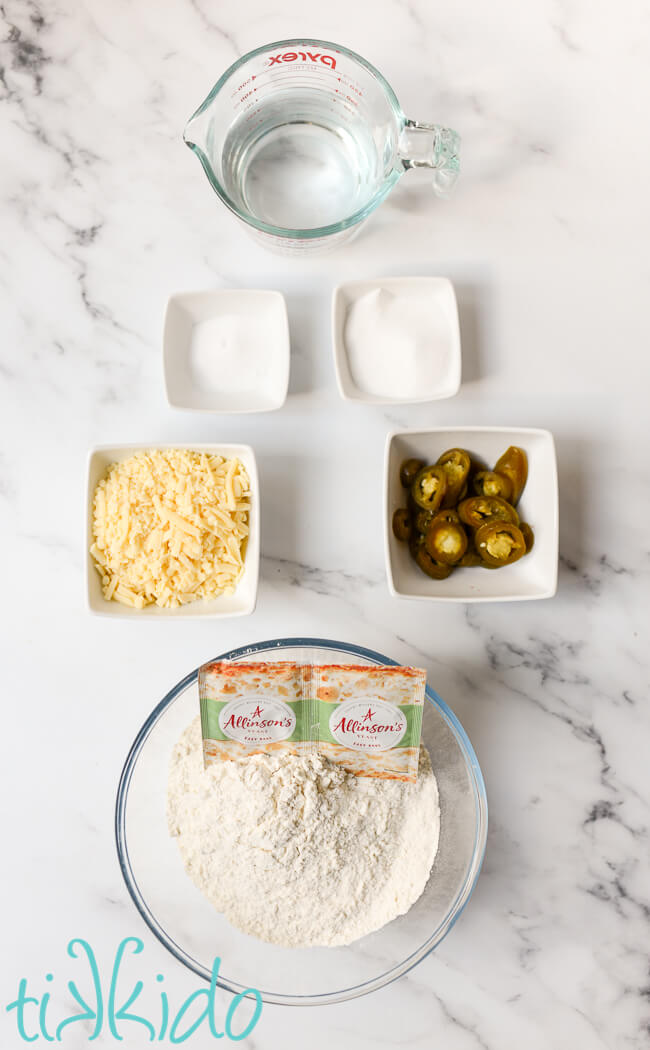 Jalapeño Cheddar Bagel Ingredients:
3 1⁄2 cups bread flour
2 packages yeast
3 Tablespoons sugar
2 teaspoons salt
1 1⁄2 cups warm water
1 cup sharp cheddar, shredded
2 Tablespoons jalapeños, chopped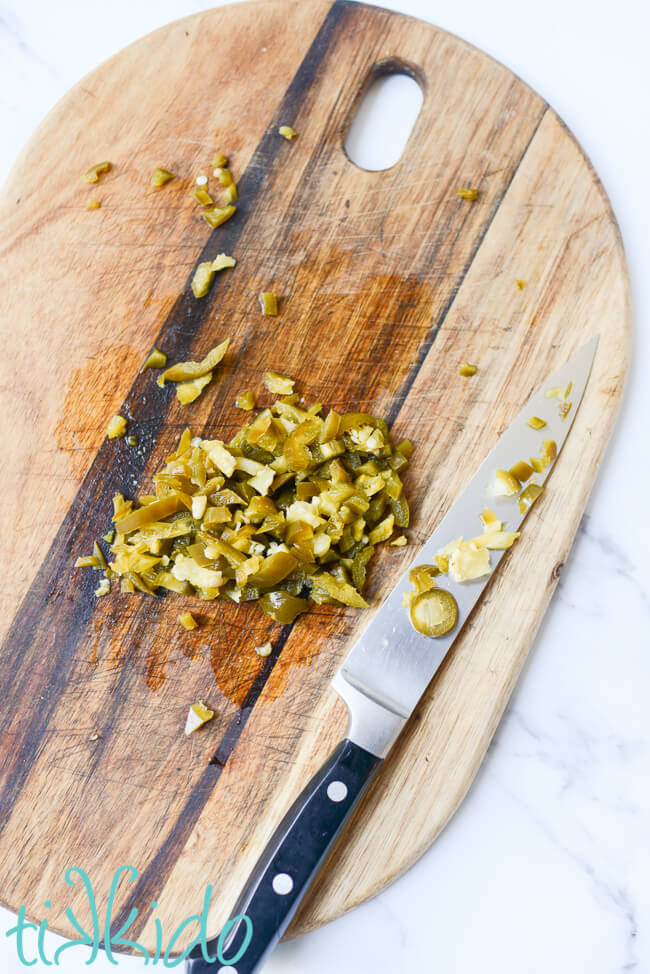 Chop the jalapeños into small pieces.  Feel free to add extra jalapeños if you like your jalapeño cheddar bagels a little more spicy.  As written this recipe will make a very mild bagel with just a nice touch of jalapeño flavor.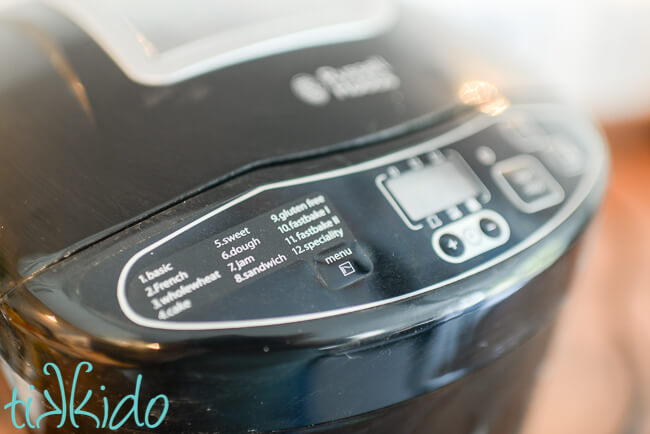 Jalapeño Cheddar Bagel Dough Made in a Bread Machine
I love letting my bread machine do all the hard work of making bagel dough.  To make the dough for the jalapeño cheddar bagels in a bread maker, simply put the water in the container first, then add the dry ingredients, ending with the cheddar and jalapeños.  Then you just push the button for the dough cycle and sit back and let the bread machine do all the work of mixing, kneading, and rising.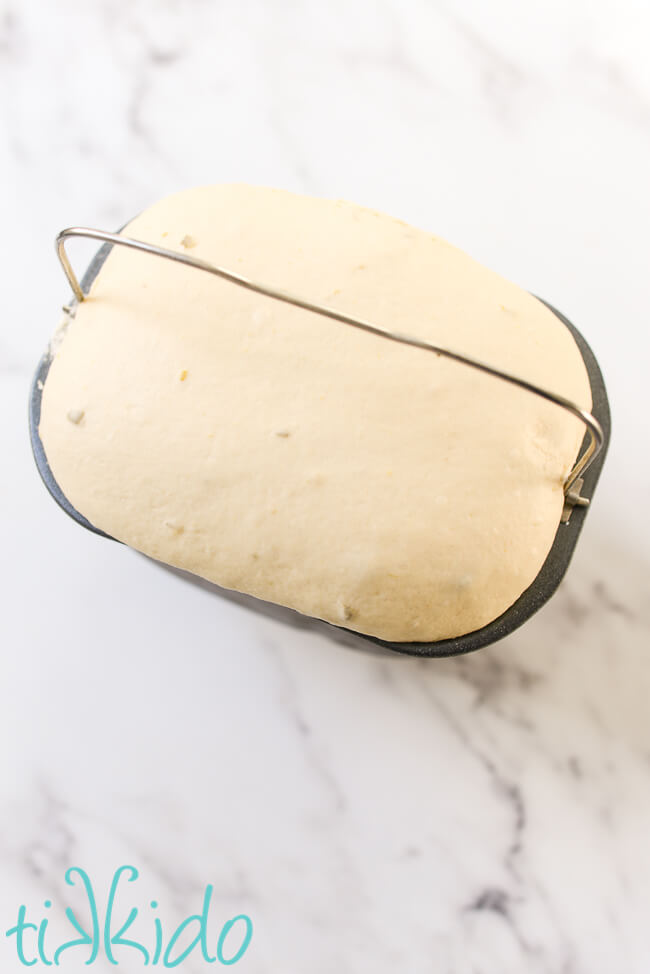 An hour and a half later, you have perfect dough, ready to shape into bagels!
Jalapeño Cheddar Bagel Dough Made by Hand
Of course, if you don't have a bread machine to do the work for you, you can still make the bagels!  It's not difficult, just more hands-on work.
Mix the dry ingredients together in a bowl (or the bowl of a stand mixer), then add the water and stir well until a dough is formed.
Turn the dough out on a floured surface and knead for about 10 minutes.  
Place the kneaded dough in an oil-coated mixing bowl, cover, and let rise for an hour, or until the dough has doubled in size.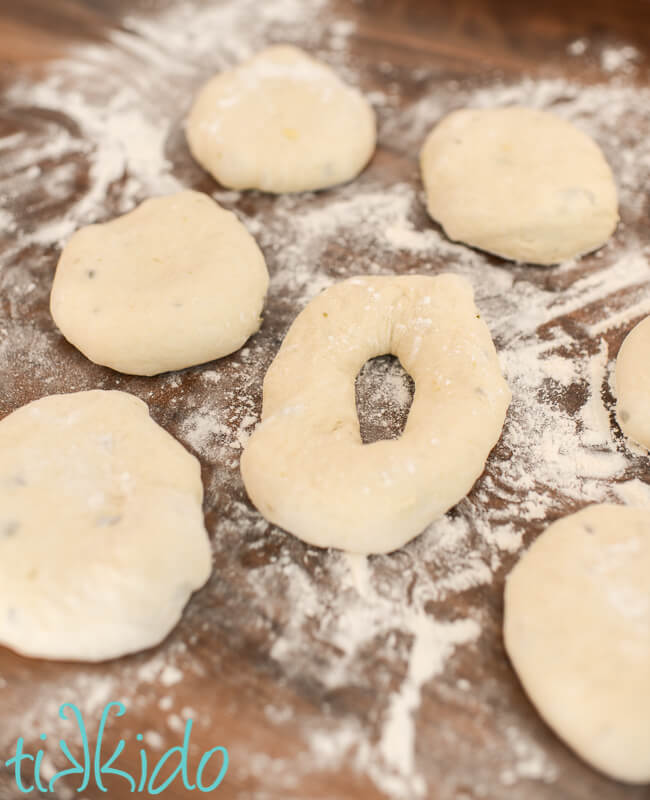 Shaping the Jalapeño Cheddar Bagels
I use an easy/cheater method to shape my bagels.  I divide my dough into eight equal parts, then shape each piece of dough into a ball.  I pat the ball down into a disc shape.  I then poke my fingers through the center of the bagel and stretch and shape the bagel into its iconic shape.
If you'd prefer to try the more traditional method of shaping bagels (the way the pros do it), I found this helpful video that clearly shows the process.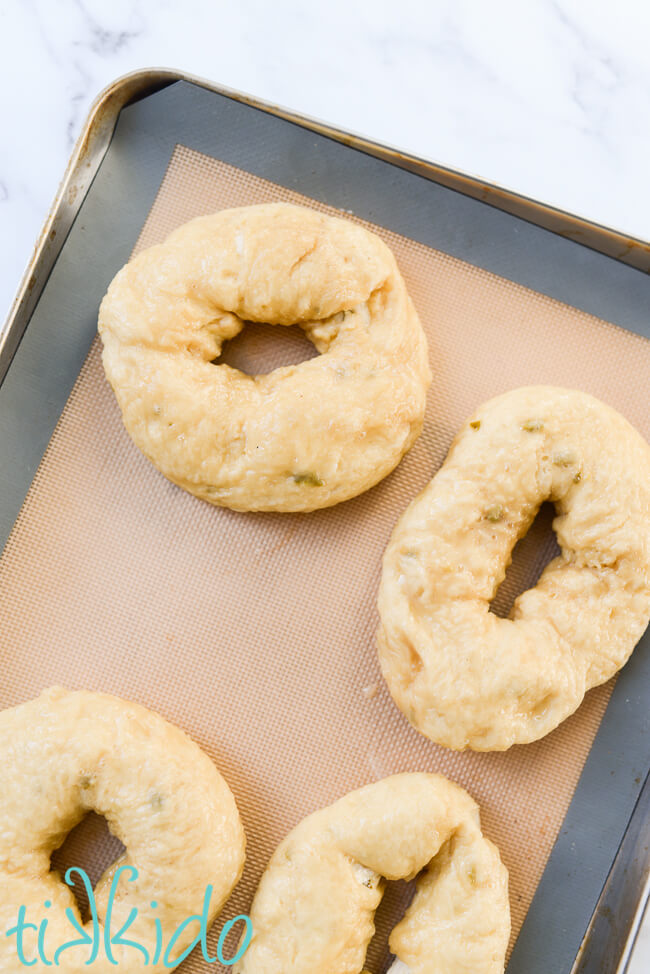 Boiling the Jalapeño Cheddar Bagels
Bring water and 1 Tablespoon barley malt syrup (or molasses) to a boil.  Boil the bagels for 30 seconds on each side.
Remove the boiled bagels and place them on a clean kitchen towel to dry for a few minutes before adding an egg wash.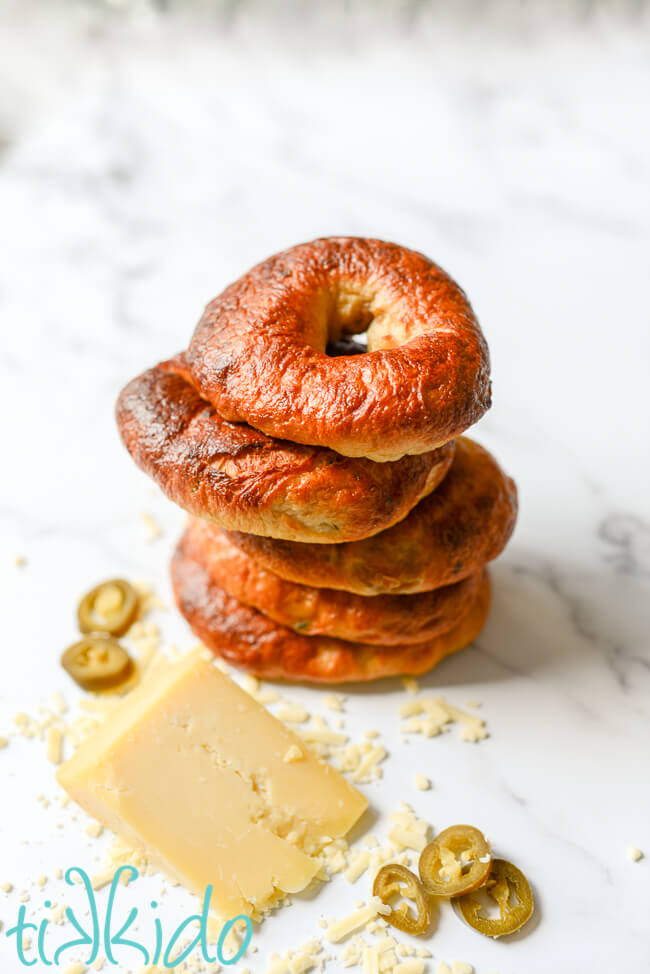 Baking Jalapeño Cheddar Bagels
Preheat oven to 400 degrees Fahrenheit. 
Place the boiled bagels on a baking sheet lined with a silicone baking mat (like a Silpat).  I've tried using parchment paper before, and usually parchment paper is amazing... but not when you put a wet bagel on top of it.  The parchment paper stuck like glue to the bottom of those bagels.  I always use a silicone baking mat for bagels now.
Brush with an egg wash (an egg beaten together with a Tablespoon or so of water).  The egg wash gives the bagels a beautiful, shiny finish.  If you need to avoid eggs, this step can be eliminated.  
Bake the Jalapeño Cheddar Bagels for 22-25 minutes, until golden brown.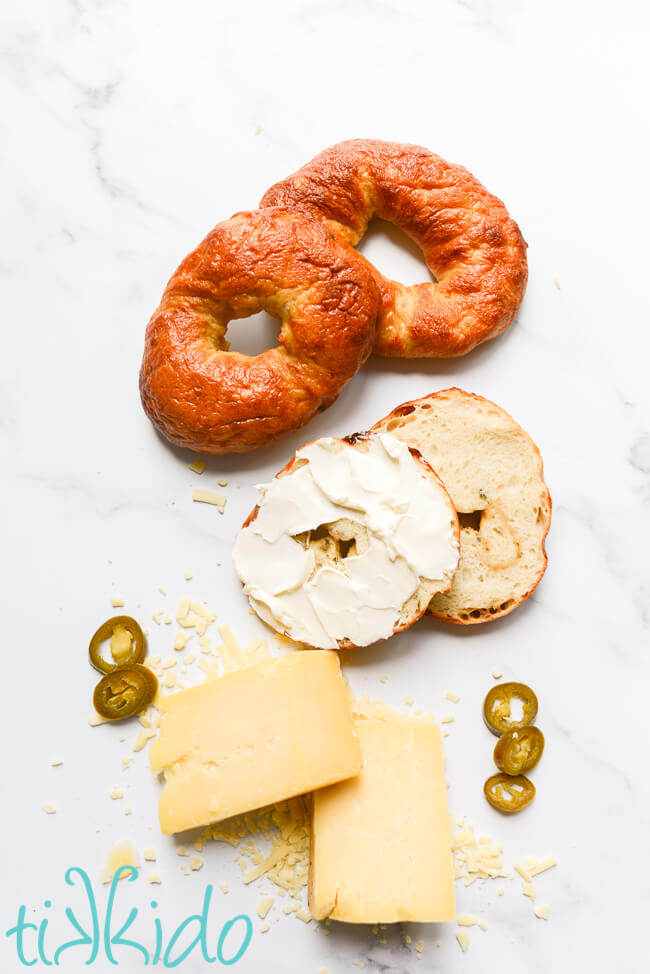 Printable, One Page Jalapeño Cheddar Bagel Recipe:
Want a one page, printable version of the Jalapeno Cheddar Bagel recipe?  Click the image below to print or download the PDF.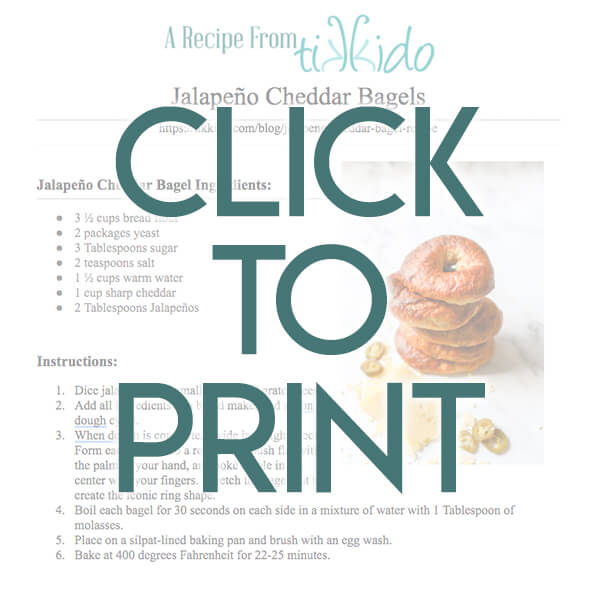 And be sure to check out the other amazing bread recipes from my blogger friends in the Taste Creations Blog Hop!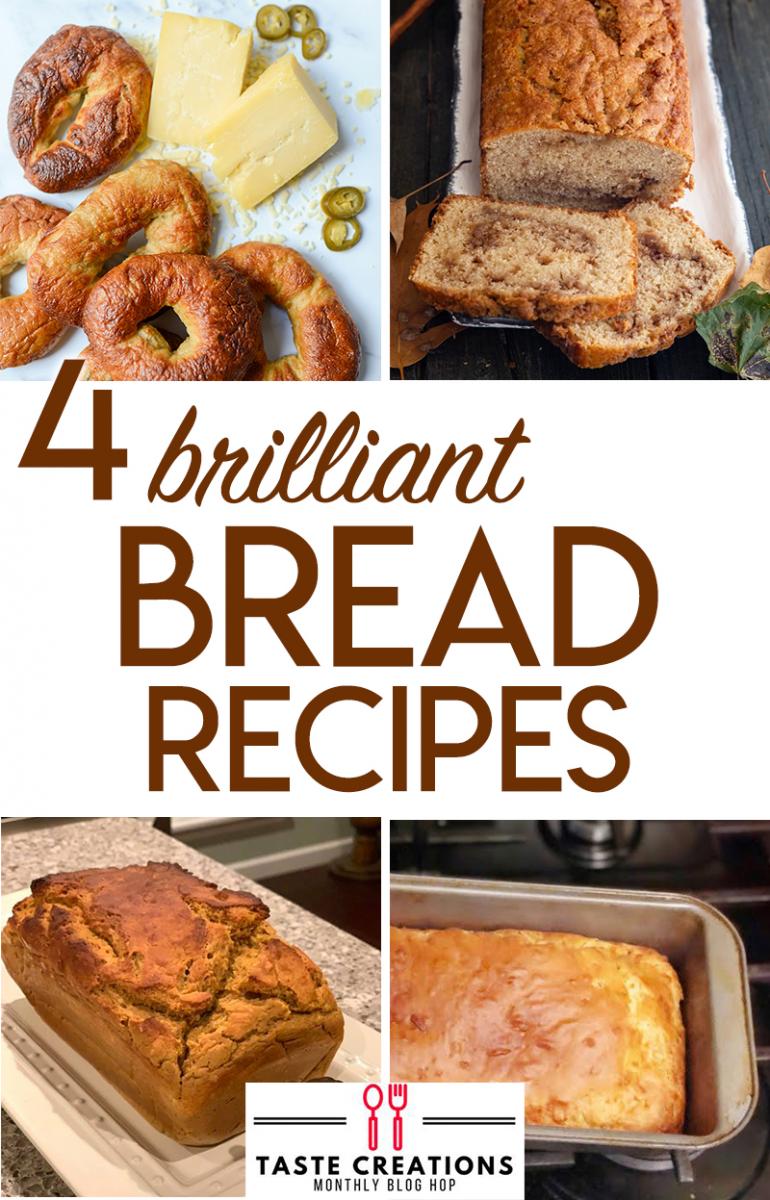 More Bread Recipes from the Taste Creations Blog Hop:
Our Good Life: Pumpkin Beer Bread
An Italian in my Kitchen: Easy Swirled Cinnamon Bread
Mom Home Guide: Cheddar and Green Onion Quick Bread
Other Bagel Recipes You Might Like: