Printer-friendly version
Homemade cinnamon sugar bagels are the ultimate delicious breakfast treat.  And homemade bagels are incredibly easy to make if you use a bread machine to do the hard work for you.  Make these cinnamon bagels on the weekend and enjoy breakfast all week long.  If they last that long.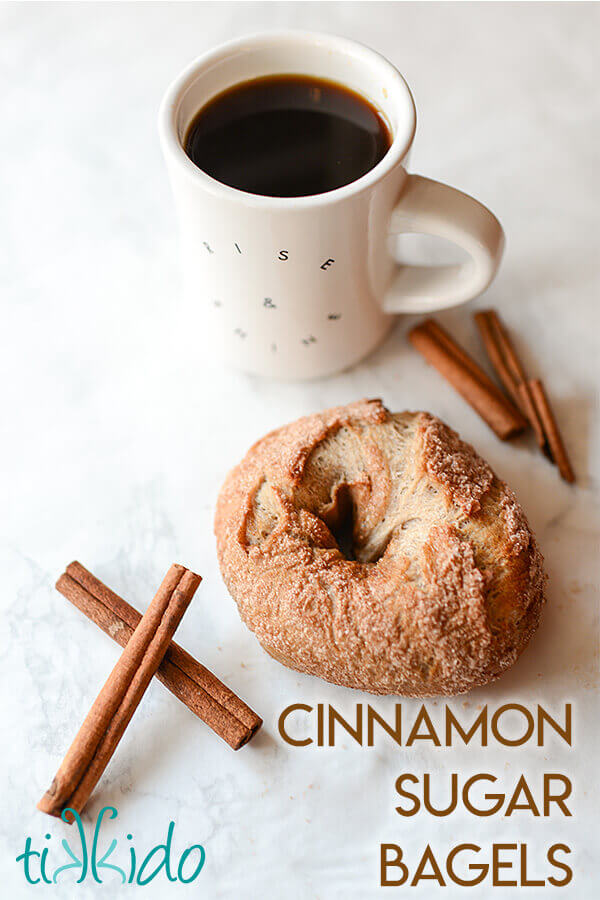 My daughters absolutely love cinnamon sugar bagels from our local bagel shop, but they're always sad that the bagels only have cinnamon on the top of the bagel.  I have an amazing plain bagel recipe, so I decided to create an irresistable cinnamon sugar bagel recipe that would have that delicious cinnamon crust on the bottom as well as the top.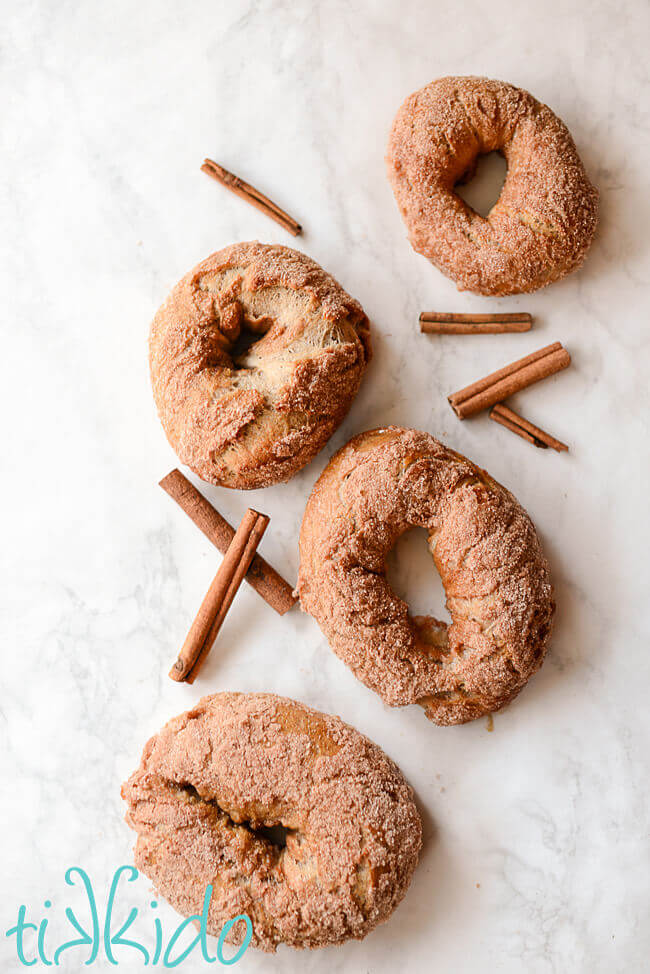 Not to brag, but I nailed it.  These bagels are delicious, with a crunchy, cinnamon sugar crust and cinnamon flavor through the entire bagel.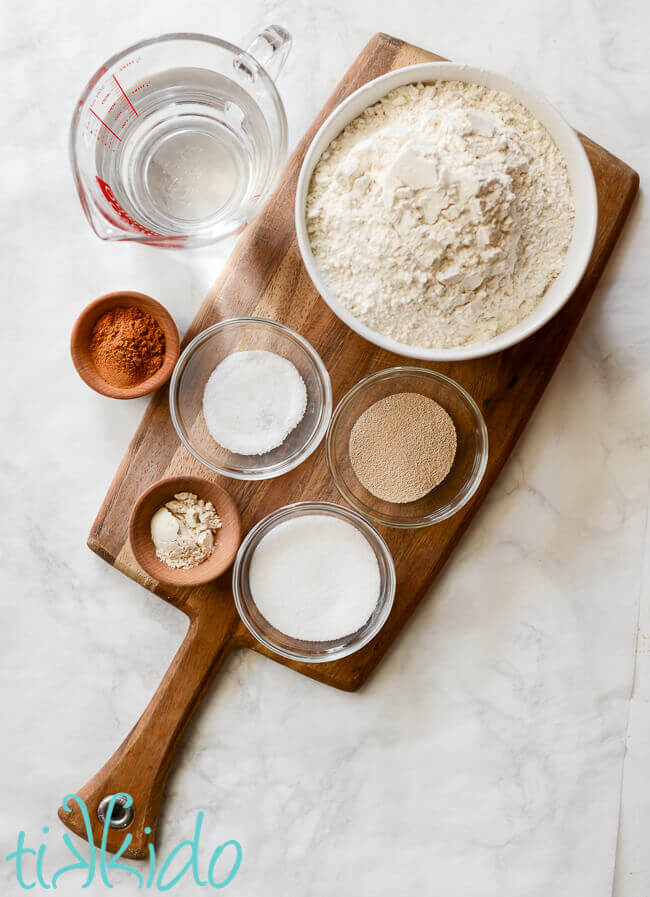 Cinnamon Sugar Bagel Recipe:
1 1/2 cups water
1 teaspoon salt
4 Tablespoons sugar
2 packages yeast (4 1/2 teaspoons)
1 teaspoon diastatic malt powder (optional)
2 teaspoons cinnamon
3 1/2 cups flour (preferably bread flour, but AP flour also works well)
Cinnamon sugar for coating outside of bagels
water with molasses or sugar for boiling the bagels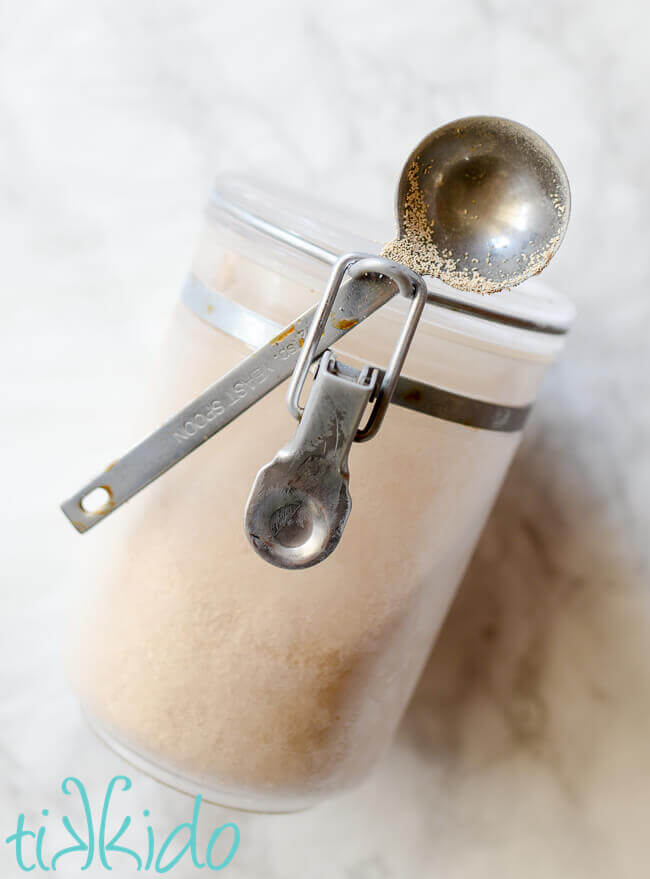 How Much Yeast is in a Packet of Yeast?
There are 2 1/4 teaspoons of yeast in each package of yeast
By weight, there is a 1/4 ounce of yeast in each packet of yeast
in metric weight, one package of yeast is approximately 7 grams
I buy my yeast in one pound packages, and I absolutely love the container designed to hold a one pound package of yeast from King Arthur Flour.  It comes with a spoon designed to hold 2 1/4 teaspoons, the equivalent of one packet of yeast.  I keep the whole thing in my freezer.
What is Diastatic Malt Powder?
Diastatic malt powder is an additive that helps the yeast in bread bloom and develop and give your breads great rize and a pretty, browned crust.  
This ingredient is not necessary to make these bagels, but it is nice.  If you're going to make bagels and other breads regularly, it's worth buying.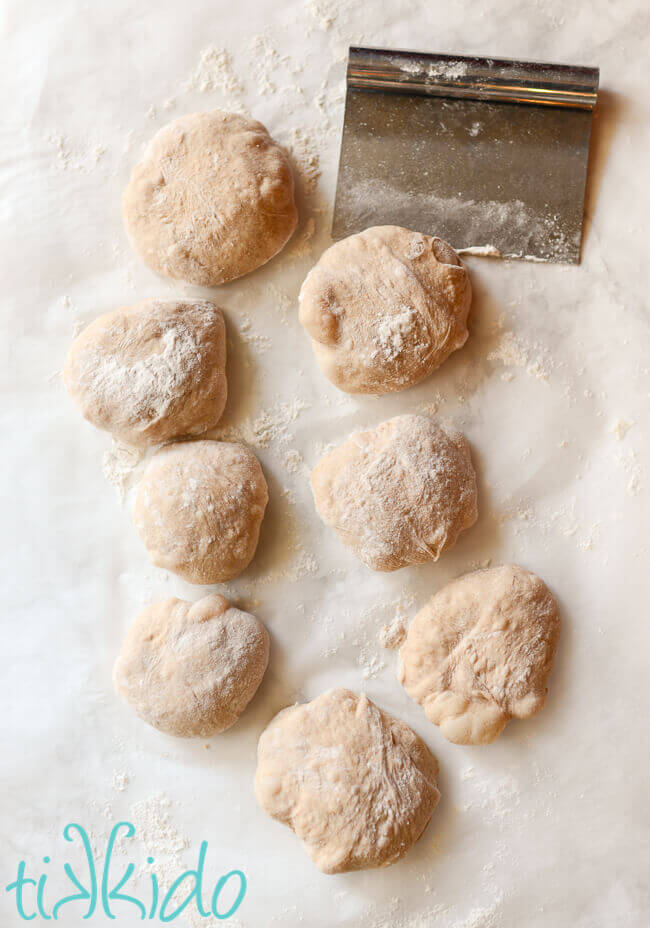 The secret to making these bagels the easy way is by letting a bread machine do the hard work of making the dough.
Bread Machine Instructions for Making Cinnamon Bagel Dough:
put the water in the bread machine container first.
add sugar and yeast next.
add the rest of the dry ingredients in any order
push the dough cycle button on the bread machine and let it do the mixing, kneading, and rising.
Instructions for Making Cinnamon Bagel Dough by Hand:
Heat water to between 105 and 110 degrees Fahrenheit.
Add sugar to the water and stir.
Add yeast to the sugar water and let bloom.
Mix remaining dry ingredients together. 
Combine wet and dry ingredients together, then knead the dough for approximately 10 minutes.
Place dough in an oiled mixing bowl and cover with plastic wrap, and set in a warm place to rise for about one hour, until the dough has doubled in volume.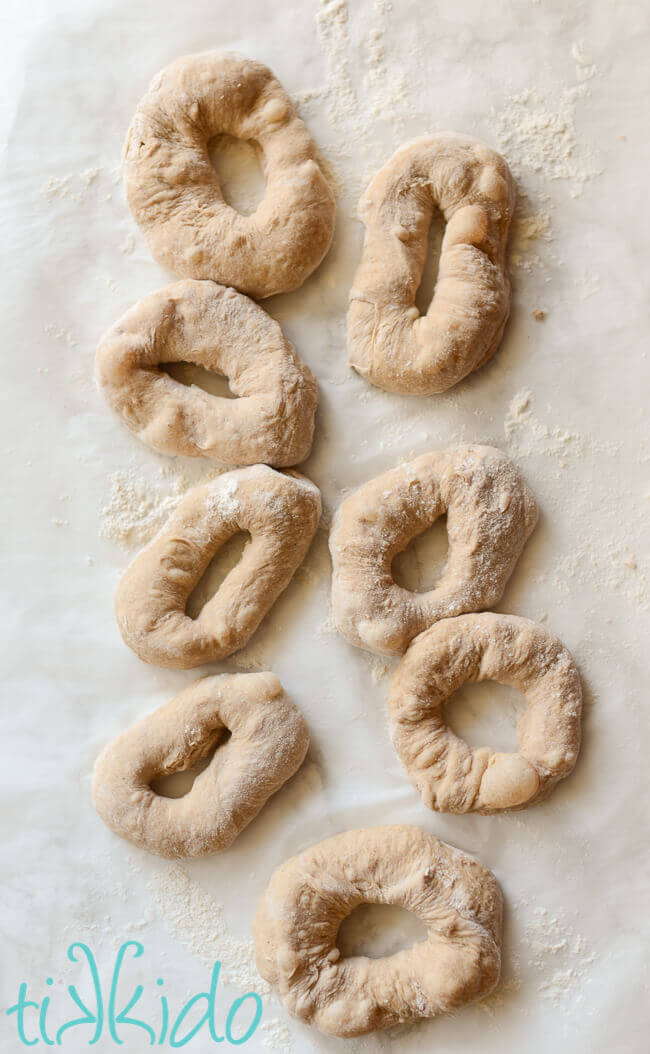 Shaping the Bagels the Easy Way
Once the dough is prepared, divide into eight equal parts.  Form each piece of dough into a dough ball, and pat into a flat disk shape.  Use fingers to poke a hole through the center of the dough disk, and stretch the dough to make the ring shape in the bagel dough.
This is not the "right" way to do it.  Professional bagel bakers actually make a long rope of dough, and roll the dough together around their hand.  (Here's a cool video I found) I tried that, and I failed miserably.  I would clearly need to practice a lot more to be able to make bagels in that fashion.  For my family's needs, the cheater version I use in the video is just fine.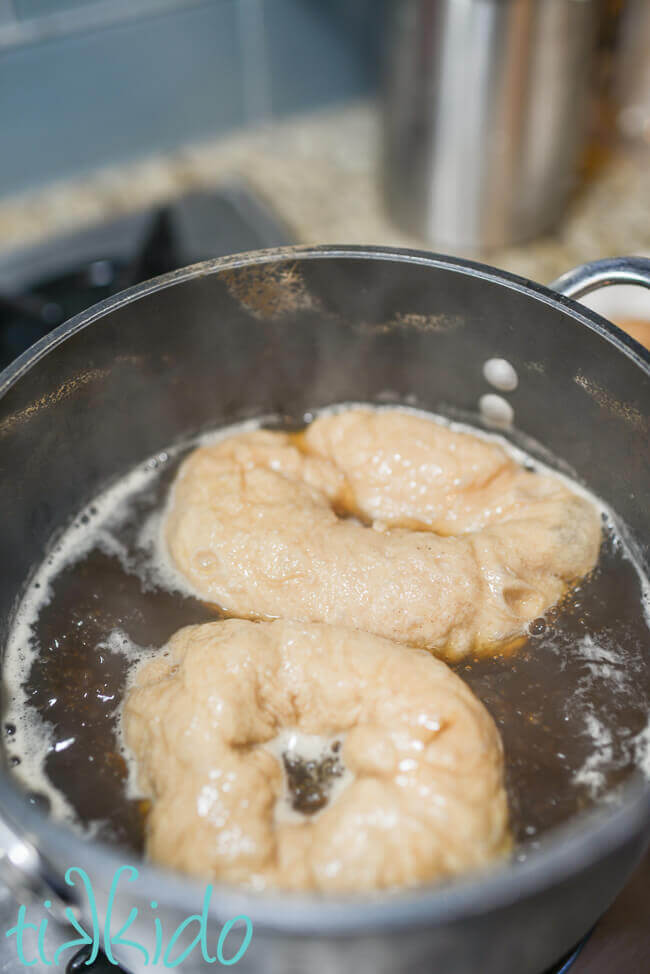 Bring water and about 1 Tablespoon of molasses (my favorite) or sugar to a boil. boil the bagels for 30 seconds on each side.  Boiling the bagels gives it that distinctive, chewy outer layer.  Without this step, it's just a roll.  Don't skip it.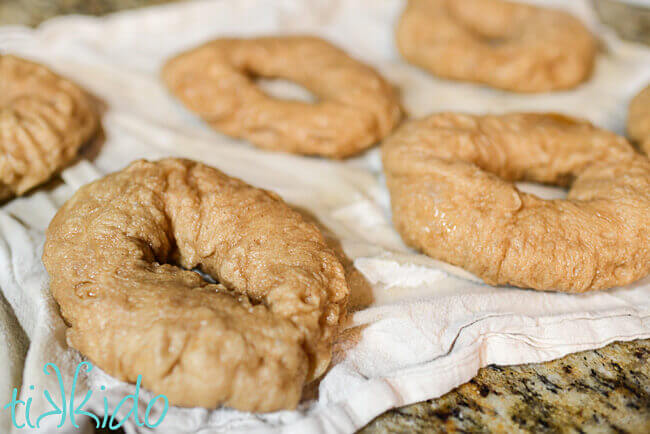 Put boiled bagels on a clean kitchen towel to soak up excess water while you boil the rest.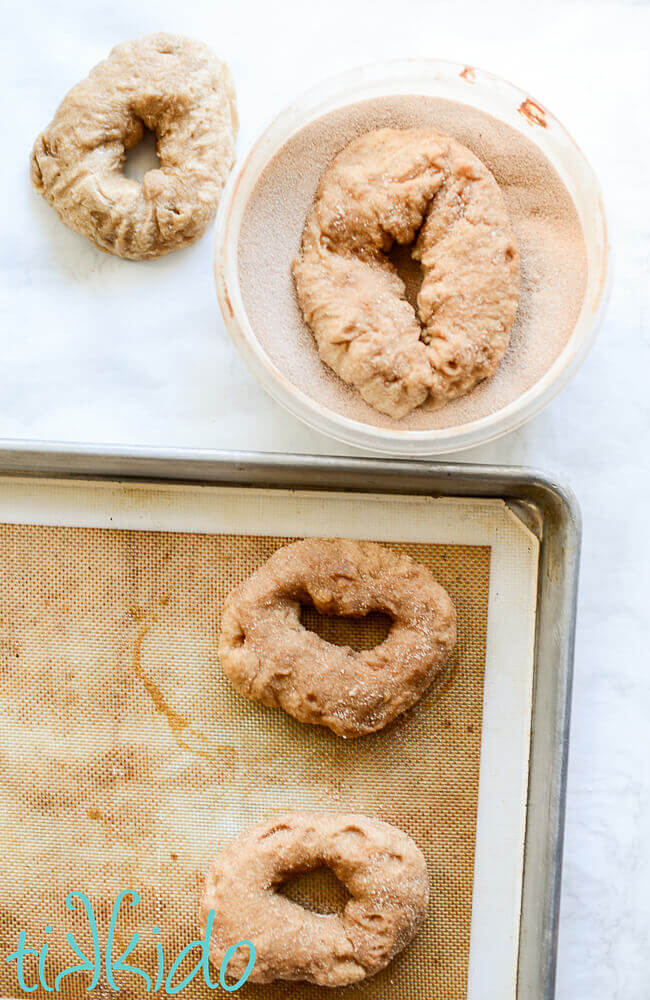 Even after sitting on the kitchen towel, the boiled bagels will be nice and sticky, so I just coated them in cinnamon sugar, and didn't bother with an egg wash like I use on my plain bagels.  Place the coated bagels on a baking sheet lined with silicone baking sheets.
How to Make Cinnamon Sugar
I keep a container of cinnamon sugar in the pantry at all times.  Don't go and buy it, because it really is just cinnamon and sugar.  I don't even measure when I make it, but I'd estimate that I use about 1-2 Tablespoons of cinnamon per cup of sugar.  I just dump the sugar and cinnamon in my tupperware cinnamon sugar container, making sure that I only fill it up about 1/3 of the way, put on the lid, and shake it to combine the ingredients.  It's fast, easy, and I love having it on hand for making cinnamon toast or cinnamon rolls.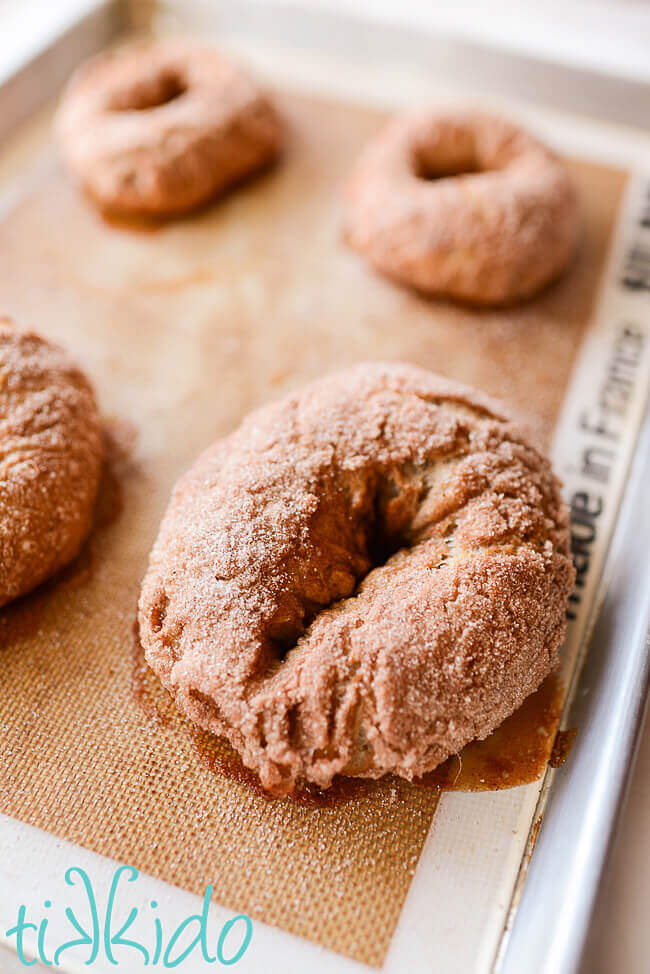 Bake the bagels for 22-25 minutes at 400 degrees Fahrenheit.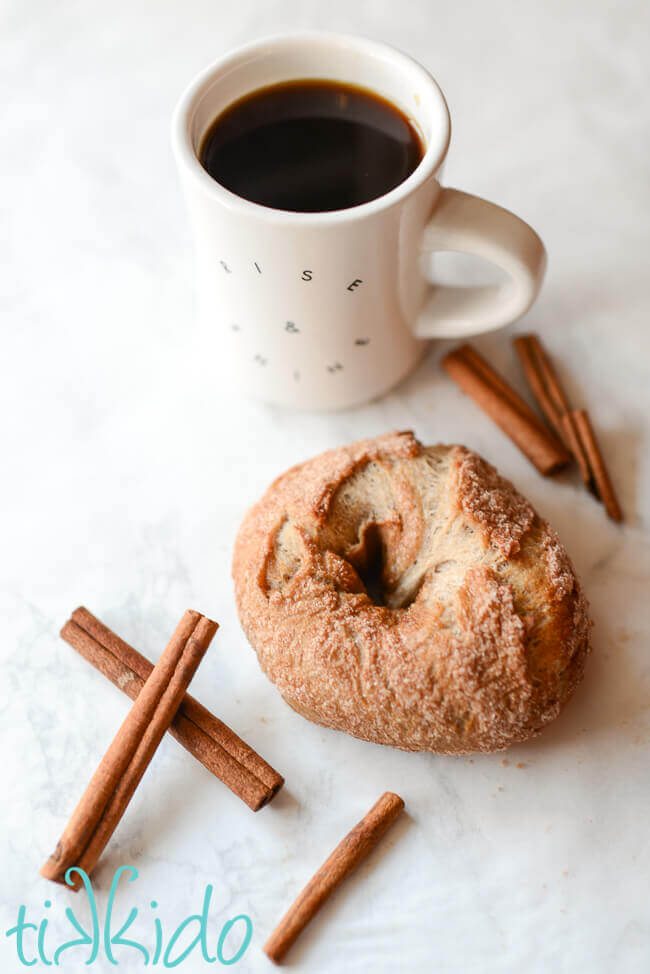 The cinnamon sugar coating creates a delicious sweet crust around the entire bagel.  Even the bottom half of the bagel, which is so sadly neglected by delicious toppings by most bagel shops.  The sugar on the bottom kind of caramelizes and crisps up into this absolutely delectable, crunchy cinnamon coating.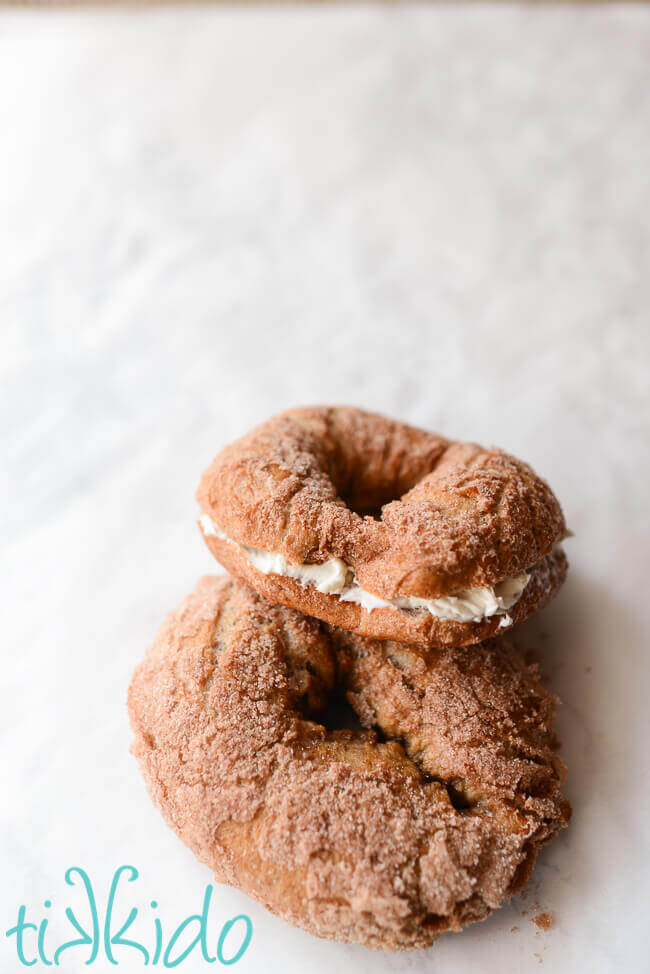 They're not the prettiest bagels around, but man, are they delicious.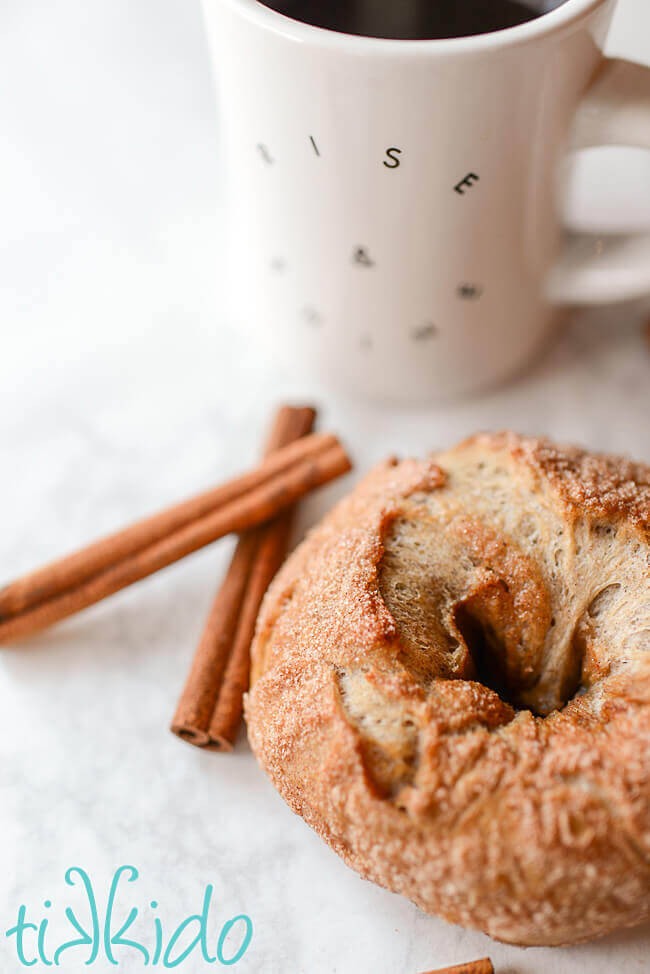 Now these bagels are worth waking up for.
Printable, One Page Cinnamon Sugar Bagels Recipe: