Printer-friendly version
Unicorn Bagels are simply plain bagels dressed up in rainbow swirls.   Not that these rainbow bagels need any extra flavoring to make me smile in the morning.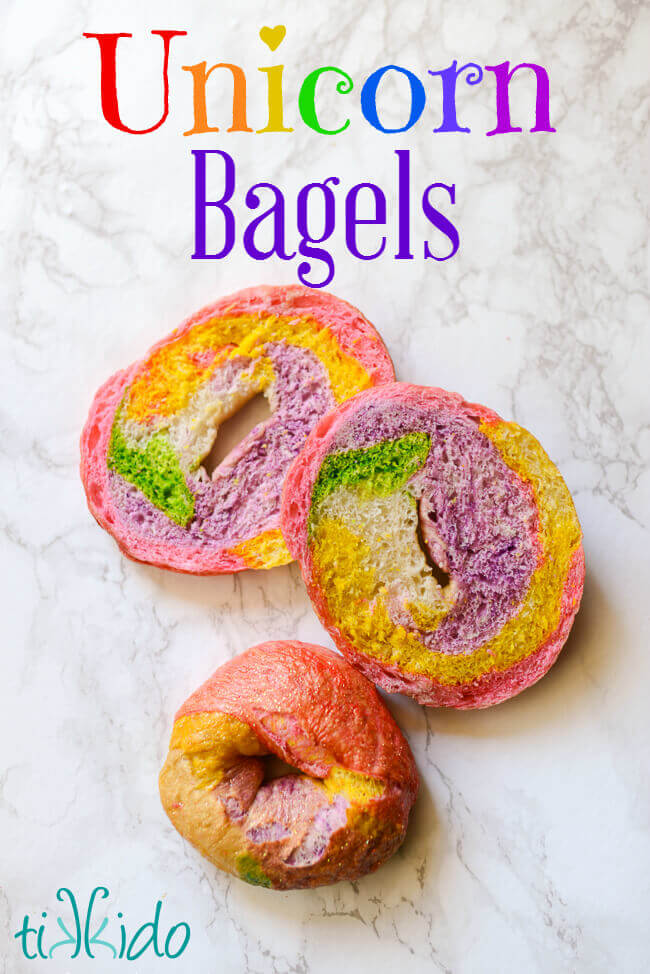 I spent some time this weekend baking my favorite homemade bagels for my family and decided to have some fun, and make one batch Unicorn Bagels (sparkly!  Rainbowy!  Awesome!).  
Unicorn Bagels make everything better!  Especially Mondays.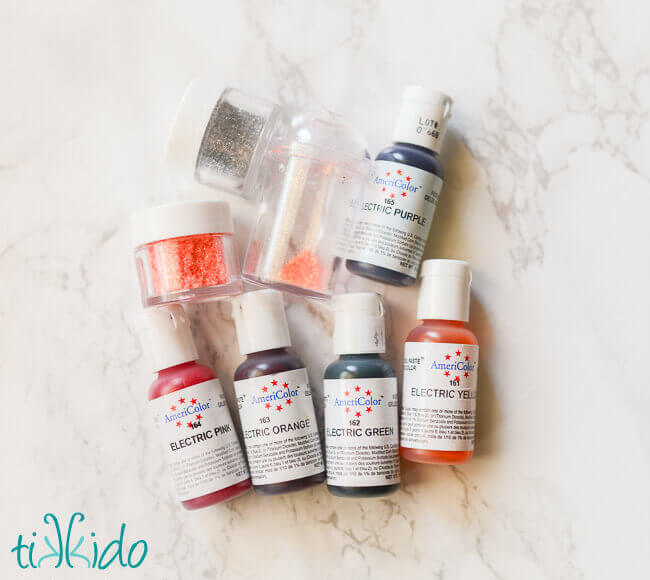 How to Make Unicorn Bagels
one batch of bagel dough (here's my favorite recipe)
Assorted gel food colors (I like Americolor's Electric colors, especially for something like this.  Buy here.)
disco dust edible glitter for cake decorating (buy here)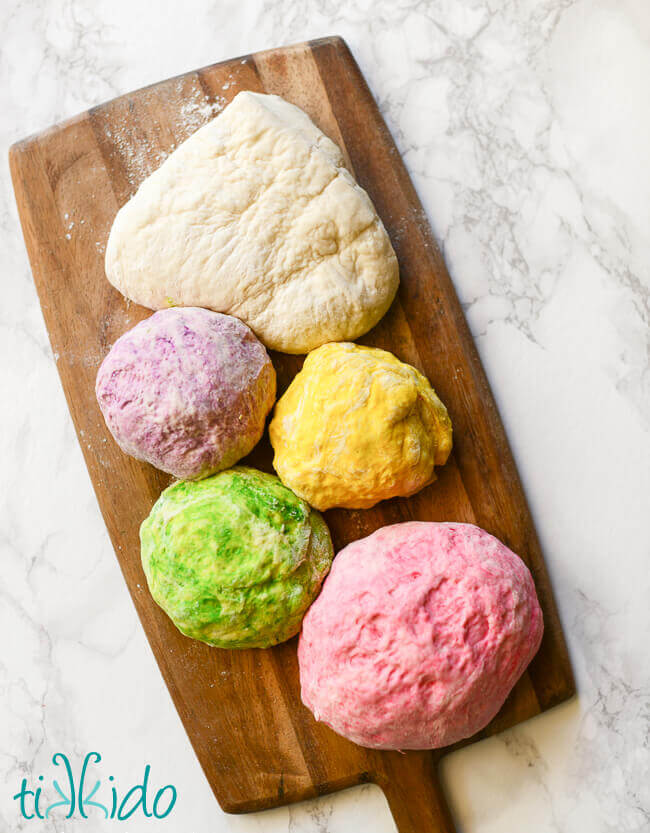 Once you've made your bread dough (or, like me, let your bread machine do the fussy work), divide the dough into several parts.  I made five parts, and I didn't particularly try to make them even.  I wasn't going for a perfectly symmetrical, even look.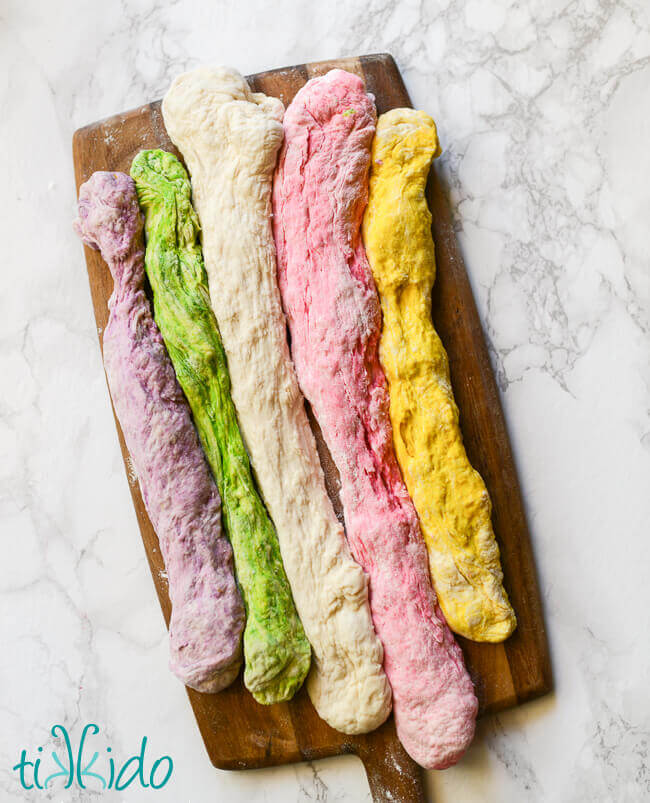 Knead a few drops of gel food coloring into each lump of dough that you want colored.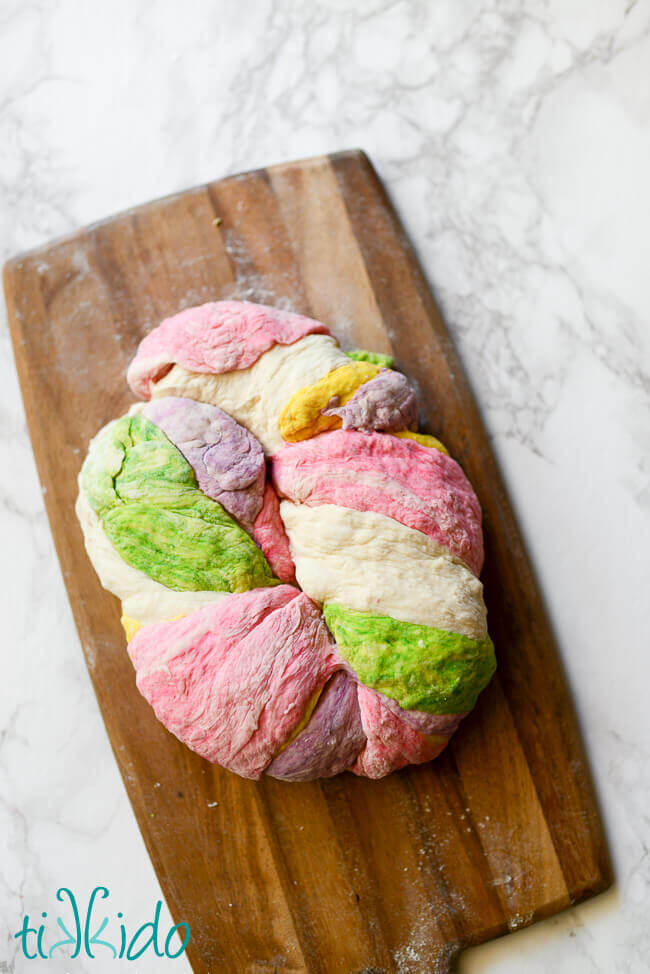 Roll the different colors of dough into long ropes, and twist them all together to create one striped, rainbow-infused lump of dough.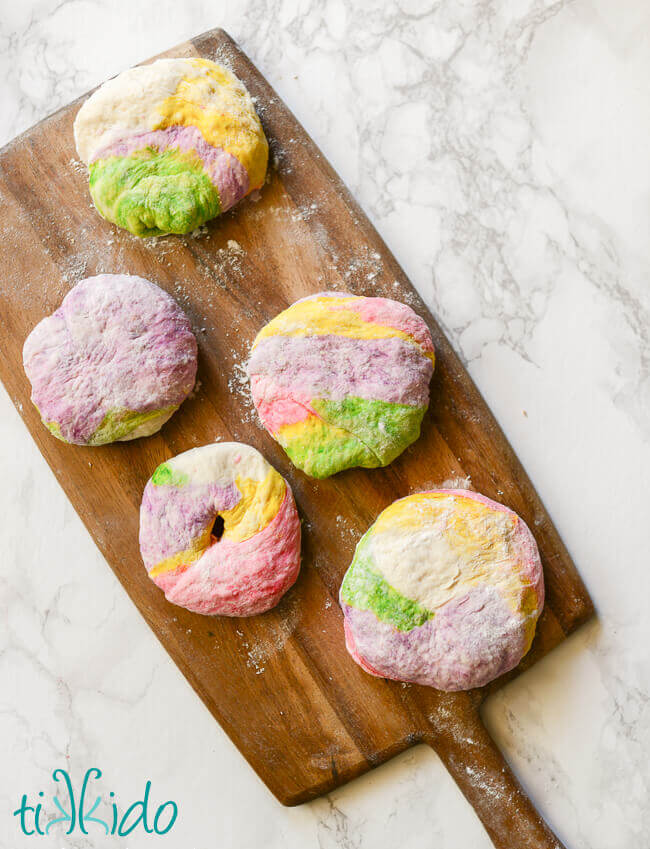 Divide the dough into eight equal parts.  Pat each dough ball flat, and poke a hole in the center.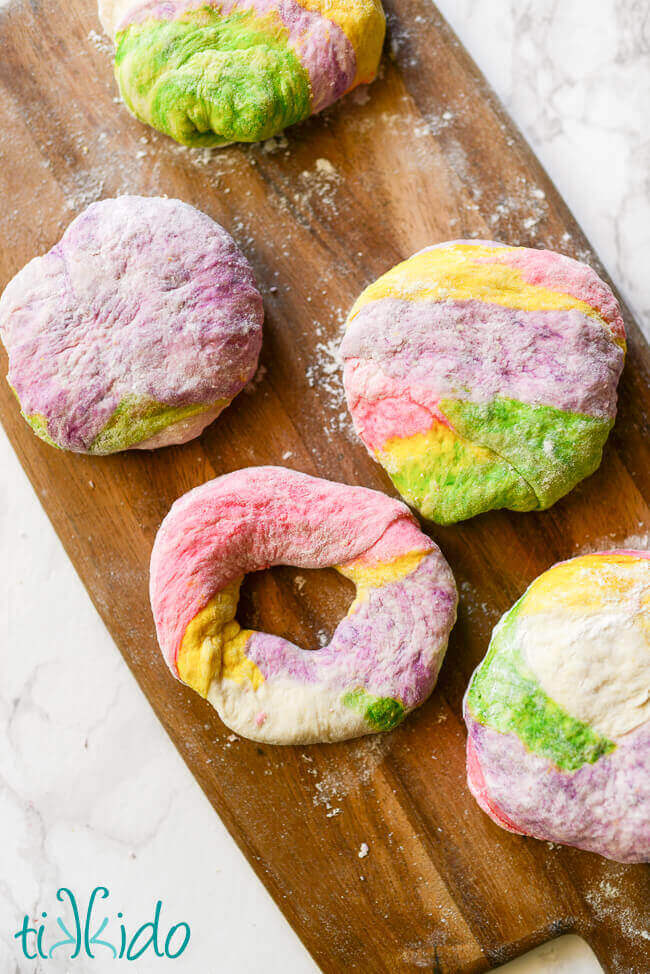 Gently stretch the center hole until it's quite a bit larger, like the picture above.
Yes, I know that this isn't the "proper" technique for shaping bagels, but it's really easy!  Maybe someday I'll graduate to the coiled-snake method of bagel-shaping, but it is not this day.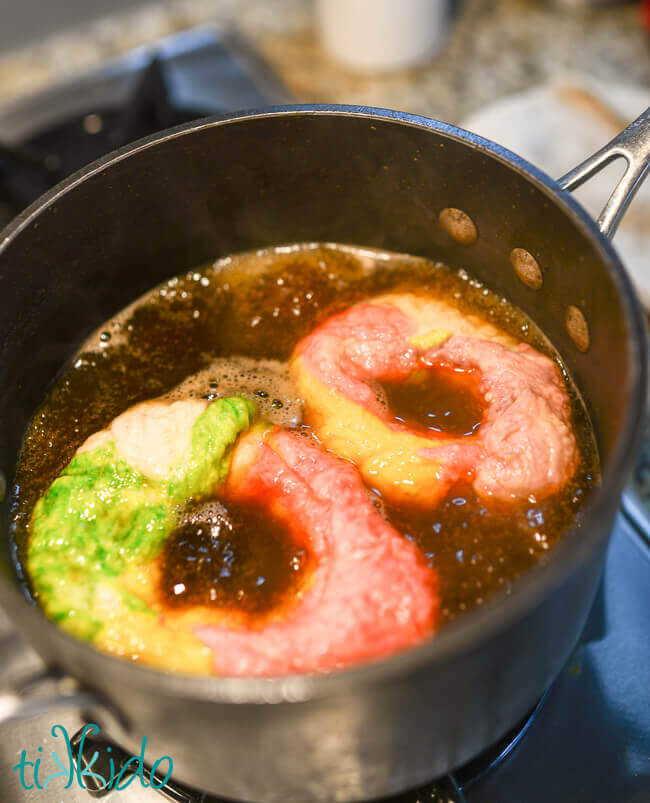 Just like with normal bagels, boil in a water and molasses mixture, 30 seconds per side.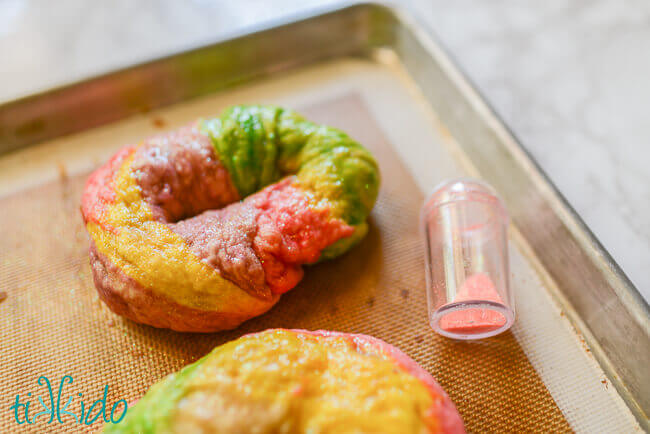 Place on a silicone baking mat (parchment paper, usually so reliable, can be a nightmare if the bagels are a little too wet when you put them on the sheet).
Brush the boiled (but not baked) bagels with an egg wash, and give a sprinkle of disco dust.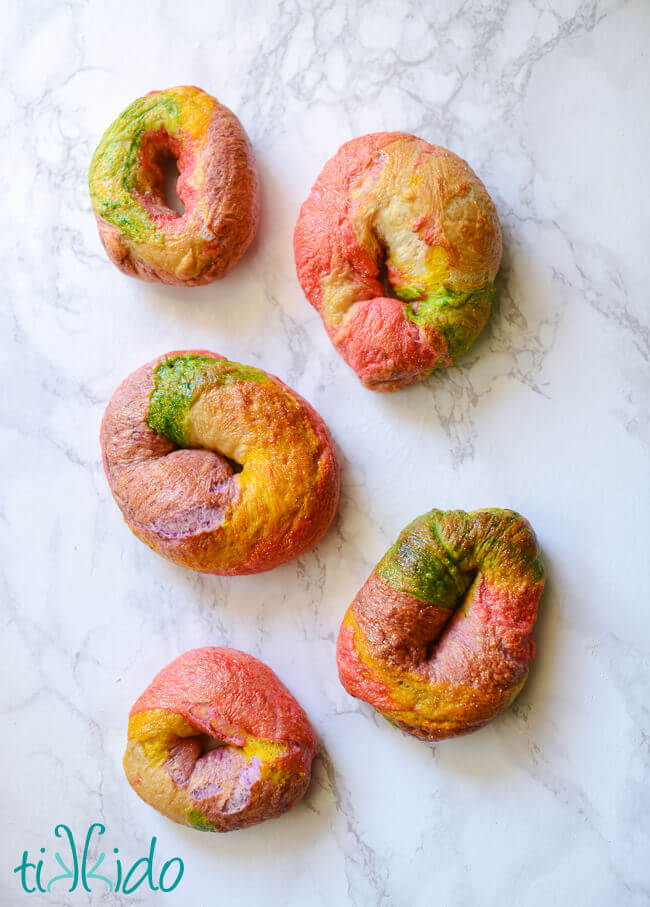 Bake at 400 degrees for approximately minutes.  You want them baked through, but not as golden and crispy as usual.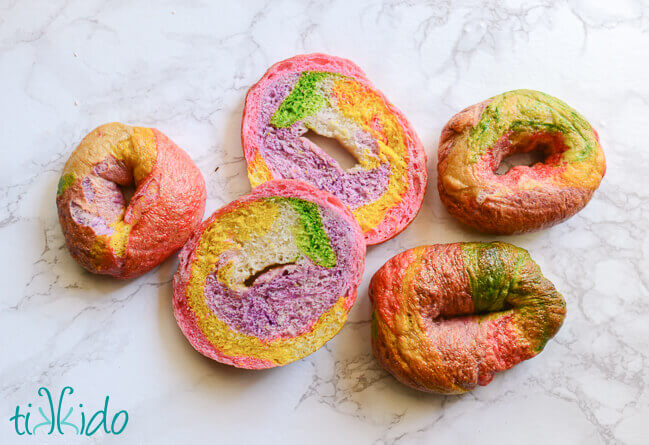 They do still get somewhat golden, but you still see the fabulous, vibrant color when you cut the bagel open!  
What Does a Rainbow Bagel Taste Like?
A rainbow unicorn bagel tastes just like a regular plain bagel.  The food coloring and edible glitter don't have any flavor.
Are Unicorn Bagels Vegan?
This bagel recipe uses an egg wash, but if you eliminated the egg wash, the recipe would be vegan.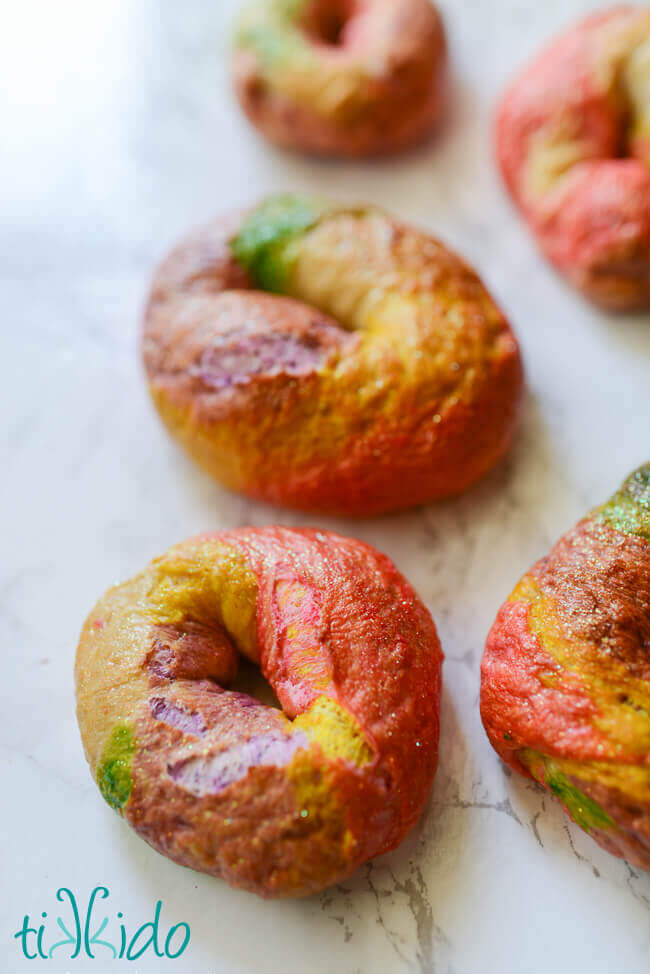 What do you think?  Is this the perfect way to start your week, or what?