Printer-friendly version
Homemade funnel cakes are easy to make with this recipe.  I like making mini funnel cakes the best, but this funnel cake recipe can be made in any size you desire.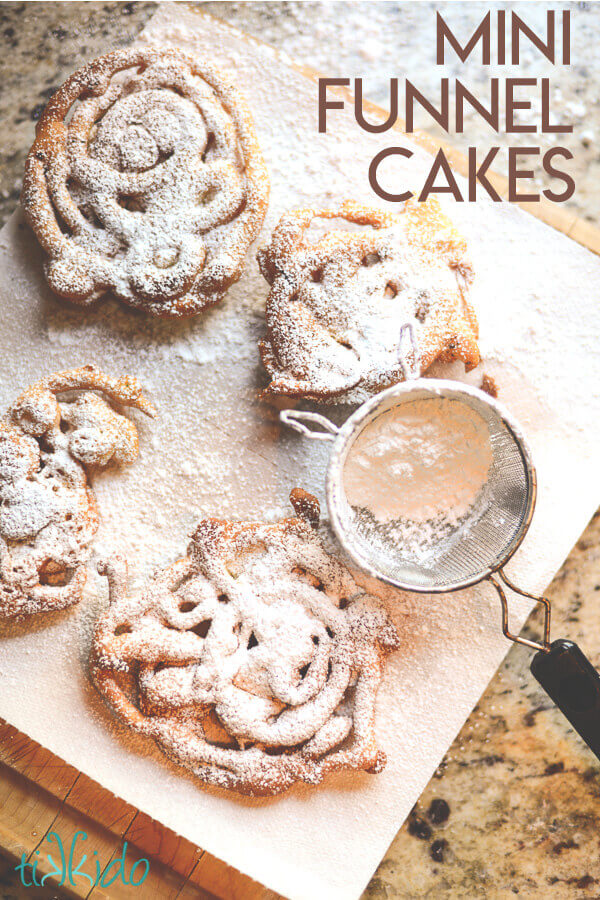 I love making apple fritters, but I always end up with extra batter.  And what could be better than tweaking the recipe just a bit and turning the leftovers into amazing miniature funnel cakes?
Funnel cakes are the best, aren't they?  They remind me of fairs and child-like happiness.  I've never had a bad time while having a funnel cake.  And now I can make those good times at home.
Funnel Cake Recipe:
1 cup milk
1/2 t cinnamon
1/4 cup sugar
2 T vegetable oil
1 egg, beaten
2 cups flour
1 t baking powder
1/4 t salt
No special technique involved here.  Just mix it up in a bowl.  When I'm using up leftover batter from apple fritters, I just add an extra cup of flour (the apple fritter batter recipe is the same, except with only 1 cup of flour).
Heat oil to 375.   I like to use an electric skillet rather than a pan on the stovetop, but it's really about personal preference.  Spoon the batter into a pastry bag, or a plastic ziplock bag with the tip cut off.
Squeeze the batter into the hot oil, creating that distinctive squiggly shape as you go.
Fry for about two minutes on each side, until the funnel cake is golden.
Set the fried funnel cakes on a paper towel to drain any excess oil, and sprinkle with powdered sugar. 
A tiny mesh strainer works perfectly for this job, but you could easily just sprinkle it on with a fork or spoon.  It'll taste just as good!
These are fabulous while warm, but still really, really good the next day, too.
For the record, I decided to try experimenting with adding sprinkles to the batter.  Not a good idea.  Tasted fine, but the dye from the nonpareils comes off so quickly that it turned the batter an entirely unappetizing grey color.  I suppose if you're looking for a treat that looks like intestines for Halloween that could be a good thing.  But for most purposes, classic is best.
Printable, One Page, Homemade Funnel Cake Recipe: