Printer-friendly version
This shop has been compensated by Collective Bias, Inc. and its advertiser. All opinions are mine alone. #SunsOutSpoonsOut #CollectiveBias But I'll add that I only take on sponsored posts when I geniuinely love the product, and boy oh boy, does our whole family love Blue Bunny Ice Cream!
My daughters and I visited my parents in Alabama recently, and--joy of joys--it was peach season!  I brought home an entire suitcase filled with peaches.  Really.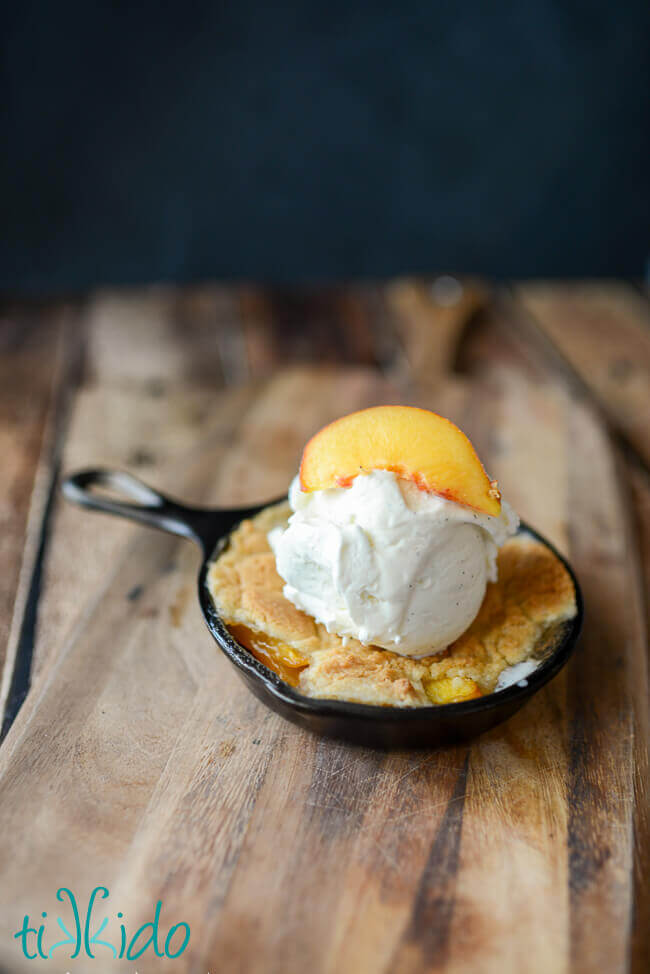 And my favorite thing in the world to make with fabulous fresh peaches is homemade peach cobbler.  Preferably eaten still warm from the oven, and topped with Blue Bunny vanilla bean ice cream.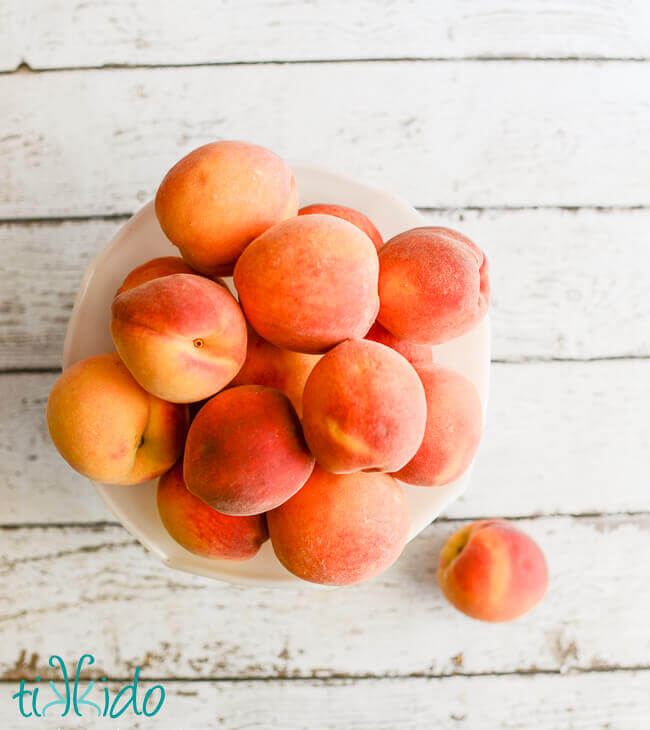 Just look at those beauties!  They definitely wanted to become cobbler.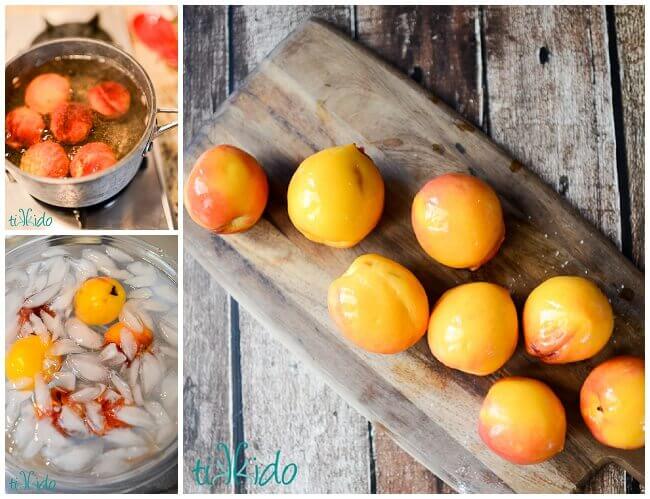 The first step is to peel those beautiful peaches, which is an easy task if you know the right trick.  Boil a pot of water, and drop the peaches in for 10-20 seconds--not long!  Then remove from the boiling water and put in an ice bath.  The skins will just slip right off the peaches with ease.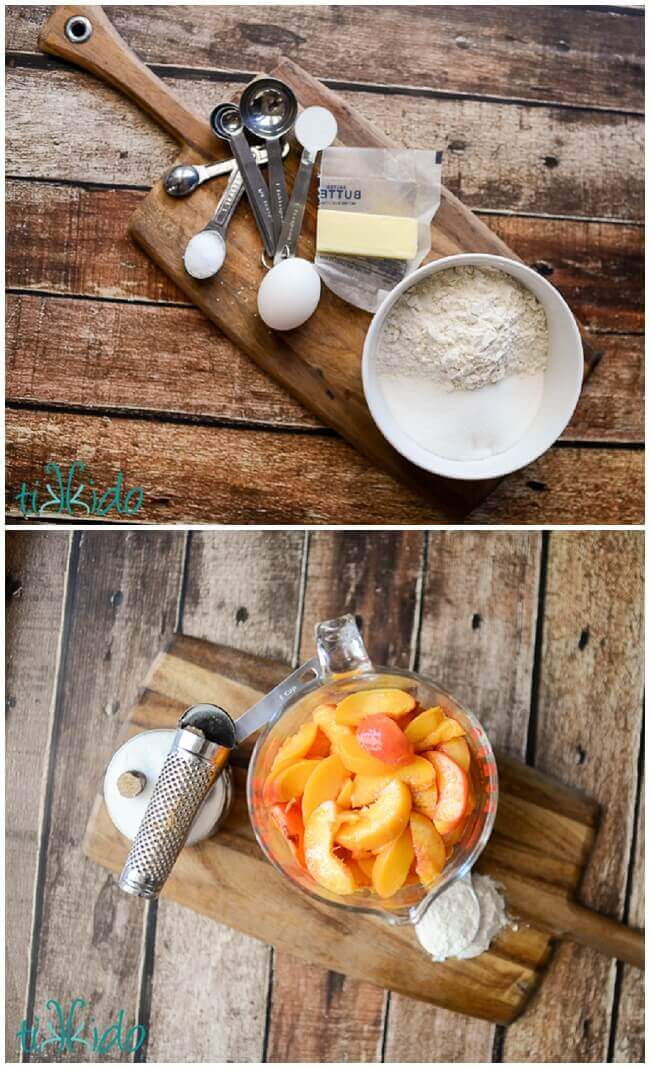 The recipe I used has been a family favorite for many years, and originally came from Country Cooking.
Colorado Peach Cobbler Recipe:
Fruit Filling Ingredients:
1 cup sugar
2 Tablespoons flour
1/4 teaspoon freshly ground nutmeg
4 cups of peeled and sliced fresh peaches
Cobbler Topping Ingredients:
1 cup sugar
1 cup flour
1 teaspoon baking powder
1 teaspoon salt
1/3 cup cold butter
1 egg, beaten
Combine all of the ingredients for the peach filling in a bowl.  Place in a 11x7" baking pan.  Evidently that is the only size of baking pan I don't have, so I used my favorite 9x9 Le Creuset baking dish (doesn't it just seem right for a cobbler?) and one of my miniature cast iron skillets for the extra.  The skillet looked so charming that I'm definitely making single servings with the whole batch the next time.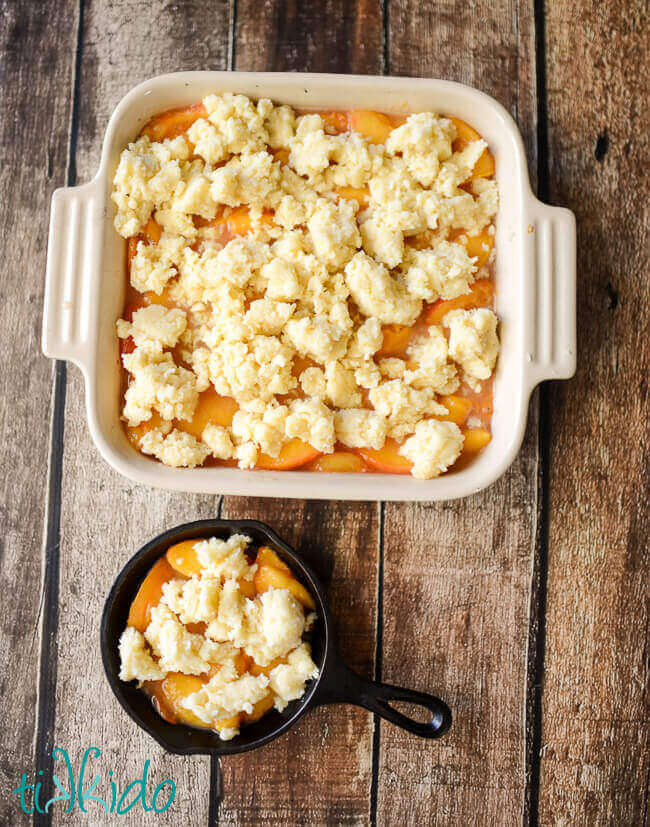 Combine the dry ingredients for the cobbler topping in a bowl.  Cut the cold butter in to the dry mixture with a pastry cutter or with a couple knives.  You want the dry mixture to look like fine crumbs. Stir in the beaten egg.  The mixture should come together in a pretty dry, crumbly dough.  If the mixture looks too dry, however, your egg might have been smaller than the recipe anticipated, or your flour might have had less moisture content (that happens a lot here in Phoenix).  I added about 1 Tablespoon of water to the cobbler topping dough to get it to the right texture.  Once you have your dough, distribute it evenly over the peaches.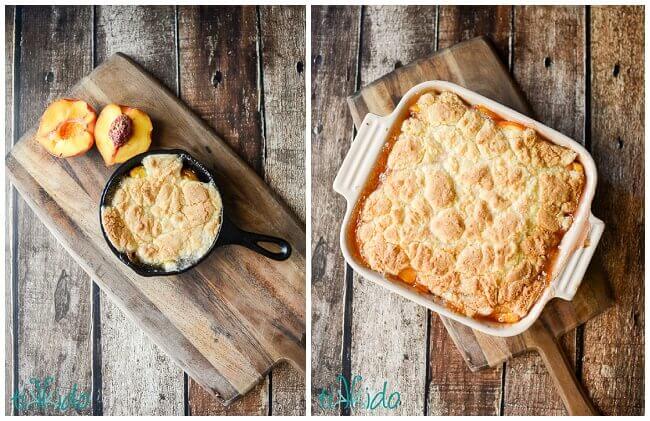 Bake at 375 for about 20 minutes for the small, individual sized portions.  Bake for 35-40 minutes for one large peach cobbler.  Bake until the filling is bubbly and the topping is golden.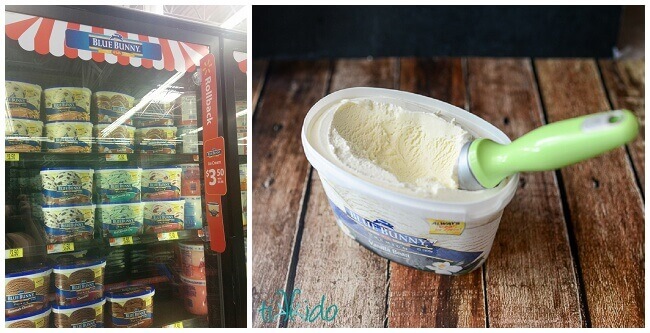 Make sure you've already been to Walmart to pick up your Blue Bunny ice cream.  (Look!  It was even on sale!)  You want to enjoy the cobbler while it's all hot and bubbly and contrasts beautifully with the cold, creamy vanilla ice cream.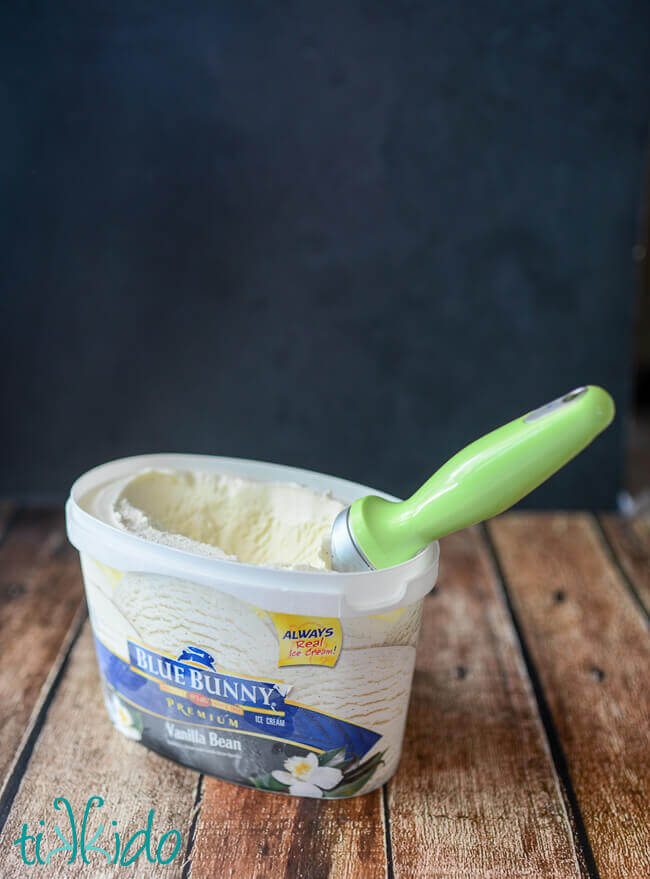 I chose Vanilla Bean flavor.  I'm a sucker for those specks of real vanilla bean in the ice cream.  So good.  So, so good.  (And so was the Cookie Dough, and Blue Bunny Caramel Praline Crunch, and Mint Chocolate Chip I bought.  Told you we like Blue Bunny Ice Cream. )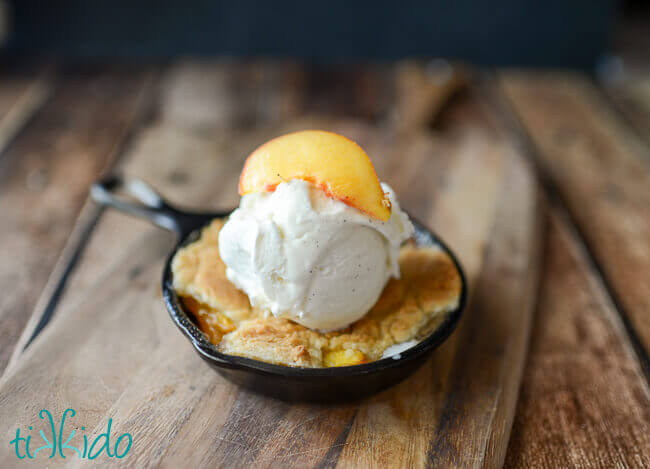 A big scoop of Blue Bunny Vanilla Bean ice cream and hot homemade peach cobbler.  In a miniature cast iron skillet.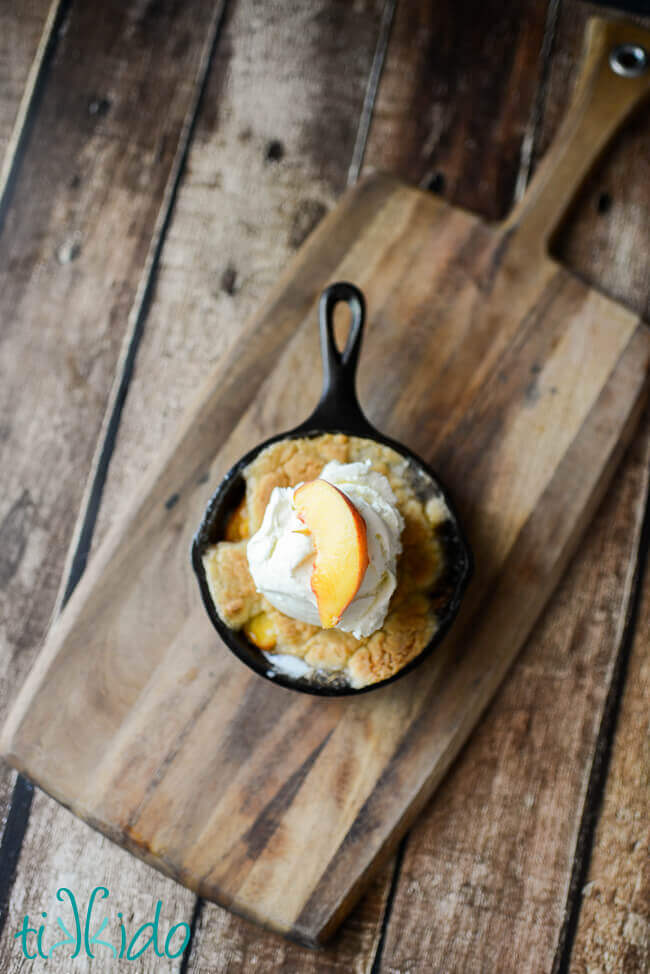 That's summer perfection, right there.  And if you want to see more fabulous summer ice cream ideas, check out Sun's Out Spoons Out!   You can never have too many ice cream ideas, obviously.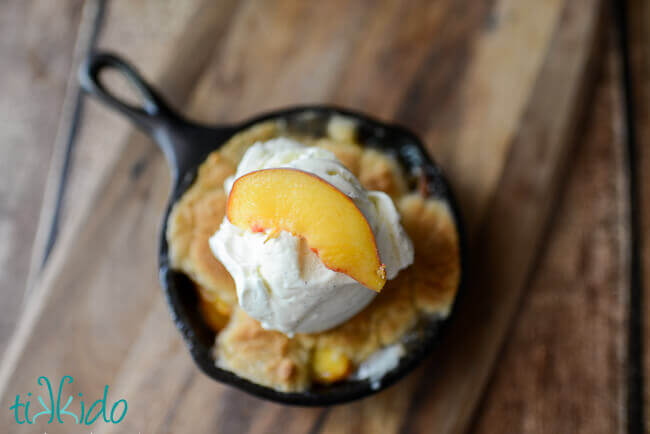 I seriously considered putting the Caramel Praline Crunch Frozen Yogurt on the peach cobbler, but in the end I chickened out and decided to go with classic vanilla.  You just can't go wrong with a spoon full of warm peaches and sweet biscuit crust and cold, creamy, vanilla ice cream.  
What do you think?  Are you an ice cream purist, or would you have topped the cobbler with a different flavor?