Printer-friendly version
Last year I made some Christmas ornaments that represented the gingerbread house baking process.  This year, I decided that I needed to have some ornaments that look like my completed gingerbread houses to go along with last year's ornaments.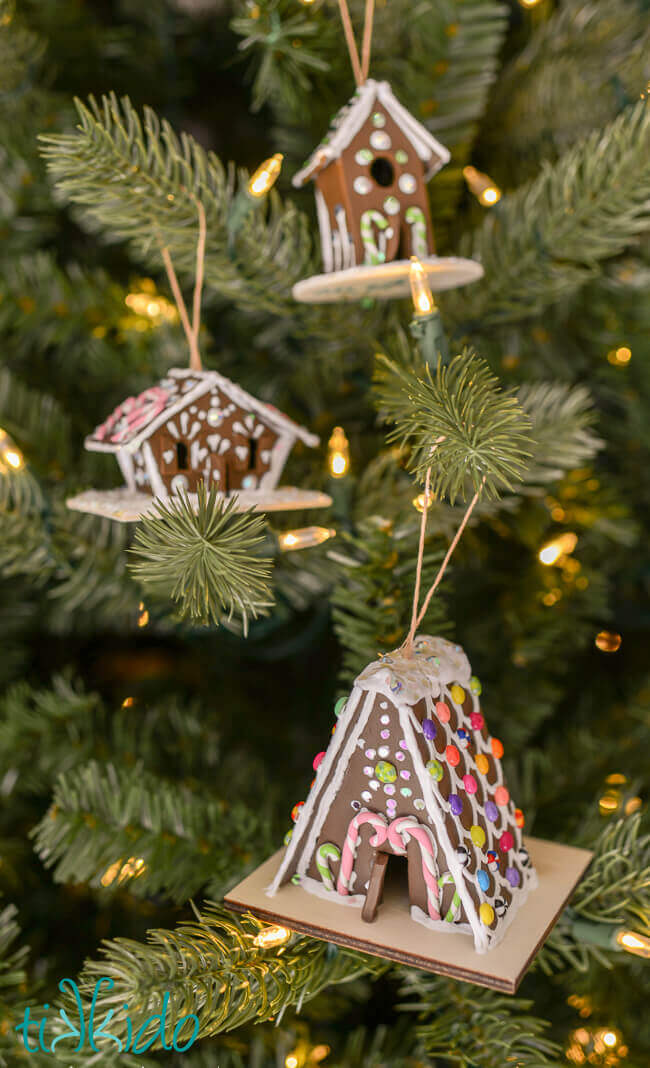 I love any kind of Christmas ornament that relates to gingerbread in some way, especially since I put all my food-related ornaments on garlands over the windows in the kitchen.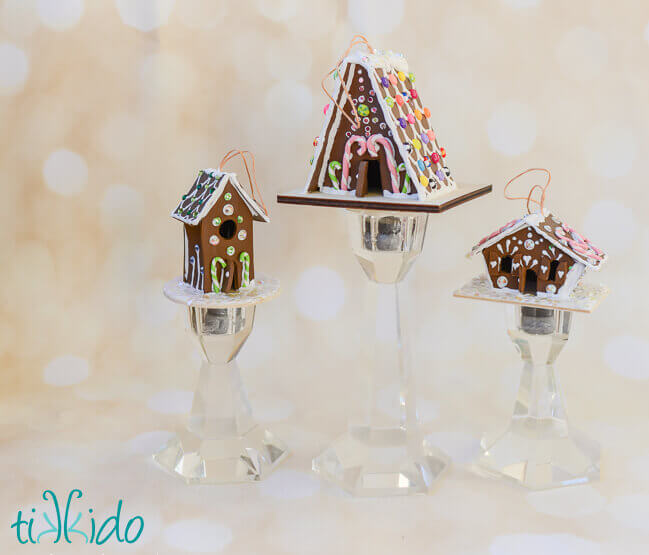 But as happy as any store-bought gingerbread ornaments make me, these ornaments that look just like the gingerbread houses I bake I love even more.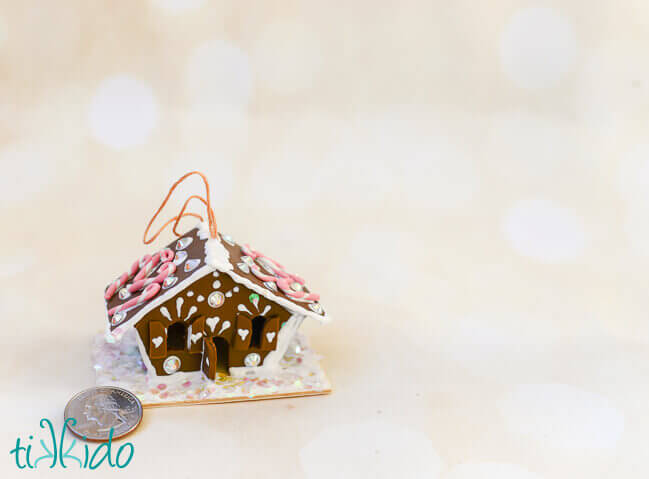 Here's a picture to give you a sense of the scale of my gingerbread house Christmas ornaments.  Bigger than a dollhouse gingerbread house, but a very normal ornament size.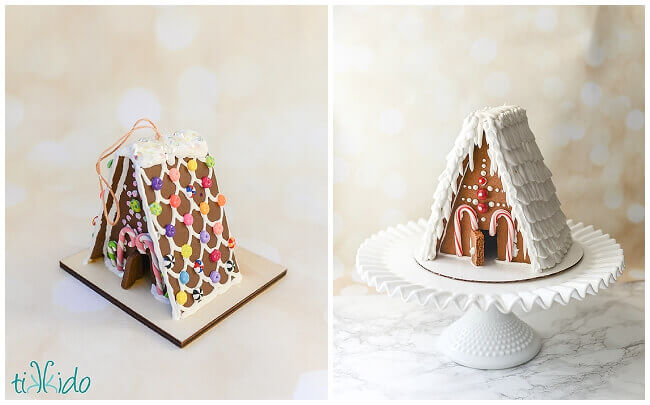 Ornament on the left, actual gingerbread house on the right!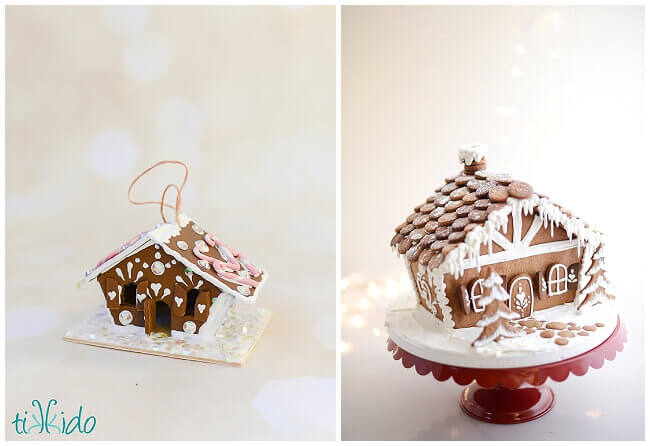 Again, ornament on the left, gingerbread house on the right!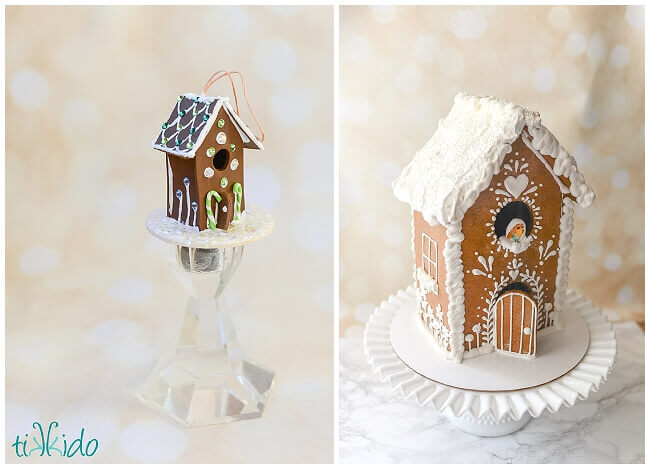 And one more time!  I made three of the basic house shapes that I have in my Gingerbread for Beginners e-book (which includes printable templates for the full-sized gingerbread houses).
If you are thinking about baking a gingerbread house, or just want to know all the tips and tricks my family has learned over the decades and thousands of gingerbread houses we've baked, this is the book for you!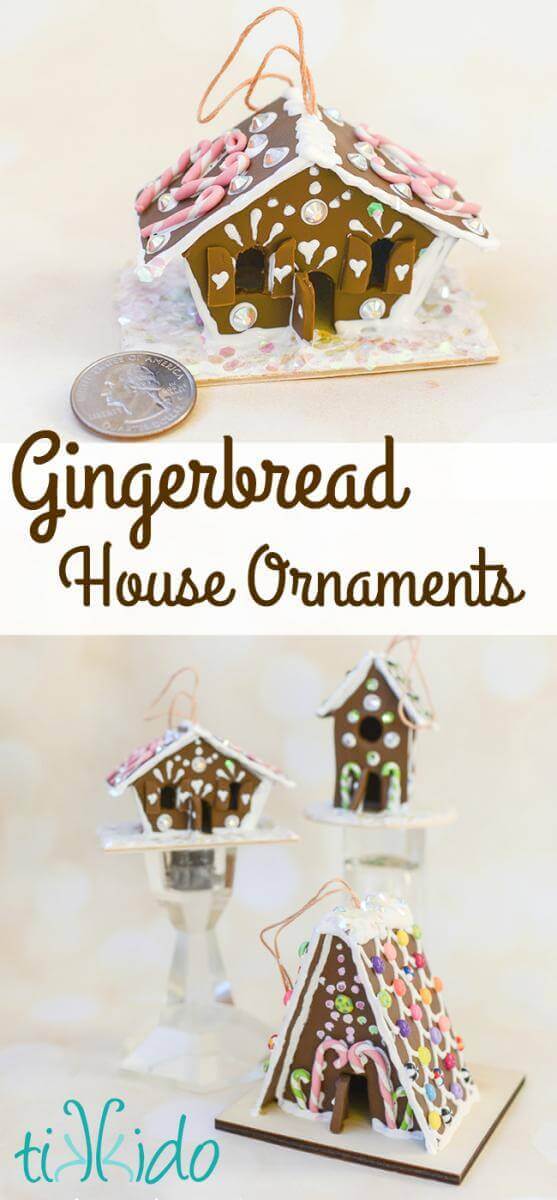 (That image above is for your pinning pleasure.)
Are you ready for the full tutorial on how to make gingerbread house Christmas ornaments?  Head over to Page Two.
[pagebreak]
Miniature Gingerbread House Christmas Ornament Tutorial: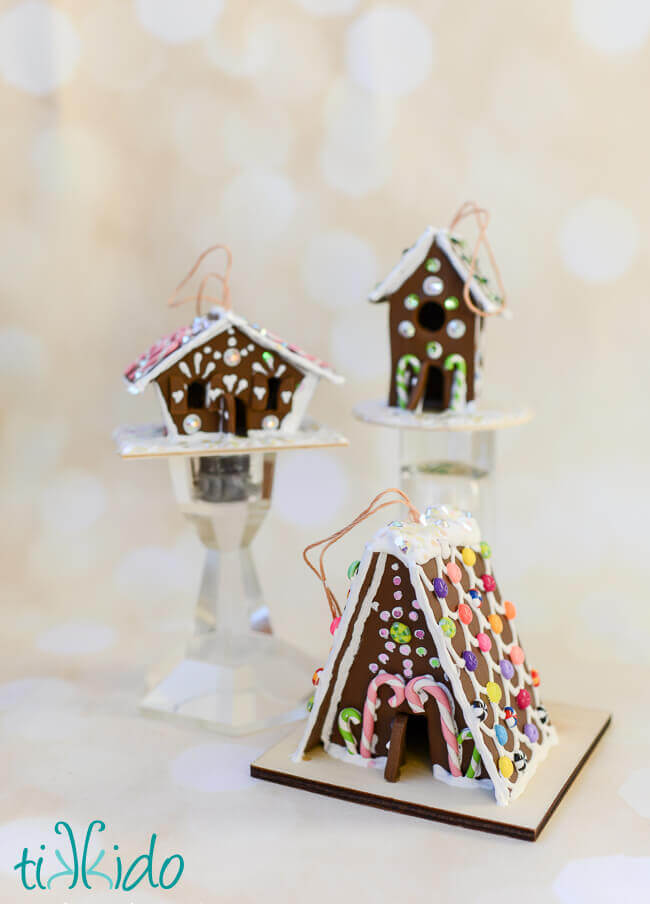 Materials for Making Miniature Gingerbread House Christmas Ornaments: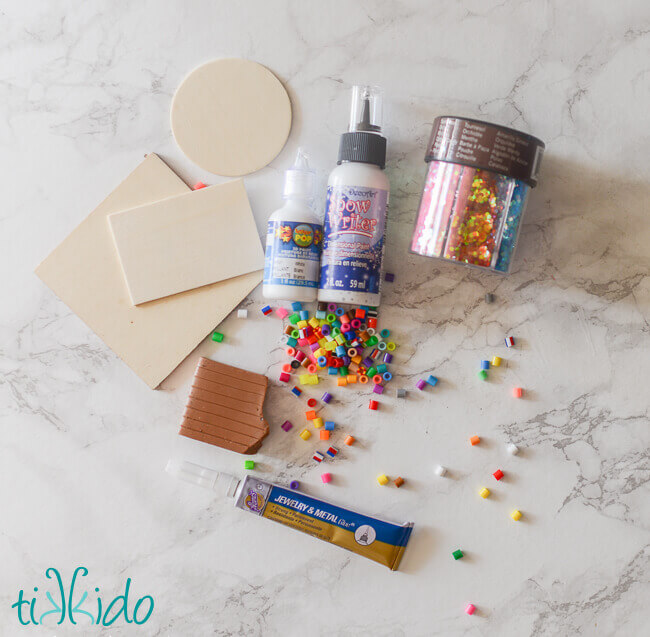 I used a jewelry and metal glue to assemble these ornaments, and it worked well, but it's a thin gel that doesn't really grip until it has dried (like a superglue).  I found E-6000 glue (buy here) easier to work with in the end.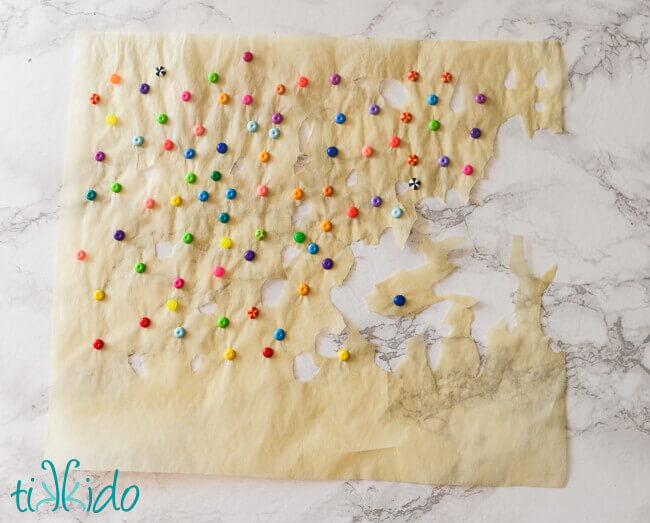 I knew I wanted to melt some of our bajillions of perler beads into little candy-like plastic disks, so I looked up the instructions on the manufacturer's website, and read that I should melt them for 10 minutes at 375.  I stuck them on a sheet of trusty parchment paper, baked, and they looked AWESOME when I pulled them out of the oven.  I let them cool, and tried to pop them off the parchment paper, but as you can see, that was a big disaster.  Evidently parchment paper is not adequately non-stick for this project.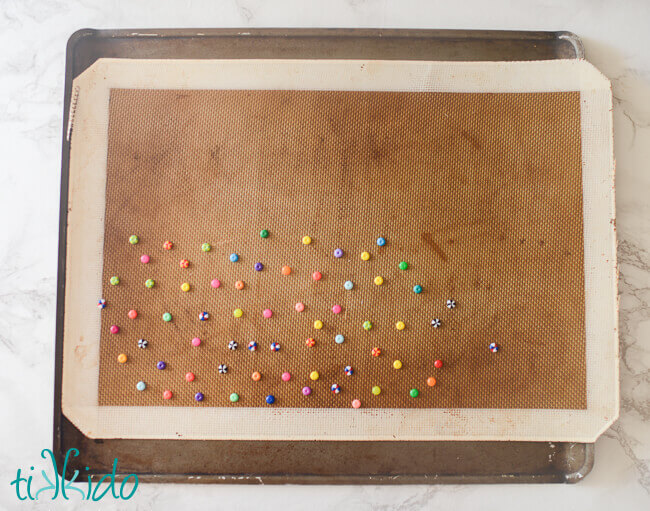 Attempt #2, using a silicone baking mat, was a rousing success, thankfully.  The cooled, melted perler beads pop right off the baking mat.  And I learned that striped perler beads make really awesome little fake candies.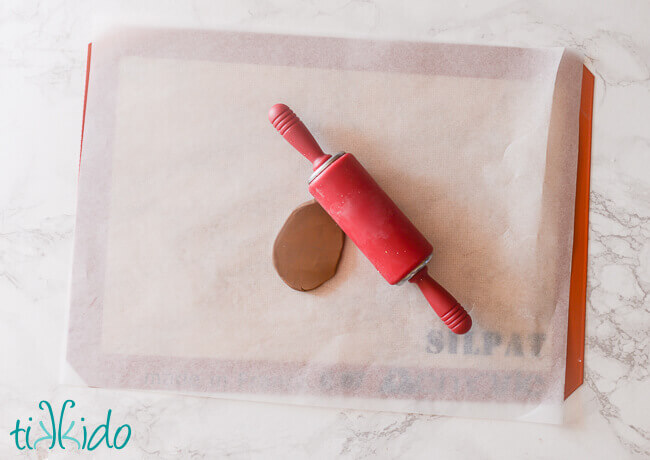 On to the actual gingerbread house forms.  Knead your brown polymer clay (the Sculpey brand clay I used was extremely easy to work with), and roll out on parchment paper.  I used the same technique I use when making real gingerbread houses:  put a silpat on the counter, parchment paper on top, and roll on top of the parchment paper.  The silicone baking mat keeps the parchment paper from slipping around on the counter.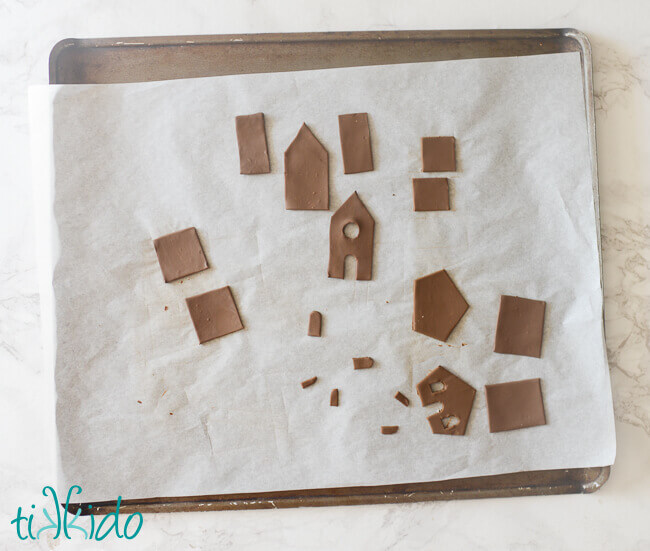 Cut out your teeny tiny gingerbread house shapes, and lift away the excess clay.  Bake according to the directions on your clay package.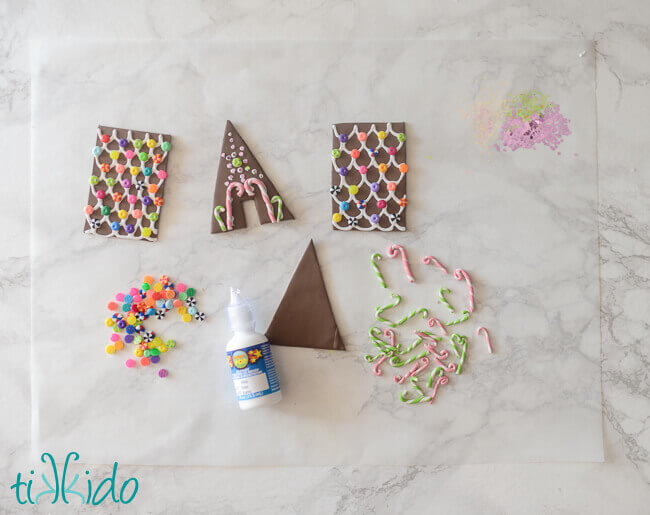 Decorate the pieces of the gingerbread house ornaments and let dry before assembling them.  Use the dimensional puff paint as your icing.  I could have used glue to attach my fake candies to the gingerbread house ornaments, but I wanted it to look just like my real gingerbread houses, and sometimes you can see the white royal icing adhering the candies to the house.  So I just used my puff paint as my glue.
I used the melted perler beads, rhinestones, chunky glitter, and polymer clay miniature candy canes as my candies.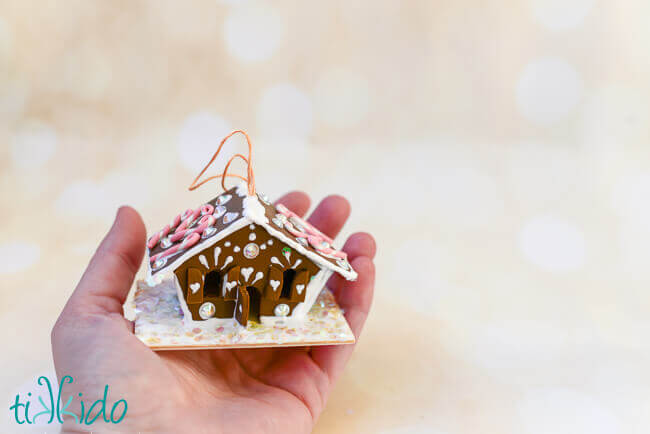 Once the decorated pieces have dried completely (doesn't take too long with the brand of puff paint I used, maybe an hour), assemble the houses using your glue.  I didn't grab a picture, but I glued the loop to the back of one of the roof pieces so there would be a thread for hanging the ornament in the right place when I glued all the pieces together.
Do NOT be tempted to use a hot glue gun to assemble the houses.  I know it sounds faster and easier, but hot glue guns do not work well to hold polymer clay creations together.  You'll need to use the special glue and practice patience while it dries.
After the house is assembled, use the puff paint to cover any visible glue seams.  Add a little glitter if you want (and who doesn't?).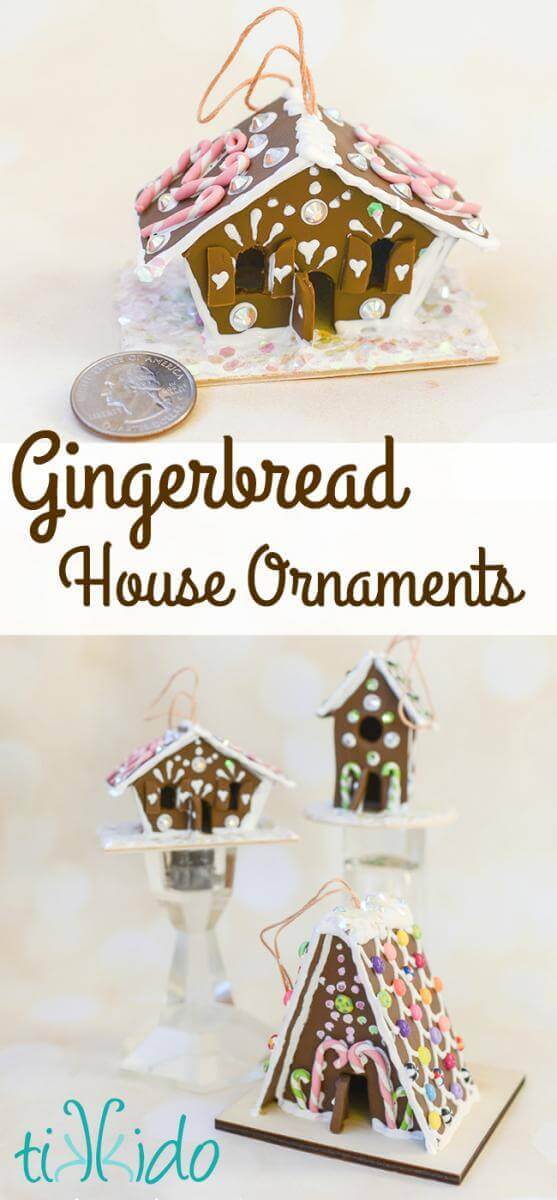 They're the perfect addition to my Christmas ornament collection!  I can't wait to hang them up on my kitchen garlands.  First, I just need to pull all the Christmas decorations out of storage!  Wish me luck, because that means I actually have to venture into the closet under the stairs.