Printer-friendly version
DIY Christmas gift tags are a fun way to personalize a special gift.  I love anything related to gingerbread, so I decided to make these very special gingerbread gift tags for my family's Christmas presents this year.  This tutorial will show you how to make these charming DIY Christmas gift tags for yourself.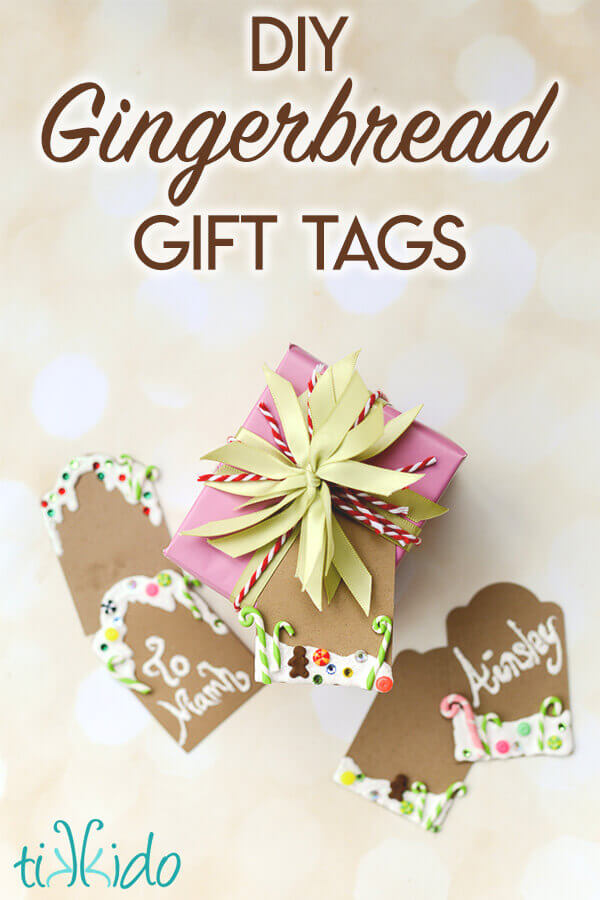 After I the miniature gingerbread house Christmas ornaments from yesterday's blog post, I had a bunch of the little fake candies I'd made left over.  They were too cute to just throw away, or consign to the depths of my childrens' art supplies baskets, probably never to be seen again.  So I came up with a very quick and easy craft to use up my leftover gingerbread-style embellishments:  winter candyland gift tags.
You know I'm a sucker for gingerbread, and anything miniature, AND creative gift wrapping, so you can imagine how happy this little craft made me.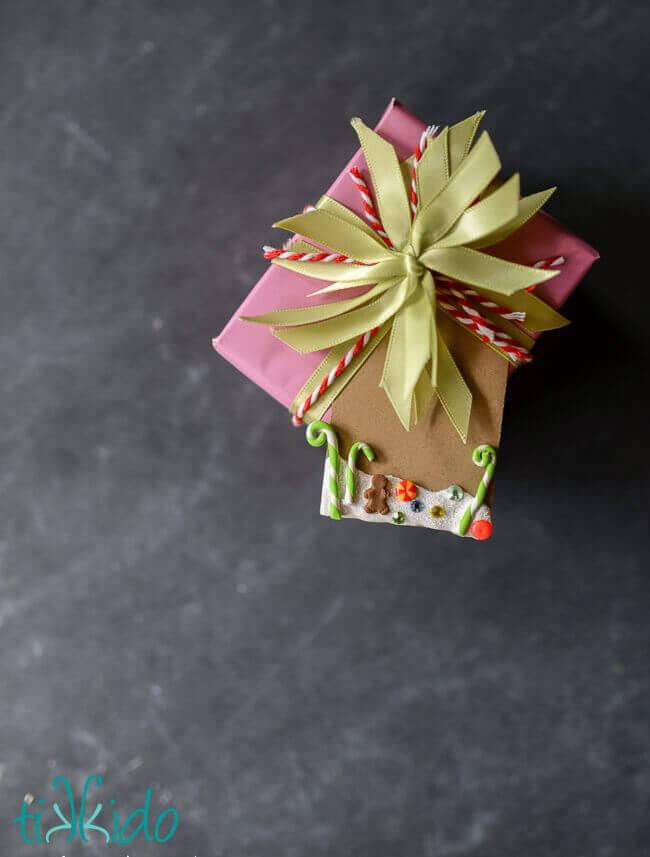 Hint:  VERY HAPPY.  Gingerbread ALL THE THINGS!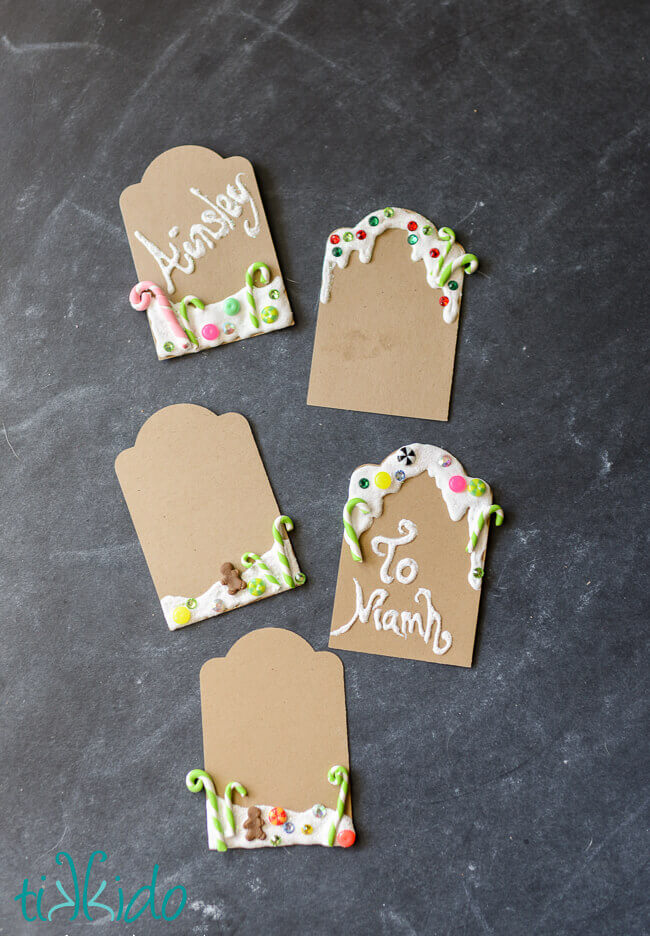 I wanted to use a white paint pen to write the names on the tags, but evidently all of mine have dried up, so I improvised with some white puff paint.  My handwriting is not the best even with pens; with the puff paint, it was even sloppier, but at least I got to add glitter.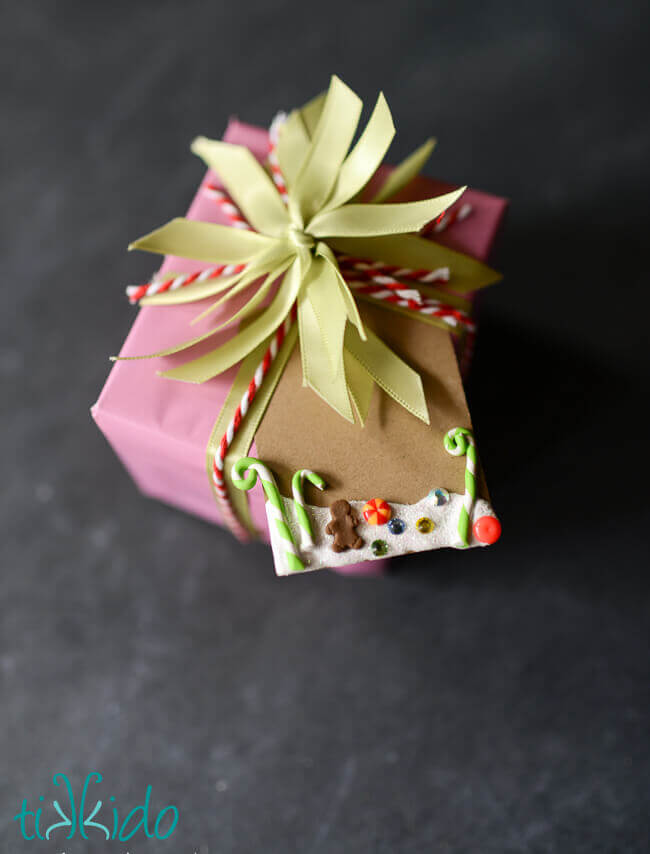 Ready to find out just how easy it is to make these cute little package toppers?  
Gingerbread DIY Christmas Gift Tags Tutorial: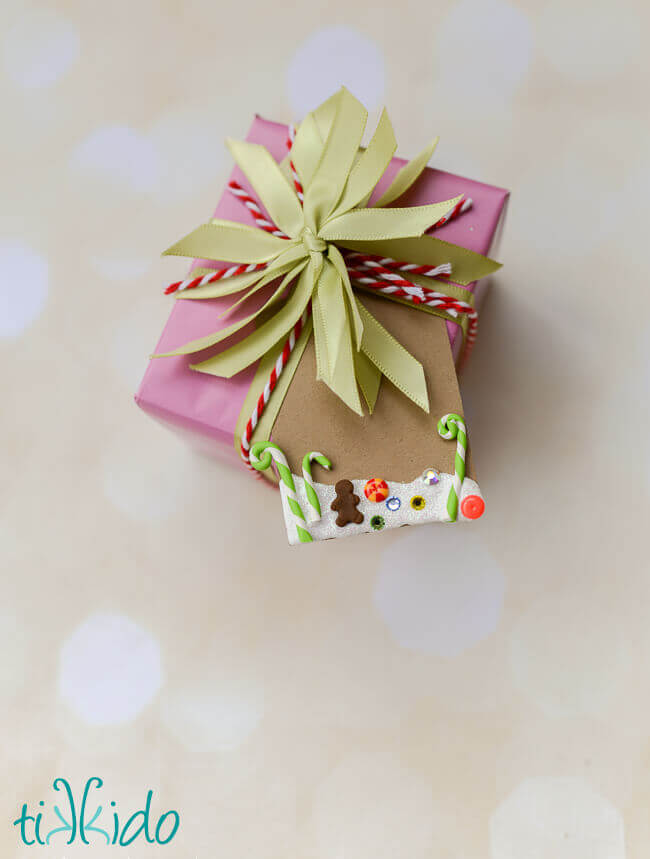 I'd made a lot of these embellishments for yesterday's gingerbread house ornament tutorial, but I'll link alternate products that you don't have to make yourself, too, to make this project even easier.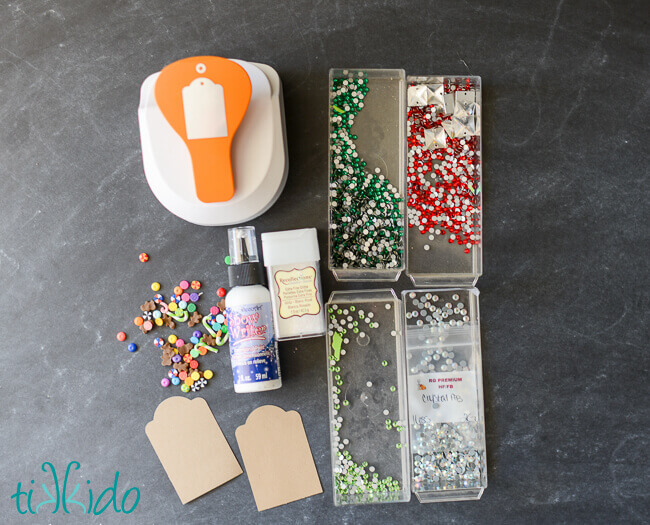 Materials for Gingerbready Candyland Gift Tags: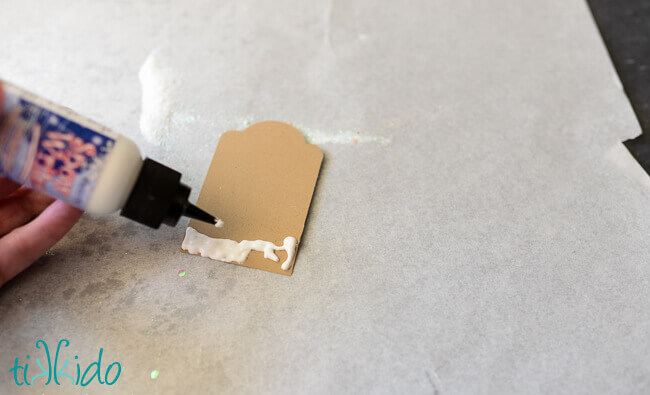 Start by punching out a basic tag shape from cardstock.  I love the basic tag punch I use (buy here), but you can easily buy blank kraft gift tags already made (buy here).  Next, add some snowy pillows of dimensional paint.  You could use any kind of puff paint, but for this project, I used the Snow Writer dimensional paint.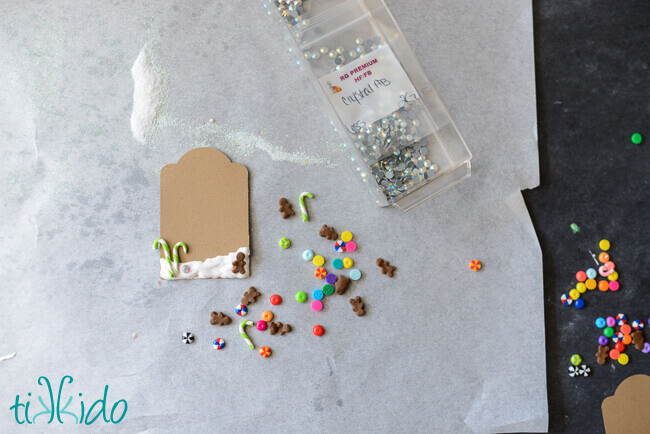 Add the faux-candy embellishments to the wet dimensional paint.  Wondering what to use, exactly?
Check out yesterday's gingerbread house ornament post for the details on how to make the melted perler bead miniature candies.
I made my miniature candy canes with polymer clay.  I just rolled two narrow ropes (one of each color), twisted them together, rolled to combine, and cut, shaped, and baked them.  But if you'd rather just buy something like those, I found these adorable dollhouse-scale miniature candy canes.
I also used polymer clay and a tiny gingerbread man mold (like this) to make some sweet little gingerbread men for my gift tags.  You can also buy miniature gingerbread men embellishments, but it's much more cost effective to make them yourself, especially if you want more than just a couple.  Those little molds are really easy to use.
I added some rhinestones as well, because I had a bunch on hand, and who doesn't like extra sparkle?  I'm a big fan of the Czech Preciosa rhinestones.  They sparkle as gorgeously as Swarovski, and are significantly less expensive.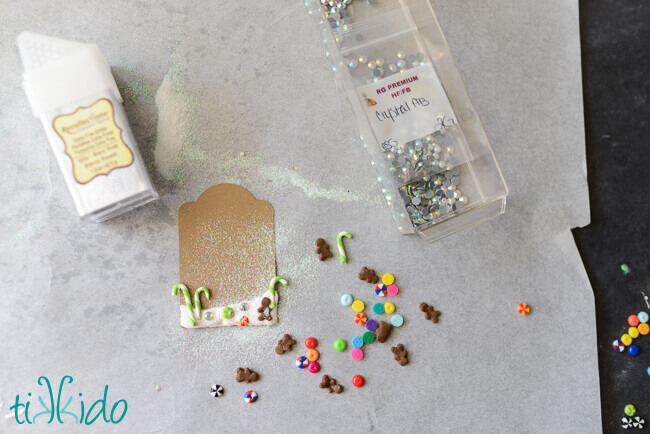 After the embellishments have been added to the tag, but before the paint has dried, you can sprinkle with some extra fine glitter.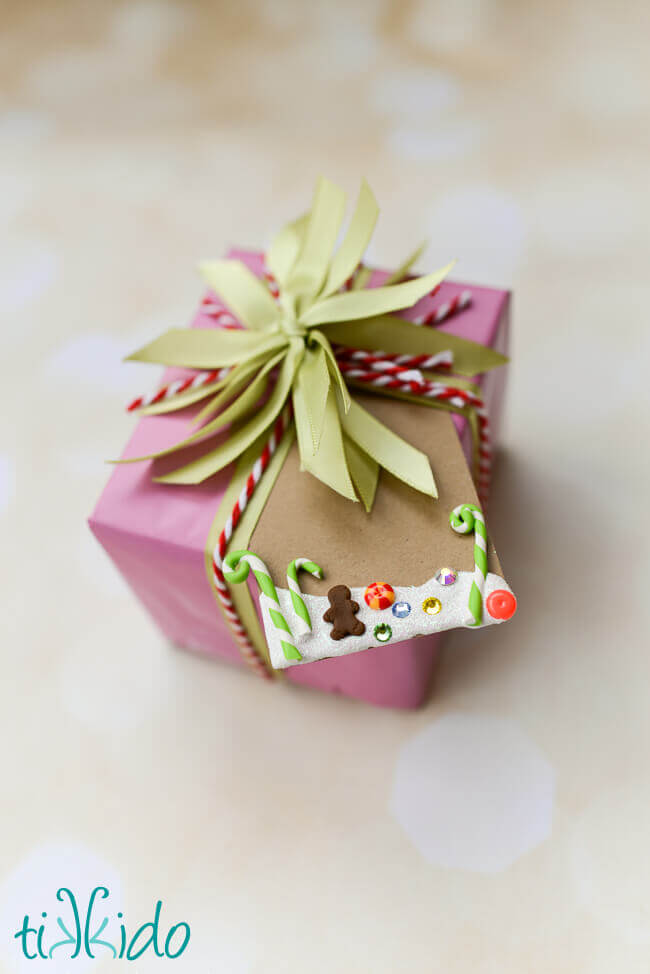 The Snow Writer paint actually dries quite quickly, and my tags were ready to use within the hour.  
Now I just need to finish my Christmas shopping, so I can get around to the fun of wrapping all the presents!
Other Gift Tag Tutorials You Might Like: