Printer-friendly version
My favorite project from the But First, Coffee Brunch was the chalkboard ribbon banner on the background.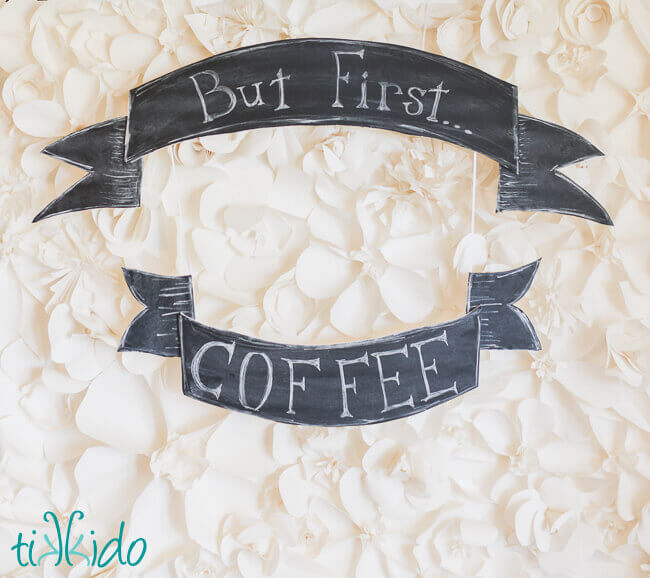 (If your favorite was the paper flower backdrop, I recycled that from a party years ago, and you can find the tutorial here.)  Don't get me wrong, I LOVE that paper flower backdrop, and keep finding new ways to use it, but I have to say that I'm equally delighted by the chalkboard banner addition.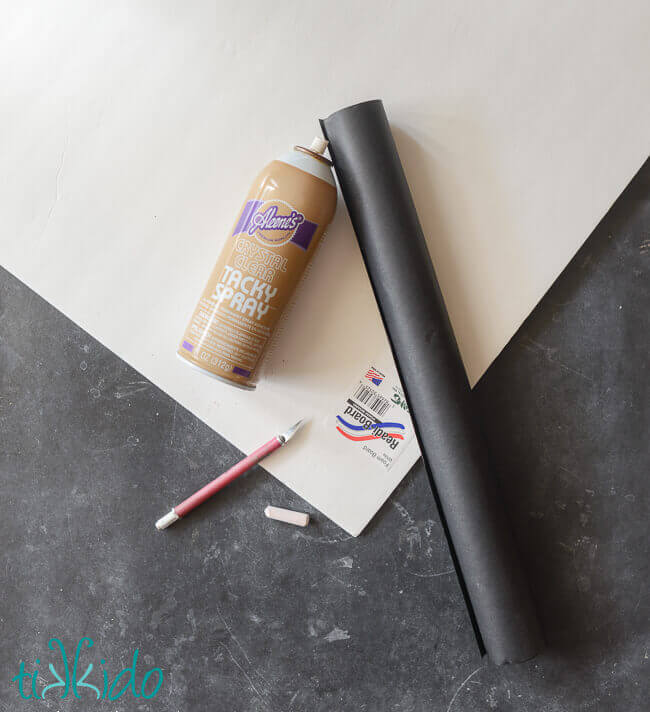 Materials for the Chalkboard Ribbon Sign:
foam core board
chalkboard paper
chalk
ribbon (for hanging the sign)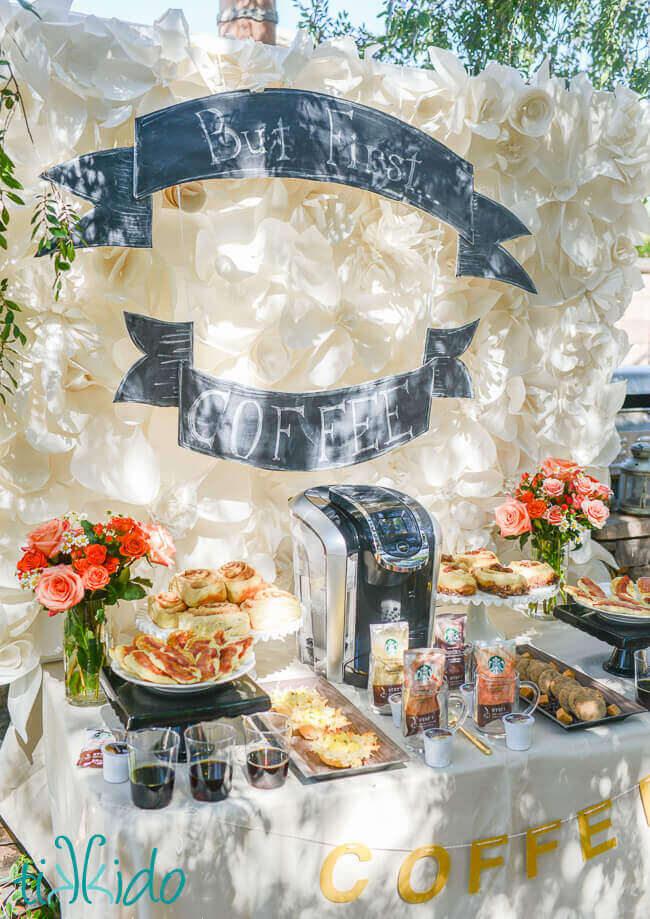 I get my foam core board at the dollar store.  It's so much less expensive than getting it at the craft store, and I actually like that the surface is more matte than the more expensive craft store version.
Spray the adhesive spray glue (I like this one), it doesn't do the sticky spider web thing and gives good coverage) on the foam core, and smooth the chalkboard paper on the foam core base.  I used an 18" long roll of black chalkboard paper that I found in the dollar section at Michael's, but really, any matte black paper would work for this project.  Upon further reflection and a bit of internet searching, it seems like using inexpensive chalkboard contact paper would have been a brilliant idea, and you could totally skip the spray adhesive step.  If you try it before I do, let me know how it works out!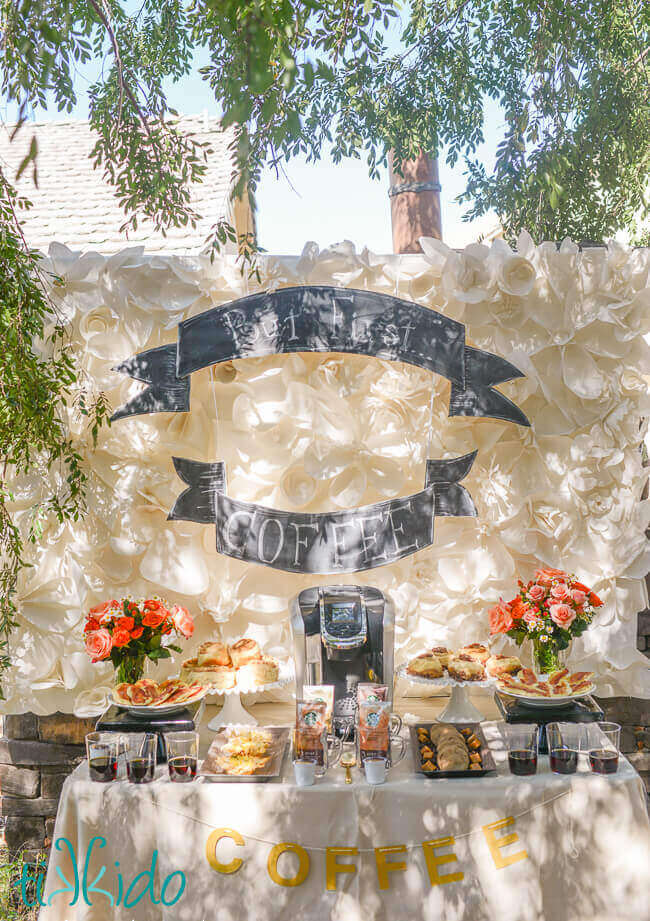 Once the black paper is attached to the foam core, use a pencil to sketch out the basic shape of the ribbon banner.  I just googled "ribbon banner illustration" to get inspiration and freehanded it.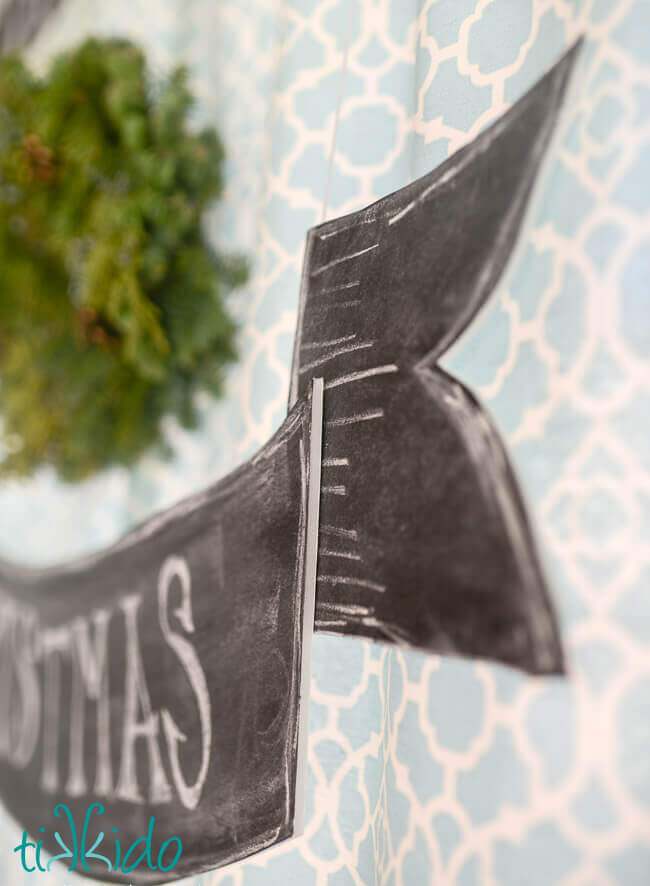 Notice, though, that I did each part of the banner separately.  The fish-tail looking piece was drawn and cut out apart from the main swag of the ribbon banner, then glued on the back of the banner to create extra dimension.
Use an X-acto or other sharp craft knife to carefully cut out the banner shapes, and glue together.  Use chalk to trace around the edges of the ribbon banner and give it more of an illustrated look.  Use the same chalk to add any lettering you want.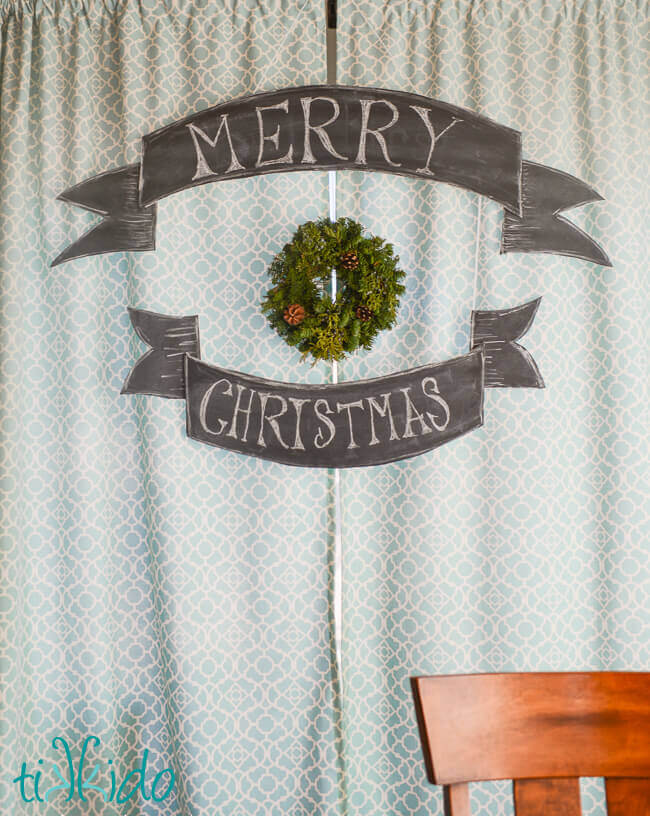 I switched it up and turned the banner into a Christmas decoration last night!  It's now hanging in my kitchen.  We were in San Francisco so my oldest daughter could compete in the Oireachtas (say oh-ROCK-tus, our major regional Irish dancing competition), so I'm just getting started with our Christmas decorating this week.  I love it, though I think that little wreath I got at Trader Joe's is just a little bit too small.  Hmmm.  Something to consider.  What do you think?  Just a couple inches larger?