Printer-friendly version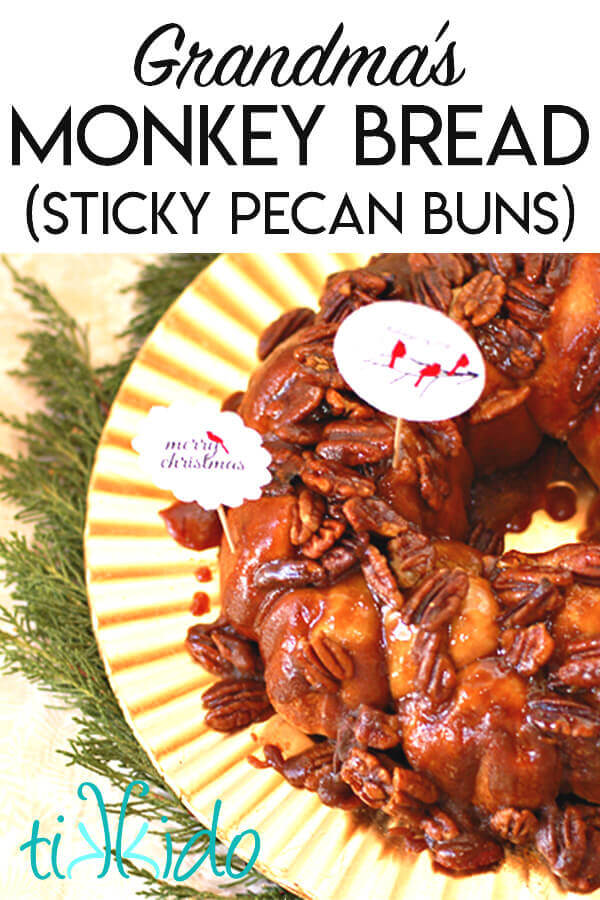 There are a number of exceptional bakers in my family.  Bakers who can make fabulous, intricate, complicated desserts.  My mom is even a pastry chef (as her...let's see...4th career?).  But sometimes nothing beats an old, easy classic.  Sticky Pecan Buns.  
Yummy, nostalgic, warm and sweet and sticky, and above all, easy.  That's why I chose it for the Cabin Christmas celebration.  I needed something that would take extremely minimal prep and tools, and still taste fabulous.  
If you're renting a cabin, you just can never know exactly what they mean by a "fully equipped kitchen."  I've rented my share of those that were so inadequately stocked that I couldn't make spaghetti after skiing. So it's safer to bring things you must have with you.  In this case, I measured out all my ingredients into Ziplock baggies, tossed them all in the bundt pan, and wrapped the whole thing up in cling wrap for the trip to the cabin.  
Sticky Pecan Buns Recipe
18 frozen dinner rolls (unbaked, frozen dough version)
2 cups pecans
1 cup brown sugar
1 stick butter
1 package cook-and-serve butterscotch pudding mix
1 1/2 t cinnamon
Prep work is done the night before you want to bake and serve the sticky buns.
Sprinkle pecans on the bottom of the bundt pan. Place frozen rolls on top of the pecans.
In a microwave-safe bowl, melt the stick of butter.  Mix in the cinnamon and brown sugar.  Pour over the dinner rolls and pecans.
Sprinkle the dry butterscotch pudding mix over the rolls.  
Cover with cling wrap, and let sit in the fridge overnight.
In the morning, preheat the oven to 350 degrees.  Bake for 25 minutes.  While still warm, invert the pan and turn out the ring of gooey deliciousness onto a plate.
Yum.  For some reason, this just tastes like Christmas to me.