Printer-friendly version
It's that time of the month--time for the Taste Creations Blog Hop!  We're sharing our families' traditional Christmas breakfasts this month.  Growing up, we always had homemade cinnamon rolls (a recipe I've already shared here) and homemade kolaches.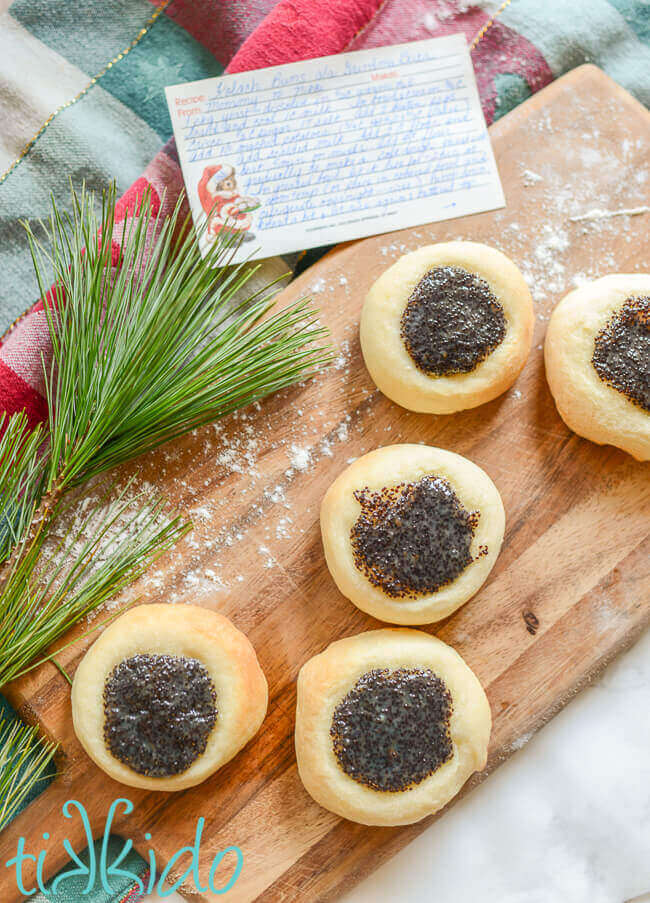 Have you ever had a kolach?  Or even heard of them?  From what I understand, the recipe of Czech origins, but I don't have any more personal knowledge or connection with Czech history and traditions.  In fact, in doing a little research for this, it looks like "kolache" is the plural (I always used that as the singular and "kolaches" as the plural, like my grandma did!).  They seem to have become part of the culture around Iowa City, Iowa, where my grandparents lived, and it's my grandmother's recipe that I'm sharing with you today.  I am far from any sort of expert on the confection, but I am really good at making my Grandma's incredibly delicious recipe each year for Christmas.  ;-)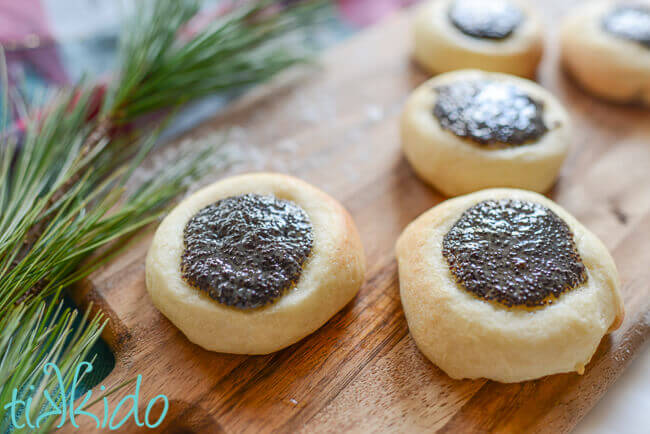 My grandmother typically made a few varieties of kolache (see, I'm trying to adjust and use the correct plural!) each year for Christmas, often apricot and cherry and always, always poppy seed.  Because the poppyseed filling was my dad's absolutely favorite.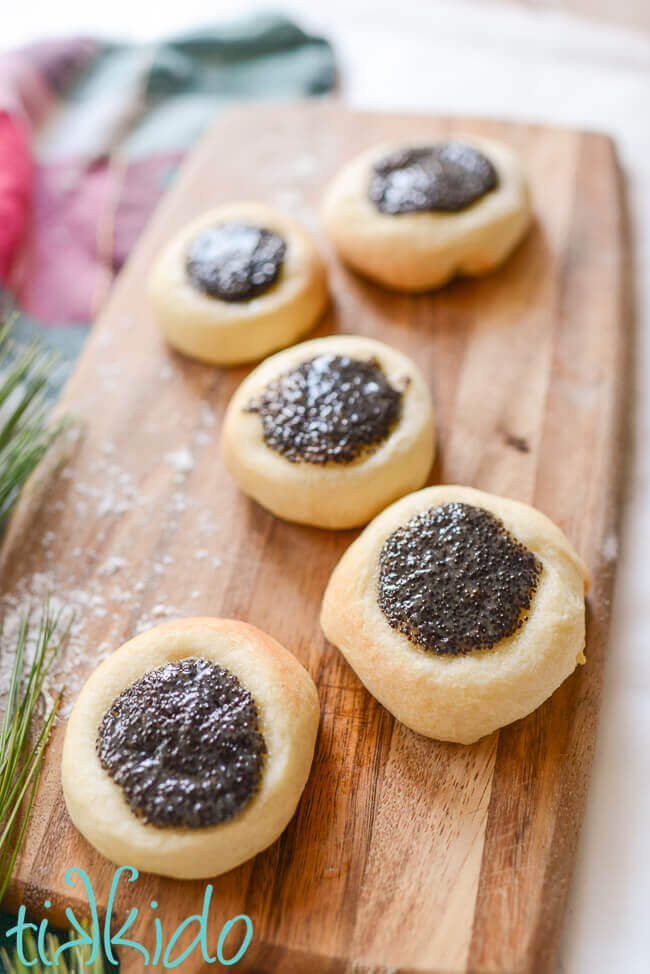 And maybe I should have made apricot or cherry or even almond or nut fillings for the sake of gorgeous photos, but if I'm being honest with myself, I just want all poppyseed filling, all the time.  It's my absolute favorite, too.  I'll provide my grandma's recipes for other fillings, too, just in case you don't feel like walking around with poppy seeds stuck between your teeth and accidental false positives on drug tests.  But they're SO GOOD, they're completely worth those risks. ;-)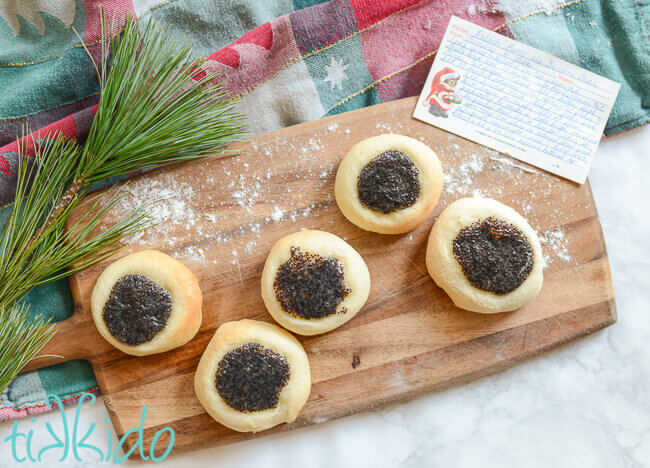 Homemade Kolache and Kolach Fillings Recipes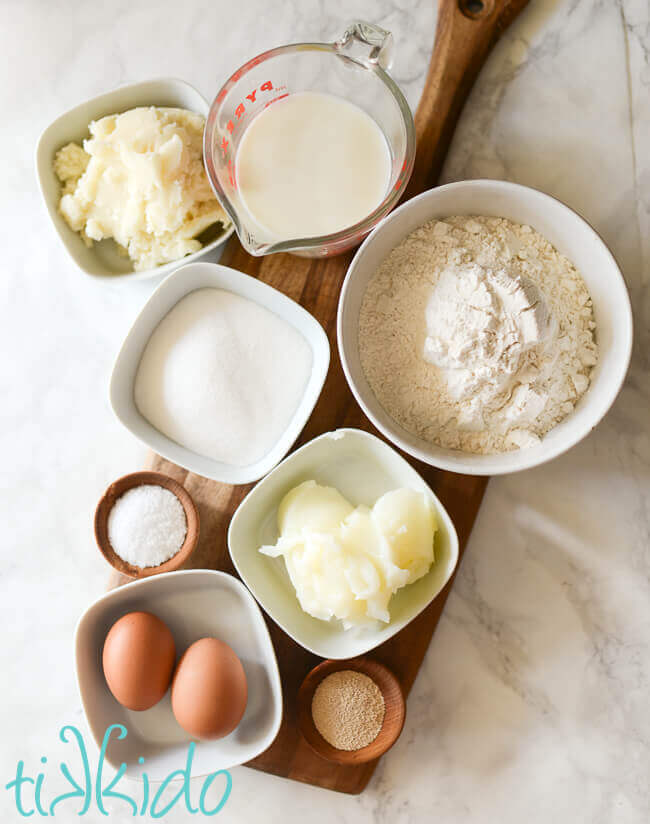 Kolache Dough Recipe Ingredients:
1 package yeast (2 1/4 teaspoons)
1/2 cup warm water
1 cup milk, warmed
3/4 cup shortening
1/2 cup sugar
1 Tablespoon salt
2 eggs
1 cup mashed potatoes (or 3/4 cup hot water plus 2/3 cup instant mashed potato flakes)
6 cups of flour (divided into 2 cups for the first part, 4 cups for the second part)
1 stick melted butter (for brushing on the dough at various points, not incorporated in the dough)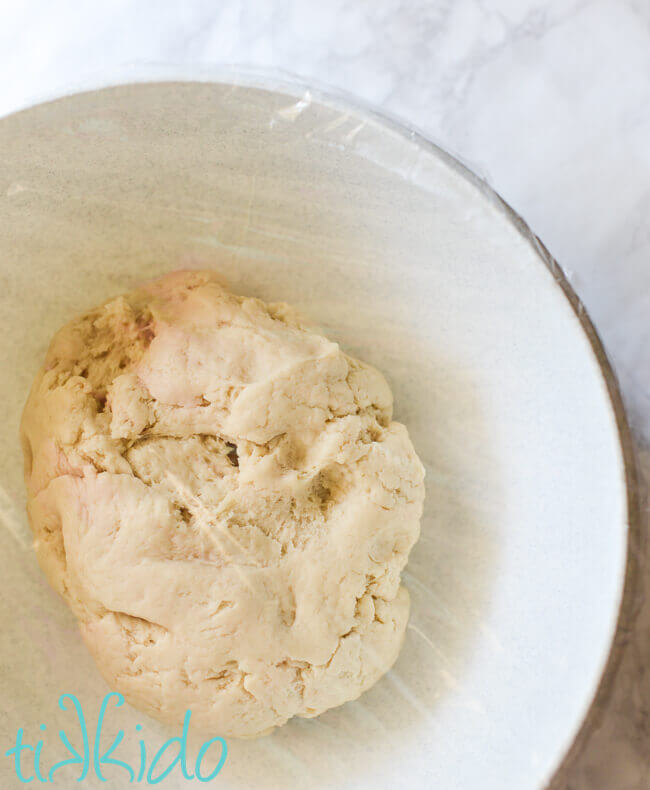 Dissolve the heat in the warm water plus warm milk. 
With a mixer, cream the shortening, sugar, and salt.  Add the two eggs, and beat well.  Add the mashed potatoes and beat again to incorporate.  Add the milk/water/yeast mixture and beat again briefly.
Add the first two cups of flour, and beat for five minutes to develop the gluten.
At this point, I switch from my KitchenAid beater blade to my dough hook.
Add the remaining 4 cups of flour, and knead well.
Let the dough rise for two hours in a warm place (or overnight in the fridge) in a well-greased, covered bowl.
Punch down, and let it rise again with a buttered top.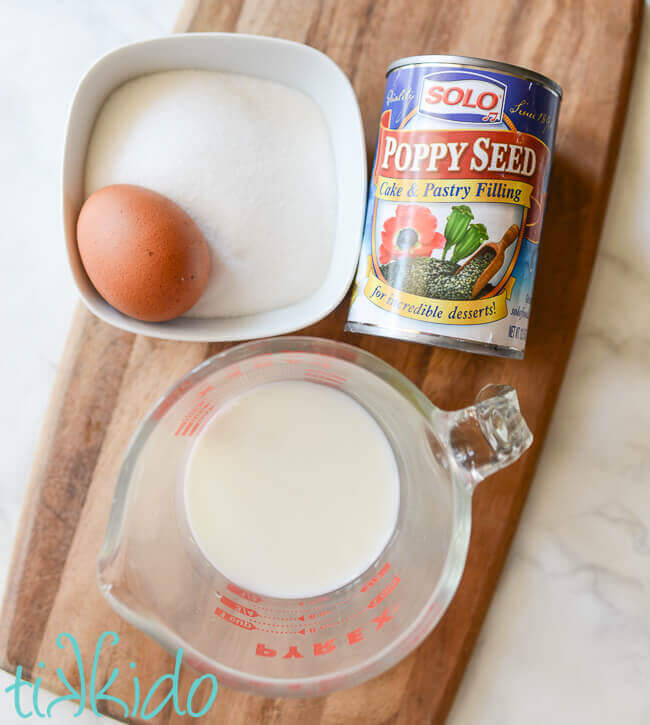 While the dough rises, it's time to make the fillings.  
Poppy Seed Kolache Filling Recipe:
1 can Solo brand poppy seed filling (12.5 ounces)
1 beaten egg
1/2 cup milk
1/2 cup sugar
Combine all ingredients in a small saucepan.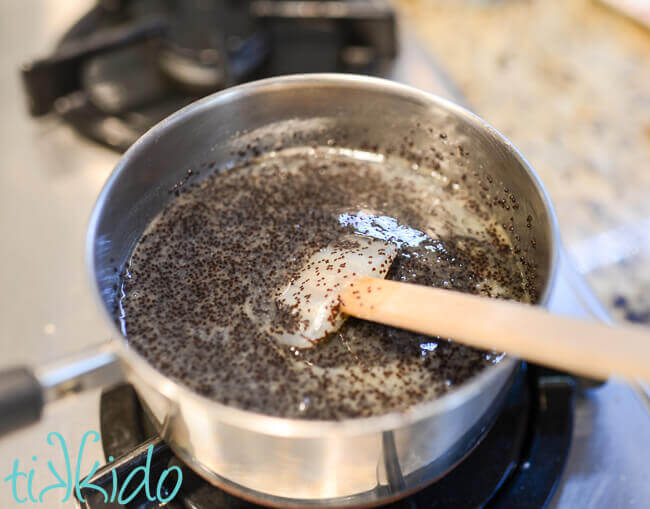 The instructions from my grandmother simply say, "Combine, cook, cool, use."  It's pretty forgiving.  I usually cook it over a medium heat until it bubbles, then cook it for about another minute, stirring constantly the whole time.  It's also going to get baked in the oven, so I'm not too critical about the timing.
A note on the Solo brand poppy seed filling.  DON'T use it straight from the can!  You might be tempted to, because heck, it says it's already filling!  But I think it tastes perfectly awful from the can, you'll need to buy way more, and it's very sticky and difficult to work with in that state.  But it is absolutely divine and magically delicious when you use the filling recipe above.  I'll also include an alternate, entirely-from-scratch poppy seed filling recipe in the free printable version of the recipe below.  I've never tried that recipe myself, because this is the one I always use, but the recipe also comes from my grandma, so I have high confidence that it's delicious, too.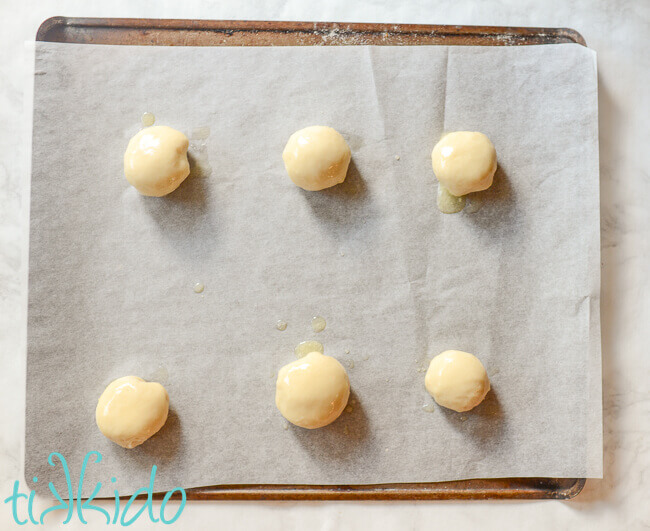 Punch down the dough again, and make into little balls.  I made 36 kolache out of my single batch of dough.  Set on a greased or parchment lined sheet.  Brush with melted butter.  Set aside to rise (yes, again!--I let rise for about 30 minutes) covered with a dry tea towel.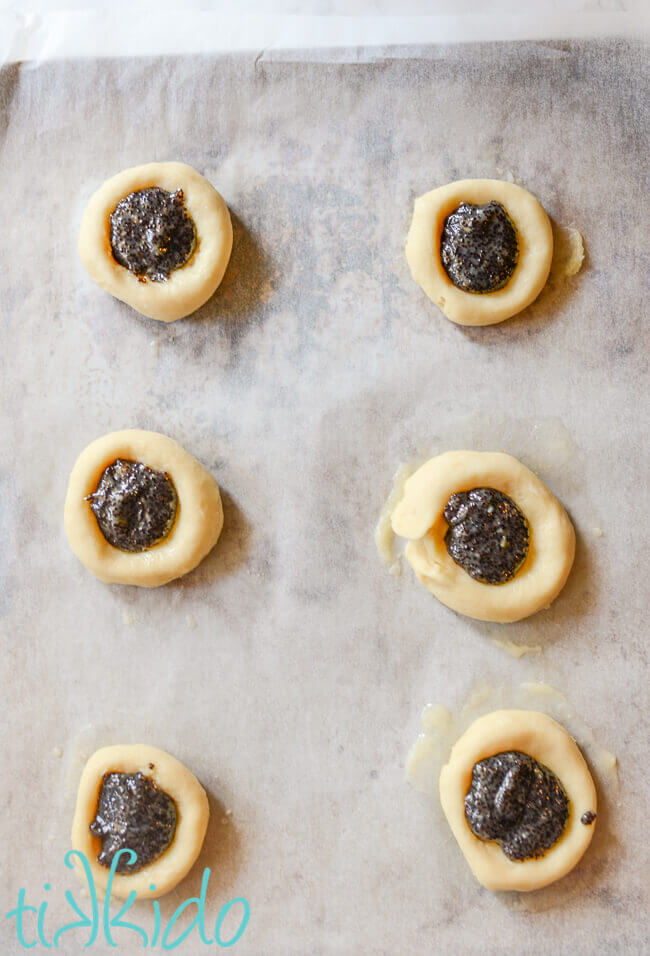 Use fingers to pull the dough into a dish shape, creating a well for the filling.  Add the filling.  Let rise again (yes, again!  Again, I do this for about 30 minutes).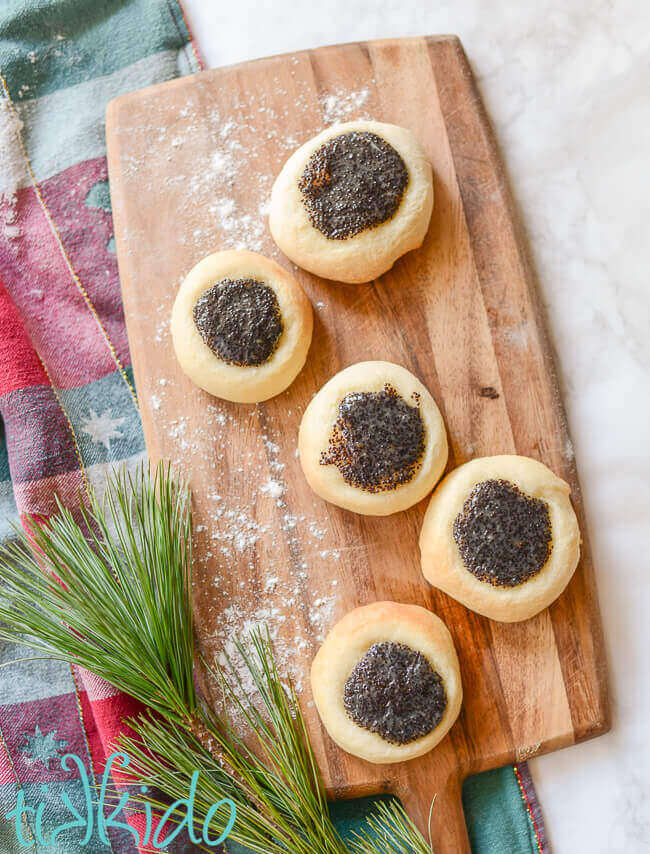 Bake--do not overbake!  You'll want to cook for about 12 minutes at 375 Fahrenheit (I did 350 with my oven on convection).  You want the edges of the kolache to be only slightly golden.  
I'll also mention that if you don't manage to eat these quickly enough, they can be turned into an absolutely magical bread pudding.  Seriously, the best bread pudding I've ever had in my life was made from stale kolache.  
What's your Christmas morning tradition?
And be sure to check out the other amazing Christmas morning recipes from my fellow Taste Creations bloggers:
An Italian in my Kitchen: Panettone French Toast Casserole
Our Good Life:  Savory Waffles with Pork Verde
Mom Home Guide: Homemade Cinnamon Rolls