Printer-friendly version
Looking for a fast, easy, super cute, and NO BAKE treat to add to a spread for your graduate?  How about these easy diploma scroll cookies?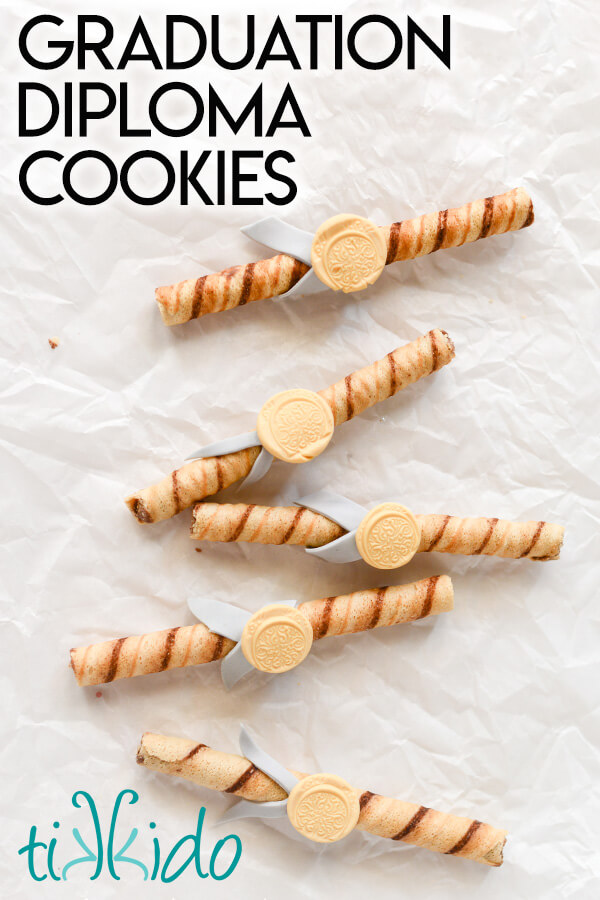 I love baking all sorts of treats, and I'm sure you could make your own tuile cookies to make these completely homemade, but sometimes you just need an easy win.  That's what I was going for here.
Materials and Equipment for Graduation Diploma Cookies
gum paste (Satin Ice brand is my favorite)
aerosol oil spray
sharp paring knife
food coloring
Start by buying the cookies.  (See?  Totally no-bake!  At least not baking that you have to do.)  There are a bunch of different brands that have these kinds of cookies, and they're pretty much all delicious.  Choose the one you like best.  
All that's left to do is to doll up those pre-made cookie scrolls.  I wanted an elegant, classic look for Colleen's graduation party, so I decided to experiment with gumpaste and a wax seal stamp.  I've had success making durable faux wax seals out of Fimo and Sculpey clay, so I suspected this would be pretty easy.  The process is almost the same.  
But whereas if the Fimo is sticking to the seal, I wet the seal down with a damp rag, that would NOT be a good idea for working with gumpaste.  It would only make things stick horribly.  The simple solution:  an occasional light spritz with olive oil.  If you don't have an aerosol oil, don't worry, just put a little oil on a rag or paper towel and wipe the monogram seal stamp lightly.
All that's left was to make my little edible gumpaste ribbons.  And that's a breeze as well.  Spray your work surface lightly with oil so the gumpaste doesn't stick.  Roll out a small portion of gumpaste (a little goes a long way!) into a thin sheet.  Cut the sheet into ribbons with a sharp paring knife, and wrap the ribbons around the pirouette cookies.
It only takes a couple minutes to whip up this elegant treat.  What could be more perfect for a graduation party?
Custom, cute, and quick.  The perfect mix.  And oh yeah--yummy, too!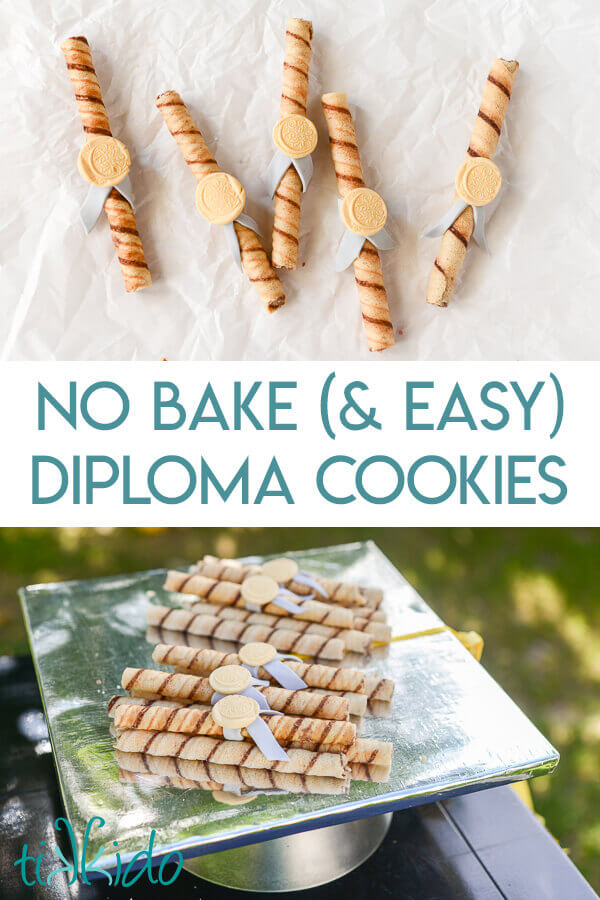 Other Graduation Party Ideas You Might Like: