Printer-friendly version
The outrageously adorable Mouse King and his cronies were the darlings of the dessert table at the Sugar Plum Fairy party.

They were incredibly easy to make, and I'm sure I'll find other excuses to make darling little chocolate mice in the future. They're just too much fun!
To make these little guys you'll need:
A box of cherry cordials
Hershey kisses, unwrapped
Royal icing (in white and black)
chocolate melts or hershey kisses, melted
almond slices
gumpaste or thin licorice whips
gumpaste crown (made from gumpaste, vodka, and disco dust), optional
Simply use the melted chocolate to adhere the hershey kiss to the cherry cordials.
Slip two almond slices in for ears while the chocolate is still warm.
Use gumpaste to form tails, or for an even easier solution, find some licorice rope--the really thin kind. Adhere to the bottom of the cherry cordial with the melted chocolate.
Use white royal icing to add the eyes, black royal icing to make the irises and noses.
Make a crown out of gumpaste if desired. Paint with vodka and dip in disco dust container to coat completely with sparkles. Let dry and use melted chocolate to attach to the head of one of the mice.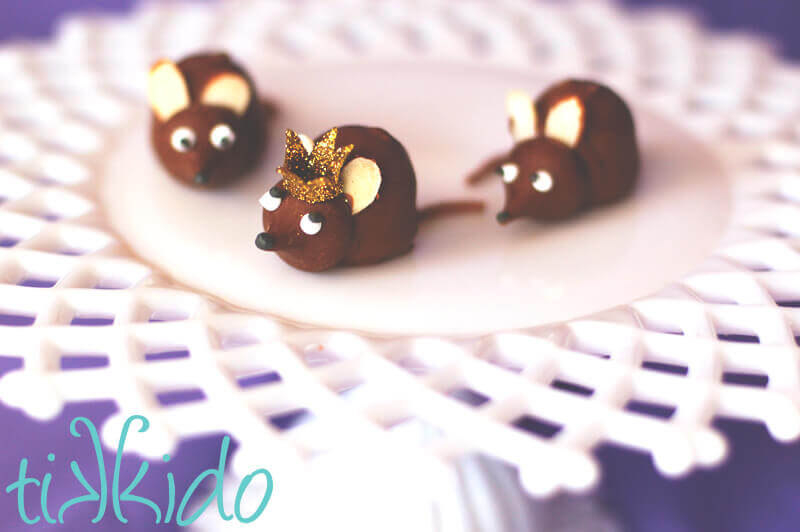 So cute! They looked decidedly mouse-like before I added the eyes, but the royal icing eyes and nose really put these guys over the top.