Printer-friendly version
This recipe for sugar plums makes the traditional, no-bake Christmas treat.  Sugar plums are fun to make with kids after a trip to the Nutcracker Ballet or after reading The Night Before Christmas.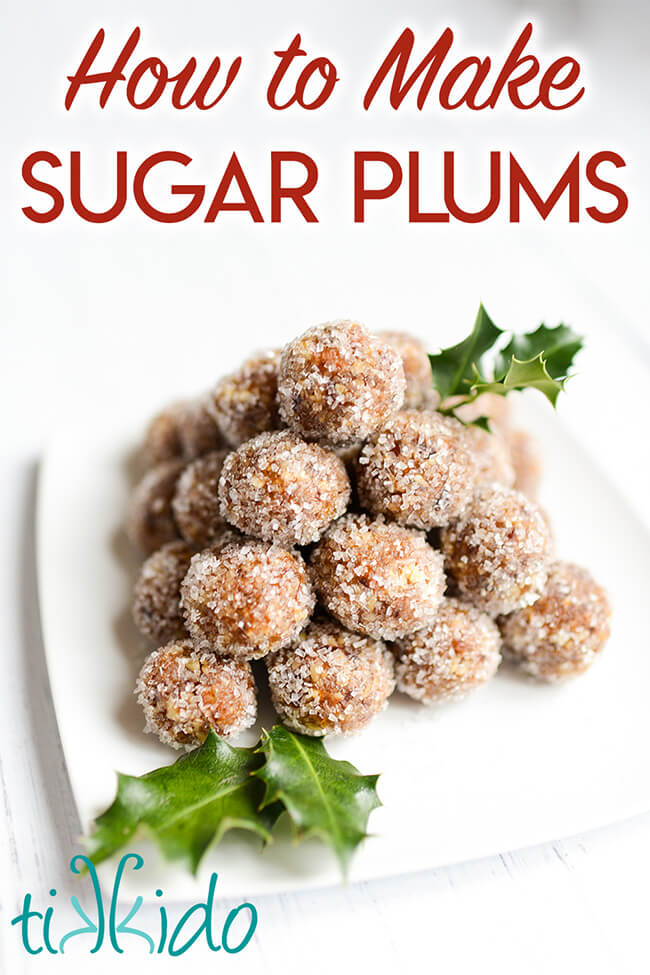 When I undertook planning a Sugar Plum Fairy themed birthday party, I knew that I had to make authentic sugar plums for the dessert table.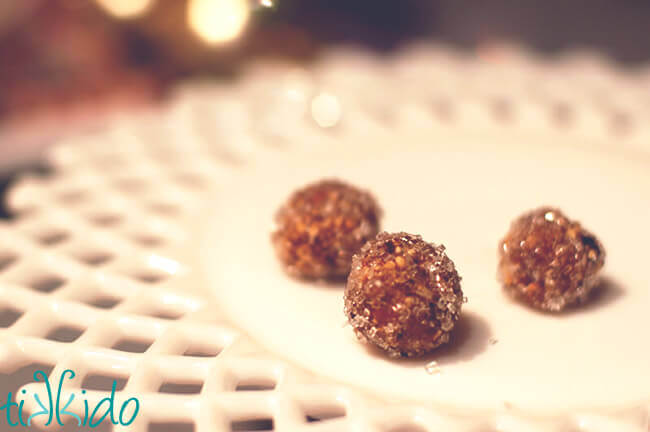 The only problem was that I had absolutely no clue what they were.
What are Sugar Plums?
An evening of googling and a grocery trip later, I was ready for my Christmas culinary adventure. Now, I know that somewhere in my initial research and reading I read that the first documented mentions of sugar plums came from 16th century sources. Of course, I cannot find that source to cite it now. But I did find my scribbled notes and the recipe I used for making these delicious confections.  When The Night Before Christmas was written, and when Tchaikovsky composed the Nutcracker Ballet, the term "sugar plum" could refer to pretty much any small candy treat--it was more of a slang term than anything resembling sugared fruit.  But whatever the original version or changing meanings of the name, these sugar plums are delicious.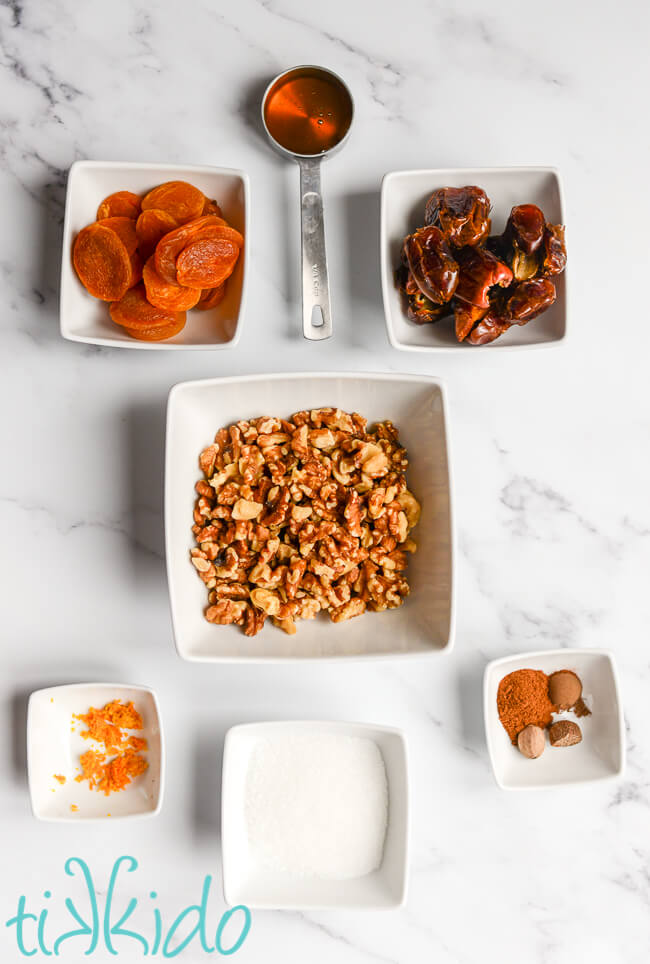 Sugar Plums Recipe
2 cups walnut halves
1 cup chopped dates
1 cup dried apricots
zest of one orange
1 1/2 teaspoons cinnamon
1/2 teaspoon nutmeg
1/2 teaspoon allspice
1/4 cup honey
sugar for coating the sugar plums (do not mix with the other ingredients!)
(If you prefer baking by weight, I have a free, printable, by-weight version of the sugar plums recipe at the bottom of the post.)
This recipe makes 36 sugar plums.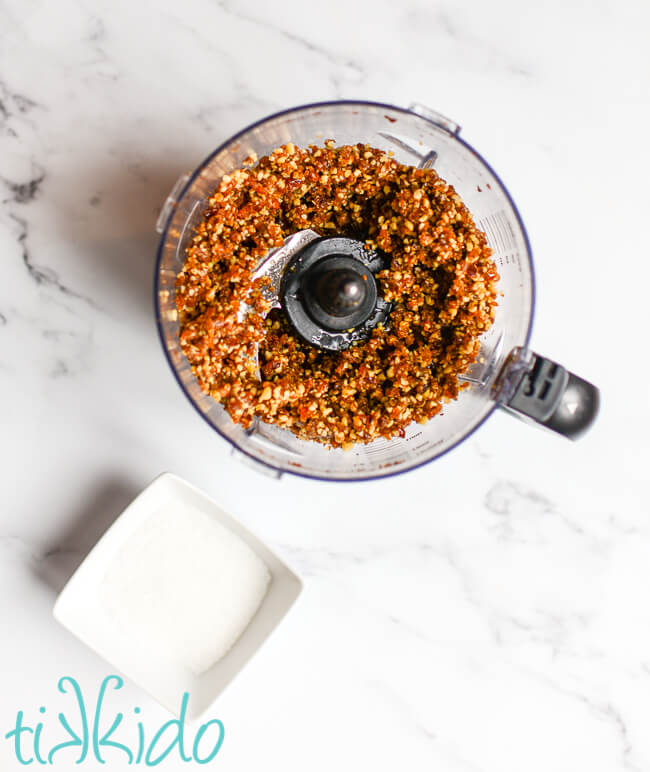 Put all ingredients except the honey and the sugar for coating the sugar plums in a food processor and chop until the pieces are very small and well combined.
Add in honey, and mix again, until well combined.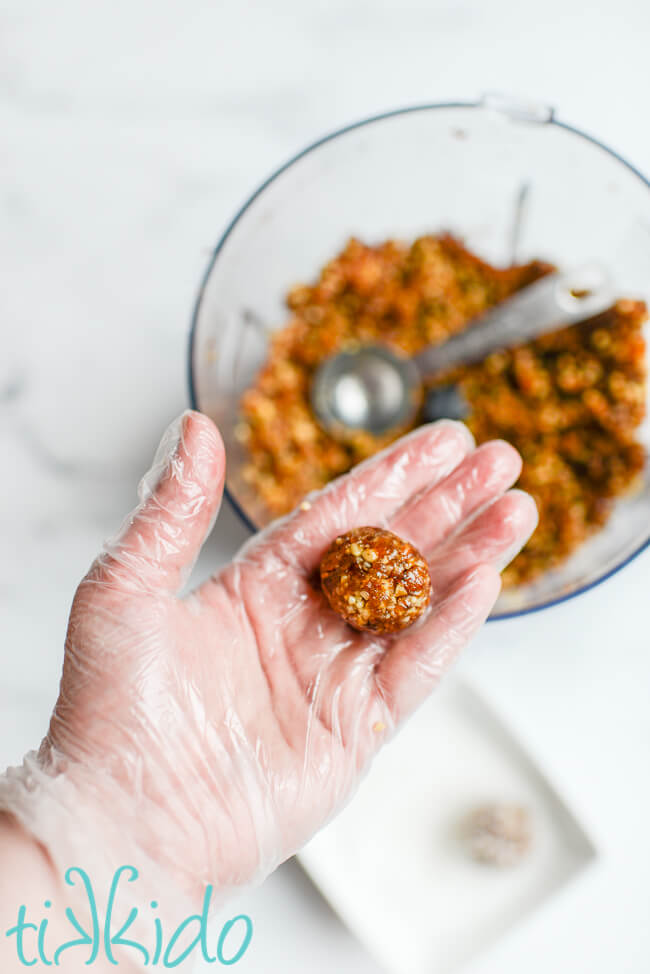 Once sufficiently chopped and combined, simply scoop the sugar plum mixture out with a 1 Tablespoon measure, and roll into balls.  
You'll notice that I'm wearing disposable food-service gloves in this photo--that's for two reasons.  First, because these sugar plums are sticky before you roll them in sugar!  And second, because sugar plums are a no-bake treat, and whenever you're shaping something that won't be baked before someone eats it, you should always use gloves for food safety.
Roll each ball in the sugar coating. I used very coarse crystal sugar I bought at the cake decorating store to give the sugar plums extra sparkle and a unique look, but any sugar, even powdered sugar, would work.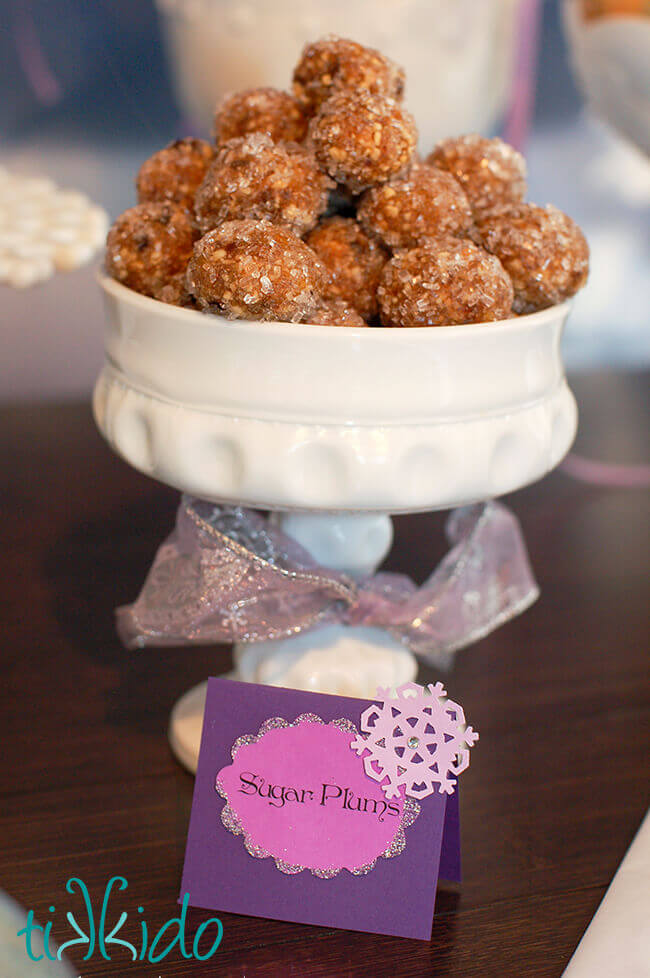 What do Sugar Plums Taste Like?
They taste like Christmasy Lara bars!  Not surprising, given their ingredients.
These sugar plums had a complexity, a depth of flavor that I really appreciated. They also weren't overwhelmingly sweet, something that I always like. (Despite the fact that I love to make pastries, I prefer to eat salty things!) I may not have had any idea what a sugar plum was when getting in to this task, but you can be sure that these classic treats will be a feature on my holiday table for years to come.
Printable Sugar Plum Recipe
Want a one page, printable version of the Christmas sugar plums recipe?  Click on the image below to print the recipe directly or save it to your device.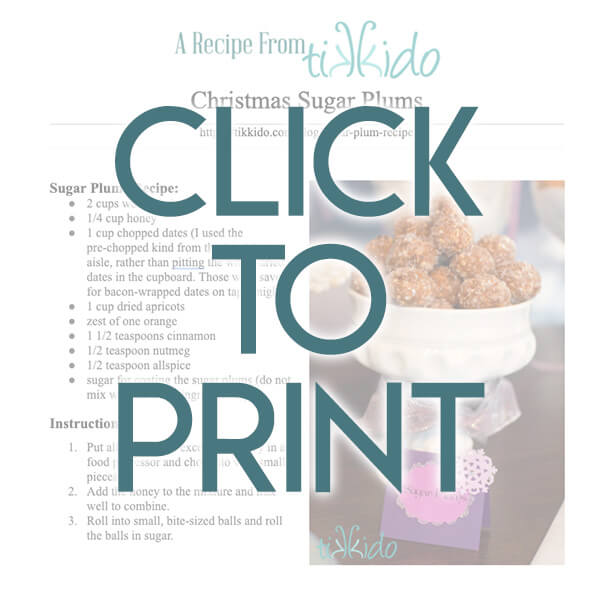 Printable Sugar Plum Recipe by Weight
If you prefer to bake by weight, here's a version of the sugar plums recipe with the ingredients measured in grams.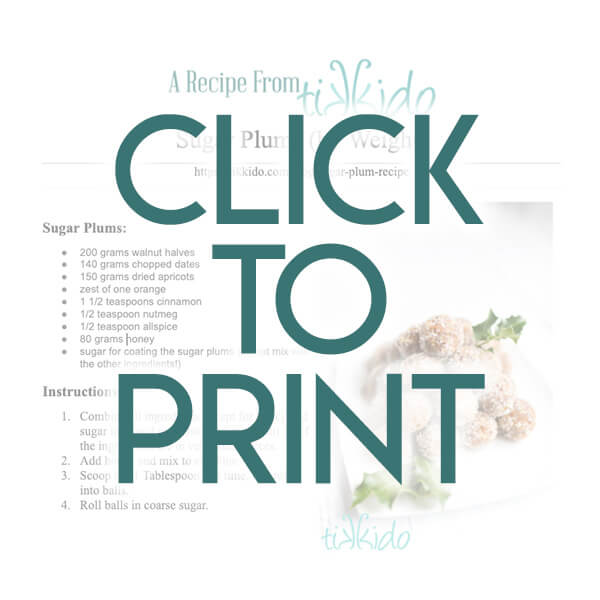 Sugar Plums Nutritional Information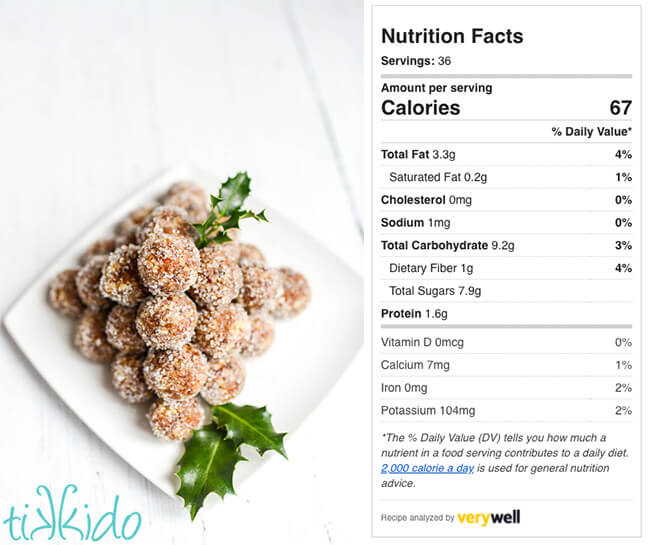 Other Traditional Christmas Recipes You Might Like: