Printer-friendly version
There's something completely magical about an outdoor movie on a warm evening. But we've never had a projector to be able to do it and take advantage of the glorious spring weather (we're in Phoenix, remember--we won't want to be outside in a couple months!), until I got the Lenovo YOGA Tablet 2 Pro. Holy cow, people, this thing is awesome. I have another tablet, but I pretty much use it as an e-reader. The Lenovo YOGA, however, with its incredibly useful built-in kickstand, is so versatile! I'm using it for so many things! But my favorite use to date is definitely making stop motion movies with my girls and using the built-in projector to host an outdoor Family Film Festival.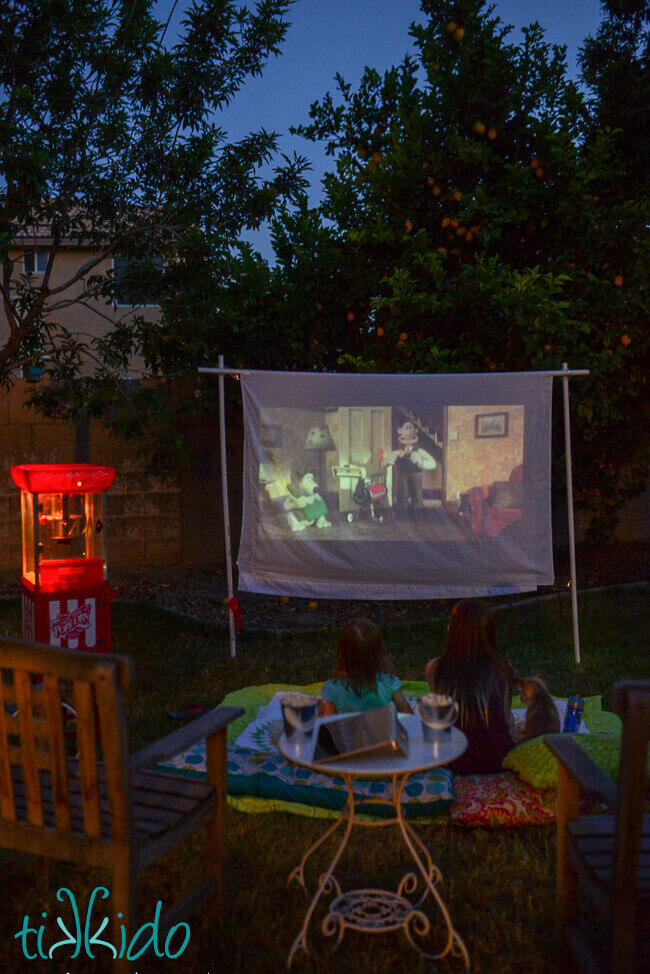 Family movie night is always fun, but when it's outside under the stars, and when we're watching movies we made ourselves--well, there's just nothing that compares! And it's all because of this slim and sexy device: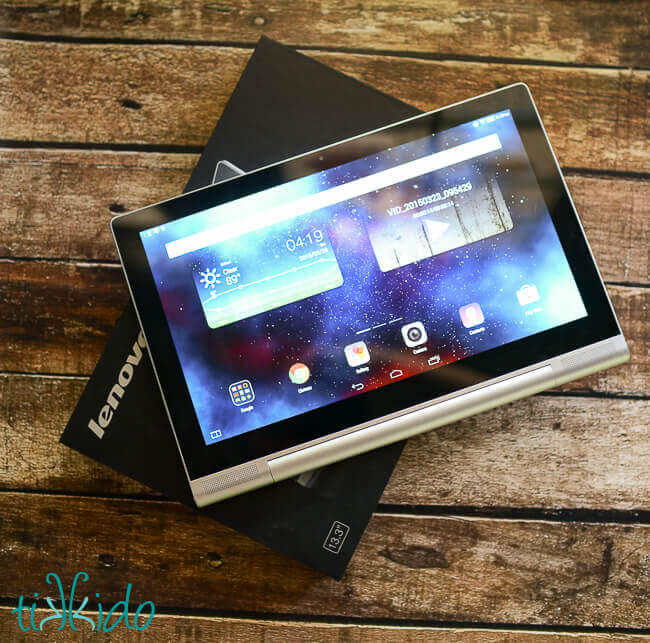 The Lenovo YOGA Tablet 2 Pro is BIG, first of all. At least in screen size. But it's amazingly slim and lightweight, too, and the battery lasts FOREVER. I was streaming radio (public radio, of course) while cleaning out the garage the other week, and worked for hours. When I was done, I checked the battery remaining, fully expecting it to be in dire need of a recharge, but no. It still had at least 75% battery power left. And the sound this thing puts out is really impressive, too! I've never been particularly taken with tablets as a category of device before, but I am in LOVE with the Lenovo YOGA.
The most generally useful feature of the YOGA 2 is definitely the versatile kickstand. I've always loved stop motion animation, and as soon as I saw this tablet, I knew it would be the perfect device to introduce my girls to the art form.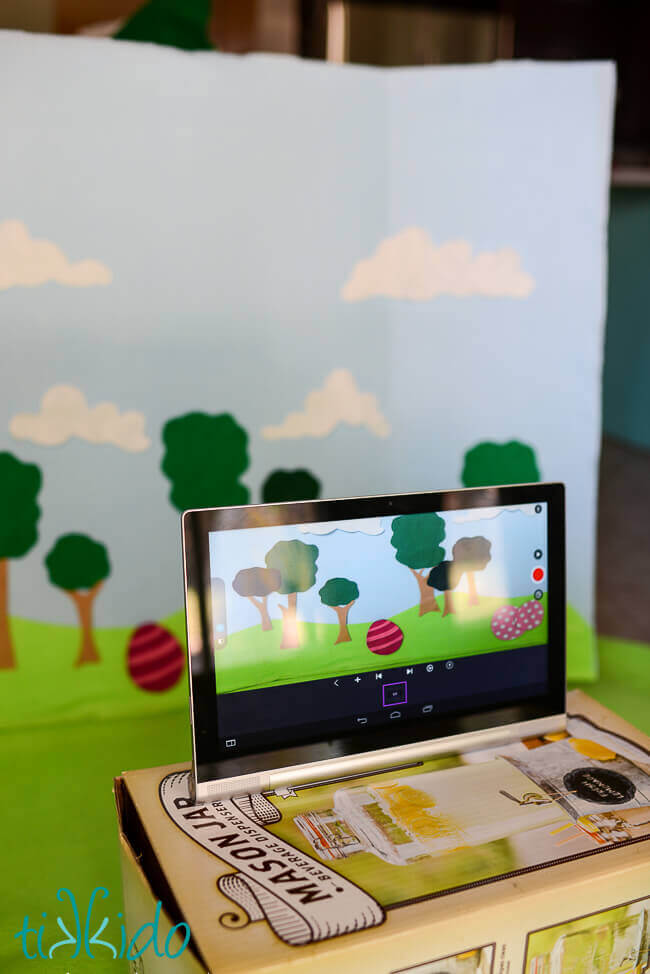 Look at that! It's just standing there on its own, happy as you please! It was so easy to set up the Lenovo YOGA tablet in the perfect position to capture the photos for our stop motion animation projects. No crazy contraptions jury-rigged to hold expensive electronics in precarious positions. Just flip out the built in kick stand and adjust to exactly the angle you want.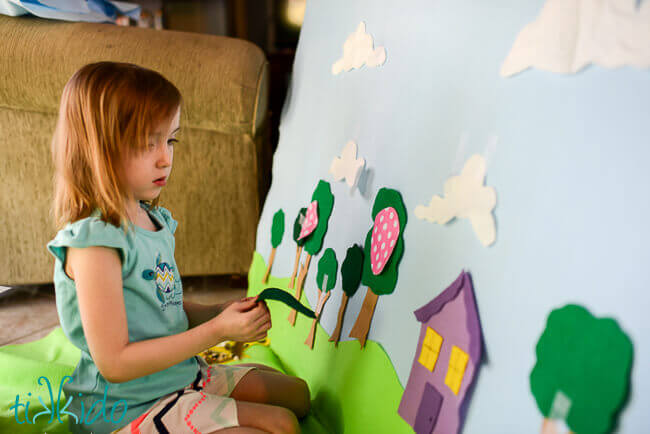 Here's Niamh, my five year old, hard at work plotting out the scenery for her film.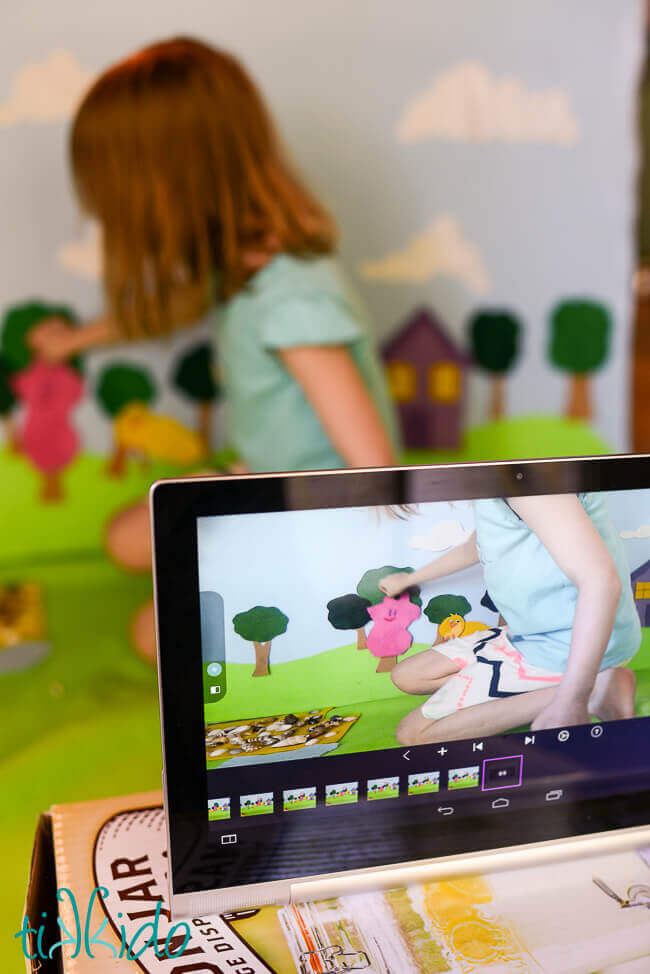 And here she is actually making her movie! She'd move her pieces, come back to the tablet, take a picture, and go back to make the next adjustment.
And here's her finished short film, titled Sheep World:
Sheep World (a film by Niamh)

Posted by Nikki Wills on Saturday, March 28, 2015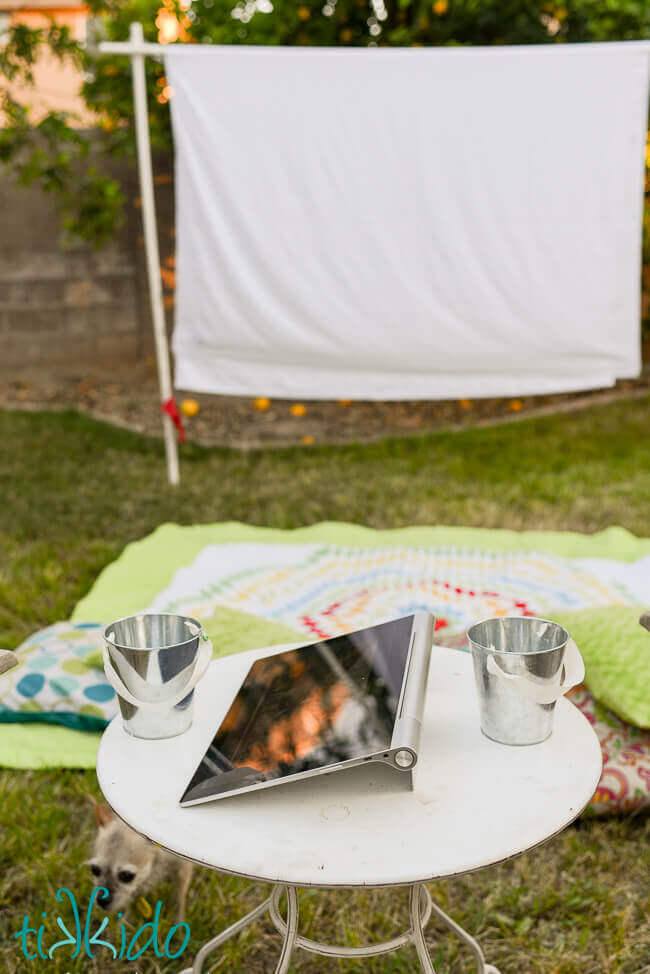 Viewing of such a magnificent work of cinematography clearly needed to happen on a big screen, not just the family room television. Lenovo YOGA 2 Pro to the rescue again! It has an insanely cool integrated projector! Paired with its amazingly good speakers, it was absolutely perfect for creating an outdoor movie theater for our movie premiere.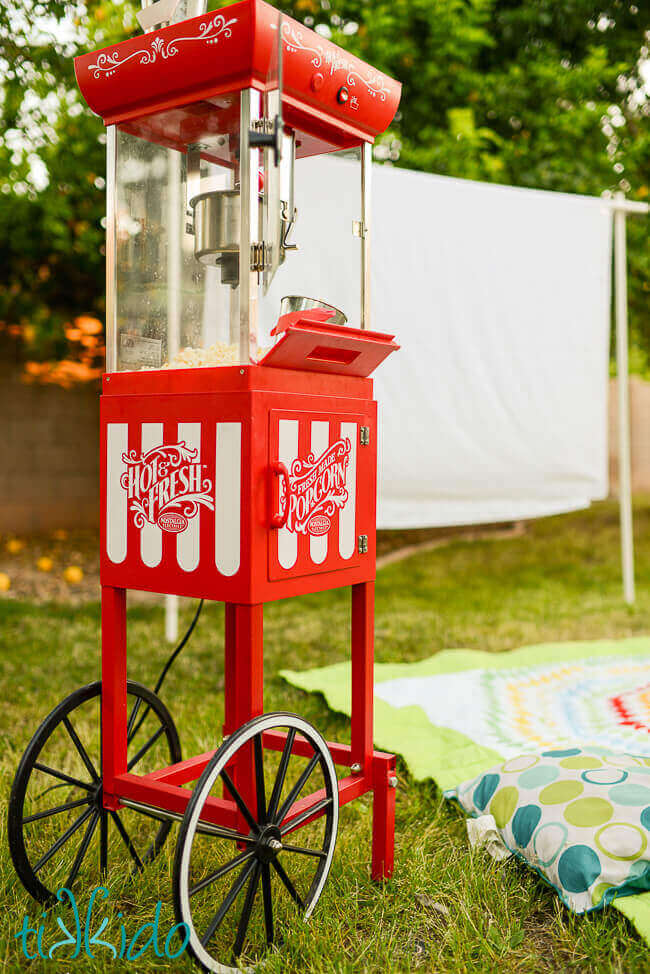 We popped some popcorn, taped together a quick and dirty movie screen, and pulled out the quilts and pillows.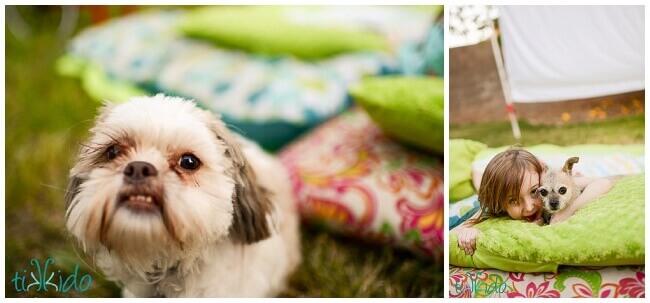 The dogs, Murlin and Morgana le Fur, thought the pile of pillows in the yard were a grand idea, too.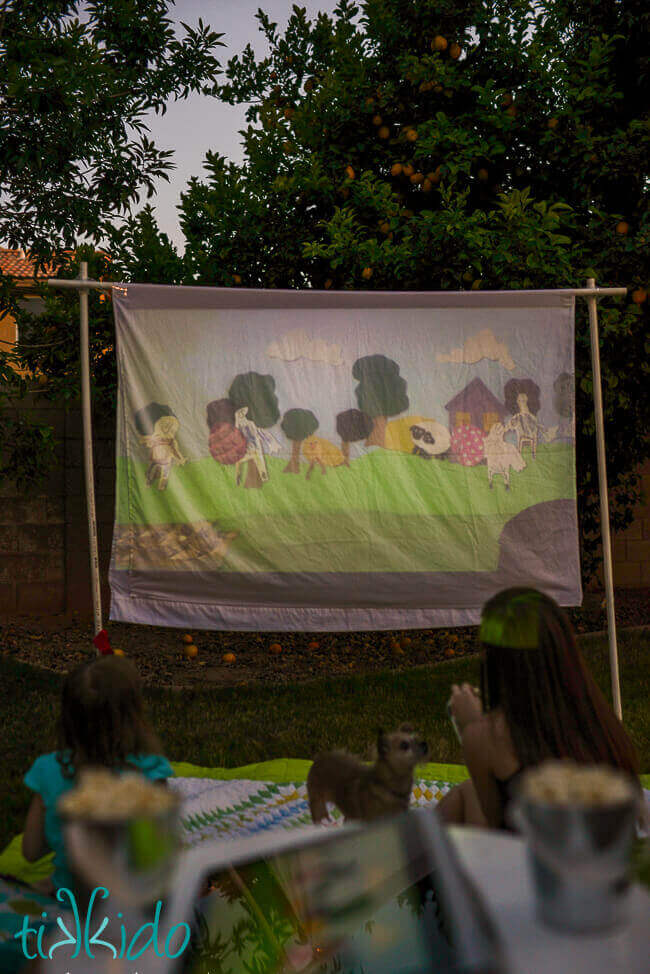 You really do need a dark environment for the projector to work its magic, but as soon as the sun went down, it was movie time! First we screened our movies. Here's mine:
Just playing around and testing some stop motion stuff

Posted by Nikki Wills on Saturday, March 28, 2015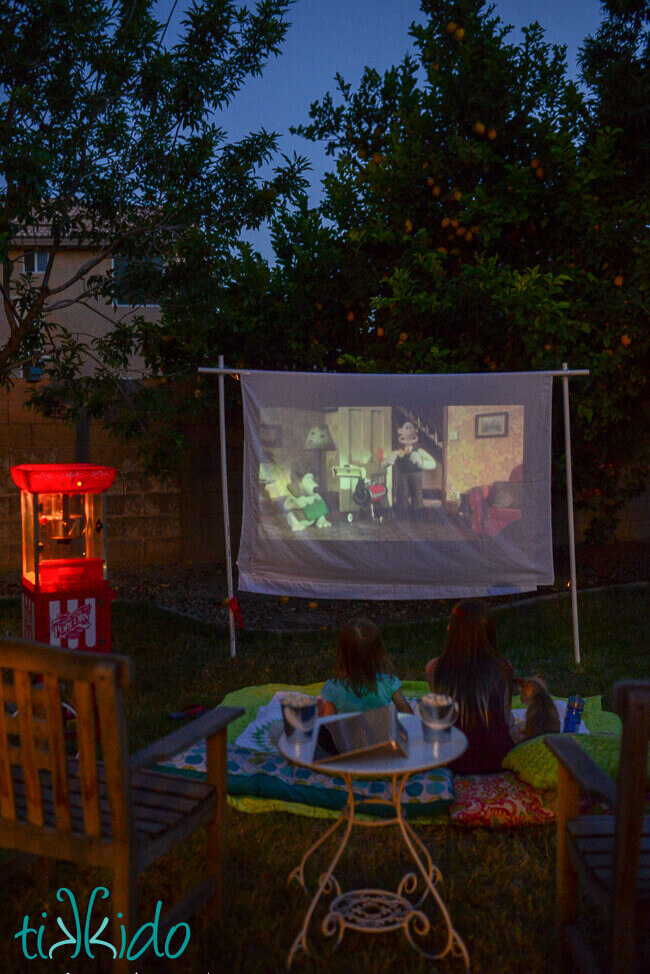 And then we ended our evening watching one of our favorite stop motion animation films. Creative play followed by popcorn, puppy snuggles, family time, and a gorgeous night under the stars--what could be more perfect?
If you want to see more completely cool and awesome things being created with the Lenovo Yoga Tablet Pro 2, be sure to check out the Trend Hub!
I was selected for this opportunity as a member of Clever Girls and the content and opinions expressed here are all my own.