Printer-friendly version
I've talked about the wood fired Neapolitan pizza oven I built in our backyard a bunch, and it's always featured in our backyard birthday parties.  It's how we feed a crowd--and do it deliciously AND inexpensively.  But I've never shared the process of how I made the pizza oven, since I did that before I started blogging.  I've had some requests for more information, so I dug through my old photos and put together this basic tutorial for building your own authentic wood fired pizza oven in your backyard.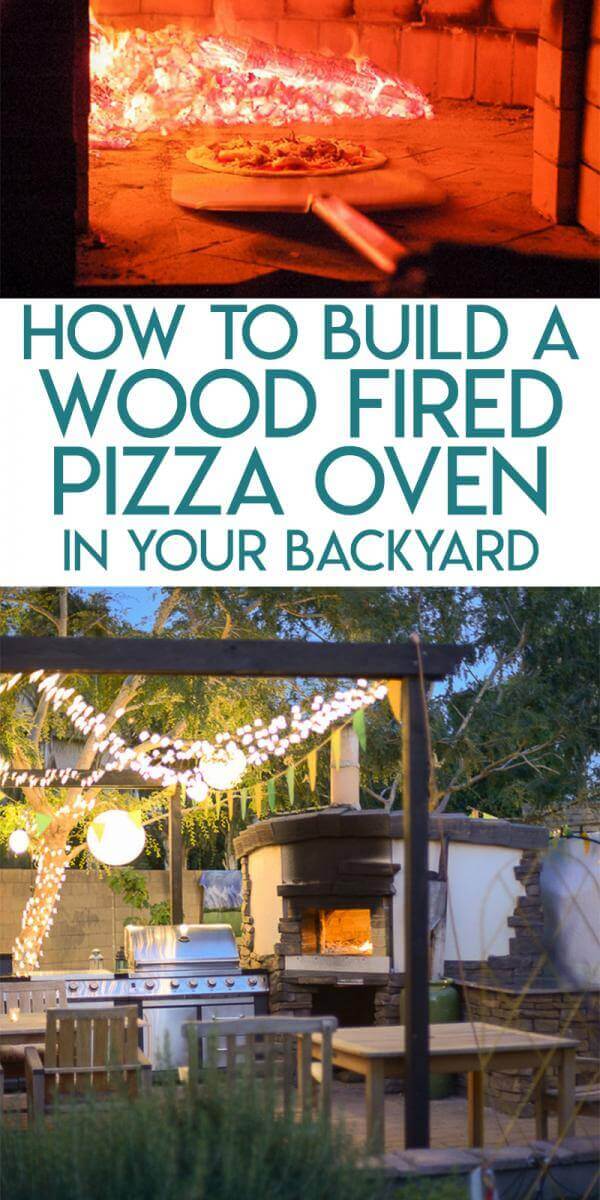 Let me start by saying that I had absolutely NO experience with masonry before I undertook this project.  I'd never thought about building a pizza oven, in fact.  I stumbled upon these free plans for building a wood-fired pizza oven on Forno Bravo completely by accident, but once I saw the plans, I absolutely couldn't get the idea out of my head.  I became completely obsessed.  I was an English and anthropology major in college, and love ancient technologies.  I love DIY projects.  I love to cook.  Building this WFO was clearly my destiny.
I think everyone thought I was nuts, including my husband.  But then one day he discovered a huge pile of concrete bags in the back yard, and figured I was serious about the project.  That didn't mean that he jumped in and took over--oh no, this was my baby.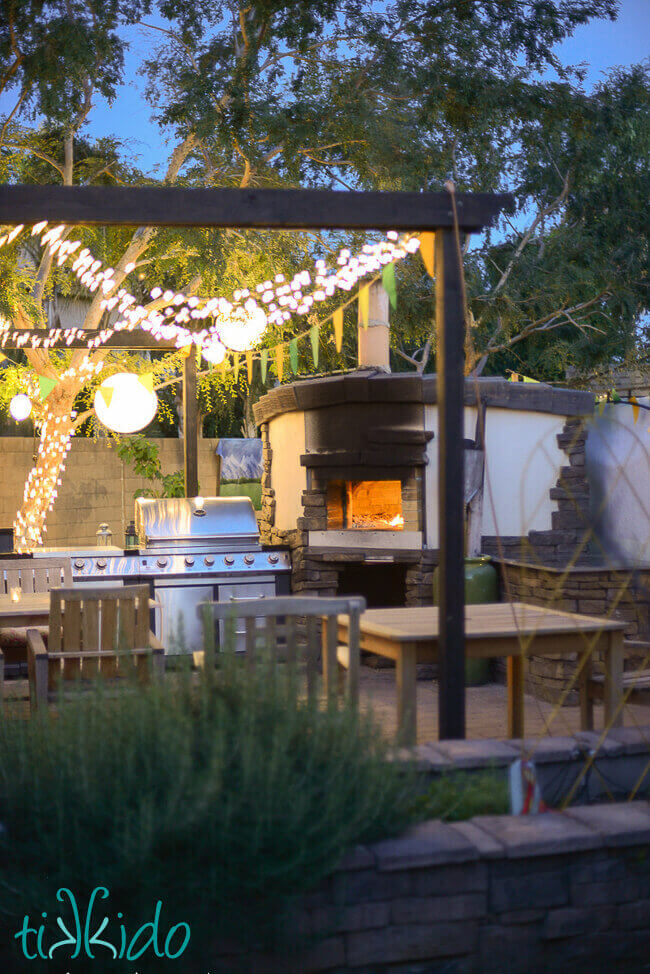 And, oh yeah, did I mention that I was pregnant with an actual baby at the time?  I like to say that I nest with power tools.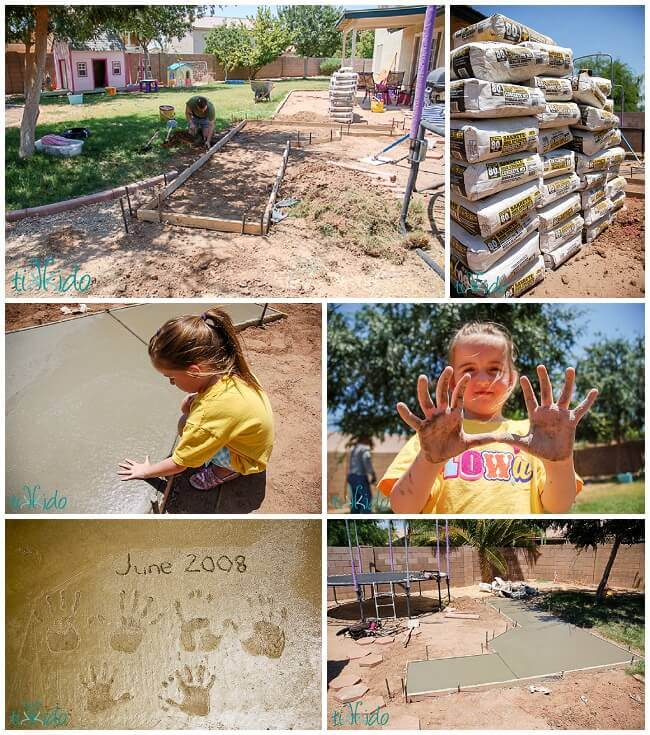 This concrete bas pad is actually the one thing I didn't do myself, but hired out.  It was the middle of summer in Phoenix, and I know that concrete is fussy in hot weather.  I wanted the foundation of my oven to be perfect, so I brought in the pros for this small job.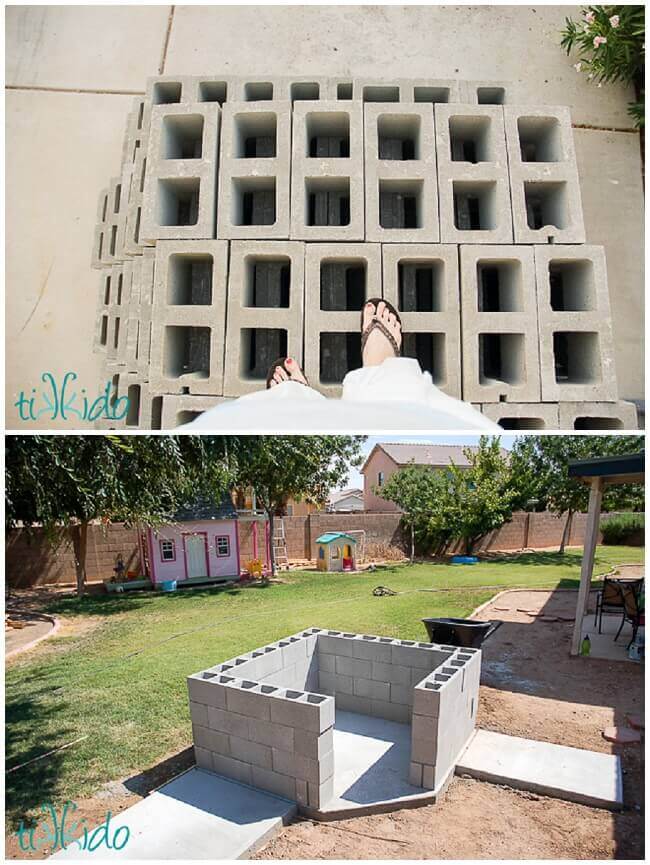 After that, it was all me.  Hauling every concrete block, stacking them up, mixing concrete, cutting rebar.  Hell yeah.
The base of the oven (open on the corner to make a place to store wood), and all of my walls were made by simply dry-stacking the concrete blocks in a staggered, running bond pattern.  No mortar between the bricks necessary.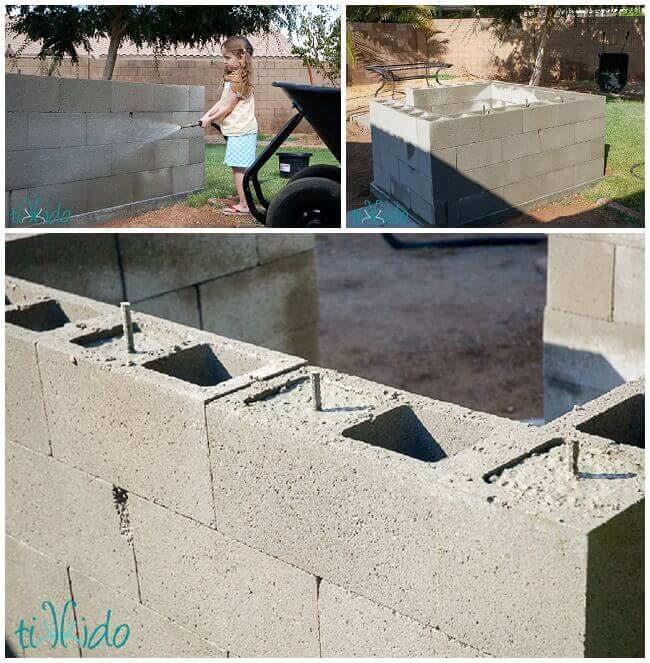 Every other column was filled with concrete and rebar, which locked all of the blocks in place together.  
My daughter helped me keep the concrete cool(ish) by spraying down the entire structure as the fresh concrete cured.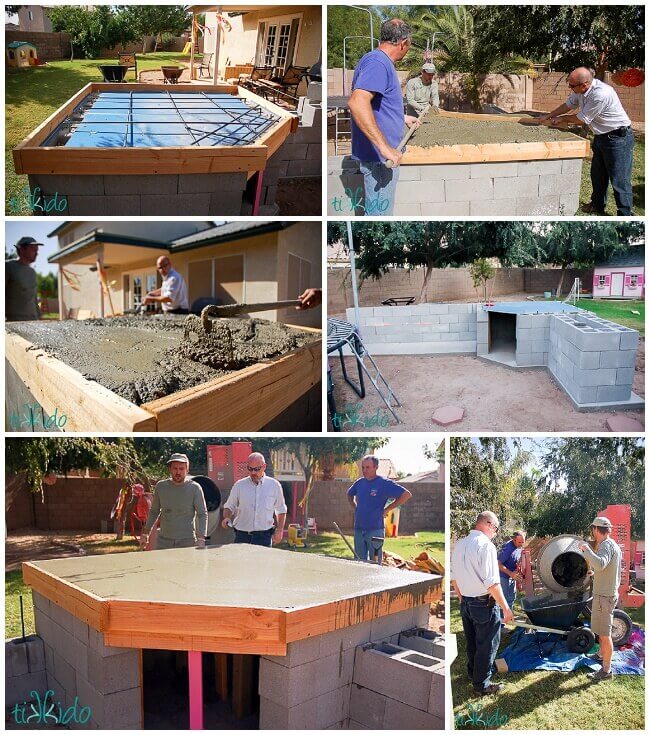 Next, it was time to pour the floor of the oven.  Honestly, it was still hot, and I tried to hire someone to come out and do this part for me, too.  I went through six contractors who were scheduled to do it--SIX--including one who specializes in small residential jobs and one that just delivered small batches of pre-mixed concrete and you did everything else.  They all flaked on me.  
At this point in my pregnancy, my doctor had banned me from lifting anything heavier than 10 pounds, so I did enlist the help of my husband and a couple neighbors. 
First I built a wooden support that went inside the chamber, on which the cement backerboard insert could sit (I had to have something under there to keep the concrete elevated as it dried).  Then I built the wooden frame creating the shape I wanted the finished concrete to be.  Next, I cut rebar to size and used wire to attach it to the rebar ends sticking out of the top of my walls.  This kept the rebar elevated and at a level that it would be in the middle of the concrete we poured.
At this point, it was time for my helpers to do the heavy lifting, while I was in charge of the hose and directing the process.  I was so bummed I couldn't be in there doing the heavy stuff myself, too, but I was very grateful to have such generous, awesome friends for neighbors.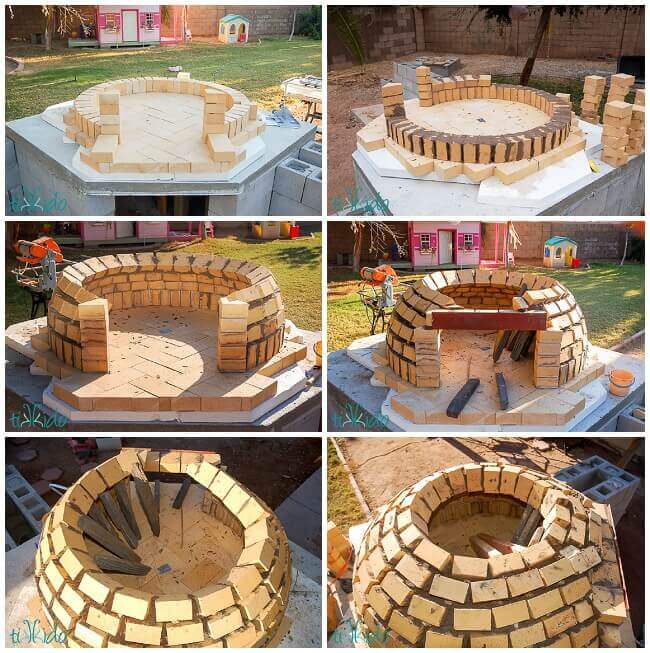 Once the concrete had dried, I could start building the dome!
Refractory insulation board was placed on top of the concrete floor.  If you don't insulate properly underneath, you'll have a huge heat sink and it will be very difficult to get your oven up to proper temperature.  I bought the insulation board from Forno Bravo, the people who supplied the free plans.  Forno Bravo also has a fabulous forum, where I got so much help from people all over the world who were building or had built their own pizza ovens.  Much more knowledgeable people than I am, who were incredibly helpful any time I ran into a question during the process.  I couldn't have done this project without the Forno Bravo plans and community of fellow builders, so whenever there was a specialty product I couldn't source locally, I ordered it from them.
The entire dome was built over the course of the long Thanksgiving weekend.   You have to use fire bricks, not regular red bricks, for a wood-fired oven, because regular bricks simply can't stand up to the high heat, and don't soak up and retain heat the way fire bricks do.  
A herringbone pattern floor of full sized fire bricks was set down first.  The rest of the dome was built out of fire bricks cut in half.  I attached a string (very complicated pin, string, and duct tape device I hacked together) to the center of the oven floor (I was building a 42" diameter oven), and set my soldier row, the first row of bricks.  If you look in the pictures of the dome, you'll notice that the first row of bricks, called the soldier row, stands tall.  The rest of the bricks are mortared in place in a horizontal orientation.  
The bricks were mortared together using refractory mortar.  You can make your own refractory mortar using fireclay, and I did a bit of that, but on the advice of many who had built before me, I spent the extra money to buy pre-made (dry) refractory mortar, because it was stickier and easier to work with to keep the bricks angled in place.  I also used pebbles from the yard to hold the bricks at the right angle as they dried.  
Honestly, it was kind of like decorating a cake, and I found myself raiding my kitchen for tools all the time.  An offset spatula was brilliant for spreading the refractory mortar on the bricks.  I used a large disposable pastry bag to squirt more refractory mortar in all the cracks and fill in the outside of the dome.  I mixed small batches of mortar in a 9x13 cake pan with a spatula.  They worked fabulously.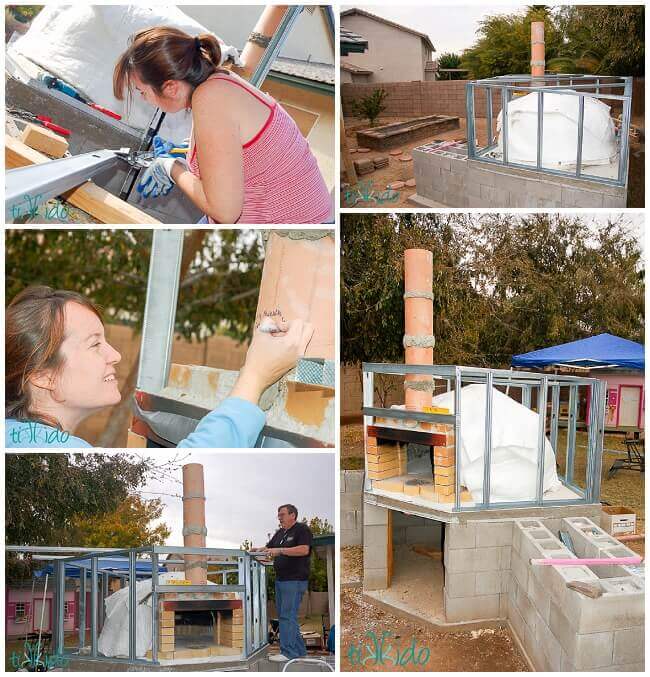 Once my dome was built, it was time to add the insulation (I used refractory insulation blankets from Forno Bravo, but lots of people use a vermiculite mixture), and my dad showed me how to use metal studs to build the enclosure.  That insulation material works brilliantly; even when the temperature in the oven is in the 1000 degree Fahrenheit range, the exterior of the oven is completely cool to the touch.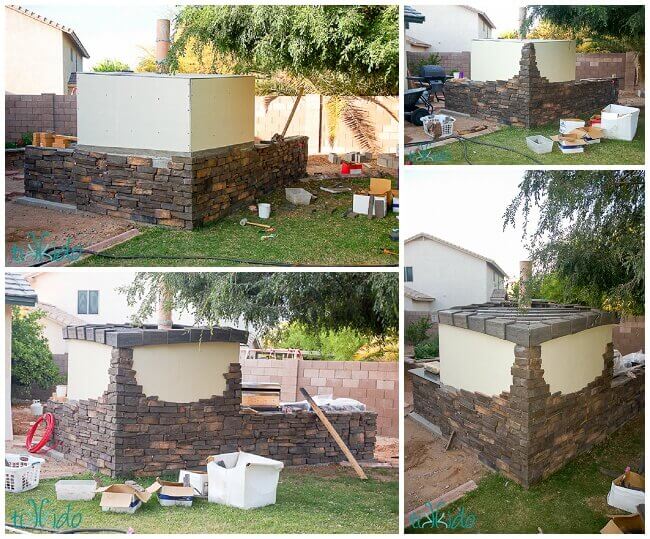 By this point, the oven was completely functional, and it was just on to cosmetic stuff!  I found a stone veneer manufacturer on Craigslist who had some leftover stone for sale at a fabulous bargain, and snatched it up.  I used nice sticky thinset to attach my stone veneer to the concrete blocks.  The stone I was using was very irregular, so it was like putting together a giant puzzle.  I figure I did at least four squats for each stone that was placed.  I had some seriously strong legs by the end of this project.  ;-)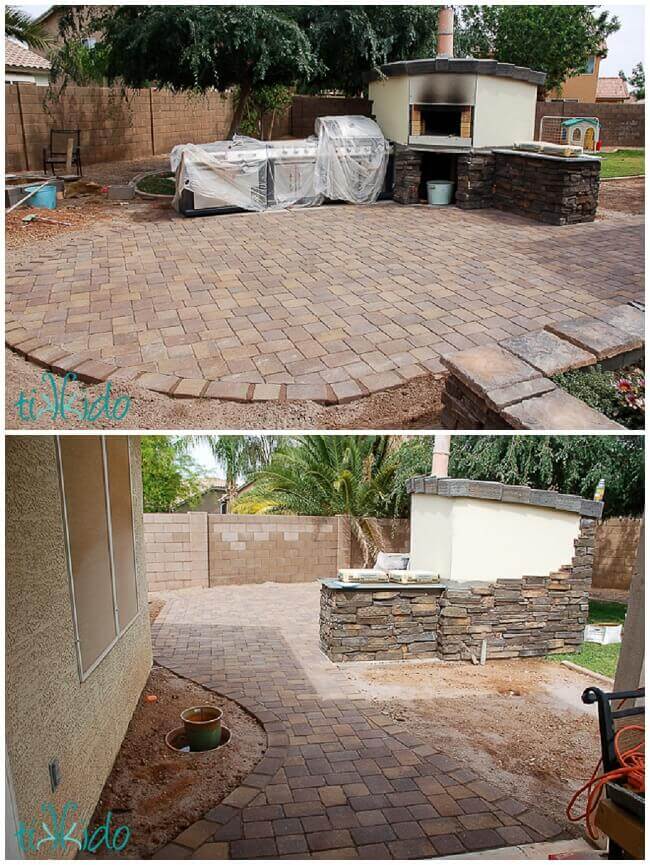 We hired pros to come in and do the paver patio for us.  We'd tried making a brick patio at our last house, and it was fine, because it just went under the hot tub.  But it wasn't the prettiest thing, so we decided to let the experts do what they do best for this part of the project.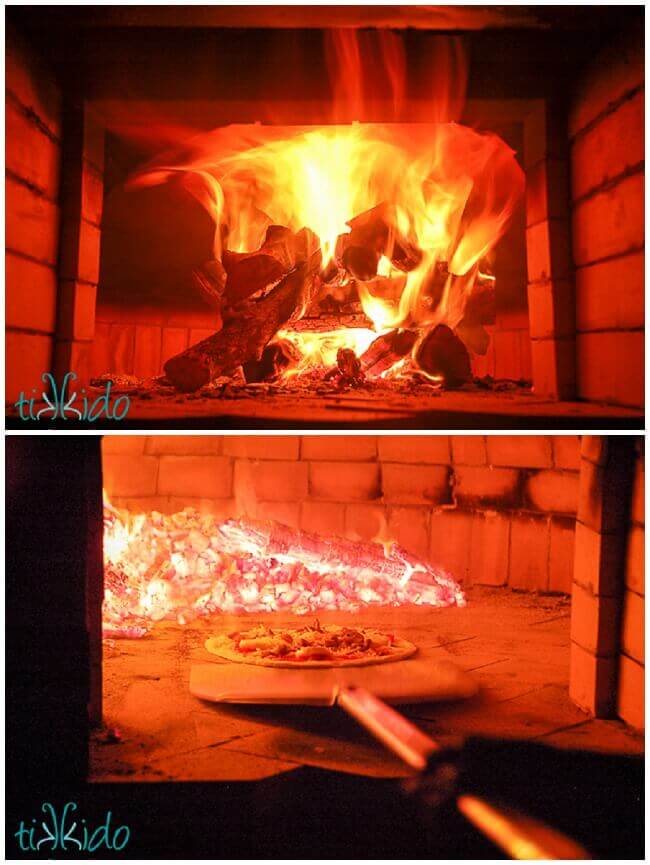 The oven needs to be cured and dried properly over several weeks, so I built a progression of larger and larger fires until, at last, we had a full sized pizza fire!  And our very first pie.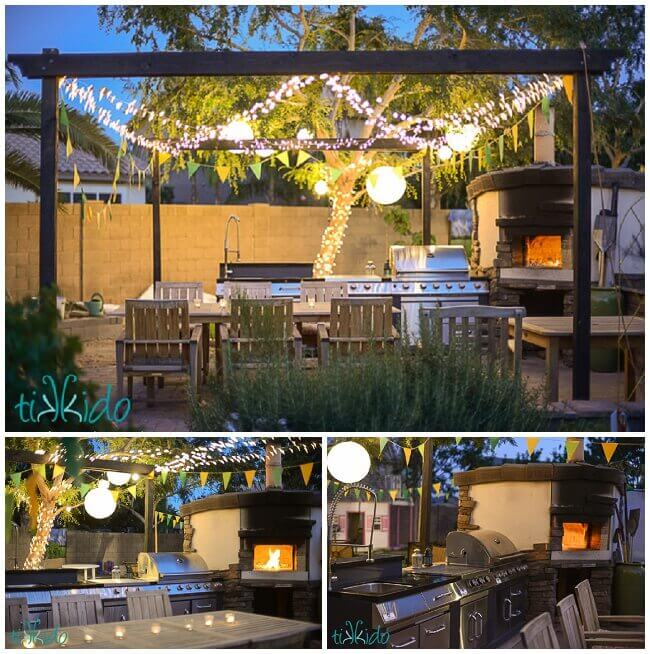 The entire project, including the parts I hired out, cost us a bit over $5000.  A real investment, certainly.  But that includes everything--the pavers, the giant grill unit (Sam's Club purchase), the oven, the granite work counter, the teak dining set (Craigslist), the stone veneer, the matching herb garden, the fire pit.
Before I started the project, out of curiosity, I contacted a mason to see how much it would cost to have a wood fired pizza oven built for me.  The cost?  $17,000.  And that was JUST for the functional oven (base and dome).  Not a built in grill, no enclosure, no granite work counter, no stone veneer work, no fire pit, no herb garden, no pavers.  I shudder to think what it would have cost to have the entire thing built for us.  Yay, sweat equity!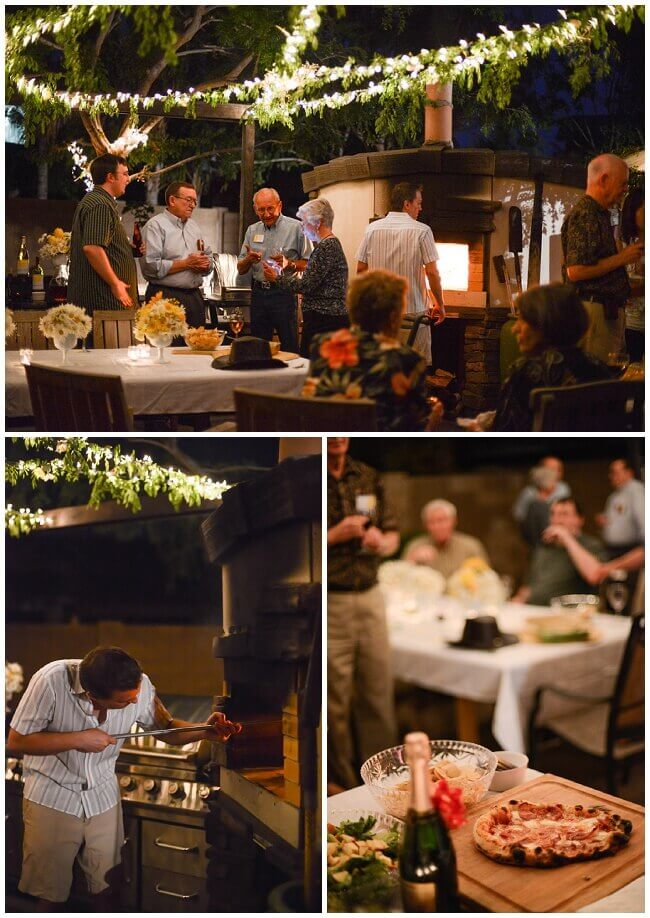 We've had wonderful parties and celebrations out in the backyard, including my parents' 40th anniversary party.  The weather here in Phoenix allows us to really enjoy outdoor living for much of the year, and I absolutely adore the outdoor kitchen I created.  Plus, the food is seriously good!  
Let me know if you're thinking of building a WFO in your backyard, and if you have any questions about the process!  If I can do it, with no experience at all, while pregnant, you totally can, too.  Do it.  DO EEEEET!  WFOs for EVERYONE!