Printer-friendly version
Kids love pizza.  Kids love playing with their food.  So, obviously, the kids at my Nintendo Pizza Party loved making their very own personal pizzas for lunch (actually, we made Miizzas, personal pizzas that looked like our faces!).  And I used my favorite Neapolitan pizza dough recipe to make these delicious pizzas.
Traditional Neapolitan Pizza Dough Recipe
500 grams flour (preferably Caputo 00 pizza flour, or at least bread flour).
2 teaspoons salt
1/2 teaspoon yeast
325 grams water
This is the absoloutely classic recipe for Neapolitan pizza dough, and I got the recipe from Forno Bravo, where I also got the free plans I used to build a wood-fired pizza oven in my backyard (blog post about that and tutorial here).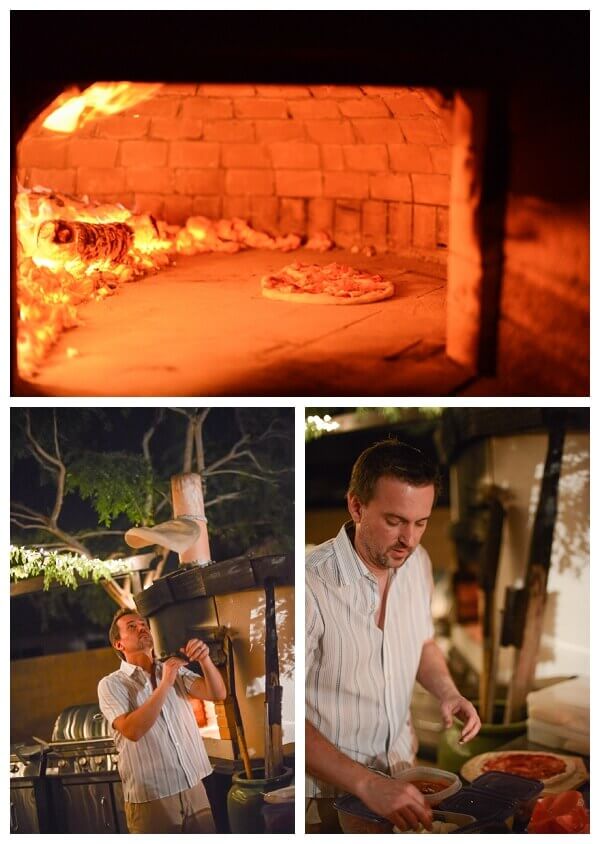 (Check out my husband's mad dough tossing skills!)  Pizza made in the wood fired oven is absolutely amazing, but it's also really good made in a home oven, too!  
I use my bread machine as a massive shortcut for making homemade pizza dough.  I just dump all the ingredients in, push the dough button, and an hour an a half later, I have pizza dough! I can't remember the last time I actually baked bread in the bread machine, but I use it for making pizza dough and bread dough for homemade bagels all the time.  If you don't have a bread maker to do the work for you, however, it is certainly entirely doable to make the dough with a mixer or by hand.  
 The recipe makes 4 Neapolitan pizza sized pizza dough balls, or 8 personal pizza sized dough balls.  Shape the balls, coat with olive oil, and keep in the refrigerator until the party starts.  These scrapbooking storage boxes work brilliantly for holding and proofing pizza dough balls!
Stretch the dough out (no rolling pins in Neapolitan style!).  This is where the Caputo flour is really nice--it makes fabulous, stretchy dough that is very easy to work with.
Let the kids have fun creating their own pizza masterpieces!  I had them work directly on parchment paper, so it was easy to transfer the whole thing into the oven for baking.  No messing around with peels and trying to maneuver the uncooked pizza.  
Tips for The Best Pizza Sauce:
The best pizza sauce around if you're a purist?  Nothing but hand-crushed San Marzano tomatoes.  No cooking, no herbs and spices, and for heaven's sake, no sugar!
If you're not an absolute purist, but almost are?  The can of rushed tomatoes with basil from Trader Joe's tastes just as good at a fraction of the price.
Bake at 500 degrees for about 10 minutes.  It only takes 90 seconds when you're cooking in the WFO outside, but it takes a bit longer in a regular home oven.  Either way, YUM!