Printer-friendly version
These perfectly chewy pina colada cookies may be my new favorite cookie.  Seriously, they're the perfect texture, and have such fabulous flavor.  The coconut throughout, with punches of bright pineapple...irresistable!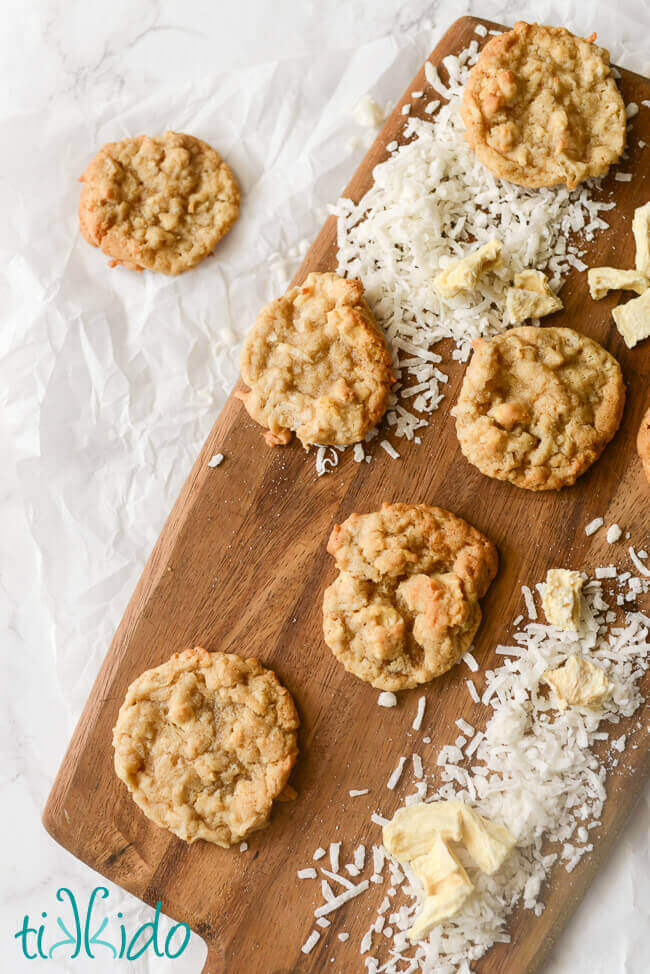 As you might have guessed if you're a regular reader of this blog, I used freeze dried fruit to make these cookies.  I love baking with freeze dried fruit, for the fabulous punch of flavor it adds (even more than fresh fruit) and how easily it can be added to an existing favorite recipe without throwing off the moisture content and screwing everything up.  The freeze dried pineapple is really the secret to making these amazing pina colada cookies.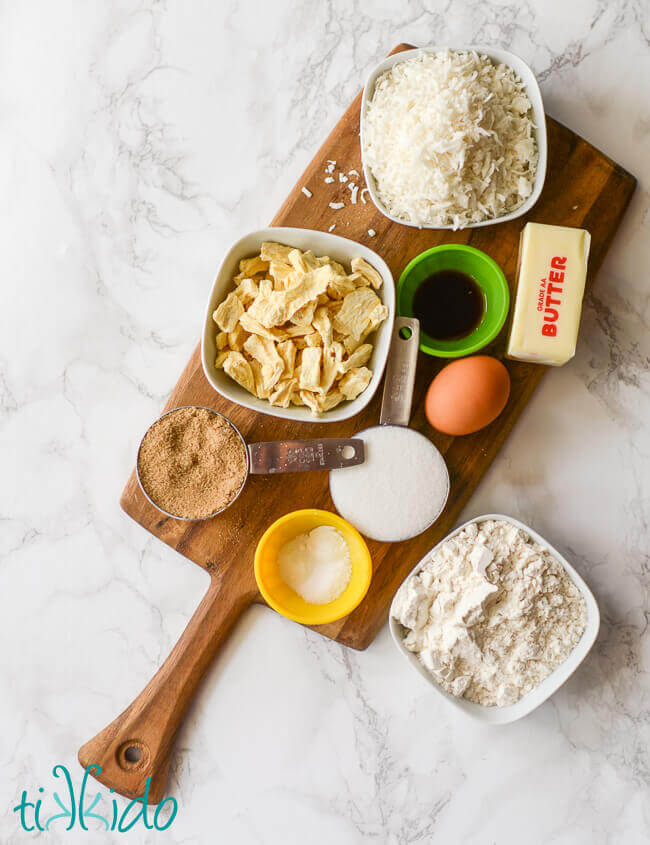 I based this recipe off of the excellent chewy coconut cookies recipe from Mikey's In My Kitchen, with just a few adaptations to make it a pina colada cookie.  
Chewy Pina Colada Cookie Recipe:
1/2 cup butter, softened
1/2 cup brown sugar
1/2 cup sugar
1 egg
1 teaspoon vanilla
1/2 teaspoon baking soda
1/2 teaspoon baking powder
1/2 teaspoon salt
1 1/2 cups sweetened coconut flakes
1 cup flour
1 cup freeze dried pineapple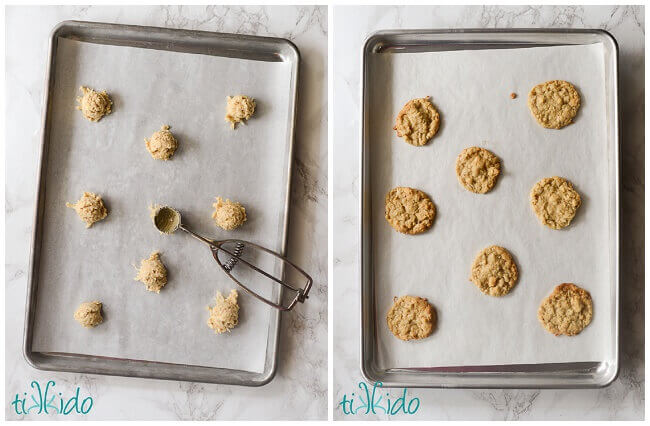 Cream together the sugars and softened butter.  Add egg and beat.  Add vanilla, baking powder, baking soda, salt, and beat.
Mix in coconut flakes.
Add flour and mix just until combined into a dough.
Add the freeze dried pineapple, and stir in the mixer just long enough to incorporate the fruit into the cookie dough, and break the pieces into whatever size you prefer; the longer you mix, the smaller the pieces will get.
Use a two teaspoon cookie scoop to place the cookie dough on a parchment-lined baking sheet.
Bake at 350 for about 10 minutes, until the cookies start to turn golden on the edges.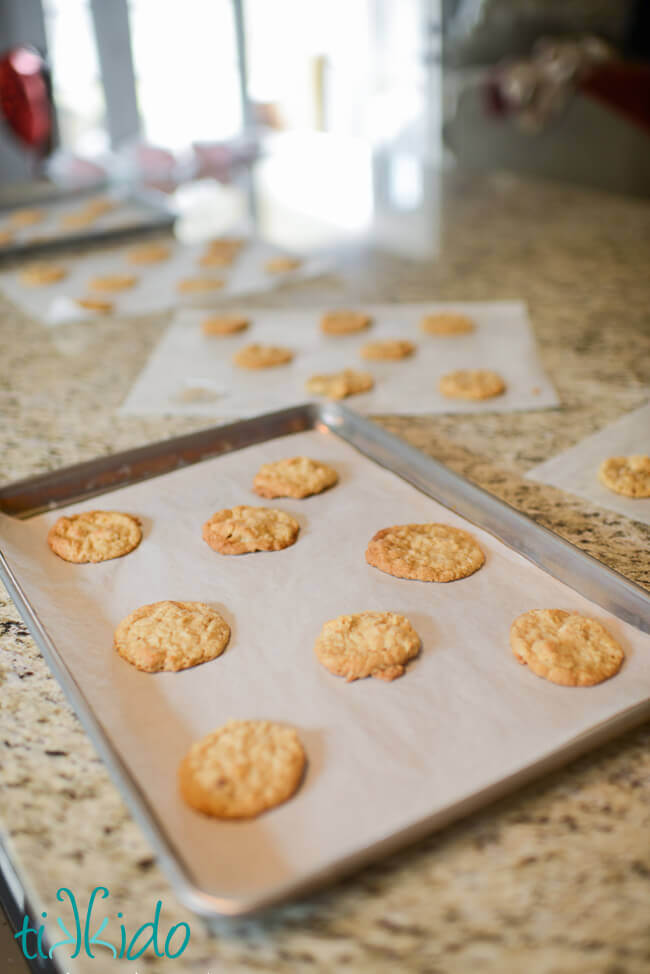 Can I take a moment to squeal with glee over my new kitchen island?  It just goes and goes and goes!  We are SO CLOSE to finishing our four year long kitchen remodel!  The granite was just installed on the island yesterday, and I literally hugged it when I first saw it.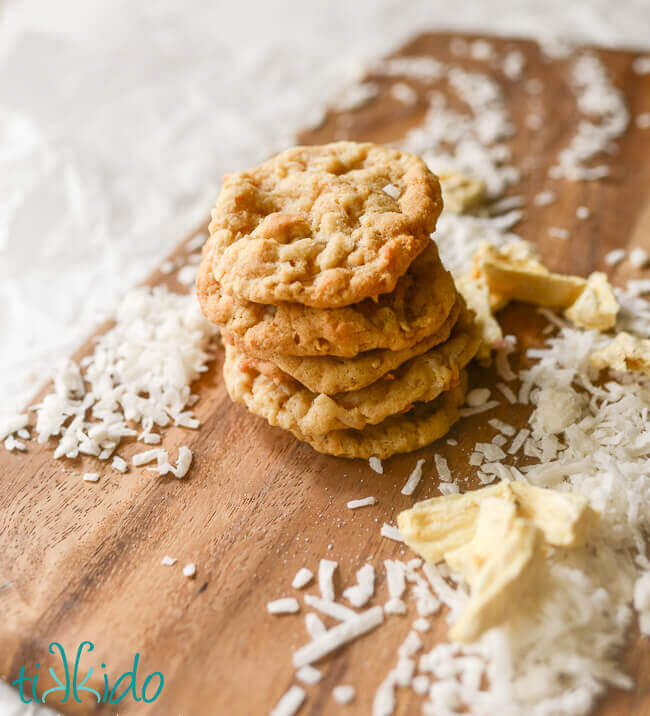 Ok, back to the delicious cookies.  It may still be deep winter, but if you whip these up, at least your mouth can enjoy a tropical paradise.
Other Cookie Recipes You Might Like: