Printer-friendly version
Have you ever made homemade pasta?  This gnocchi recipe is a perfect place to start.  Traditional potato gnocchi is easy to make, requires no special equipment, and is SO GOOD.  If you've never had homemade pasta before, you're in for a treat.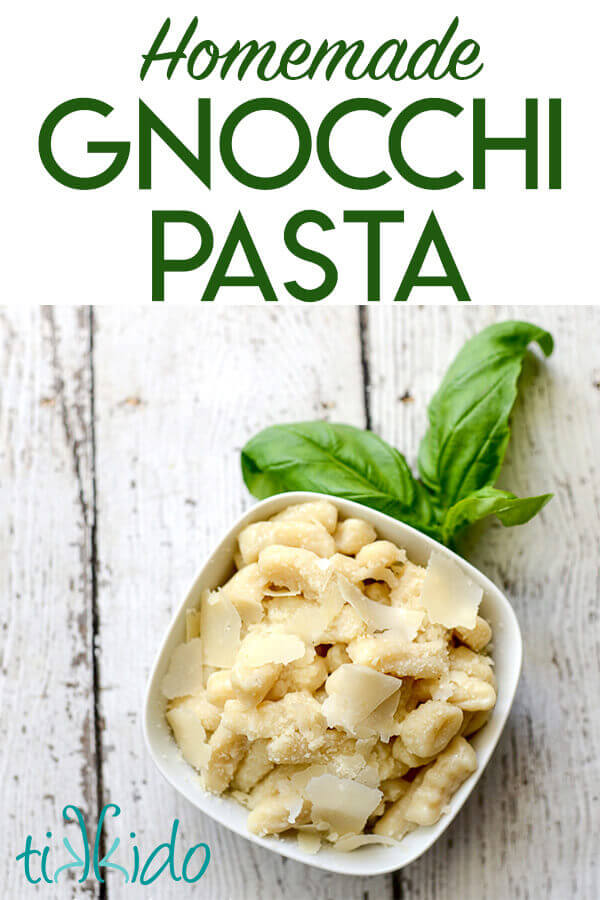 It's time for the March Taste Creations linkup!  The theme this month: potatoes.
Now, I actually really hate potatoes.  Unless they're crunchy, like potato chips, or really nice, thin, crispy fries.  So this month's theme ingredient was giving me fits, until I had my monthly coffee date with my fabulous (and very Italian) friend Karyn, who suggested making gnocchi.  Pasta!  Brilliant!  I do love gnocchi--any kind of noodles, really.
And homemade pasta is just miraculous.  Karyn's family has a very old-school traditional gnocchi recipe:  Flour, egg, and potato until it looks right.  That might be enough if I had my very own Italian nonna teaching me gnocchi making in the kitchen, but I needed a little more guidance.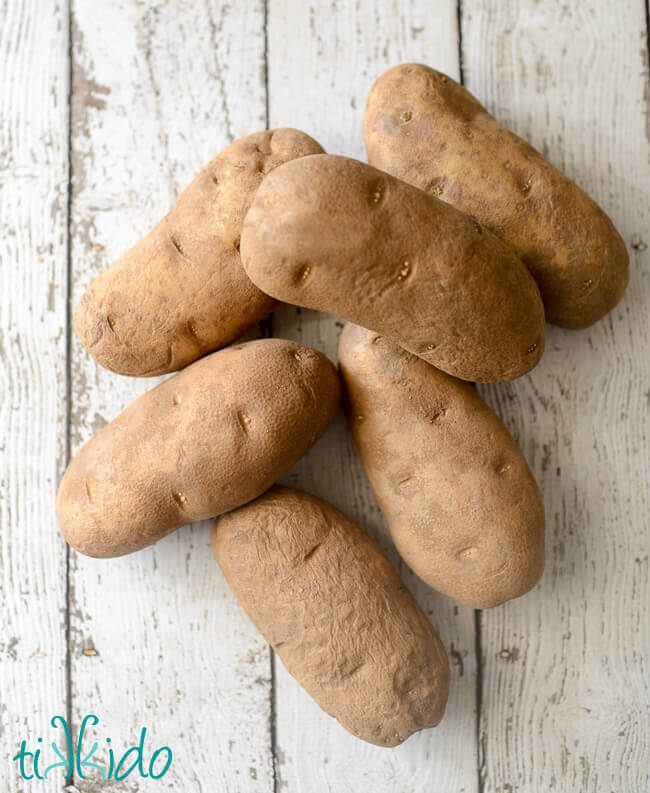 One tip Karyn shared with me is that the gnocchi is better if you use old potatoes, so I bought my bag of potatoes a couple weeks before I made my pasta, and just let them sit out.  Karyn cautioned me not to let them sit in the bag if the bag is plastic, however; they'll spoil if they're kept in a plastic bag like that.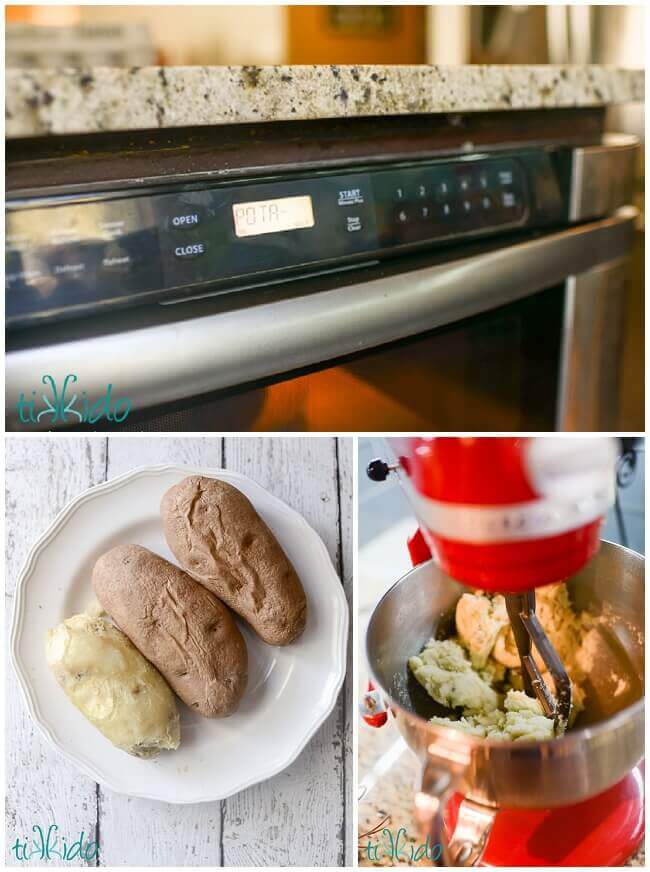 Next, it was time to cook my potatoes.  I could have easily boiled the potatoes, but we just recently finished up our multi year kitchen renovation project, and I now have a microwave in the kitchen (instead of the garage, where it's been for the past several years).  IN THE HOUSE, PEOPLE.  I'm microwaving all the things.  Especially since the microwave has an insanely easy self-programming potato-cooking function.  Push a couple buttons, and when the microwave dings, they're done.  Since I don't eat potatoes, I would have to do serious research into how to boil potatoes.  Salted water?  Unsalted?  cut?  Whole?  How long?  Microwave was the clear choice for me.
When The potatoes were done cooking, I peeled off the skins, and whipped them up into a nice, fluffy, lump-free mashed potato using my Kitchenaid mixer.  I don't even own a potato masher.  I'm serious about not liking potatoes.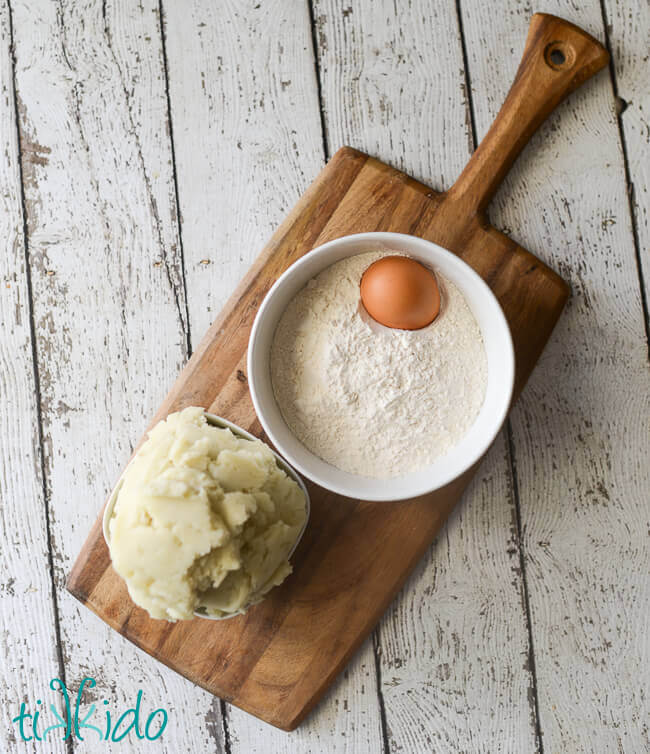 The ratio that worked well for me was 1 cup of flour, 1 cup of mashed potato, and 1 egg.
You might find that you need more or less flour depending on any number of things--egg size, moisture content in your potatoes, moisture content in your flour.  But this ratio should at least get you pretty close as a starting point.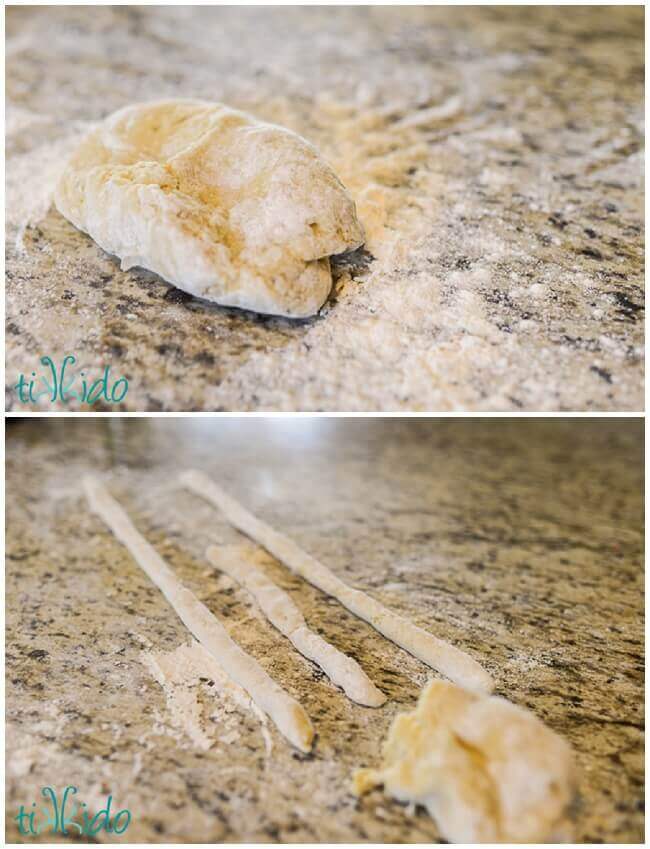 Combine the beaten egg, flour, and mashed potato together and knead to form a dough.
Roll the dough into long snakes.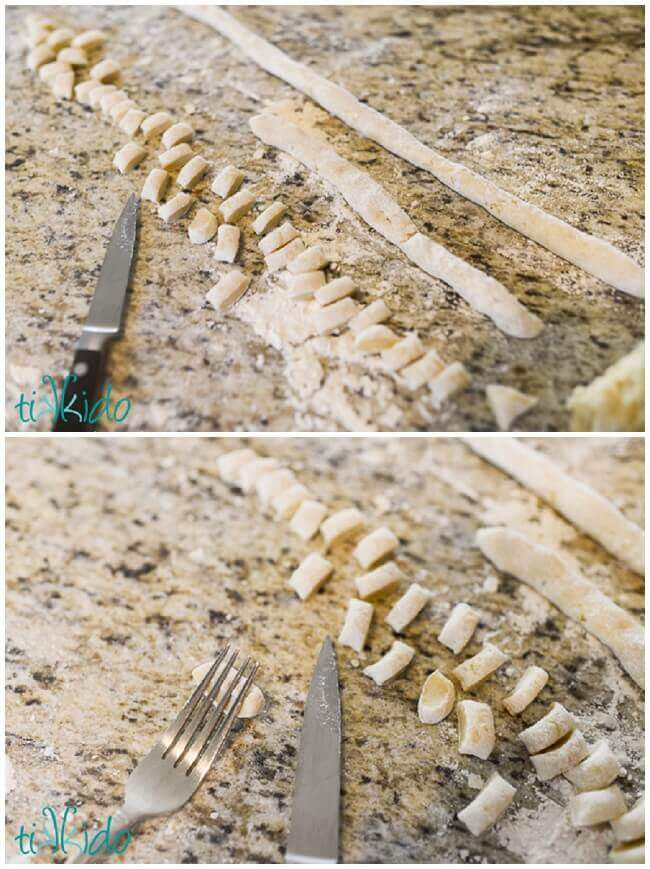 Use a sharp paring knife to cut the dough into small dumplings, and use the tines of a fork to roll the gnocchi and create grooves (to catch and hold delicious sauce).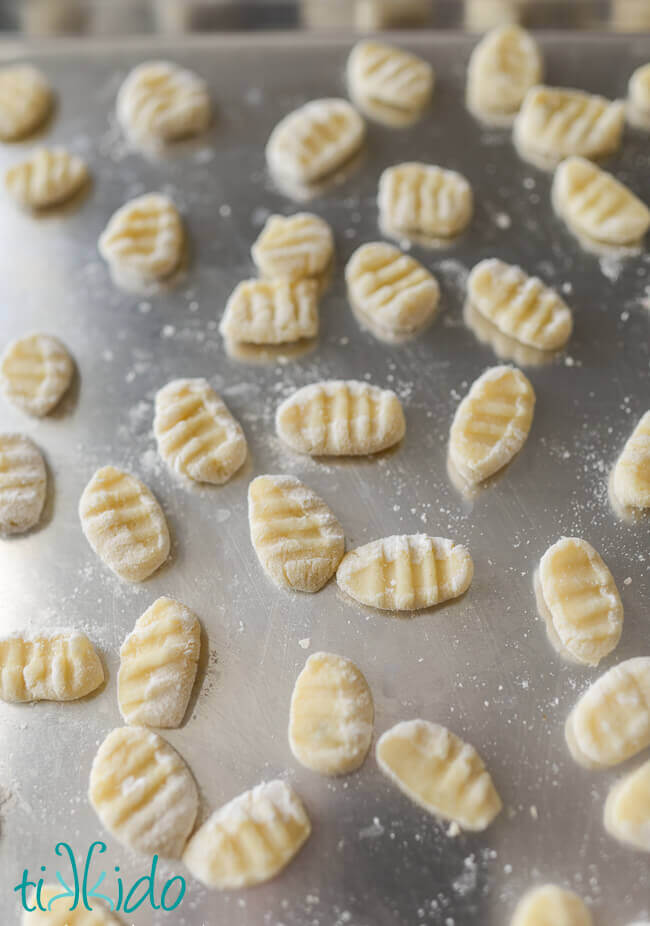 The rolling and grooving of the gnocchi took some practice.  My early ones kind of looked like tiny smushed footballs, but I eventually figured out that I got the perfect roll much more easily if I did it on the un-floured portion of my granite countertop.  The floury bits were just too slippery.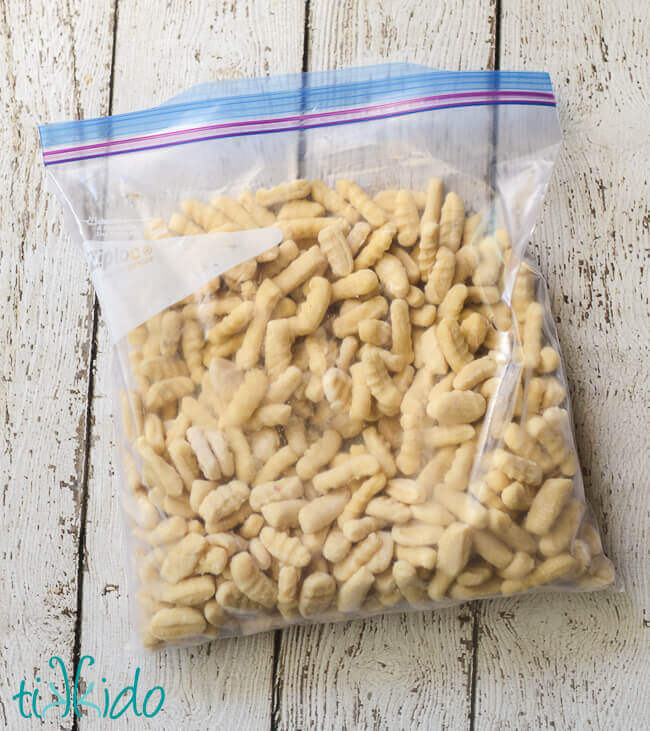 I froze my gnocchi in a single layer in a sheet pan, and when completely frozen, transferred to a freezer bag.  You don't have to freeze them, but it's a glorious thing to have in your freezer!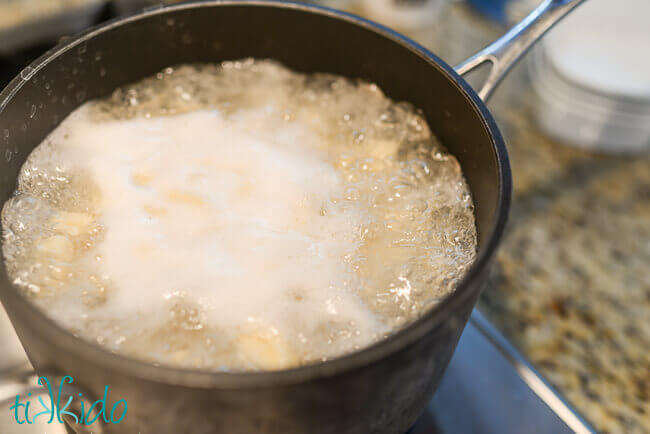 To cook the gnocchi, bring salted water to a boil.  Toss in the gnocchi (if frozen, just toss them in frozen), and cook for about three minutes.  The gnocchi will start on the bottom of the pan, and will start floating to the surface as they cook.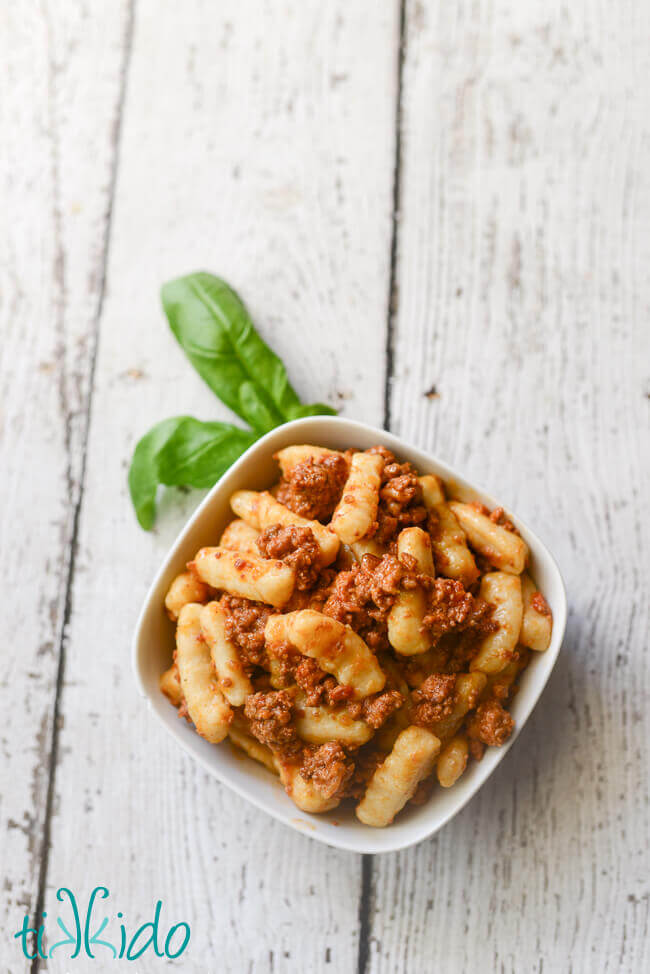 I asked Pia, another one of my authentic Italian friends, what kind of sauce would be best with gnocchi.  She reported that her family just always did butter and parmesan, and who am I to argue with that?  But I ended up also making a fabulous Bolognese sauce, too.  Holy cow, nothing finer in the world.
No special machines or equipment necessary for this amazing Italian pasta.  What are you waiting for?
And don't forget to start thinking about the challenge ingredient for next month's linkup:  dark chocolate.  Now that's a challenge I can get enthusiastic about!  And check out last month's challenge post:  leeks.