Printer-friendly version
A good Bolognese meat sauce is a miraculous thing.  Just...just...GOOD.   It's vastly different than browning a pound of hamburger and opening a jar of spaghetti sauce.  It's rich, it's complex, it's downright amazing.  I'd never undertaken such a cooking project, being intimidated by any recipe that calls for cooking something on a stovetop for hours and hours.  And then I read this Bolognese recipe and technique on Serious Eats.  It's started on the stovetop, but then gets transferred to the oven for a long, slow cook.  Now that I could do.  I tried it for the first time last year, and fell head over heels in love.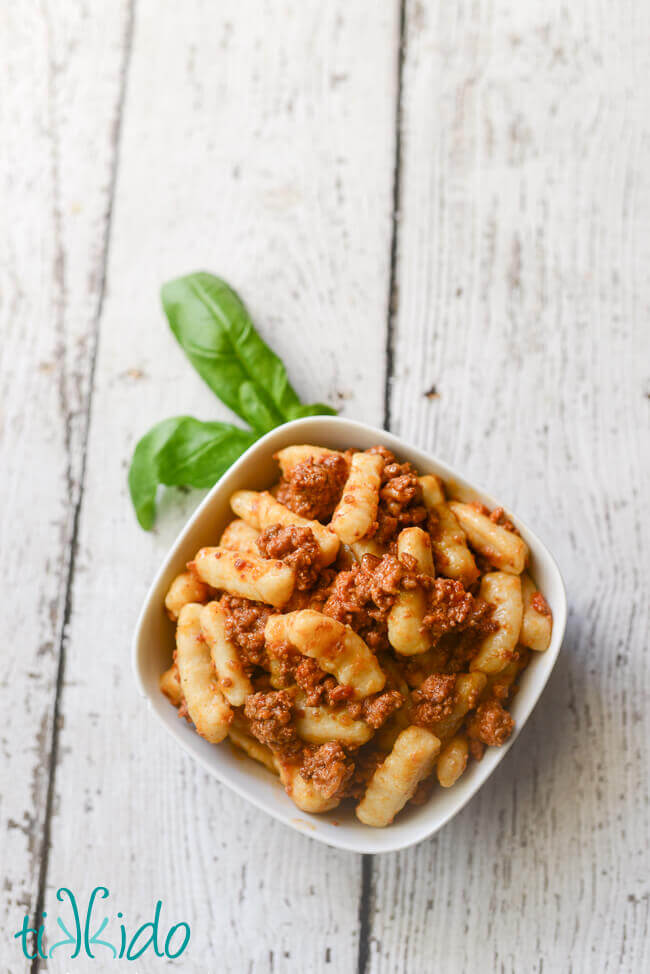 I did make a few changes to the recipe to suit my own tastes, of course.  I eliminated the gelatin entirely.  I totally get why Kenji added it to the recipe, but gelatin in homemade stock completely grosses me out, and is part of the reason that I dislike soup.  So no gelatin for my recipe, and the mouth-feel was still spectacular.  I made a few other changes that I'll note as a I go along, but the technique and the magic ingredient at the end are all Kenji.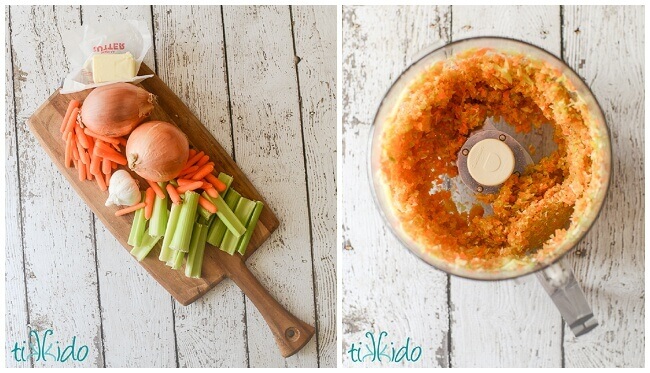 Ragu Bolognese Recipe:
1onion
carrots (I just use a couple fist-fulls of baby carrots, since we always have those in the house for school lunches)
celery, (an amount similar to the carrots, though I've left this out entirely before and didn't really notice a difference)
1 head of garlic, minced
4 Tablespoons butter
1/2 a bottle of dry red wine
1 28oz can of crushed tomatoes
1 pound center cut (more lean) bacon, chopped very finely (I use a food processor and turn it into kind of a disgusting bacon paste)
1 pound ground pork
1 pound ground beef
1 pound ground lamb
1 cup milk
1 quart chicken broth
1 cup cream
1/2 cup parmesan cheese, grated
1 Tablespoon Thai Fish Sauce
salt and pepper, to taste
Mince the vegetables.  I just pop them all in the Cuisinart food processor for a quick whirl to chop them all at once into small, even bits.
In a large Dutch oven (I love my Calphalon Dutch oven), melt butter, and cook the vegetable mixture until softened.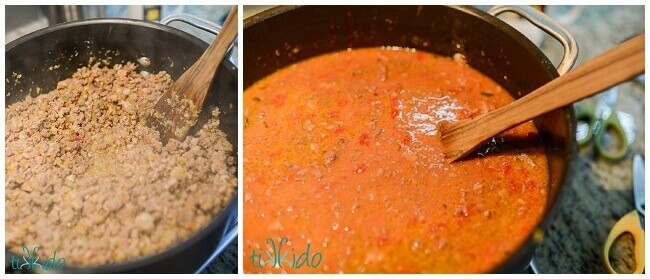 Add in the meats and cook on the stovetop until the meat is cooked through.  You don't need it to start browning, just cook it through.   (I don't use the liver used in the Serious Eats article, because, ew.  They're probably amazing, but I just didn't want to.)
Add wine to the cooked meat mixture, and cook until the liquid is mostly evaporated.  Add the stock, tomatoes, milk, and salt and pepper and bring to a simmer.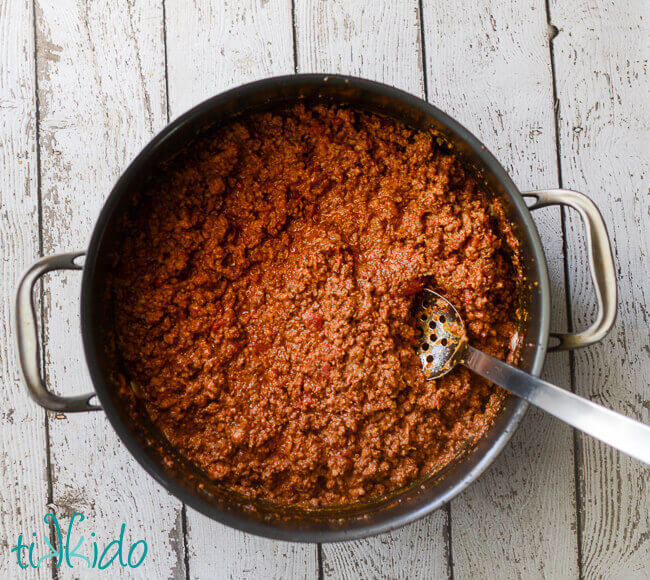 Cook, uncovered in a 300 degree oven for 3-4 hours, every once in a while stirring and scraping down the delicious browned bits that accumulate on the sides.
After three or four hours of cooking, a layer of clear fat will form on top of the sauce.  Use a spoon or a ladle to skim off most of the fat, leaving about 1 cup of it behind.  
Stir in the cream, Parmesan, and fish sauce, and heat on the stovetop, stirring constantly to emulsify the mixture.  Don't you dare skip the fish sauce!  I know it sounds really strange, but it adds such an amazing complexity and depth of flavor, and I promise it doesn't taste even a little bit fishy.  Pinkie swear.
Season to taste with salt and pepper.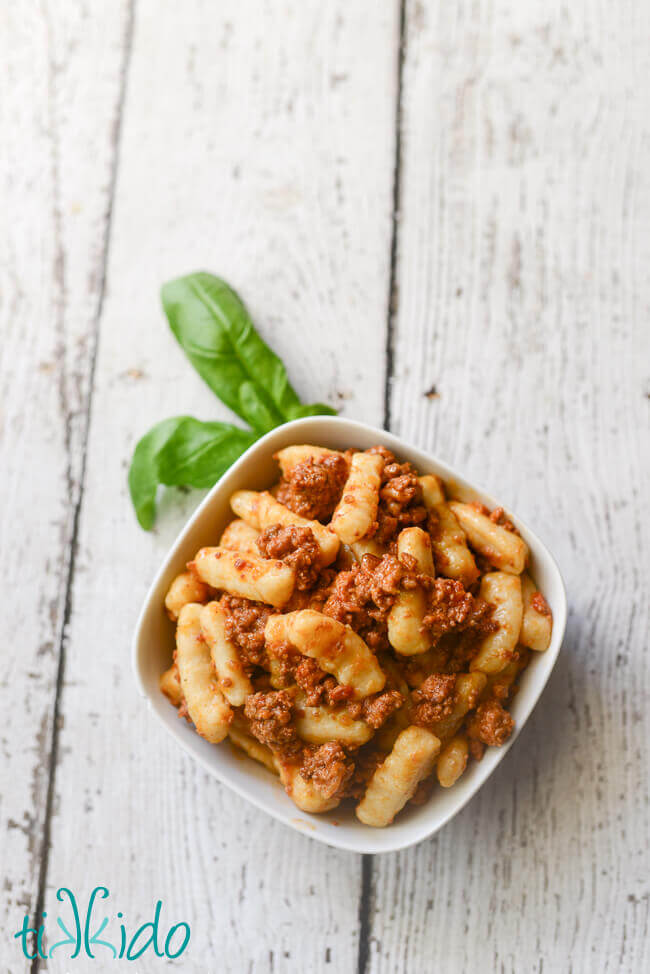 My husband, who doesn't like lamb, loves this.  My daughter, who doesn't like bacon (I know, where did I go wrong?), adores this sauce.  It is pure meaty synergistic goodness, so much more than the sum of its parts.  Serve it up with a fabulous pasta that can hold its own with this hearty sauce, like the homemade gnocchi I wrote about yesterday.
What are your favorite pasta sauces to make?  I'm inspired to try making more!
Want a printable, one page PDF version of this recipe?  Here you go!  Ragu Bolognese Italian Meat Sauce Recipe