Printer-friendly version
Planning a summer camping trip?  Use this technique to prep corn on the cob ahead of time at home, so you'll be able to grill the most amazing corn cooked over a campfire.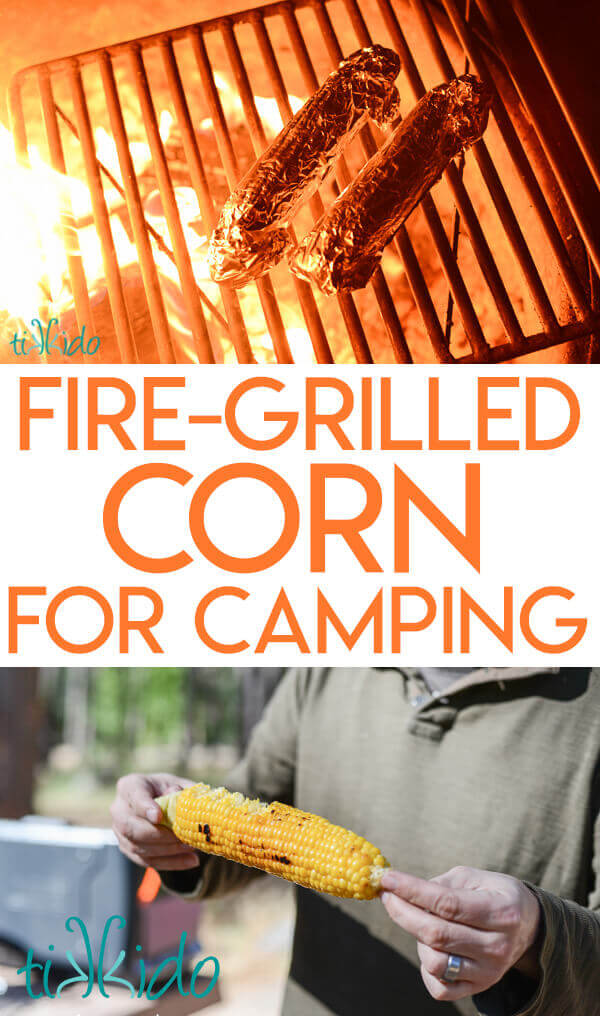 I tried a few new recipes and techniques on our camping trip, beyond classic burgers and hot dogs.  My chicken shawarma kebabs were ok, but still need some work.  The fire-roasted corn on the cob, however, was absolutely perfect, just as it was!  Amazingly, stunningly perfect.  Really.  I've never had corn this good, and I've had corn on my great aunt's farm in Iowa that was picked only after the water was already boiling (now that's fresh!).
The great part about this was that I did all the prep at home, which made it fantastically convenient for our camping trip.  It would also be great for any 4th of July BBQs or any summer cookouts!
In your home kitchen, remove the husks and silk from fresh corn on the cob.  I did not want to bother with taking butter along with us, so I decided to do that part at home, too.  Just rub the cold butter on the uncooked corn on the cob, and wrap up in foil.
Cook over open flame (it can be a pretty hot and powerful fire, with the flames licking up over the foil-wrapped corn) for about five minutes, turning the corn periodically so it gets evenly cooked.  Then unwrap, sprinkle with a bit of kosher salt, and be prepared to swoon.  
Roasting the corn over flame gives a subtle smoky dimension to the flavor, an extra layer of taste you just don't get by boiling, baking, or microwaving corn.  
The corn can also be done on a grill, and it's also excellent that way.  Load up the grill the next time you're having friends over for a backyard BBQ and enjoy.  Nothing tastes like summer more than an ear of sweet corn.