Printer-friendly version
Make fruit skewers that look like arrows with this easy tutorial    I made these arrow fruit skewers inspired by Bard the Bowman for the Hobbit birthday party.   Because as well all know, it may have been Bilbo's cunning that found Smaug's weak spot, but it was Bard's arrow that took the dragon down.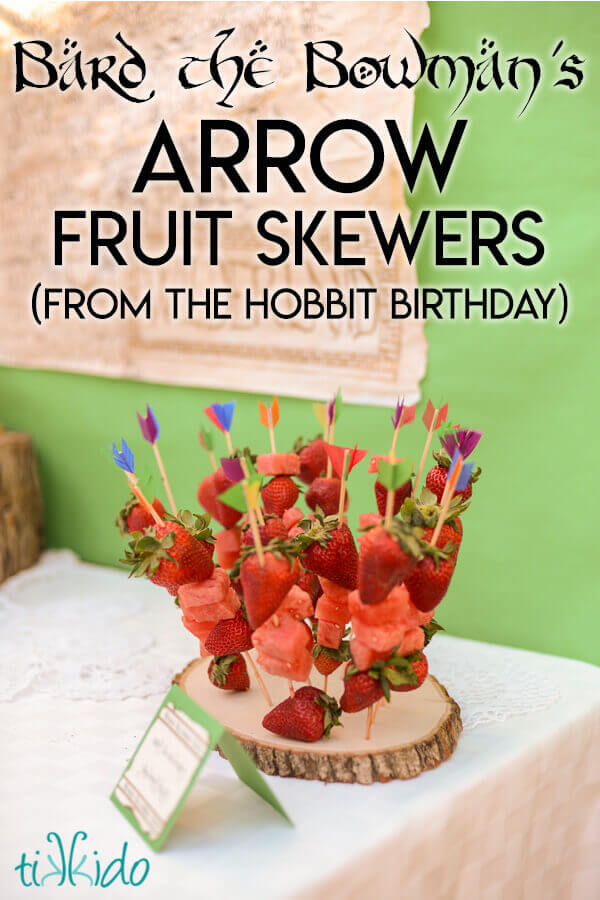 This project would be perfect for other parties, too--Hunger Games, Robin Hood, Brave...so many different possibilities.  (My husband suggested Dukes of Hazzard, though noted that the dynamite sticks they attached to their arrows would make them fly horribly.)
Materials Needed for Arrow Fruit Skewers Craft
food-safe wooden skewers
craft feathers (any color you choose)
scissors
hot glue gun
Use scissors to trim the craft feathers into that iconic fletching (the feathery bit on arrows) shape.  For each arrow, I made one flat, two-sided piece, and one single-sided piece of feather for the contrasting color bit.
Use the glue gun to glue the flat bit to the end of a bamboo skewer.  Then add the contrasting color fletching standing up, like a shark fin.  Using a hot glue gun instead of regular glue makes this craft so fast and simple.
I bought a flat slice of wood from the craft store, and simply drilled small holes in it for my fruit skewer display.  It was fast and easy, and I loved how it added some height to the dessert display.  
What's your favorite arrow-related theme?  
Other Hobbit Party Foods You might Like: