Printer-friendly version
Fake Christmas garland has come a long way in recent years.  A long way.  I have it, I use it throughout my home.  But sometimes I just want the real thing--fresh evergreen garland.  There's nothing quite like it.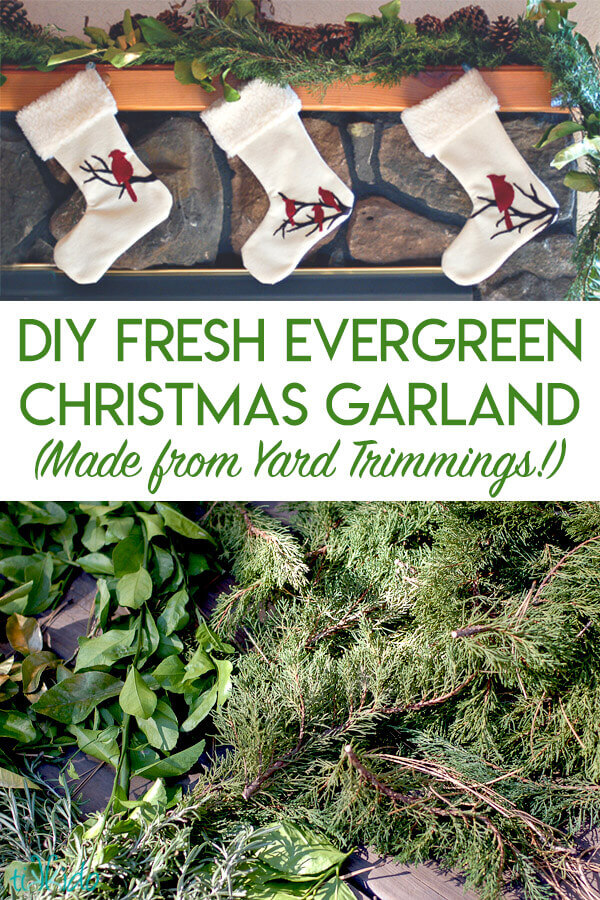 The best part about it?  It's practically free to make. 
Materials for Making Christmas Garland:
Start by heading out into your yard to pick whatever is still green.  If it's green, it's game for this project!  Bushes and trees, in my yard or my neighbor's (yes, I ask permission first), I trim a variety of greens to mix into my garland.  
Cut a length of twine as long as you'd like the garland to be.  Wrap floral wire around one end of the twine to anchor it in place.
Then it's an incredibly simple matter to align a branch of greenery to the twine, and wrap it into place with the floral wire.  Add a new branch every couple inches to create a fuller look.  
Add a few pine cones if you'd like.  I generally like.
These smell absolutely amazing.  Even if you have an artificial Christmas tree, it's worth making a fresh garland just to enjoy that fabulous evergreen scent.
And hey, as a bonus, you got some yard work done, too!