Printer-friendly version
I love my girls, and I love the activities that they've chosen--soccer, gymnastics, Irish dancing, book club, music, Girl Scouts--but it does keep us awfully busy. I'm always looking for fast, easy, healthy meals that don't take much prep time, so we can get to the table quickly when we get home.
Want to know how long it takes to make the new Bumble Bee SuperFresh® Seared Ahi Tuna? No time. ZERO. You move the box from the freezer to the fridge th day you want to eat it, and when you get home, it's perfectly defrosted and ready to plate. I've never seen anything like it! (That makes sense, since Bumble Bee is the first company to do it.) Now that's seriously fast food.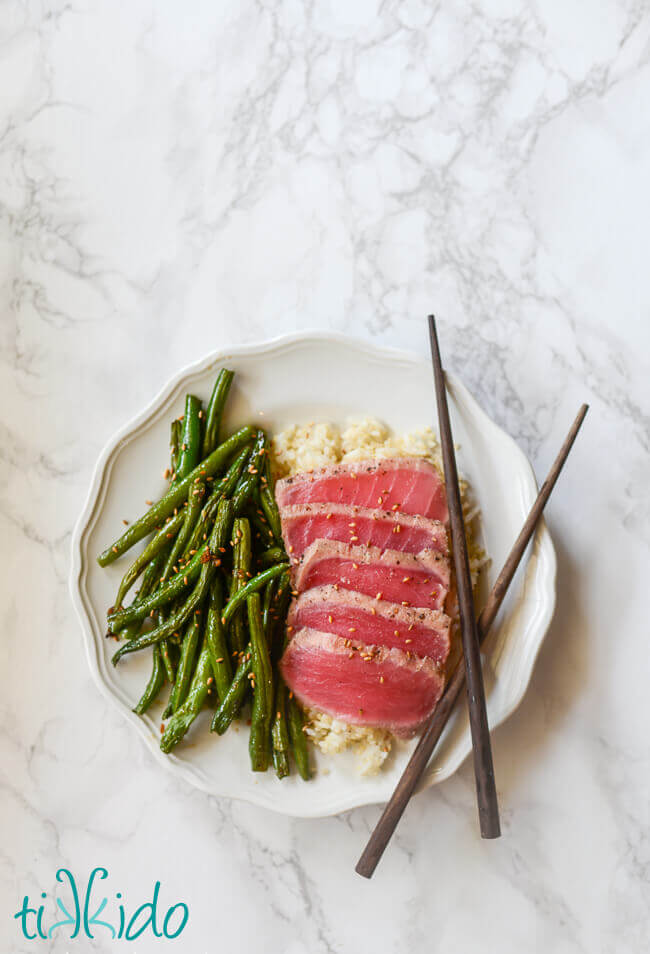 The sushi-grade tuna tastes and smells amazing and so fresh straight out of the package, but that's not a complete meal, of course. So I decided to come up with a healthy side dish that would complement the flavors of the Bumble Bee SuperFresh® Seared Ahi Tuna with its garlic-peppercorn rub. I absolutely adore the fried green beans we get at our favorite dim sum restaurant, so I decided to make a roasted ginger-garlic-soy green bean side dish to complete the meal. The goal? A complete, delicious, healthy dinner on the table in about 20 minutes. Did I meet my goal? Oh yeah I did!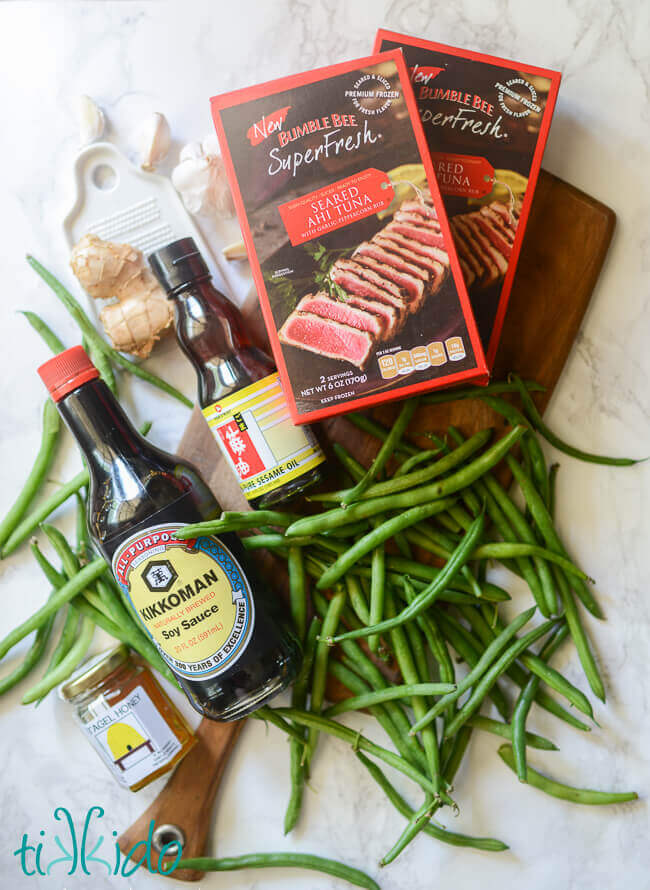 Garlic-Ginger-Soy-Roasted Green Beans Recipe:
one pound fresh green beans
3 cloves of garlic, minced
1/2 teaspoon fresh ginger, minced
1 teaspoon cooking oil (I used olive oil)
1 teaspoon sesame oil
2 Tablespoons soy sauce
2 teaspoons honey
1 Tablespoon toasted sesame seeds (for garnish)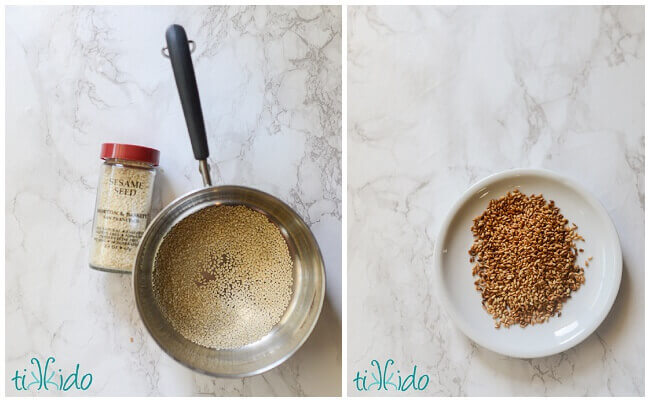 The first step is to toast the sesame seeds. You can buy toasted sesame seeds, but why bother? It only takes a few seconds to do it yourself, and the flavor is SO much better.
Put the sesame seeds in a small, completely dry (no oil) saucepan. Put over high heat, and stir or shake the seeds constantly (don't walk away, it happens quickly!) until the seeds turn a golden color, and start to pop like popcorn. Remove from heat immediately and set aside.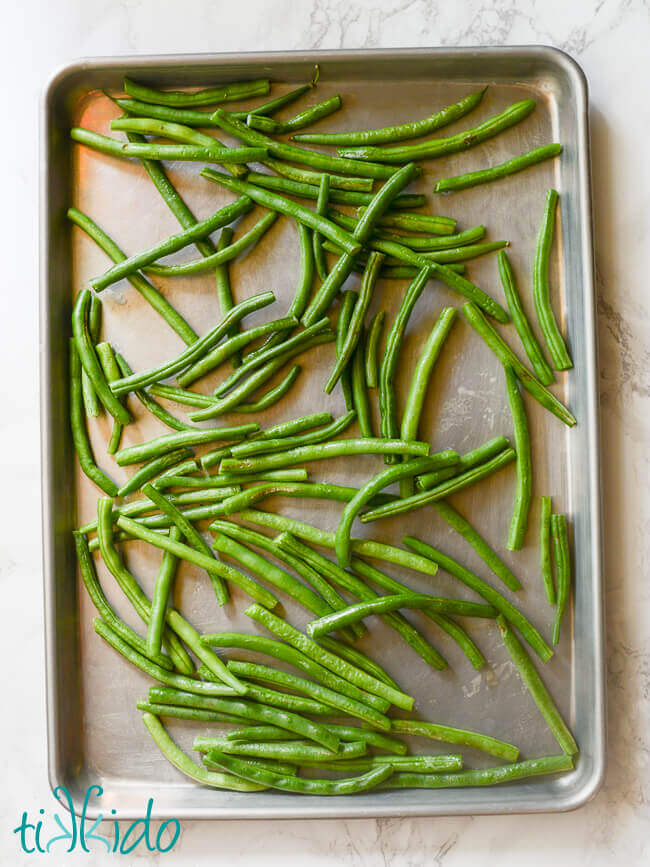 Roast the green beans at 425 degrees Fahrenheit for 20 minutes.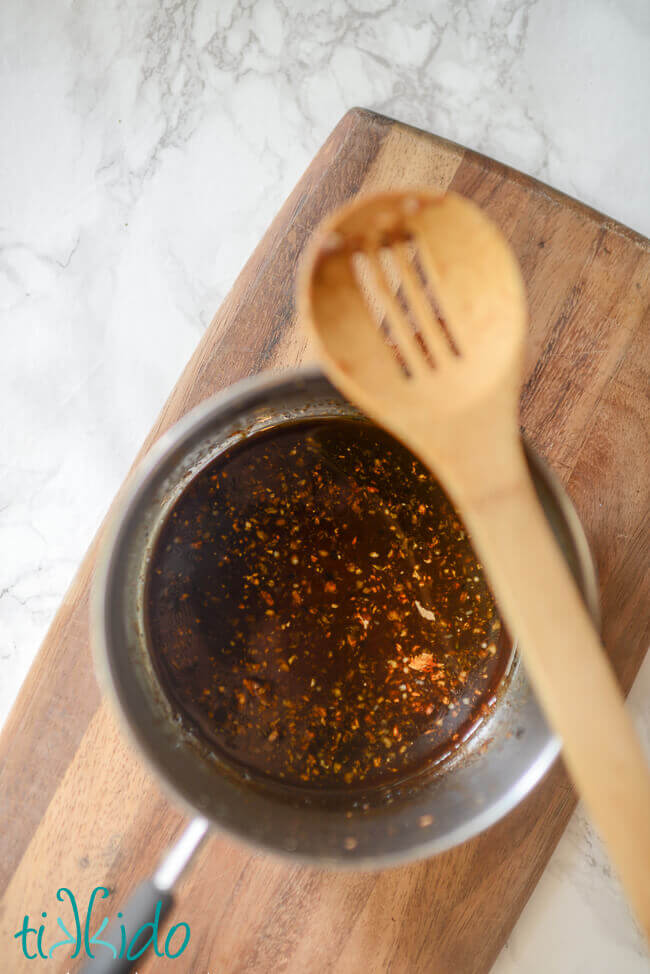 While the green beans are roasting in the oven, make the sauce.
I use the same small saucepan I used for toasting the sesame seeds. Put the minced garlic and teaspoon of cooking oil in the small pan, and cook over medium heat until the garlic begins to turn golden. Remove from heat, and add the ginger, soy sauce, honey, and soy sauce. Mix to combine.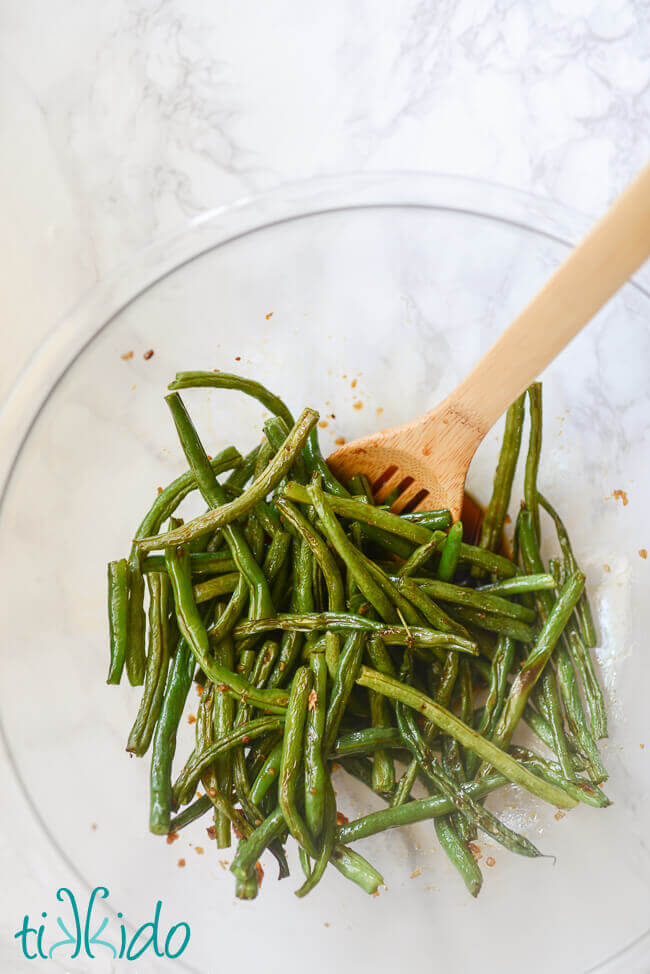 When the green beans come out of the oven, put them in a large bowl, pour the ginger-garlic-soy mixture on top, and toss to cover all the green beans equally.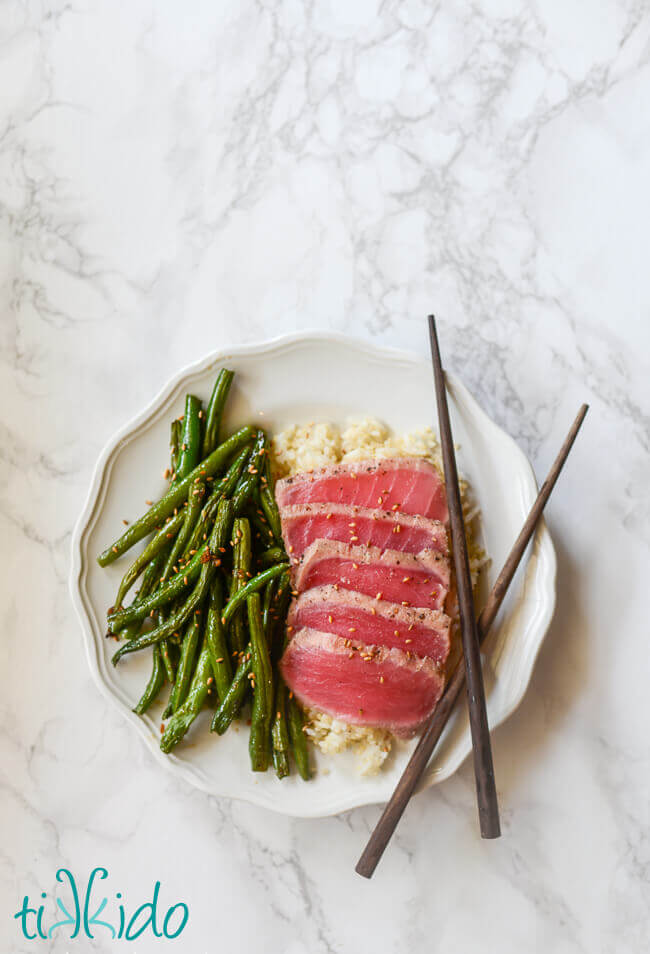 Serve with the Bumble Bee SuperFresh® Seared Ahi Tuna, some rice (I used a blend of rice and quinoa), and a great big pile of these glorious green beans. Sprinkle with the toasted sesame seeds and enjoy.
I was selected for this opportunity as a member of Clever Girls and the content and opinions expressed here are all my own.