Printer-friendly version
Do you want to know how I made the rose tower cake for the butterfly birthday party?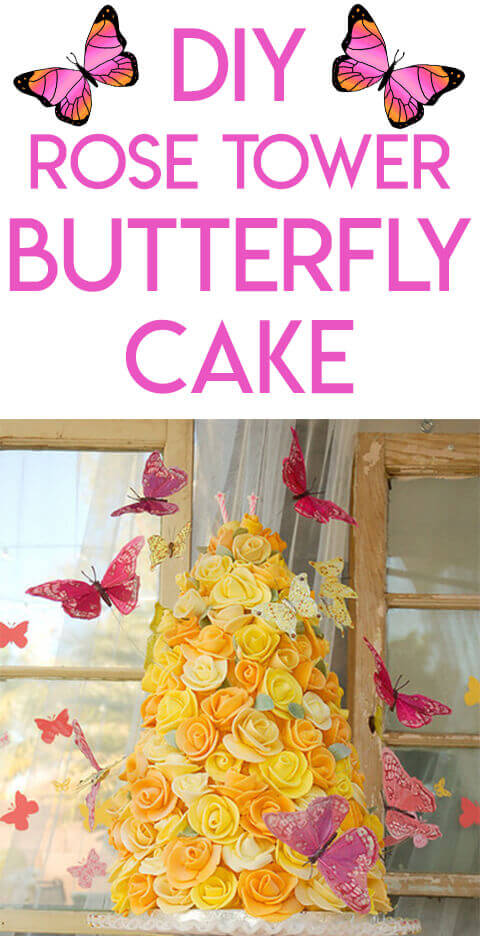 I'm happy to show you how I did it, but first I have to mention that it's based entirely on a fabulous tutorial and design by Peggy Porschen, in her book, Pretty party Cakes.  I changed a few small things, and I'll show you what I did, but I have to say that Peggy's book is absolutely gorgeous, and inspirational, and instructive.  It's one of my favorites.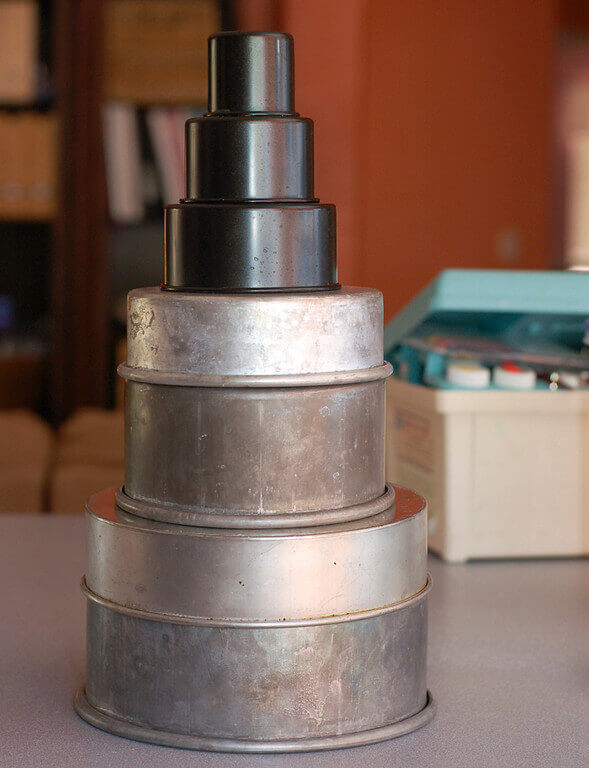 First, I planned out the general size and shape by stacking my cake pans.  I'm a tactile kind of designer, and like to play around with things to figure out how I want them to look.  Stacking pans was the perfect way for me to figure out what size I wanted the cake to be.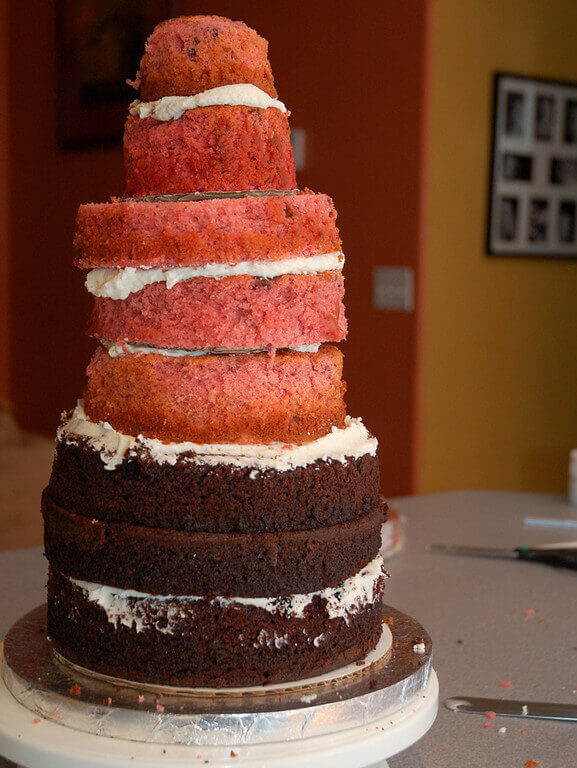 I baked the cakes, and then iced between the layers and stacked.   When you make a cake this tall, you need to create an internal structure to support it, or the cake will collapse on itself.  Stack two, maybe three layers at the most.  Insert straws into the cake, and cut them flush with the top of the cake.  Put a cardboard cake round on top of those layers (the straws will hold up the cardboard and bear the weight above).  Stack another couple layers of cake, add straws, and add cardboard.  Continue until all the layers of cake are stacked.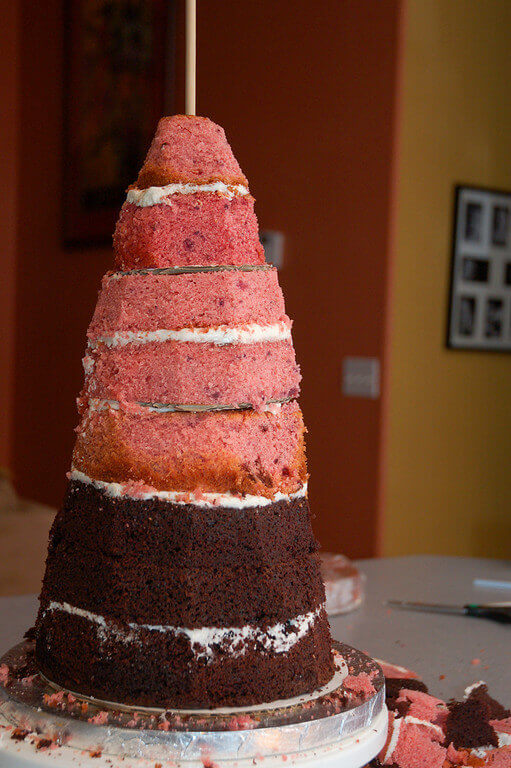 Drive a sharpened dowel down through the center of the cake.  This will help keep the cake stable as you carve and decorate and move it.  Use a large serrated knife to carve away the excess cake, until you have the shape you want.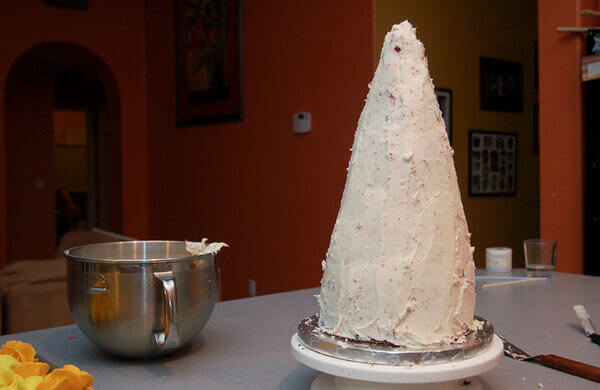 Crumb coat with buttercream.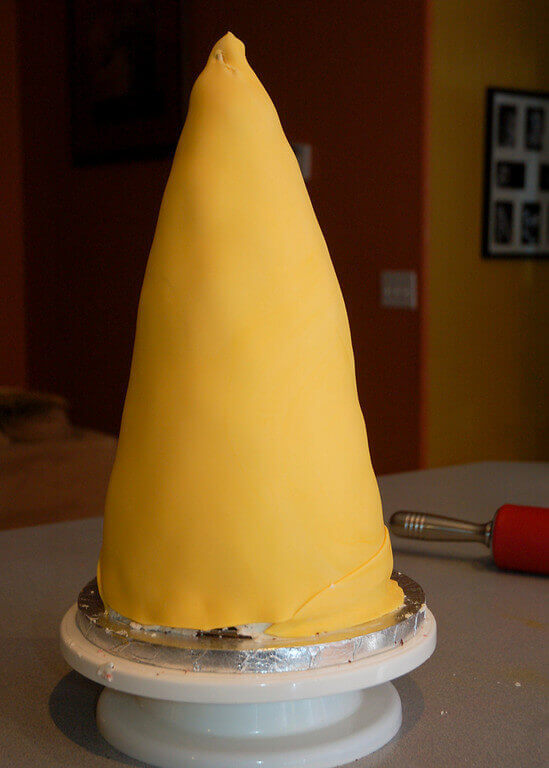 Roll out a large piece of fondant and cover the entire cone of cake.  It doesn't have to be pretty; this is just so that any gaps between the roses won't show cake or buttercream.
​
Make a bajillion fondant roses (see my tutorial for making fondant roses from last week for instructions).  Ok, not a bajillion.  But it certainly seems like it.  I used more than 200 roses on this cake.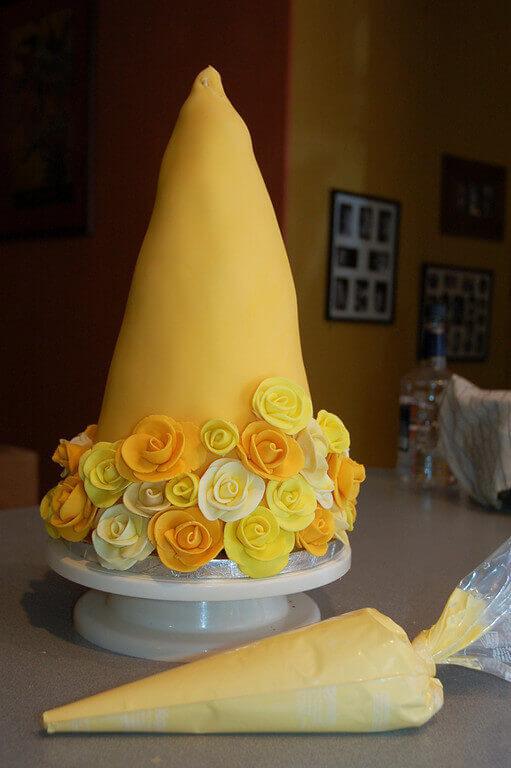 Attach the roses using icing (I used a thick buttercream, but you could also use royal icing).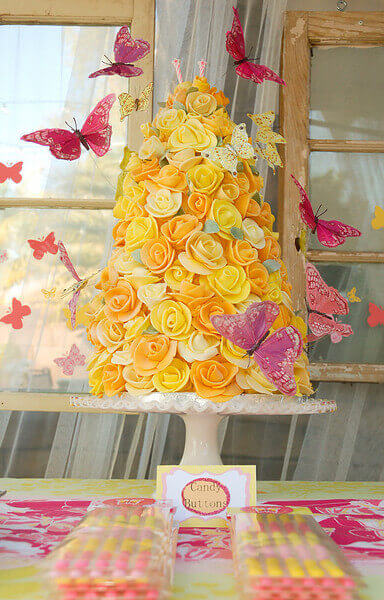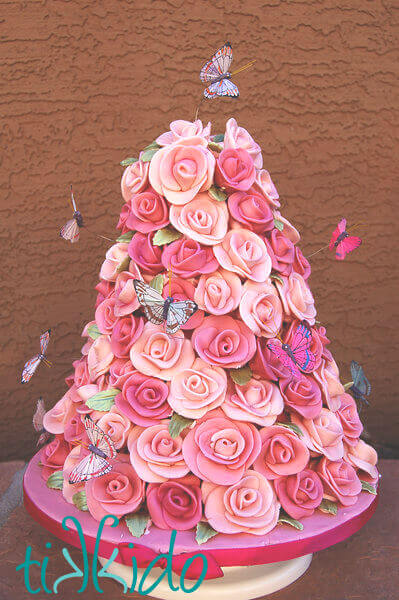 Add a few fondant leaves in the gaps if you'd like.  Purchase some feather butterflies (they come on wires) to insert in the cake, so it looks as though they're flying around the roses.
This cake is definitely a labor of love, but if you decide to make it, it's definitely a show stopper!
Other Cake Decorating Tutorials You Might Like: