Printer-friendly version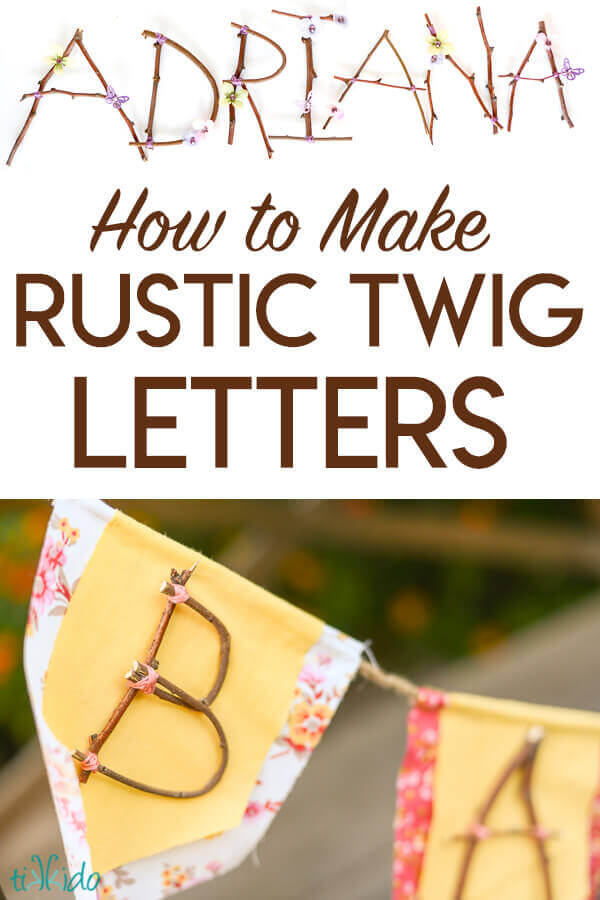 There's a font for everything.  Whatever the mood, theme, or style, you can find lettering (usually for free) to match.  But sometimes you just want something a little different.  And for as much as I adore paper crafts, sometimes I like to switch it up and use other materials.  That's what inspired these charming rustic twig letters.
To make these twig letters, you'll need:
Freshly cut branches and twigs
Clippers to cut the wood
Hot glue gun
Embroidery floss
Fresh branches are only important if you're making letters with curved sections.  If you only need straight pieces, feel free to use any old twig you find in the yard.
Use garden shears or even lineman's pliers to start trimming the branches into the shapes of the letters you'll need.
I trimmed all my wood pieces before moving on to assembly.
Use a hot glue gun (low temp, preferably!  Don't burn yourself!) to tack the wood pieces together.  If you're making a letter with a curved section, glue the first joint together, then tie and wind embroidery floss around the joint to hold it in place.  
The hot glue alone really isn't enough to keep the stick in place while you're bending the branch to shape the letter.  The embroidery floss also looks lovely, and comes in any color you could possibly want.  It's available at any major craft store.
I used just the plain letters at the Mud Pie Bakery party.
The letters were perfect for our rustic, girly banner.  Just what I wanted for a party all about having fun and getting messy "cooking" with dirt, sticks, and stones.
But the letters also look absolutely charming with added embellishments, like the flowers, rhinestones, and tiny butterflies added above.
I really want to work on a rustic wedding where I can make a Mr. and Mrs. out of branches--for chair decorations, and for an adorable photo prop.  Any of you wedding photographers out there want such a thing?  I don't have any friends getting married soon, and I want to see my idea come to life!