Printer-friendly version
No-bake peanut butter pie with a chocolate graham cracker crust is a cool and creamy summer dessert.  This peanut butter pie is one of my husband's most favorite desserts.  You can't go wrong with peanut butter and chocolate!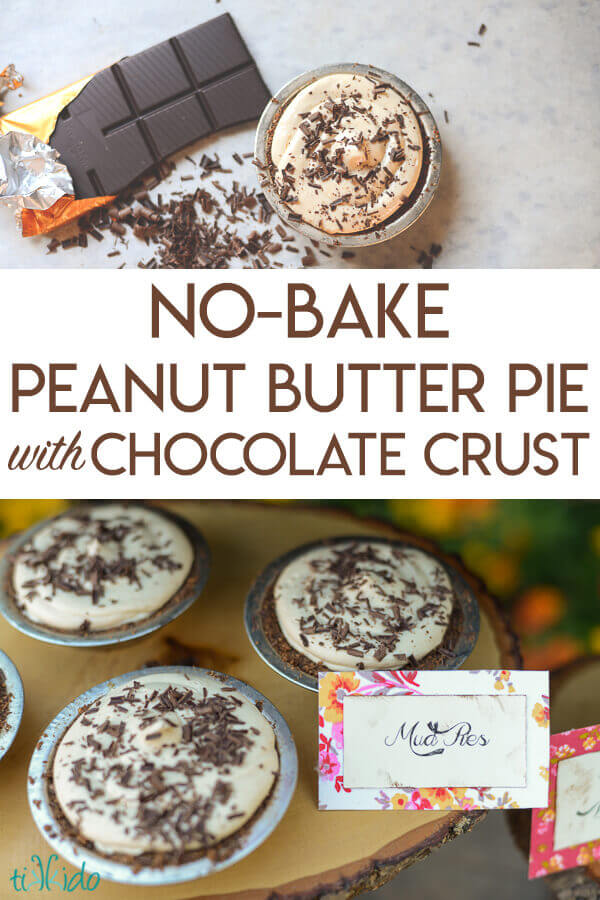 I'm not a huge fan of peanut butter.  It's fine, don't get me wrong--but I've never in my life been tempted to just eat a spoon full of the stuff.  But pair it with chocolate...well, that's an entirely different matter.
I knew I wanted to make delicious "mud pies" for the Mud Pie Bakery party, and our family's favorite peanut butter pie with a chocolate crust seemed like the perfect fit.
No Bake Peanut Butter Pie with Chocolate Graham Cracker Crust Recipe:
1 package (8oz) of cream cheese, softened
3/4 cup smooth peanut butter
1 cup powdered sugar
2 T milk
1 t vanilla
1 cup whipping cream
an extra 2T powdered sugar
chocolate curls (optional)
chocolate graham cracker crust (recipe here)
Mix cream cheese, peanut butter, 1 cup of powdered sugar, milk, and vanilla with an electric mixer.  Beat until well combined.
In a separate mixing bowl, whip together the cream and the extra 2T of powdered sugar.  beat until soft peaks form.  That means that when you lift your beater out of the bowl (like in the picture above), the peak of the whipped cream will fall back down, not stand straight up.
Gently fold the whipped cream into the peanut butter mixture.  
Place in an already made chocolate graham cracker crust lined pie tin. (Or mini ones, as shown here.) I just used my spatula to dollop it in, but with such small pie tins, wasn't able to get it smooth enough for my taste.
So I put some of the filling in a pastry bag, and piped the final layer on top.  Much neater, but not a step I'd bother with if I were making a single, regular sized pie.
Top (if desired--but really, who wouldn't desire?) with curls of chocolate.  The girls love helping me with this step, and it's a great task to hand over, since it's so simple.  All you need is a vegetable peeler and a nice bar of chocolate (not too warm!).  Pop the whole thing in the fridge for a couple hours to set up nicely before cutting.
Mmmm.  Best mud pies ever.