Printer-friendly version
I fell in love with the fabrics I used for the Mud Pie Bakery party.  
They were actually calico prints from two entirely different brands, not designed to go together, but the colors were absolutely perfect.  I wanted to use them as much as possible.  And I always buy too much fabric, so I'm always looking for new ways to use it up.  
That's when I hit upon the idea of using the fabric as scrapbook paper, rather than going and trying to find scrapbook paper that would match the fabrics well enough.
I'm completely in love with how well the concept worked, so I'm sure you'll be seeing a lot more of this technique from me in the future.  Today, however, I'm going to show you how to do it.
Materials for Turning Fabric Into Scrapbook Paper
lightweight fusible interfacing
fabric
cardstock
Start by cutting a square of fabric slightly larger than your cardstock.  I used a 12x12 piece of cardstock, so I cut my square of fabric 13x13.
Cut a square of fusible interfacing approximately the same size as your square of fabric.  It's fine if it's a little smaller, as you can see in the picture.  You just don't want it to be bigger.  Follow the directions that come with the interfacing and iron the fusible interfacing to the wrong side of your fabric.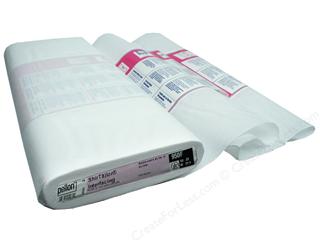 A note about fusible interfacing:  you want to buy the kind that has the heat-sensitive sticky stuff on both sides of the interfacing.  You can get it in small packages on the shelf of fabric stores, but don't do that. The pre-packaged stuff is so much more expensive!  Get it by the yard instead.  At Joann Fabrics they don't keep it on the shelf--they keep it behind the cutting desk so you just have to go there and ask for it.  So much more affordable that way!  
Peel the paper backing off the second side of the fusible interfacing (which is now stuck to the wrong side of the fabric).  Place your cardstock on top, so you have a sandwich of fabric, fusible interfacing, and paper.  Use your iron (carefully) to activate the fusible webbing again and stick all three elements together.
Trim away excess fabric from the edges of the paper and use exactly like you would use any other scrapbook paper.  
This may seem like a bit of a fussy technique.  Why not use spray adhesive instead, you might ask?  The answer:  because that's a bad idea.  I tried it.  And while it worked well to stick the fabric to the paper, the adhesive gummed up my scissors and paper cutters.  Not recommended.
Stick with the fusible interfacing for this particular project.  It worked magnificently, and the little bit of extra work upfront is definitely better than spending a bunch of time with Goo Gone and your favorite scissors.