Printer-friendly version
Savory shortbread makes an easy, buttery, delicious homemade cracker.  This pesto cracker recipe gets its fabulous flavor from pesto, fresh basil, and toasted pine nuts.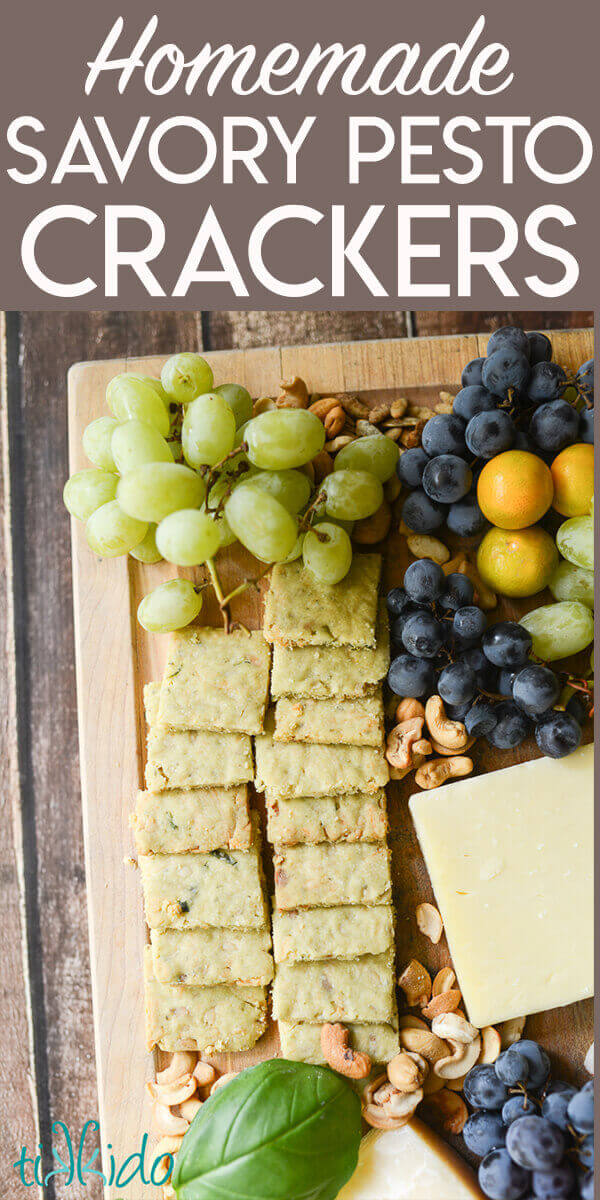 It's time for the Taste Creations Blog Hop, and this month's theme ingredient is herbs.  I decided to create a recipe for homemade pesto crackers, tender and crisp, and full of flavor from basil, parmesan cheese, and pine nuts.
Great timing for the herbs theme, because it's finally cool enough here in Phoenix that I have a chance of fresh herbs actually surviving if I plant them now!  I can only keep rosemary alive here during the summer, and I even managed to kill that once.
I was inspired by my love of pesto, and this recipe for a savory shortbread cracker from Ina Garten.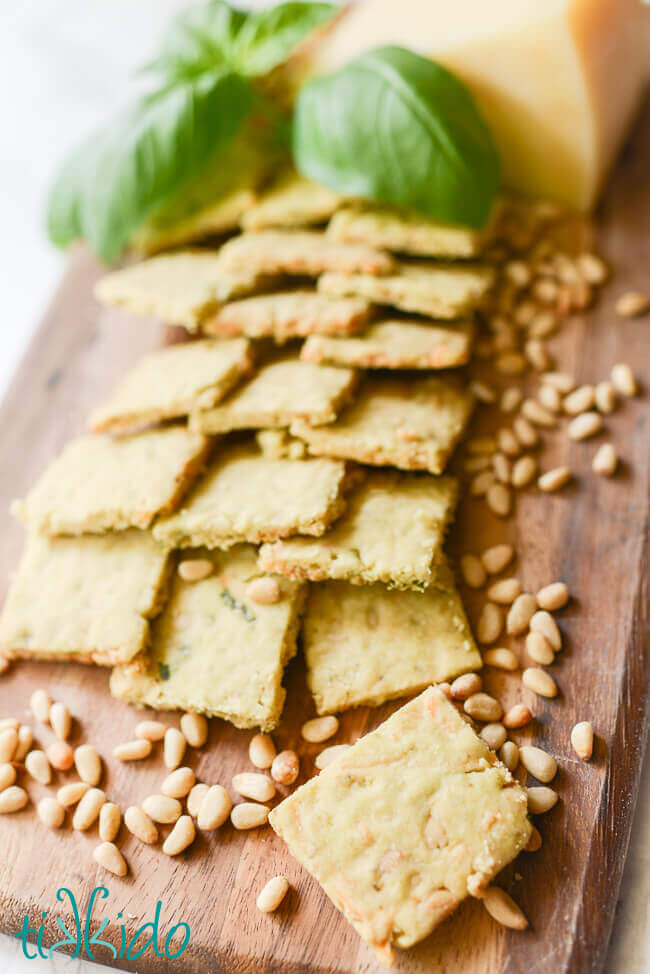 I'd never thought of a savory shortbread, but was immediately intrigued by the idea.  (I've always been more of a salty-snack person than a sweets one.)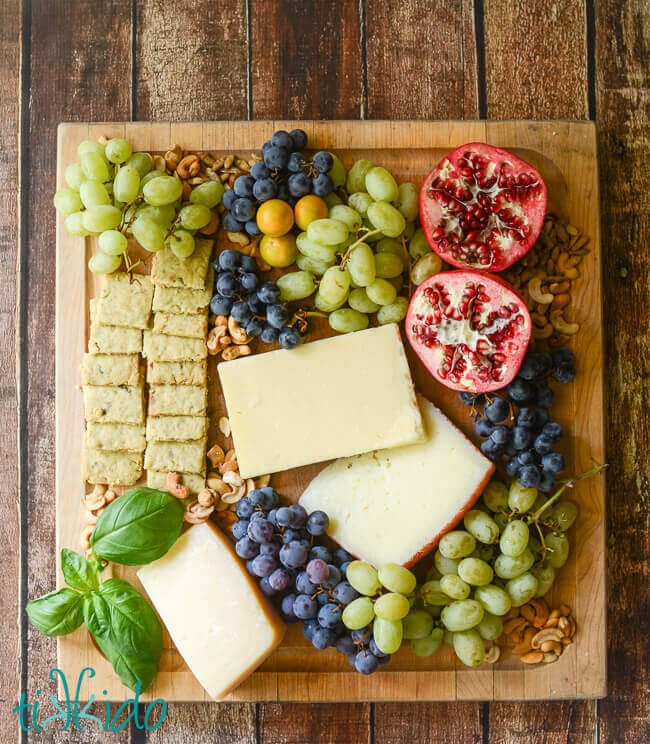 So I decided to take Ina Garten's savory shortbread idea, and combine it with all the fabulous flavors of classic Italian pesto:  pine nuts, Parmesan cheese, and fresh basil.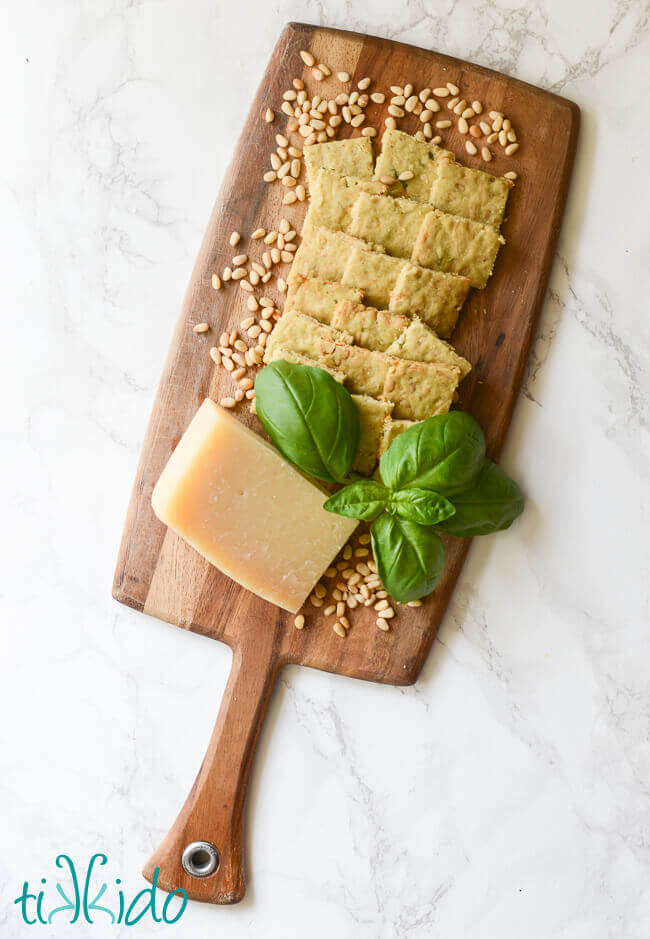 The result?  So good.  SO GOOD.  And the fact that I can eat it with some delightful cheeses and fruits and nuts and call it dinner?  That's a serious bonus.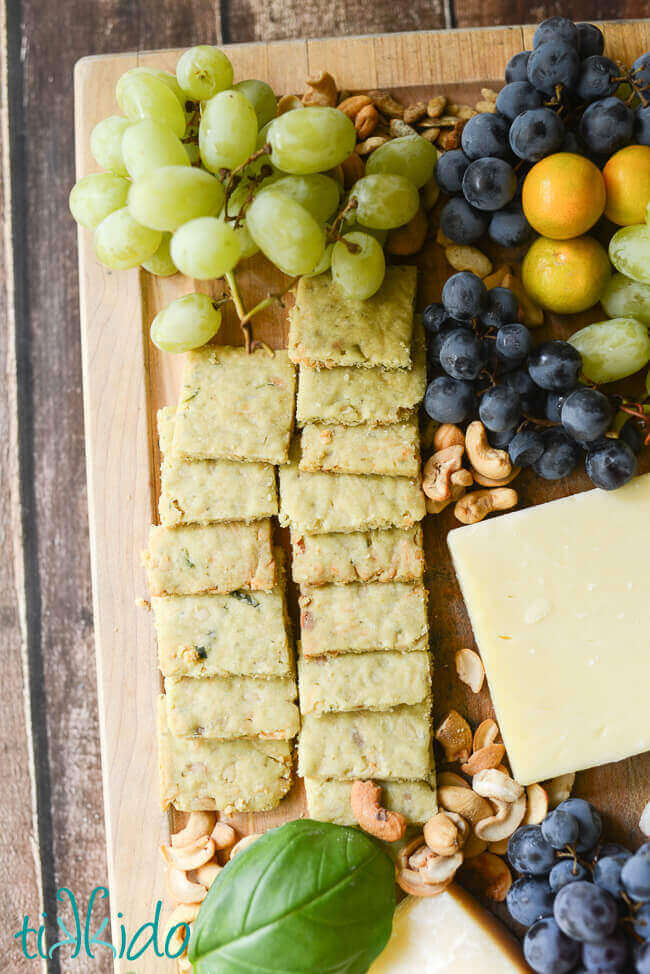 Ready for all the details?  
Savory Shortbread Pesto Crackers: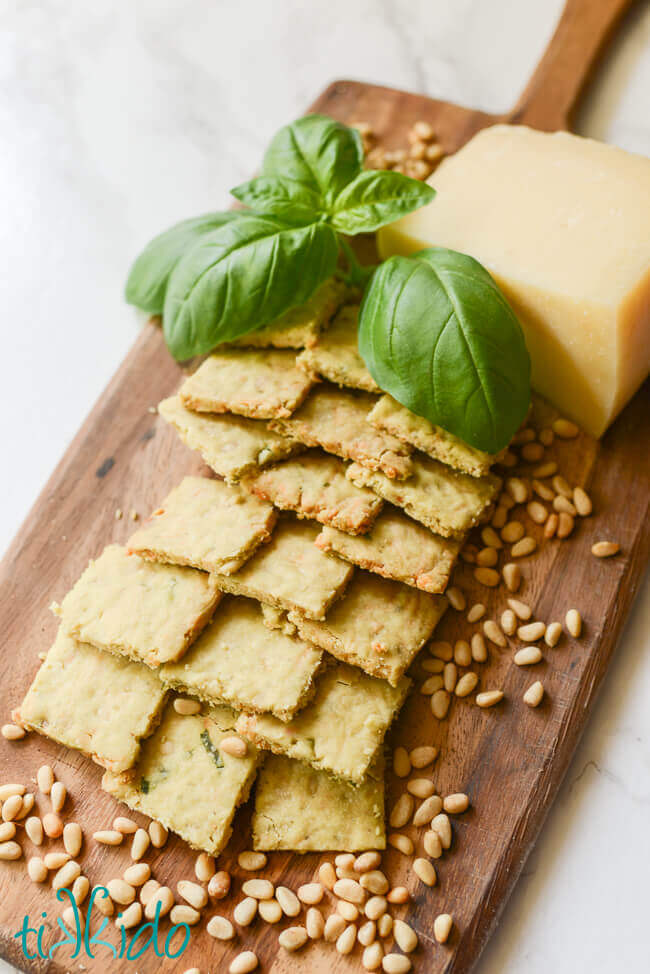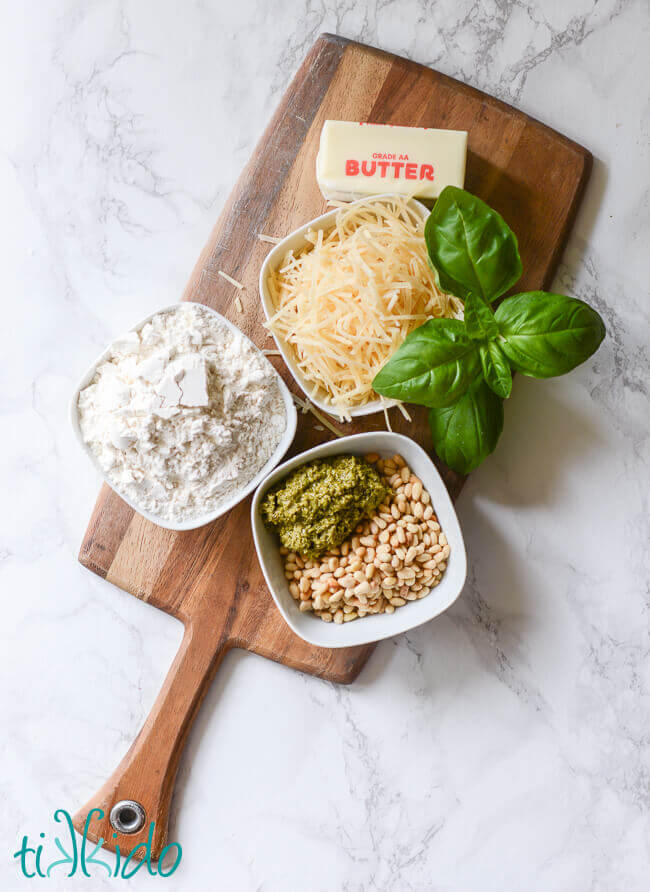 Ingredients for Pesto Savory Shortbread Crackers:
1 stick (8 Tablespoons) butter, softened
1 1/2 cups Parmesan cheese
1/4 cup toasted pine nuts
1/4 cup pesto
1 1/2 cups flour
several leaves of fresh basil, cut into small pieces
Beat the butter, pesto, Parmesan cheese, chopped basil, and pine nuts together in a mixer.  Add the flour, and mix until combined.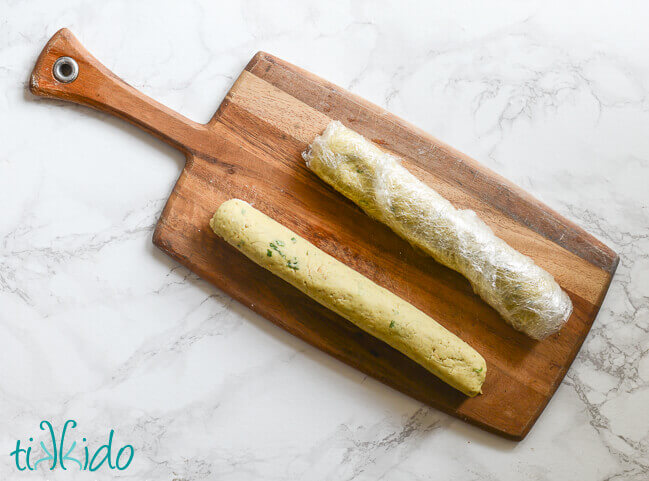 I tried two techniques for shaping the pesto shortbread crackers.  The first was the same method described in the Ina Garten recipe:  roll dough into a log, wrap in cling wrap, chill in the freezer, and slice into disks.  Ina says to chill in the freezer for only 30 minutes, but I had much better luck after a few hours and after the log had frozen solid.  That might have been because I used pine nuts in my recipe, and that made it harder to slice nicely, even with a good, sharp knife.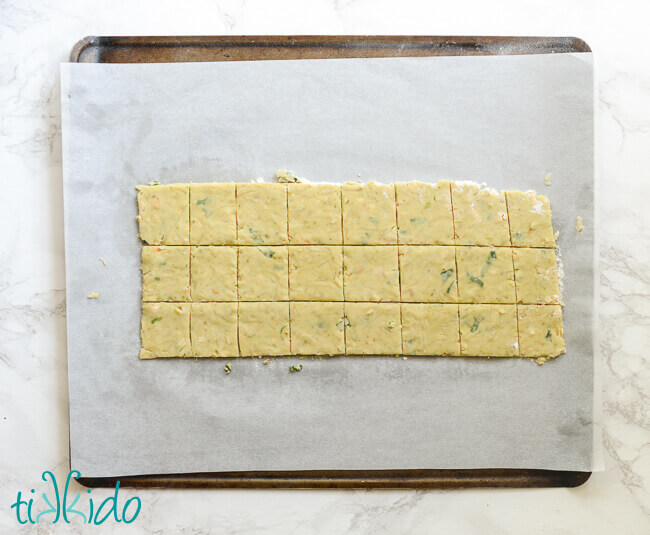 Certainly with the pine nuts in my recipe, my second technique was easier, and didn't require any chilling time.  I simply rolled out the freshly made dough, and cut it into square cracker shapes before I baked.
Bake at 350 degrees for 22 minutes.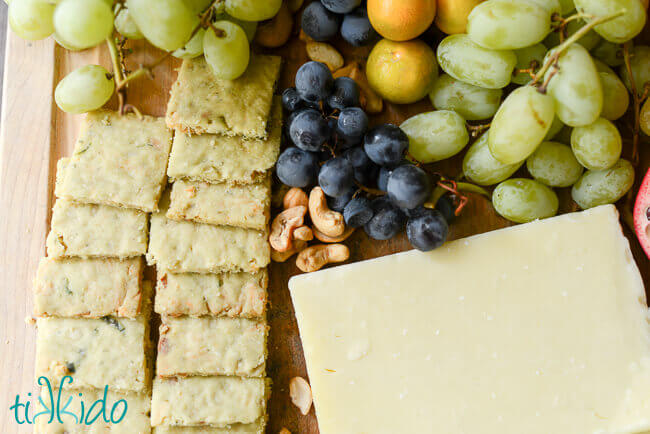 These savory pesto shortbread crackers are amazingly flavorful, tender, rich, and delicious.  They're the perfect addition to a cheese plate and make a spectacular make-ahead party appetizer.  I'm planning to make these again for Thanksgiving, to keep guests happy until the meal is ready.  And these little beauties would definitely keep guests happy.
One Page, Printable Pesto Shavory Shortbread Recipe:
Be sure to check out the other fabulous herb dishes from my friends in the Taste Creations Blog Hop:
Simple Herbed Butter from Our Good Life
Pizza Pinwheels from An Italian in my Kitchen
Preserving Basil from Mom Home Guide