Printer-friendly version
Make these shimmering, magical bath salts as an incredibly cool DIY gift, or soak up some of the magic and enjoy them yourself.  The secret ingredient in these bath salts actually makes the water look like a magical, shimmering potion.
Welcome to Day 8 of the Fourth Annual 12 Days of Christmas Series!
We have teamed up with 50 plus bloggers to bring you  oodles of DIY ideas and recipes to make your holiday season merrier. There are 12 different posts in the series and we have spread them out over a four week period with three posts per week. Now is the time to subscribe!
GO HERE for the complete list of Dates and Topics plus a collection of most popular holiday ideas including ornaments, games, recipes and more from all 50 plus talented bloggers!
It's Day 8 and we are sharing Christmas In A Jar Ideas!
---
Christmas in a Jar:  DIY Shimmering, Magical Bath Salts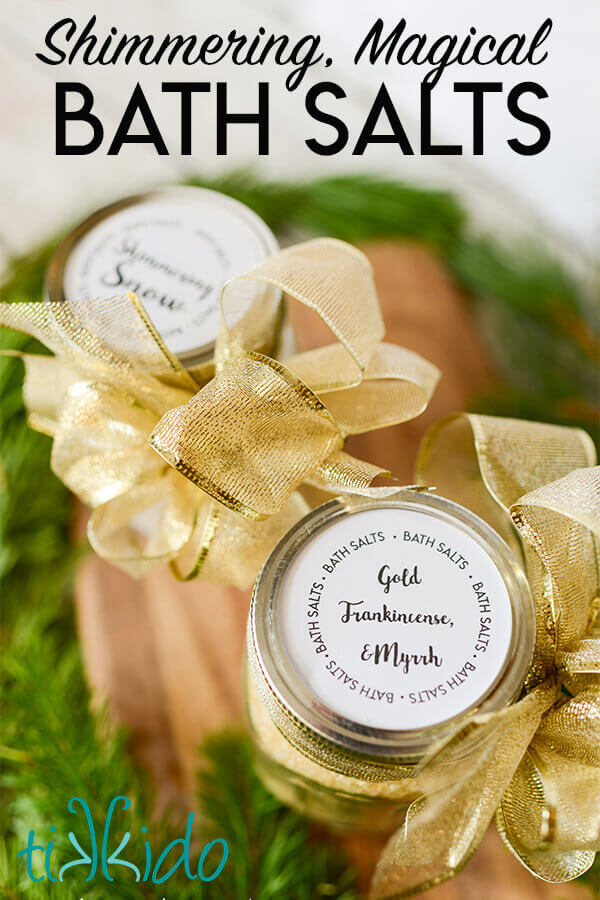 You guys you guys you guys, I'm not sure I can really convey how COOL these bath salts are.  Even with photos, even with videos, it's hard to capture the gloriousness of them in real life.  I need to market these suckers and get a professional videography team to make a commercial or something.  (I have a great concept already.  It involves Gandalf.)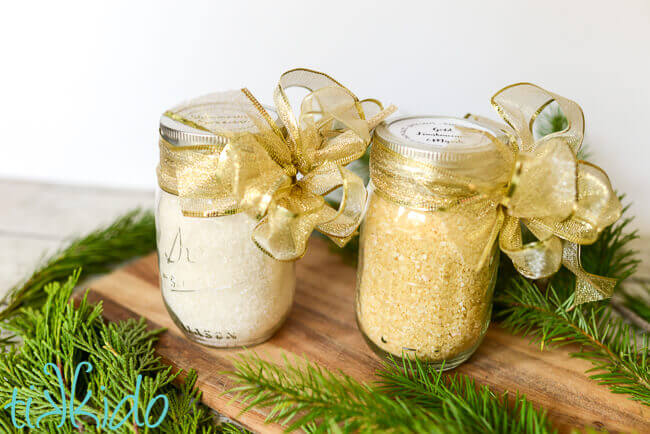 They look like perfectly fine bath salts, right?  A lovely homemade gift.  
NO.  They are BATH SALTS OF MAGICAL AWESOMENESS!  Because they turn your whole bath into a shimmering potion of swirling, magical liquid.  Ever wanted to bathe in liquid gold?  This is how you do it.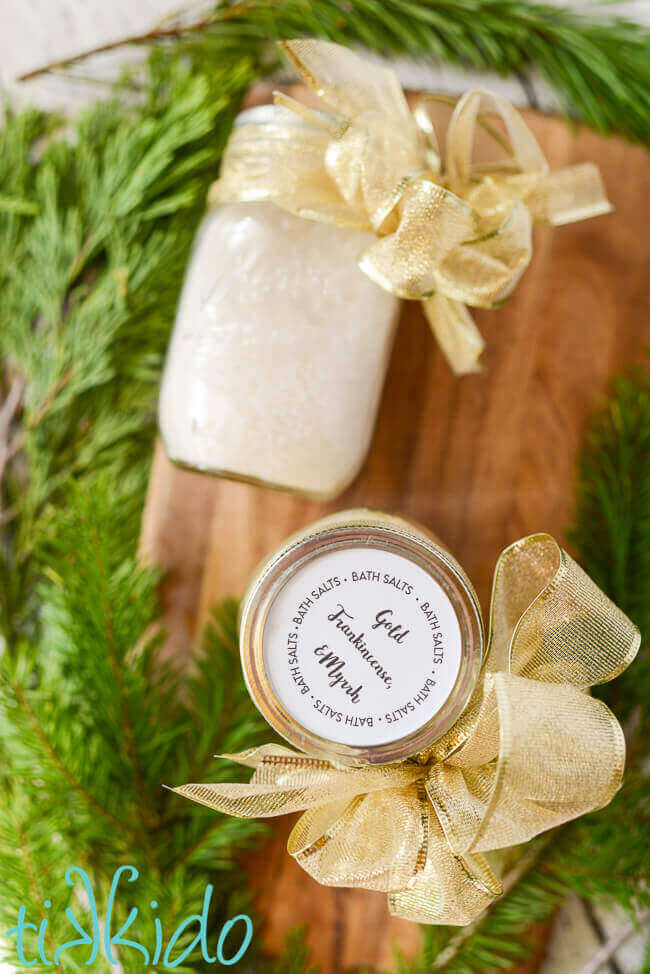 Oh yeah, gold.  And yes, it's Christmastime, and I went there.  This is a jar of Gold, Frankincense, and Myrrh bath salts.  Genuine frankincense and myrrh oils, plus glorious, shummering gold and the relaxing powers of epsom salts.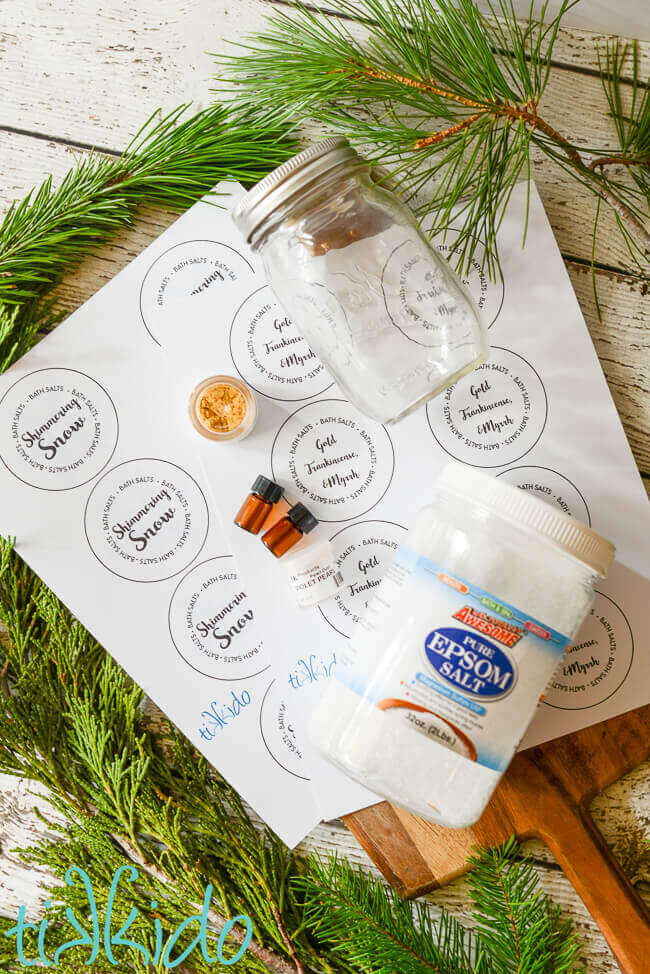 Ingredients for Magical, Shimmering Bath Salts:
scents of your chosing (if any)
luster dusts (for cake decorating)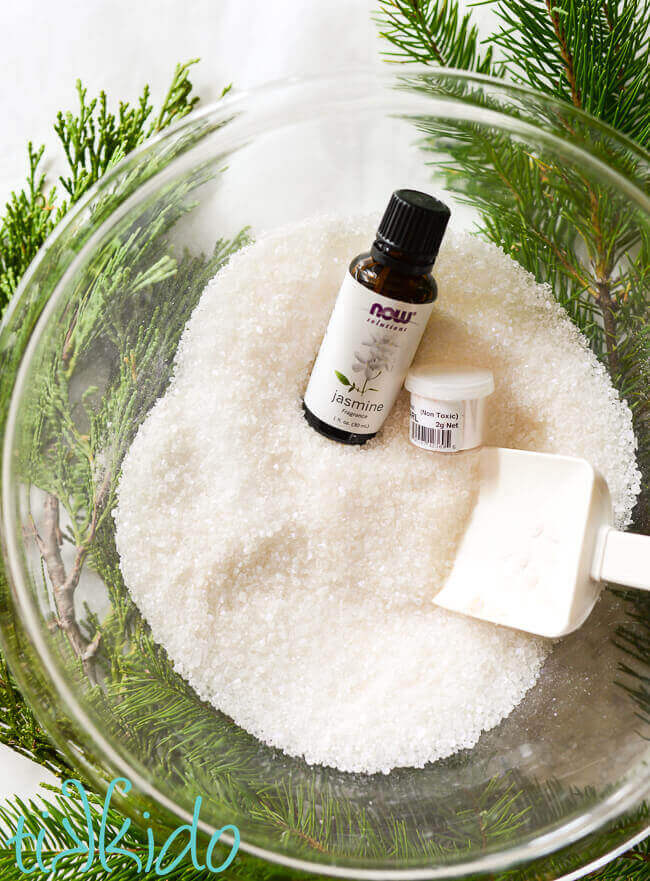 There are so many different variations on this that I can imagine.  (Three words: UNICORN BATH SALTS).  But here are two particularly well suited for this Christmas gift-giving season.
For a basic, snowy white, shimmering bath, you'll need epsom salts and super pearl luster dust.
Mix it together.  That's all.  I used the whole container.  A little luster dust goes a long way, but still, a bath is a LOT of water.  Yeah, this is not the most cost-efficient prject I've ever created, but sometimes something is SO COOL that I need to splurge a bit.  And it's still less expensive than going to get bath products from Lush.
Add some scent if you want to.  I go back and forth on whether or not I like scents.  It can be overpowering, even when it's a good, all-natural one like I used.
Combine the ingredients, and pour into a jar.  It's as easy as that.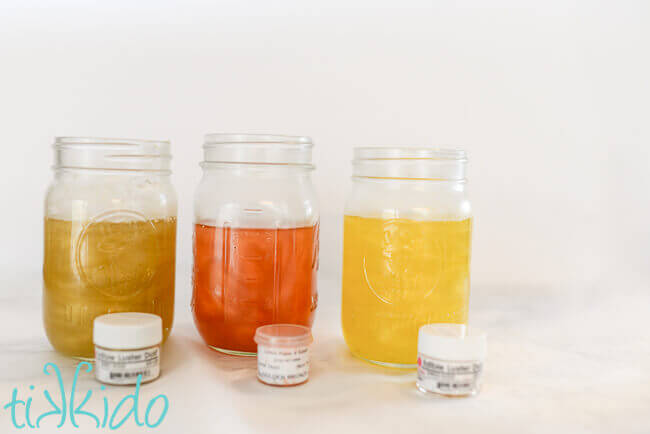 I also had the idea to make a uniquely Christmas version of these bath salts, by making gold, frankincense and myrrh bath salts.  
Pristine Powders brand luster dust in Shiny Gold settled down into a slightly unpleasant greenish hue.
Golden Bronze luster dust was too orange.
Luster dust in King's Gold was pretty, but a little too yellow for something in the bathroom, if you catch my meaning.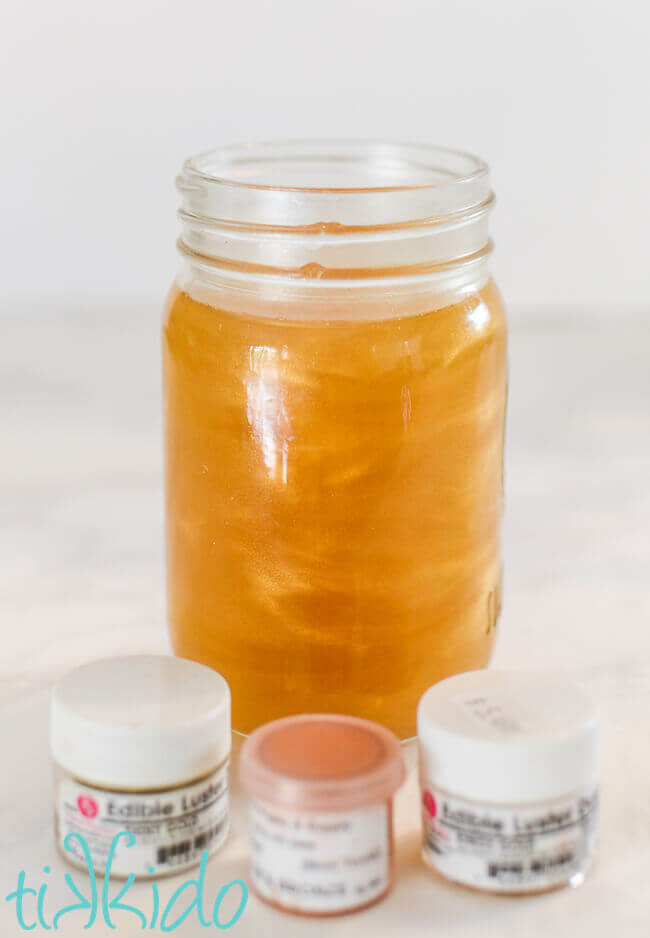 But a combination of all three?  That was perfect.  Warm, rich, and golden.  Look at that gorgeous shimmer!  That color!  That's just water, people!  Luster dust really is magical stuff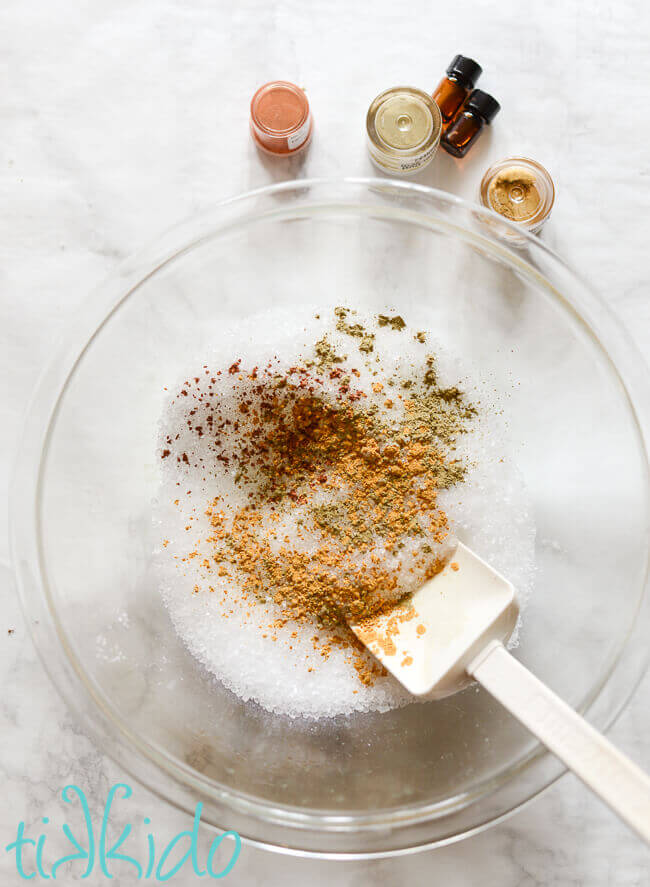 Combine the epsom salts, luster dust, and any scent oils (like the frankincense and myrrh I used here), and put in a jar for gift-giving or safe-keeping.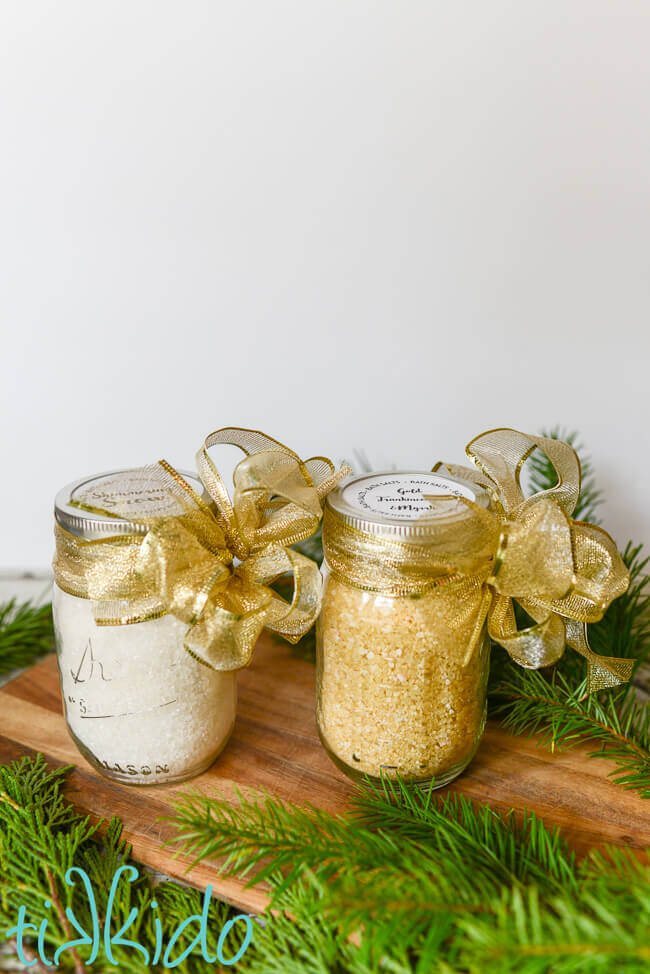 I even made printable labels for standard ring jar tops to make the gift-giving even easier.
Free Printable Bath Salts Jar Labels:
I fixed the missing comma in this one before I uploaded the printable for you, FYI!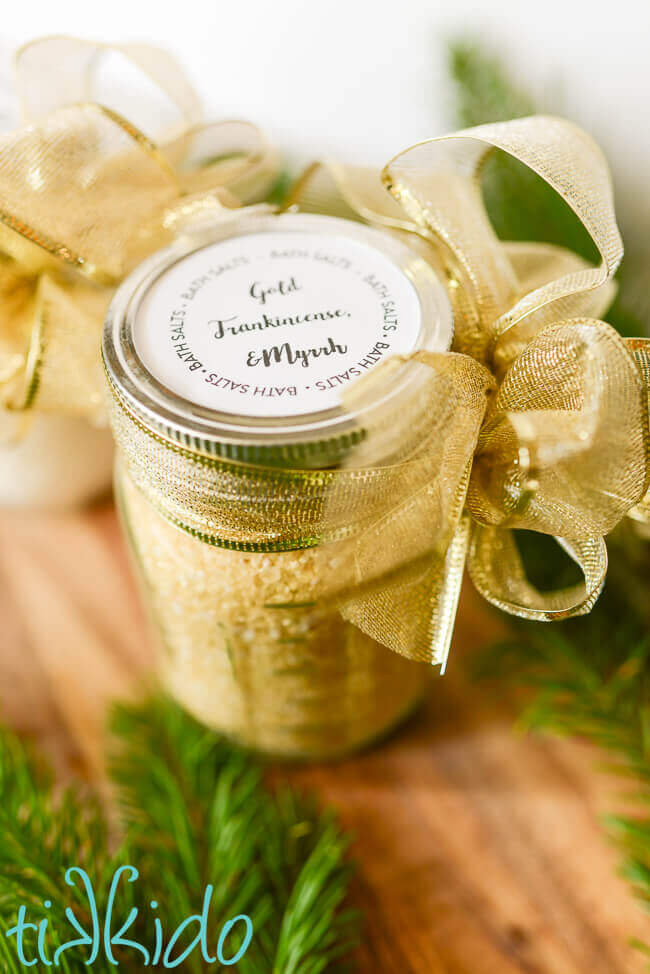 What's your favorite DIY Christmas gift to make and give?
And if you don't want to make your own bath and beauty products, check out the AMAZING, all-natural ones over at Luxious Lemon.  Aren't they the prettiest bath bombs you've ever seen?  Move over, Lush.