Printer-friendly version
Make these peppermint DIY gift toppers and bows for your Christmas presents this year, and see how much fun it can be to give and receive a present even before it's unwrapped!  I love creative gift wrapping, and creating custom gift toppers and tags.  And these peppermint candy gift toppers are easy to make with materials from the dollar store.
Welcome to Day 9 of the Fourth Annual 12 Days of Christmas Series!
We have teamed up with 50 plus bloggers to bring you  oodles of DIY ideas and recipes to make your holiday season merrier. There are 12 different posts in the series and we have spread them out over a four week period with three posts per week. Now is the time to subscribe!
GO HERE for the complete list of Dates and Topics plus a collection of most popular holiday ideas including ornaments, games, recipes and more from all 50 plus talented bloggers!
It's Day 9 and we are sharing Pretty Gift Wrapping Ideas!
DIY Peppermint Candy Gift Bows and Gift Tags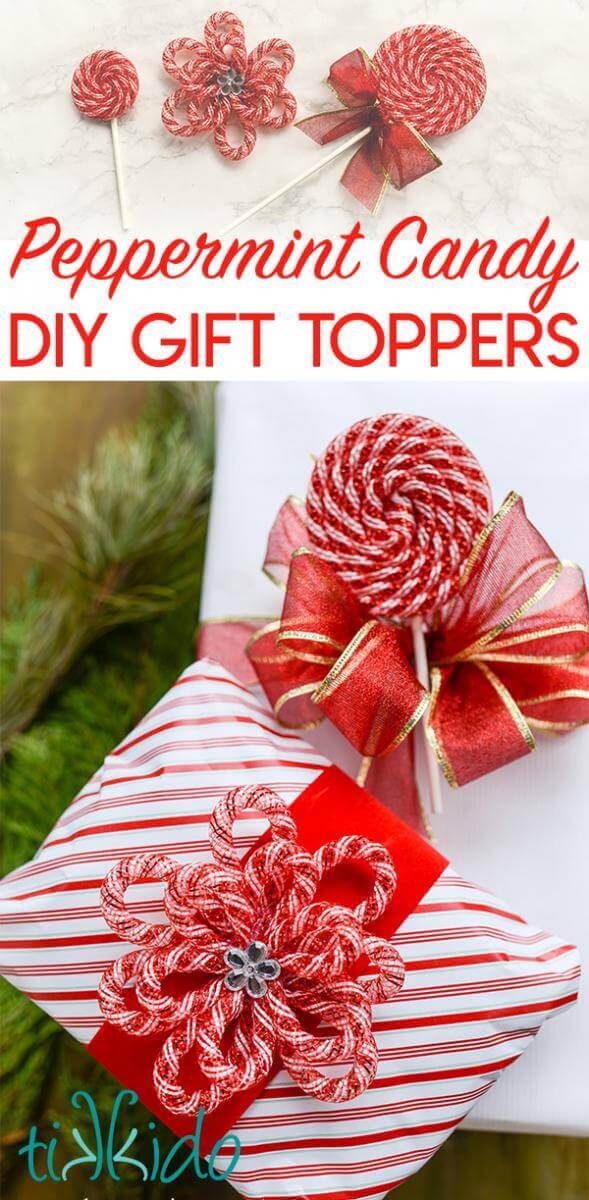 I am such a sucker for creative gift wrapping projects.  Half the fun of gift-giving, for me, is in creating a beautiful package to go along with the gift.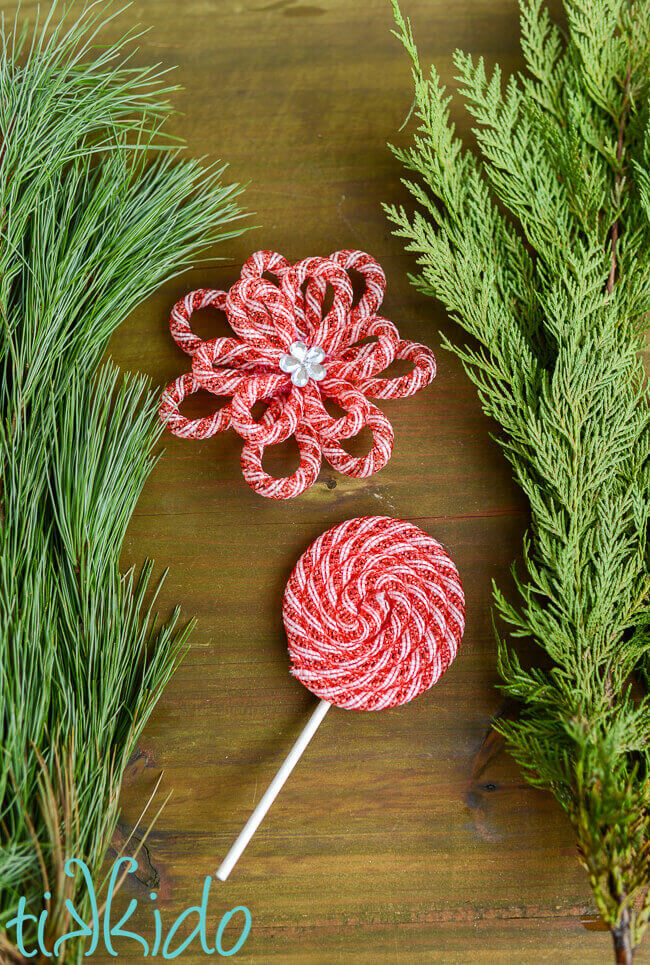 Have you ever come across something in a craft store and known that it had potential, but you just didn't know for exactly what?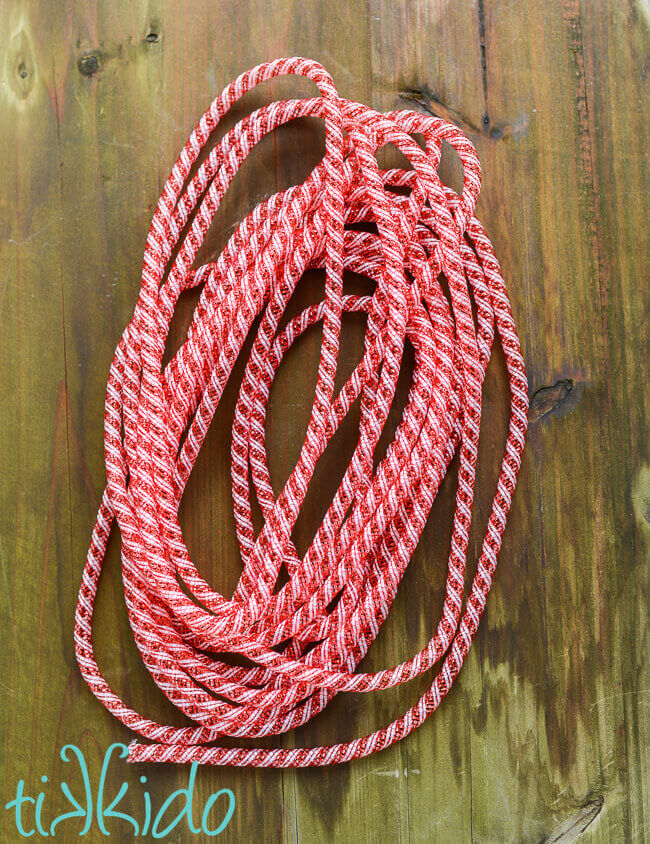 That's what this round ribbon stuff is for me.  I've seen it around for years, and I've thought it was cool, but I had no idea what to do with it.  No inspiration at all.  Until I saw this peppermint striped variation at my local dollar store.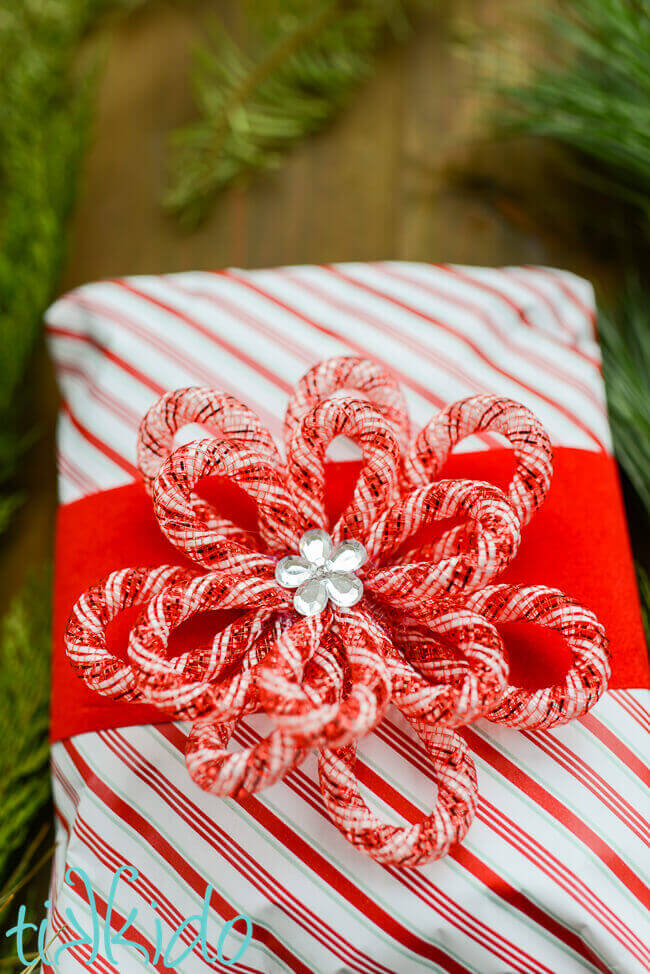 I immediately started concocting ideas for beautiful, peppermint-striped bows and tags for my Christmas presents this year.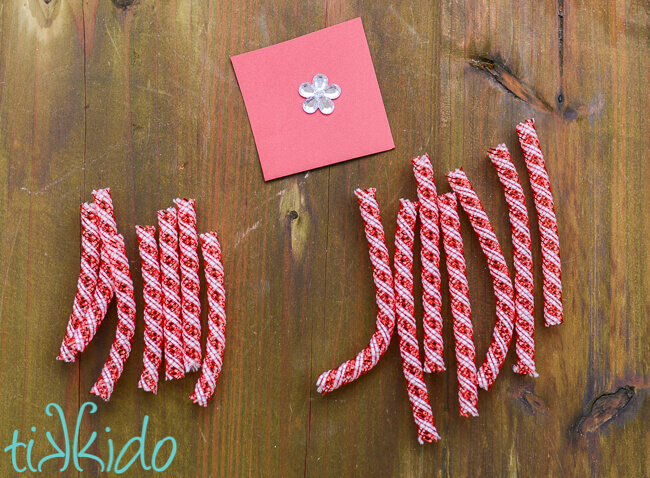 Materials for Peppermint Striped Tube Ribbon Gift Bow: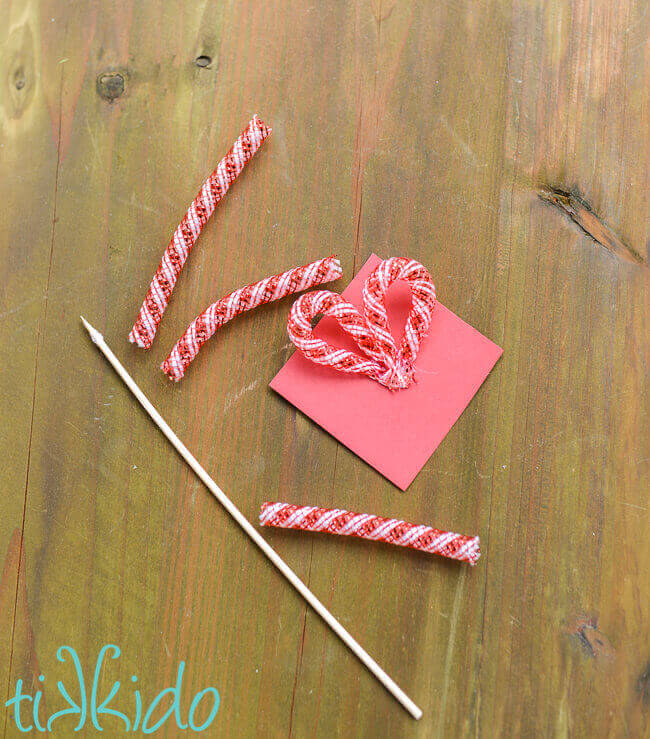 Cut short lengths of the mesh tubes, approximately 3-4 inches long.  Try to make them all about the same size, but it really doesn't matter the exact length of the ribbons.  The larger your loops, the larger the bow is going to be.
Use a low temperature hog glue gun to glue the loops to a piece of cardstock.  I recommend a low temperature hot glue gun, because I glued my own fingers many times while making this gift topper bow.  I also sometimes used a bamboo skewer to hold the ribbon down in the hot glue until it cooled enough to hold the ribbon in place.
After one ring of ribbon loops have been glued in place, cut slightly shorter lengths of the mesh tube ribbon.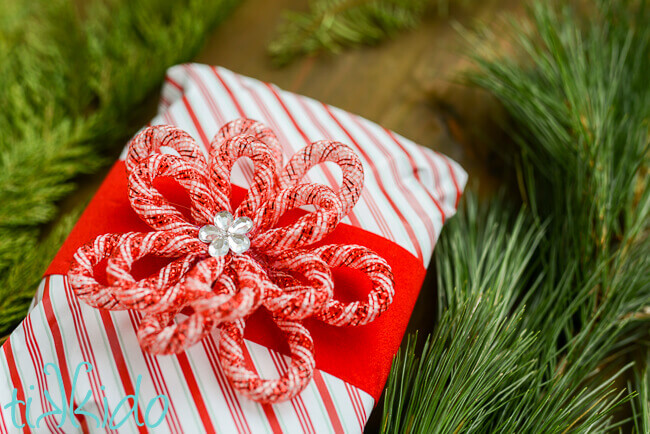 Make a smaller, inner ring of ribbon loops, and glue an inexpensive craft rhinestone in place in the center to cover up any messy bits.  A pom pom from the craft store would also make a very cute center to this bow.
Mesh Tube Ribbon Lollipop Gift Tag: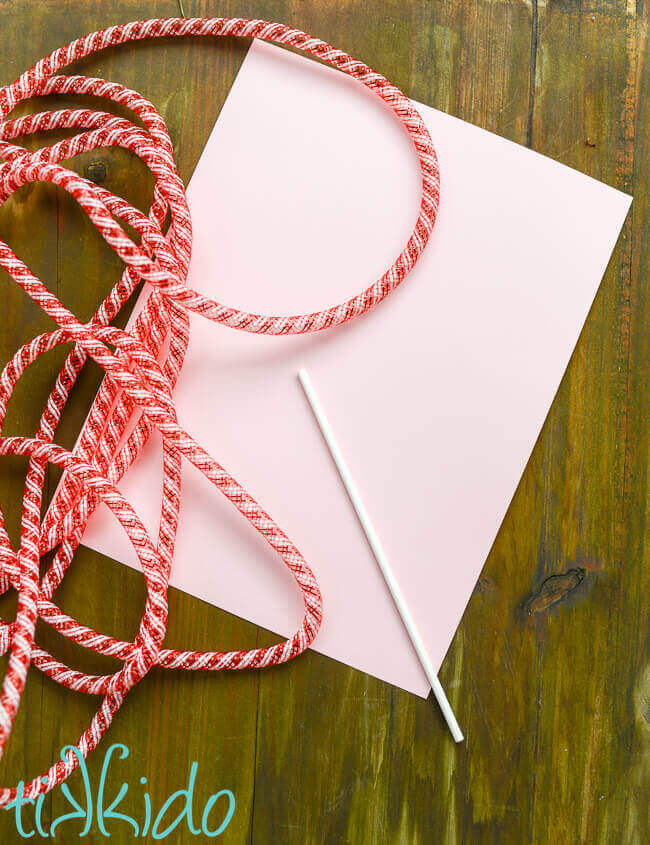 You can watch the video tutorial above for the exact process for making these mesh tube ribbon lollipop gift tags, but it's pretty simple to explain, too.  Glue the mesh ribbon to a cardstock base with a low temperature hot glue gun.  Start in the center, and spiral your way outward until the ribbon lollipop is the size you want it to be.  Trim away any excess card stock.  Glue a lollipop stick to the back of the ribbon peppermint.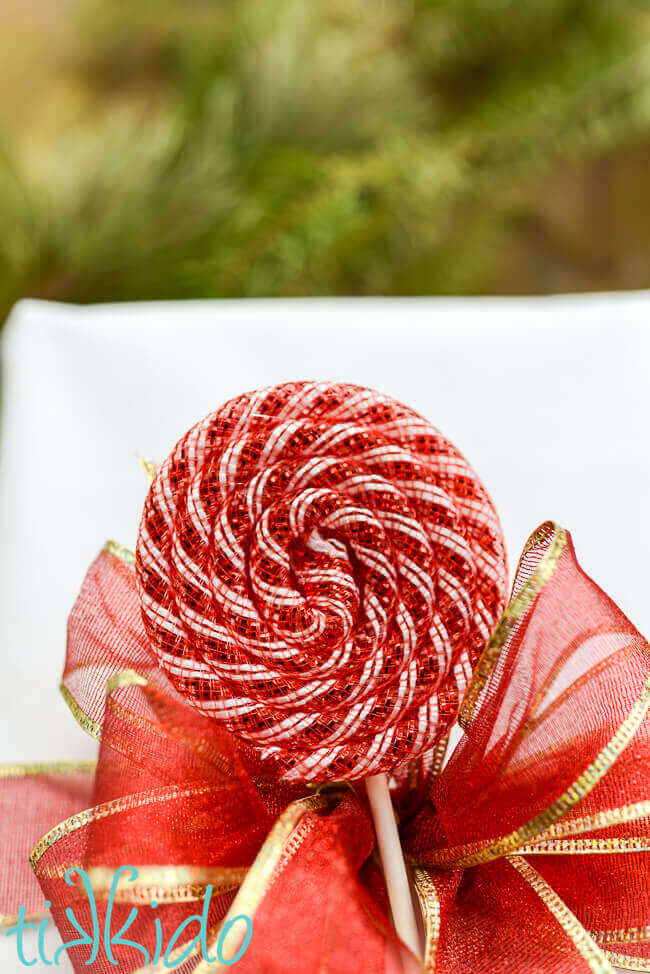 Doesn't it look utterly charming tucked in a classic ribbon bow on this present?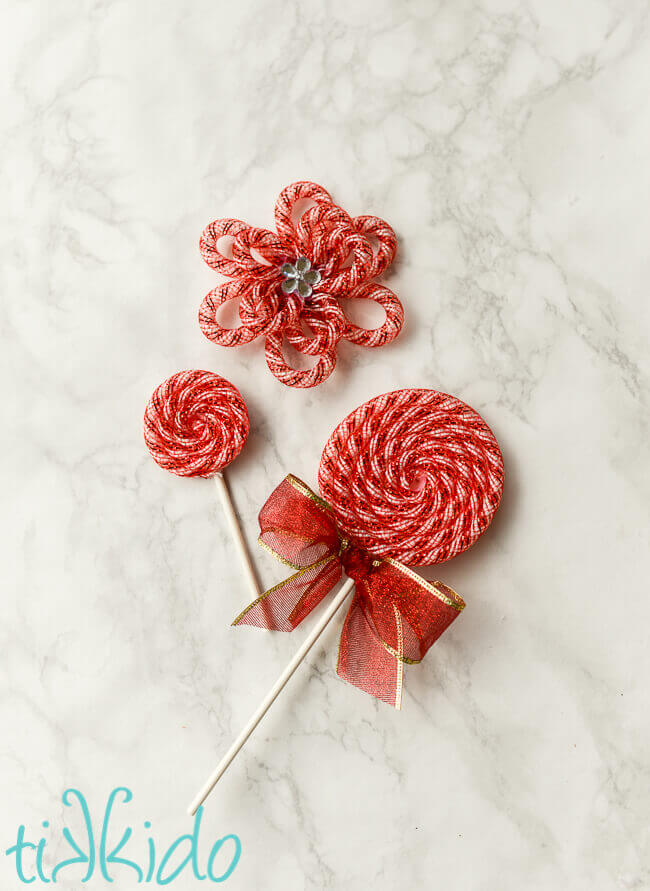 Do you like to make your own gift toppers or have creative fun with gift wrapping, too?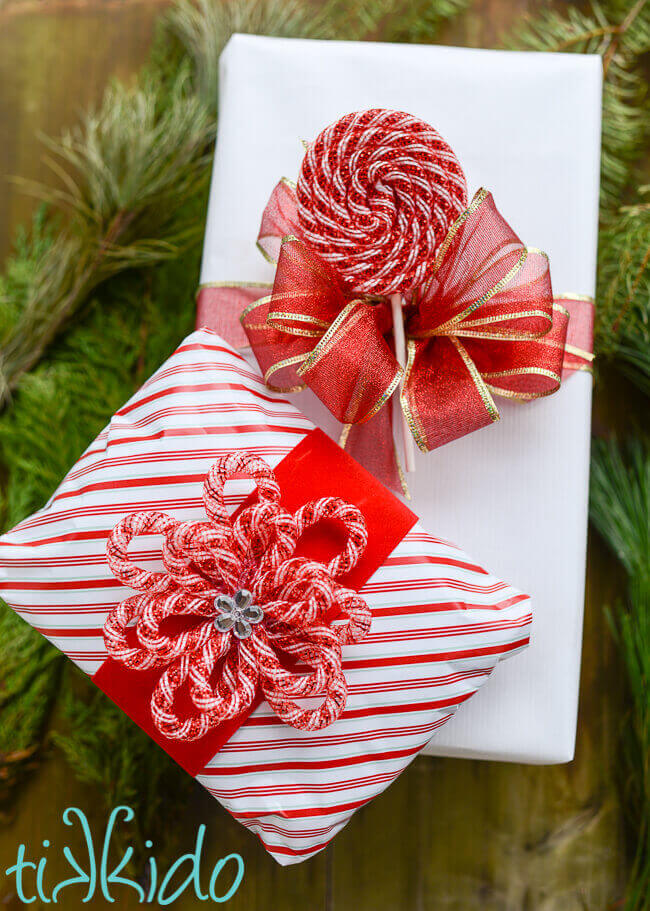 Be sure to check out the other AMAZING ideas for beautiful presents and gift wrapping in the 12 Days of Christmas Blog Hop: