Printer-friendly version
I'm in baking frenzy mode, and Operation Gingerbread 2012 is in full swing.  The first two (of five) gingerbread house decorating parties we're throwing are on Friday!  One for my older daughter's class at school, one for the Girl Scout Brownie and Daisy troops.  
Whenever I do gingerbread for a crowd of kids, I always pre-package the candies in individual bags.  Always.  With exactly the same number of green MnMs, the same number of red MnMs, the same number of lollipops...  You get the idea.  It's easier to do that fussy work than to deal with the inevitable arguments later if everyone's package isn't exactly the same.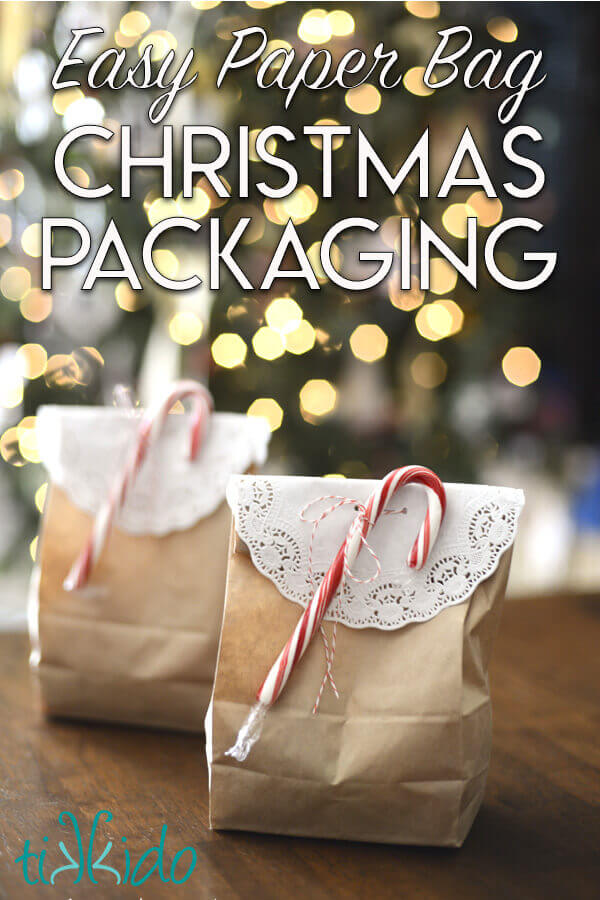 I've just used plastic baggies in the past, but they're never quite big enough, and they're not cute.  So when I was grocery shopping and saw these classic lunch bags, I knew I'd found the perfect solution.  Incredibly inexpensive, and easy to dress up, and the perfect size for holding a good stash of gingerbread-decorating candy.  They turned out so adorably, that I think I'll package up cookies for the neighbors like this, too.
Materials for Easy Christmas Goodie Bags: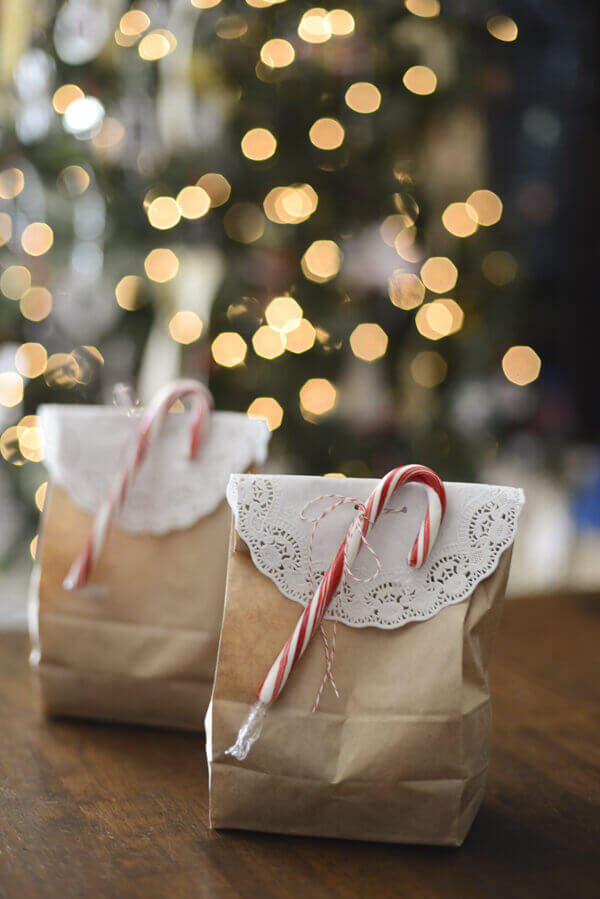 All you need to do is fold down the top of the sack twice, place a folded doily over the top edge, and secure with a staple.  Use the hole punch to make a hole on either side of the staple, and thread the baker's twine (or regular twine, or yarn, or ribbon, or whatever stringy thing you're using) through.  Tie in a bow, securing a small trinket, if you'd like.  I've used a candy cane here, but for the neighbor gifts, I'm planning to cut a few fresh sprigs of rosemary and a tag.
I'm such a sucker for pretty packaging--especially when it's quick and easy.  What clever packaging ideas have you seen out there?  Let me know; I'm always on the lookout for clever new ideas!