Printer-friendly version
Strawberry Cheesecake is one of my favorite things in the world.  Usually, I'm a cheesecake purist.  None of these chocolate, caramel swirl, pumpkin things for me.  Just straight up cheesecake.  But fresh berries on top--now that I love.  I'd seen strawberries dipped in white chocolate and covered in sprinkles on Pinterest when I was planning the Sprinkles themed birthday party, but it's just too hot here in Phoenix in May to do anything with chocolate.  That's when I came up with the idea for these incredibly simple, but stunningly delicious strawberry cheesecake bites.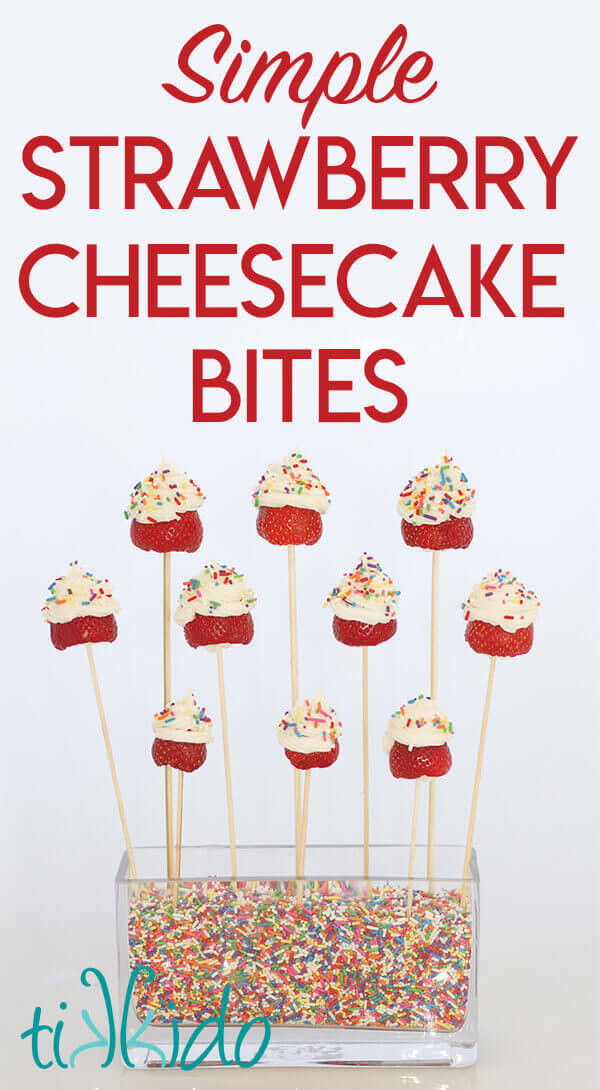 Easy to make, seriously delicious, and utterly adorable.  That's my kind of treat!
Simple Strawberry Cheesecake Bites
Fresh Strawberries, hulled
Cream cheese cheesecake icing (recipe below)
Skewers
Piping bag and tip (optional)
Sprinkles (optional)
The strawberry cheesecake bites start with Cheesecake Buttercream Icing.
Cream Cheese Cheesecake Icing Recipe:  
2 pound bag of powdered sugar
one small box of cheesecake flavored pudding
one stick of butter (8 Tablespoons), softened
one 8 ounce package of cream cheese, softened
milk or cream to thin to desired consistency
pinch of salt
1 teaspoon vanilla
Cream the softened cream cheese and butter together.  Add the box of powdered cheesecake pudding mix, salt, and vanilla, and mix well.  Add the powdered sugar and whip, adding milk or cream as necessary to thin the frosting to the desired thickness.
Put the icing in a disposable piping bag.  I used a star tip in my bag, but it would look equally adorable with a round tip, or just the end cut off the bag.  Squirt some icing inside the hulled strawberry, and insert the skewer.  
Pipe the cream cheese icing on the top half of the strawberry, making sure not to cover the entire berry, and add sprinkles, if desired.
And that's it!  Simple, no?  And so delicious!  A hit with both kids and adults alike at the Sprinkles birthday party.  
These strawberry treats are pretty top heavy, so I used Styrofoam in the container to keep them steady, and just covered the Styrofoam with sprinkles.  This had the added bonus of using fewer sprinkles to fill the container.  
I didn't try this myself, but I thought that perhaps a no-bake Jello cheesecake mix would work well, too, if the weather wasn't too warm.  I'd love to try them with graham cracker crust mix stuffed inside, too.  I love a good graham cracker crust.