Printer-friendly version
These homemade soaps are so tiny, so miniature in size, that they're meant for just one wash.  Tuck a container of these tiny, single-use soaps in your bag and use them anywhere!  These itty-bitty Christmas tree soaps were made as a stocking stuffer, but they can be made in any type of design for any occasion.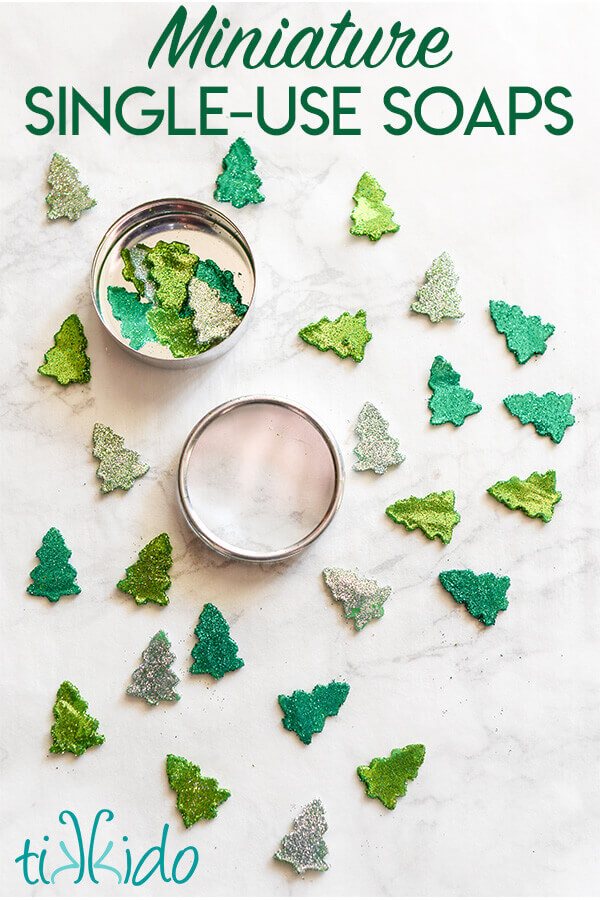 Wouldn't they make a fun party favor?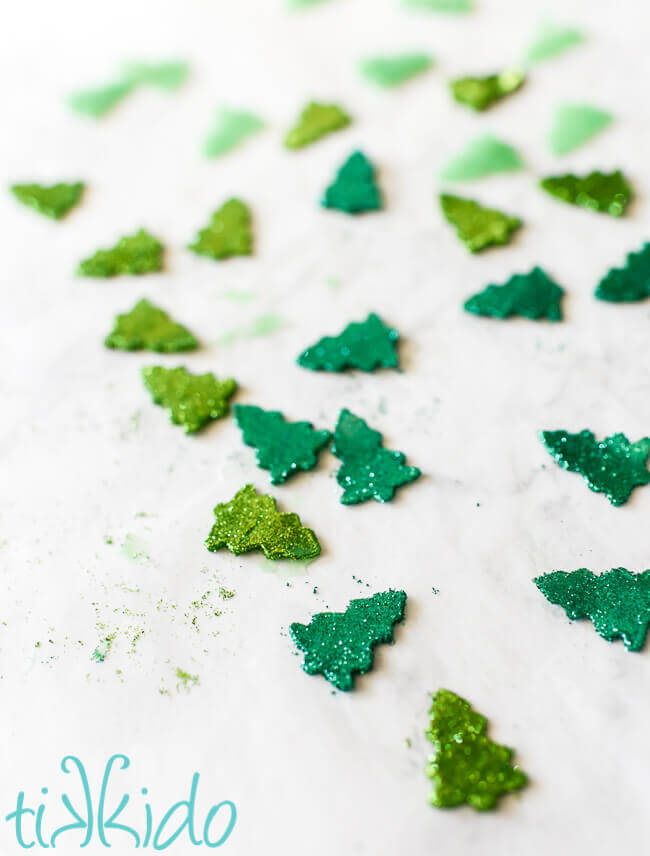 I gave a container of these tiny soaps to my neighbor's son, and he loved getting to choose which soap he wanted to use to wash his hands.  I'm all for making washing hands more exciting and fun!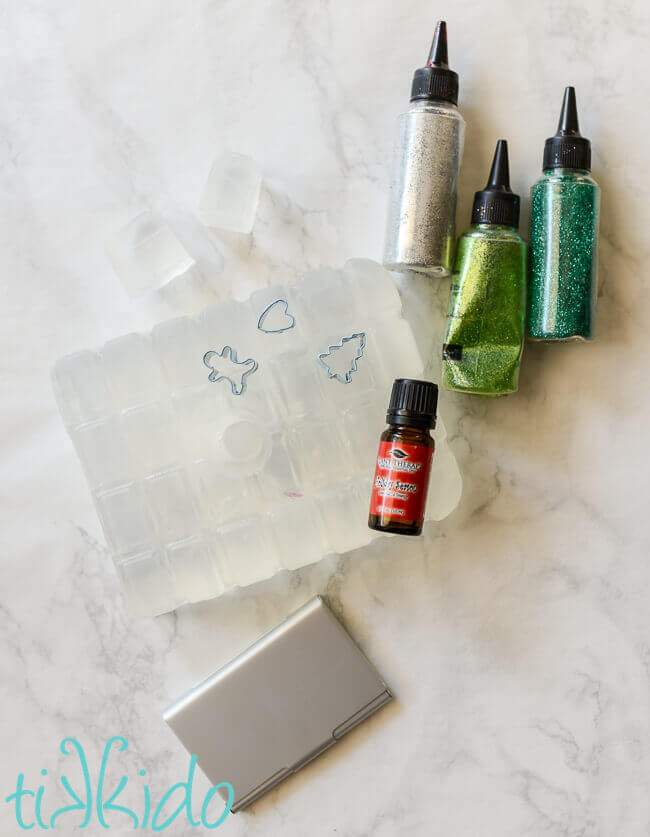 Materials for Miniature, Single-Use Soaps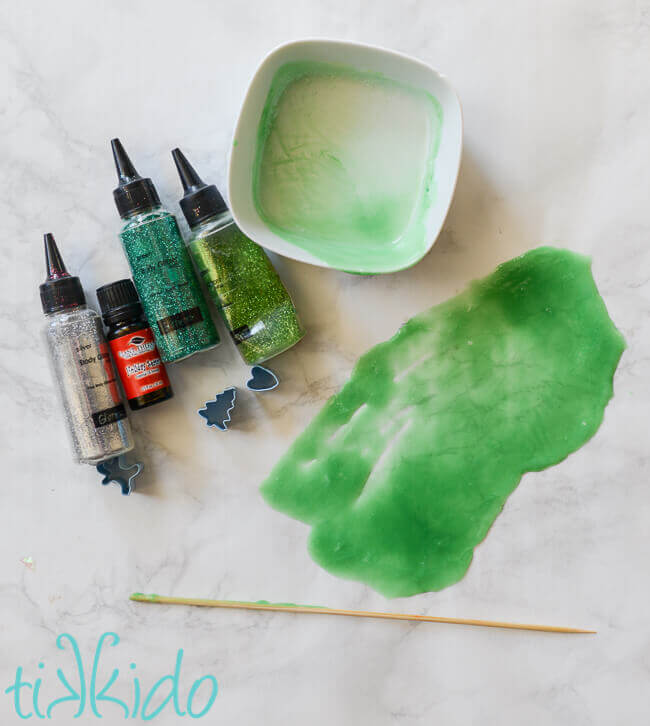 This is actually an incredibly easy craft to do, and kids could definitely do it with you.  After I showed my 9 year old daughter the process, she had a marvelous time making many different kinds of miniature soaps all by herself.
Melt a small quantity of melt-and-pour soap base.  Stir in any colors or scents you want.
Pour melted soap on a sheet of parchmenat paper.  Use a dowel to spread the soap very thinly on the surface.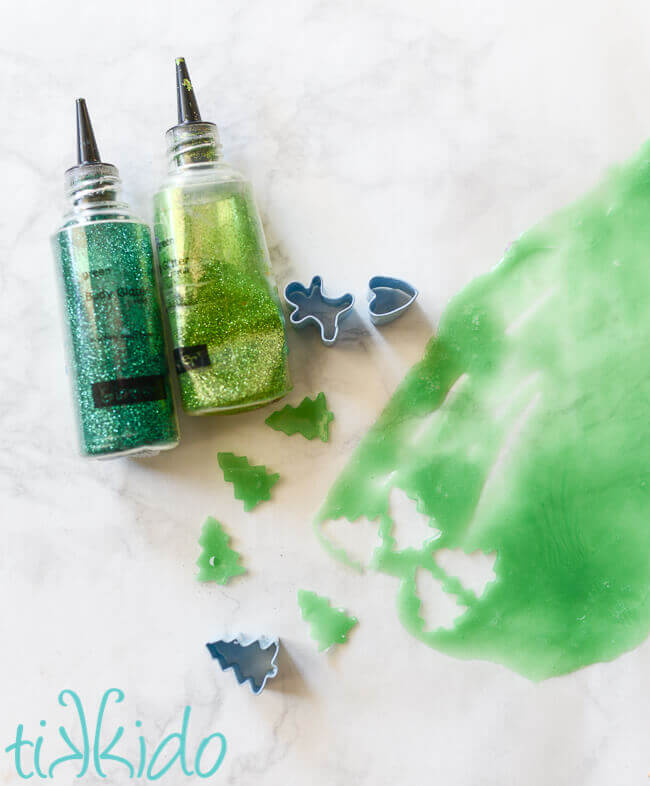 Let the soap cool and firm up, then use the miniature cookie cutters (designed for use with clay) to cut out shapes from the thin sheet of soap.
I used a Craft Smart brand package of miniature holiday clay cutters from Michaels, but this one on Amazon is very similar, if you can't find the cutters locally.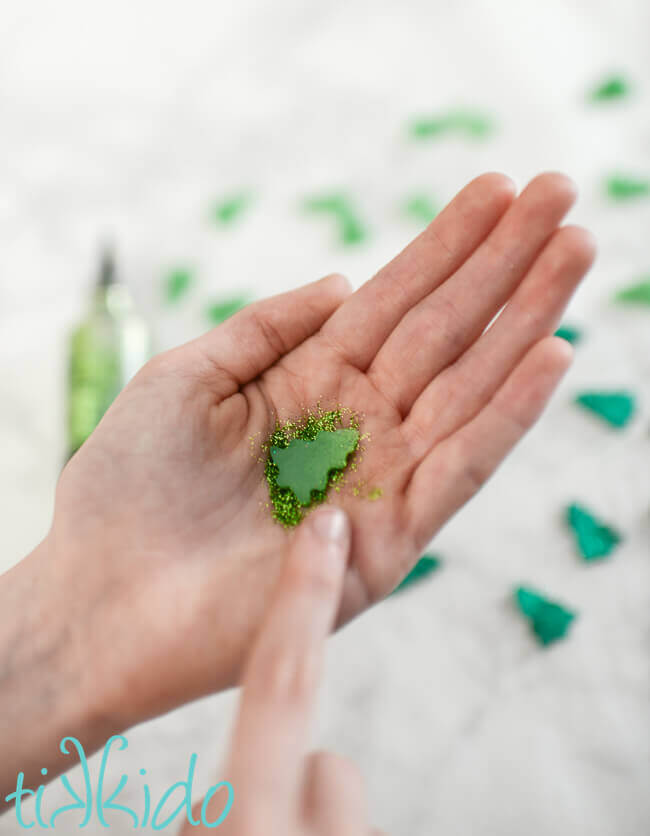 Rub the miniature soap with some cosmetic grade, biodegradable glitter.  The glitter sticks to the surface of the soap without needing any adhesive, and the coating of glitter also keeps the pieces of soap from sticking together when in a container in your purse.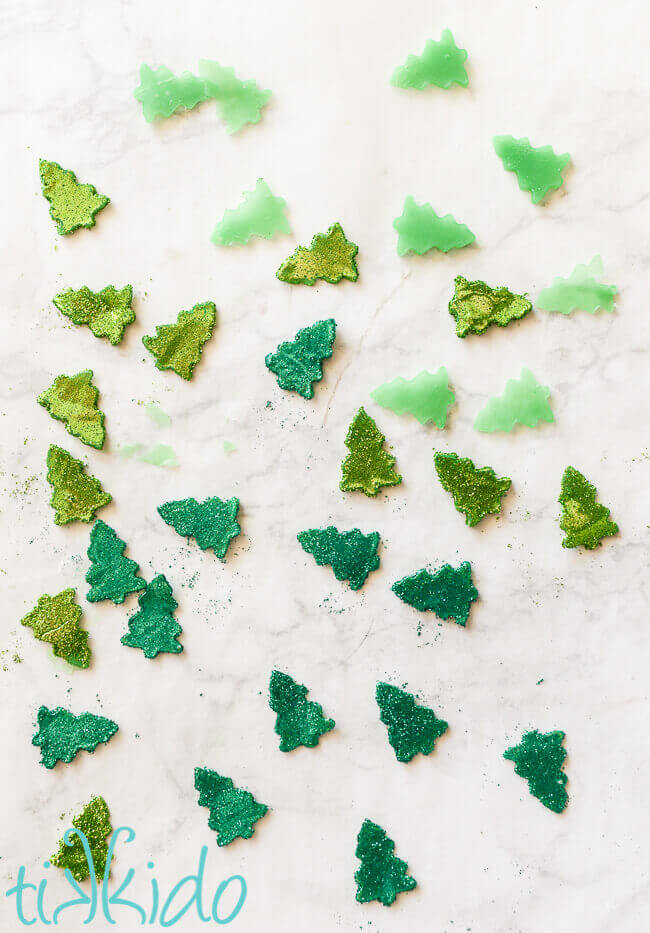 Aren't they pretty?  Little miniature jeweled treasures.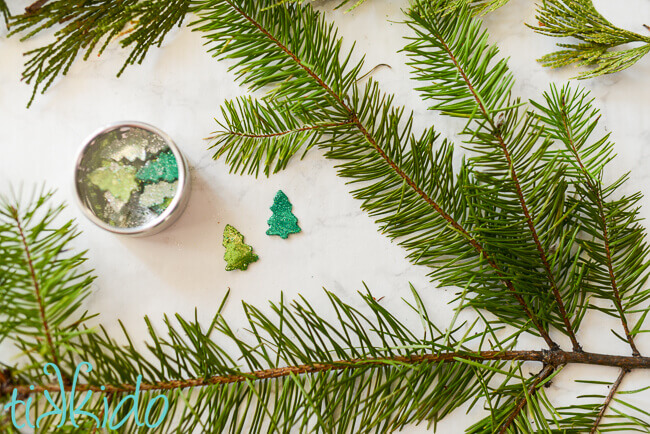 I used a clear-topped favor tin to hold my pretty Christmas tree single-use soaps.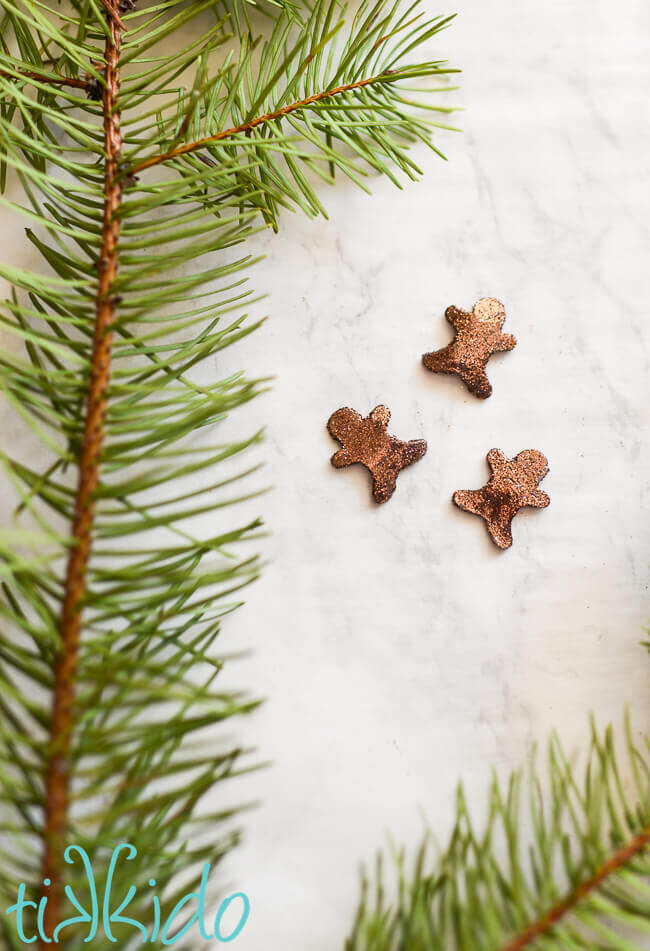 I also had fun making other shapes of soap.  The glitter covers the surface so perfectly that I didn't really need to use the soap colorant at all.  Yep, that's green soap under that brown glitter on those gingerbread man soaps.
I actually made the little gingerbread man soaps to embed in the gingerbread bath bombs I made.  Perfect, right?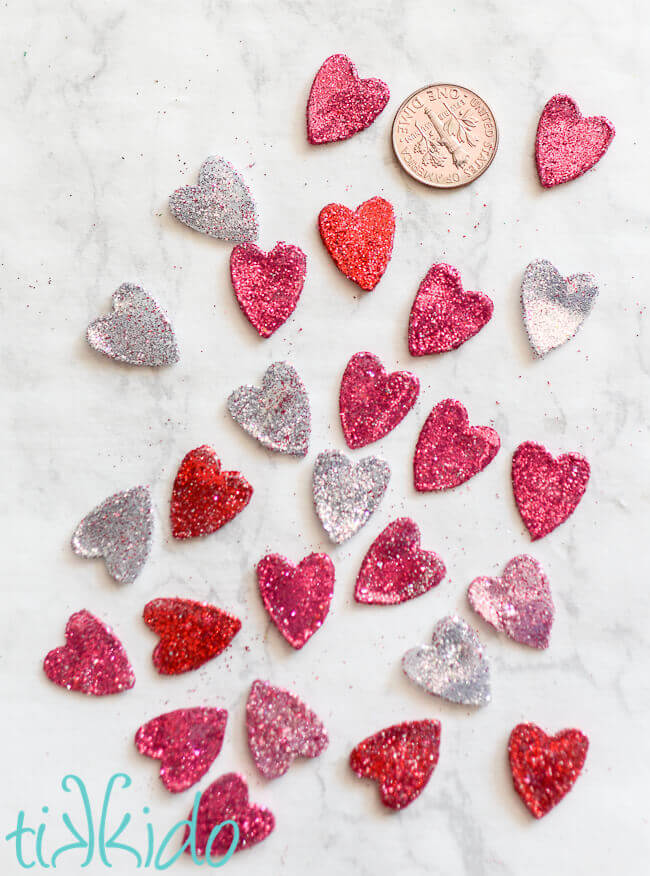 No need to stick with just Christmas designs, of course.  I absolutely love these hearts for Valentine's day--or any day!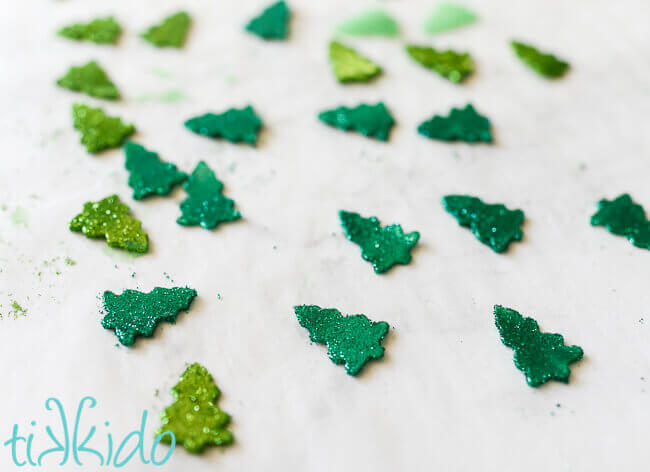 Miniature things make me happy in a big way.  Who do you know who would love these little mini soaps?