Printer-friendly version
Make these individual, single-use soaps that look like paper-thin, sparkling snowflakes.  The single-use soaps are made with a special paper that dissolves quickly, so the soap snowflakes melt into soapy foam and disappear when you use them.  It's like magic!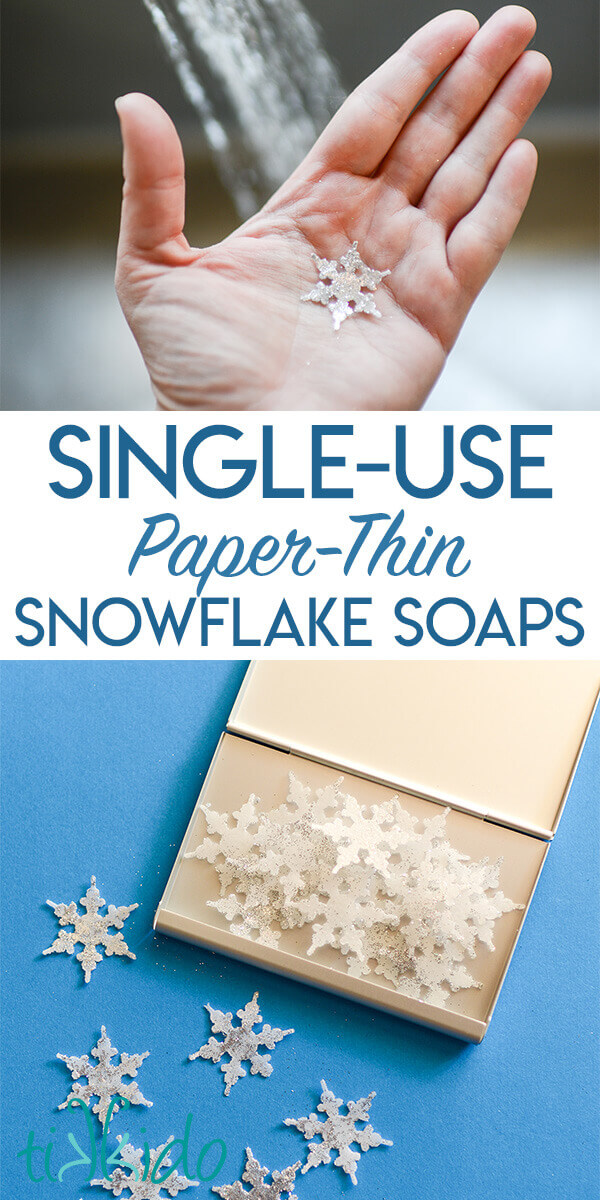 I have a business card case full of these delicate, single-use snowflake soaps in my purse right now! 
When I was a little kid, I once bought a small pack of paper-thin sheets of soap from Crabtree & Evelyn.  I was enchanted with how they just disappeared when I used them, their small size, their ephemeral beauty.  Ephemeral in more than one way, too: I never saw them in that store, or any store, again.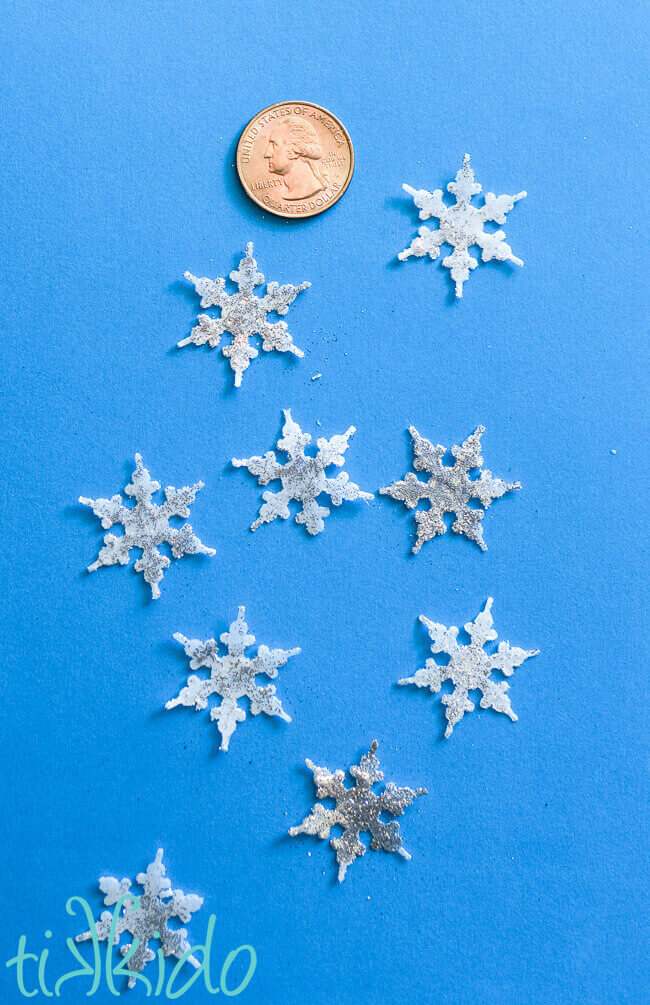 I don't know what brought those magical, single-use soaps to mind a few weeks ago, but in thinking about them, I decided to try making my own.  My first attempt lead to some other very cool, very cute, single-use soaps, but it wasn't the paper-thin creation I wanted to make.  Regular paper obviously wouldn't work, but I decided to experiment with wafer paper, a paper made out of potato starch typically used for cake decorating.  I knew that dissolved very quickly as soon as it was exposed to moisture.

Success!  Well, success after playing around with different techniques a bit.  The wafer paper worked brilliantly as a thin, dissolvable base for my delicate, single-use soaps.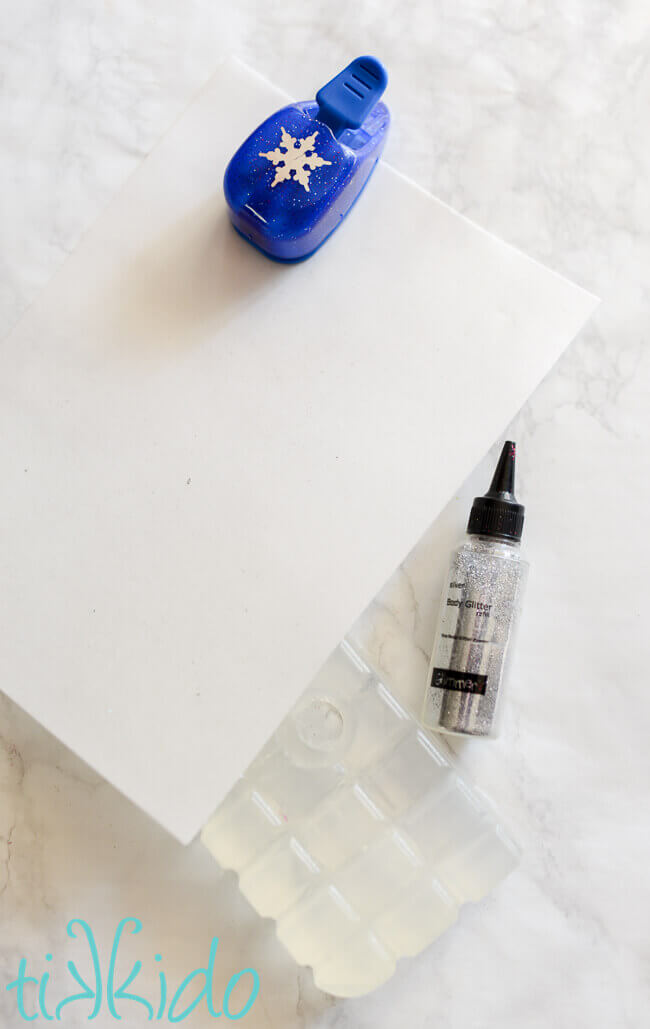 Materials for Individual, Single-Use Snowflake Soaps:
wafer paper (typically used in cake decorating)
soap scents (optional)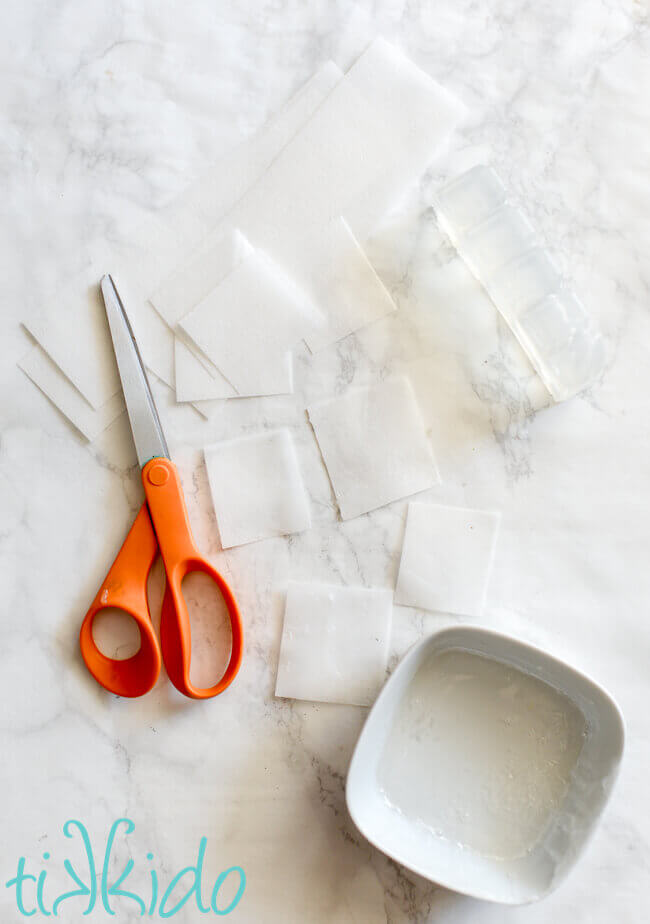 Cut wafer paper into small squares (approximately 2"x2", but it doesn't have to be precise at all).


Why Should I Cut the Wafer Paper into Small Pieces?
I tried working with larger pieces of paper and it was difficult to get the soap thin enough and work quickly enough.  Using smaller pieces of the wafer paper like this creates more waste, but was the only way to get the soap sheets thin enough to work with my paper punches.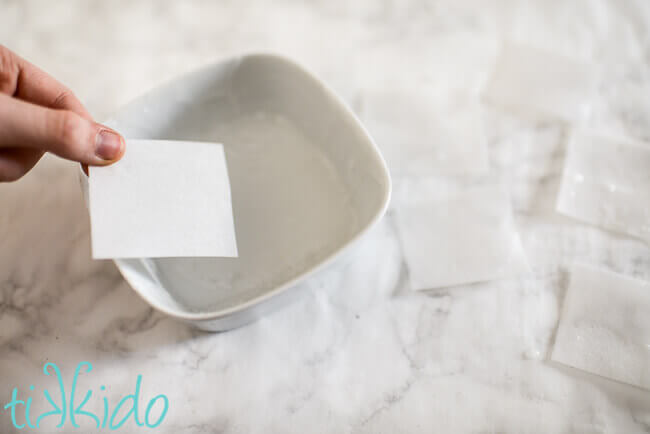 Melt a few squares of melt-and-pour soap in a bowl or plate.  Ideally use something with a shallow, flat bottom that you can dip the entire piece of wafer paper in the soap at the same time.  You need to work quickly, because the soap sets up and hardens very rapidly.
Why to use Melt-and-Pour Soap Base instead of Cold Process Soap:
It's easy!  Like the name suggests, you just melt it in the microwave!
Cold process soap is much more customizable, but it's thicker.  We need the thin, liquid quality of melt and pour soap for this project.
Melt and Pour soap cools and hardens quickly.  That makes this project fast, with almost instant-gratification and results.
you can customize melt and pour soap base with fragrance oils and soap scents.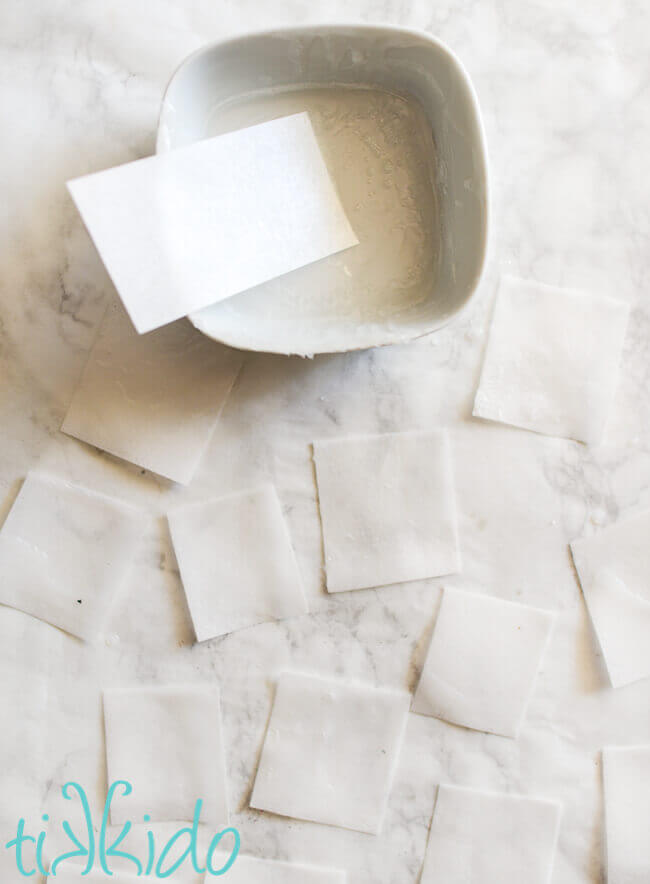 Dip the paper in the melted soap, and scrape the paper along the edge of the bowl to remove excess soap.  It's important to only have the thinnest layer of soap on the wafer paper, because if it's too thick, it won't fit in the paper punch.
Place the soap-covered wafer paper on a piece of parchment paper or waxed paper to cool and harden.  (This happens in seconds.)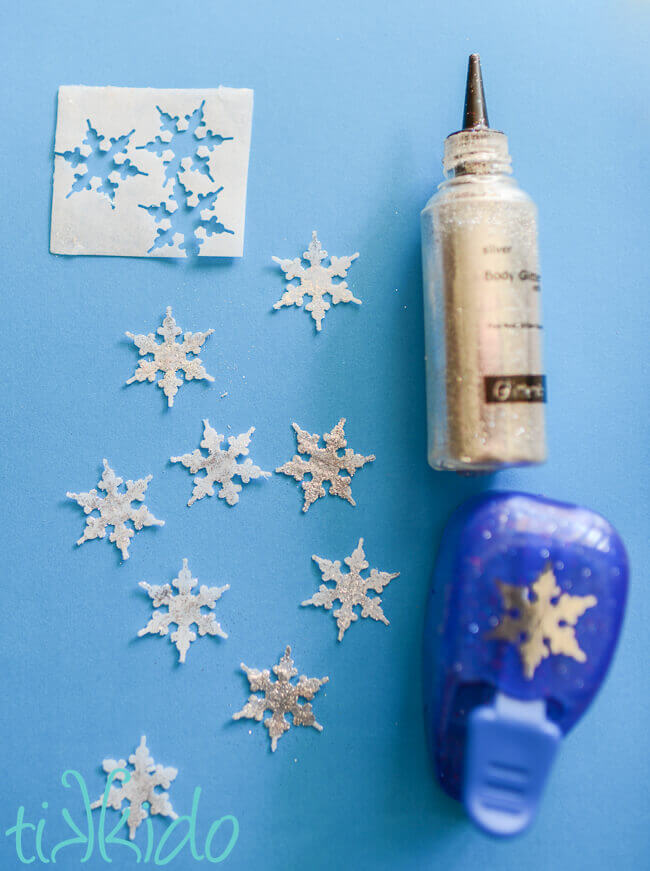 Use a snowflake shaped paper punch to punch out the shapes.  You could use any kind of paper punch, obviously, to make these single-use soaps in any shape and theme.  
The soap-covered paper will be ever-so-slightly tacky, so adding the glitter at this stage is both easy, and helps keep the snowflakes from sticking together.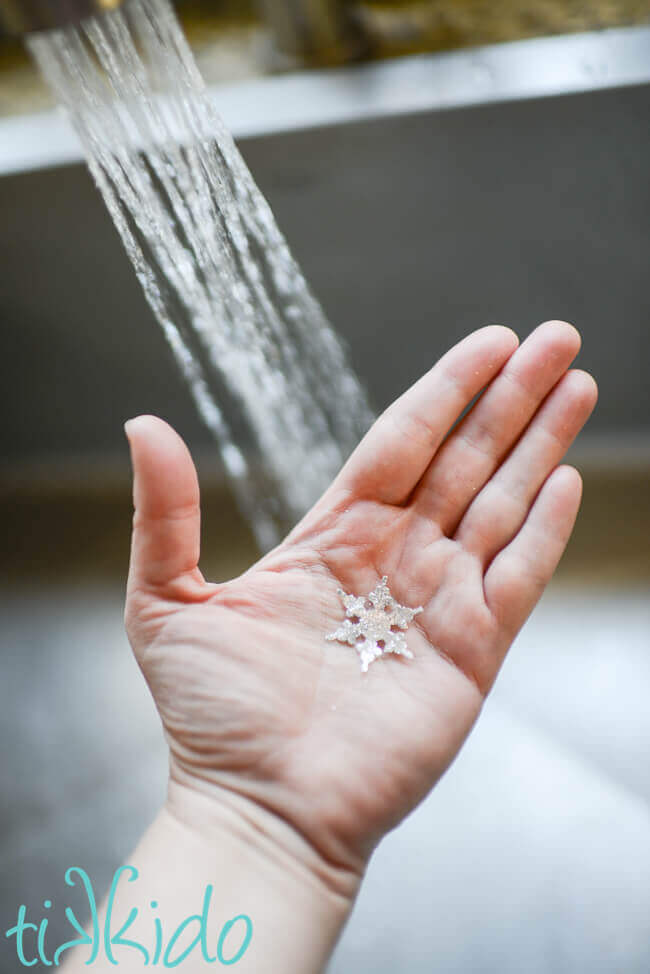 To use, just place one of the snowflake soaps in your hand, get it wet, and lather up.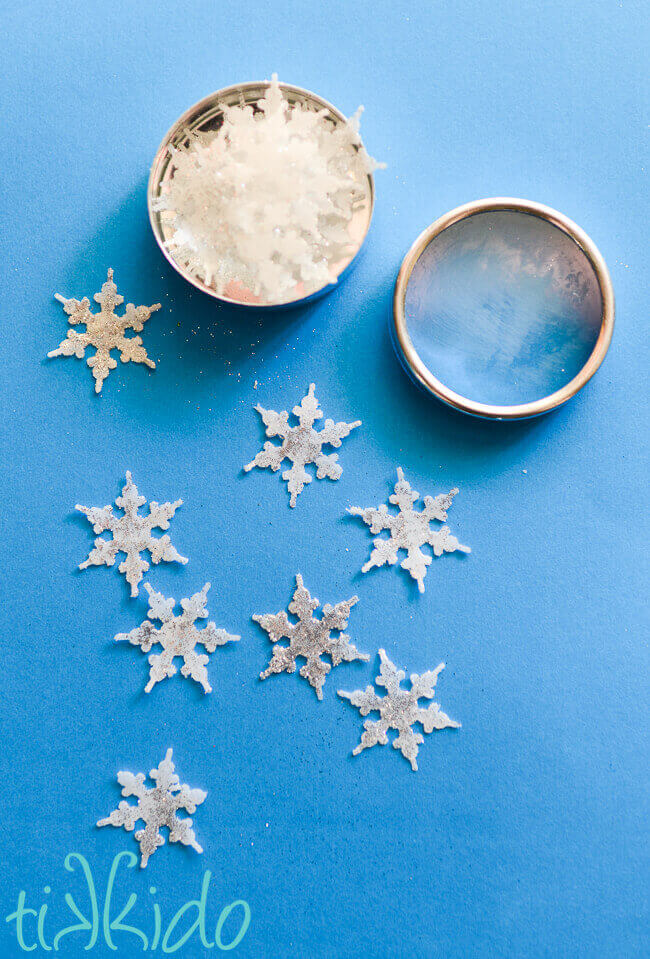 Little clear-lidded favor tins make great holders for these delicate little soaps, too.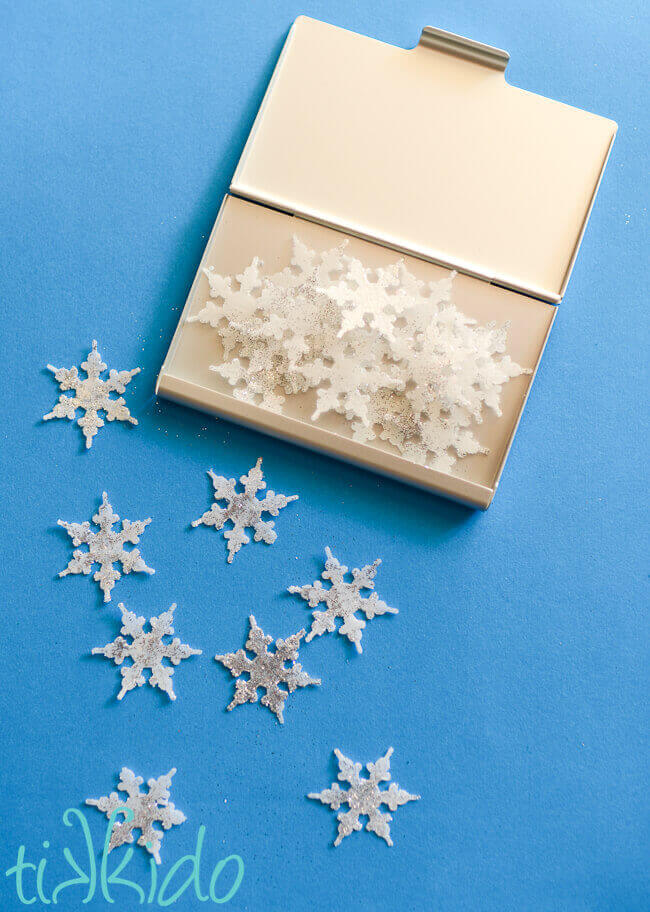 What shape and theme of miniature, single-use soaps should I make next?