Printer-friendly version
I love getting to bake the occasional special treat for friends--especially when they let me have a lot of fun and be creative with a theme!
Such was the case recently, when I got to make Harry Potter cookies for my friend's daughter, Charlotte.  I knew the theme, but was told to make anything I wanted to make.  Woo hoo!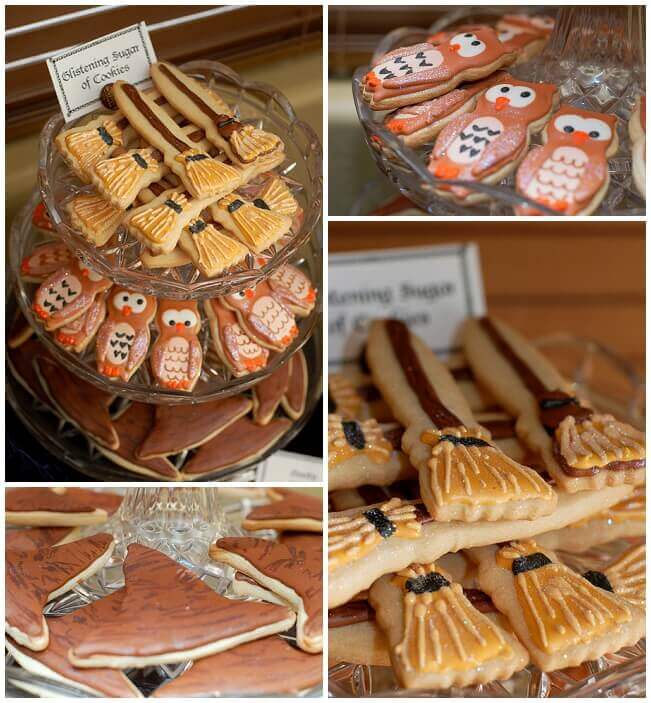 I'd made Harry Potter cookies before a few years ago for another friend's daughter, but when I went to look for those cookie cutters, they were nowhere to be found!  And unline most everything else in the house, my cookie cutters are REALLY well stored and organized.  If all three cookie cutter shapes were missing, I knew I must have loaned out the set to someone, and completely forgotten about it.  It was time to improvise.  (Because, of course, I had waited until the last minute to make the cookies and didn't have time for a trip out to the cake decorating store.)
I found a C cookie cutter (perfect for Charlotte, the birthday girl) in my "Misc. Shapes" cookie cutter bin, and turned them into C shaped Gryffindor scarves.  A mini pumpkin cutter just for fun.  A ghost cookie cutter was modified (I cut the head from the neck most of the way before the cookies were baked) to make a Nearly Headless Nick ghost cookie.   And for my owls, I pulled out a plain round cookie cutter ("Basic Shapes" bin--told you I was organized!) and followed Sweetopia's awesome Owl Sugar Cookie tutorial.  Whew.  Cookie disaster averted, and I have fun new Harry Potter ideas in my cookie arsenal!
That same week, I also whipped up some quick Skylander themed cupcakes for another friend's son.  My friend had to have emergency back surgery, and her plans for making cupcakes for Brady went right out the window.  I was happy I could help out!  I made the cupcake toppers out of disks of royal icing (always a hit with the kids, like a giant candy button), and painted on the designs with white food coloring.  Easy peasy.
Now I'm off to bake a small wedding cake for a friend's wedding this weekend!  I'm using my very favorite vanilla butter cake recipe, with Italian buttercream and strawberry filling.  Mmm.  What are you baking these days?