Printer-friendly version
Do you know how much I love my daughter?  Enough to throw her the Stampy Longnose/Minecraft birthday party she desperately wanted for her 7th birthday!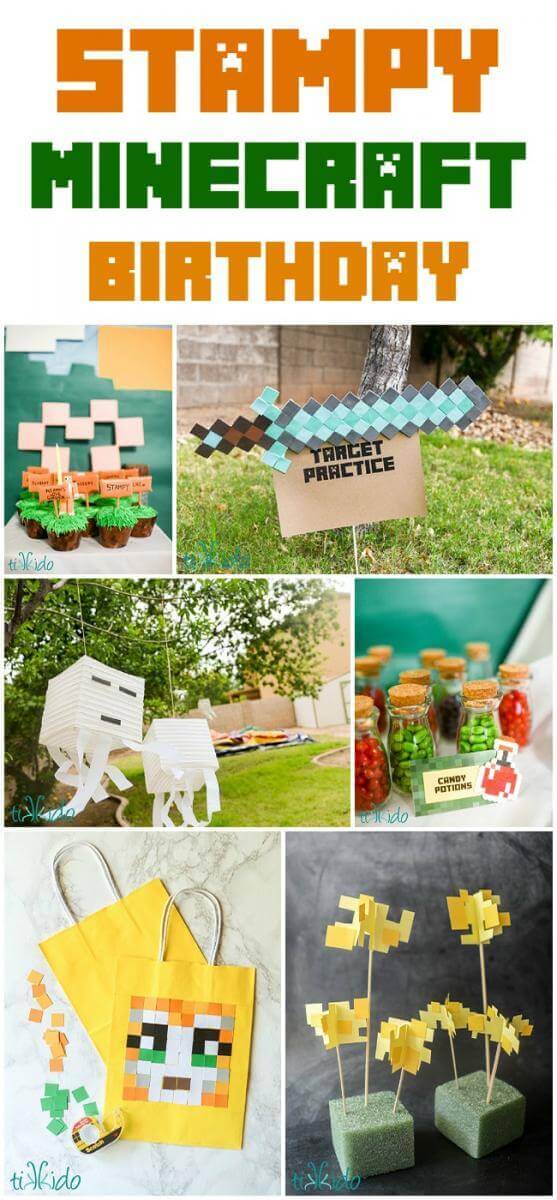 I have absolutely nothing against Minecraft, or Stampy.  I think Stampy is rather delightful, in fact, but I don't personally see the appeal of watching someone else play a game...at least not with the same utter adoration and devotion that Niamh has for Stampy.  Planning this party meant that I'd actually have to pay attention all those times when my kid wanted to talk to me about Minecraft.  Ah, the things I do for love.  We watched Niamh's favorite Stampy videos together.  She taught me how to play Minecraft.  We had endless brainstorming sessions about party ideas.  And you know, I LOVED how excited Niamh was for her party.  That's what it's all about, right?
The day of the party came--and so did a haboob (giant, high wind dust storm).  Right at party time.  We had to take down the bounce house, move things inside, switch plans all around.  So my pictures aren't what I'd hoped, but you'll still be able to see how much fun everyone had at the party, and that's the thing I care about the most.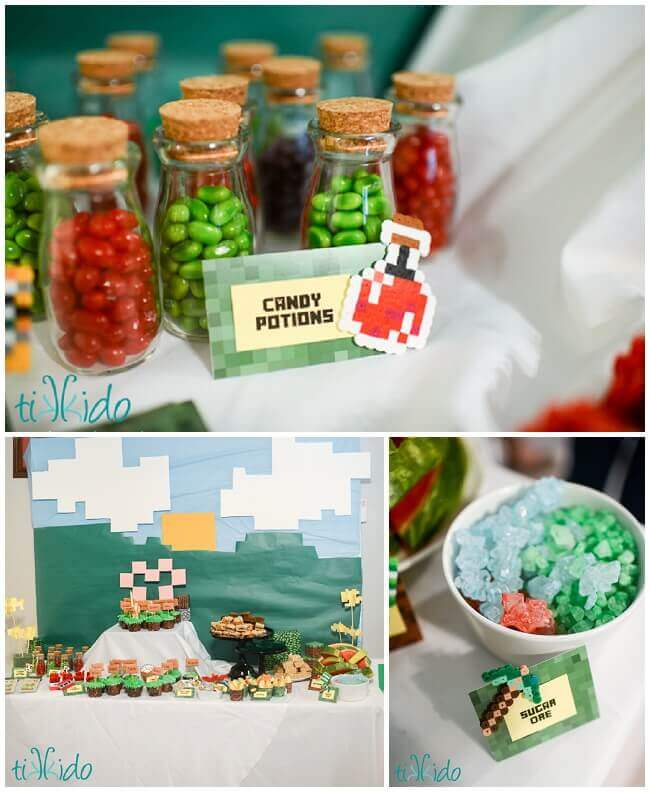 My girls helped me make perler bead embellishments for the table tents on the dessert table, and I absolutely love how they added dimension and visual interest to what were really plain cards.   We had candy potions, sugar crystal ore...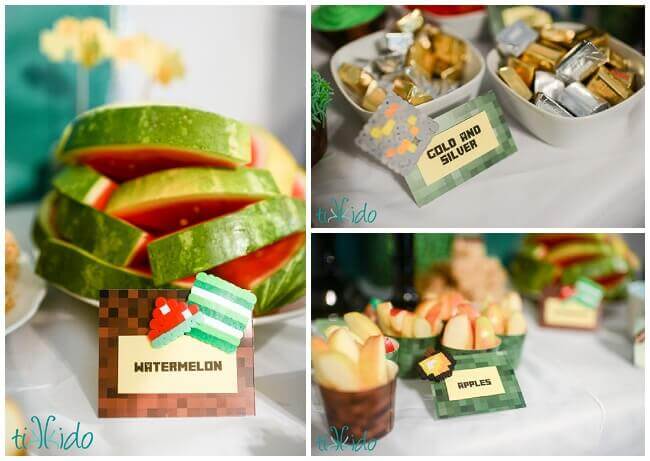 ...watermelon, gold and silver chocolate ore, apples...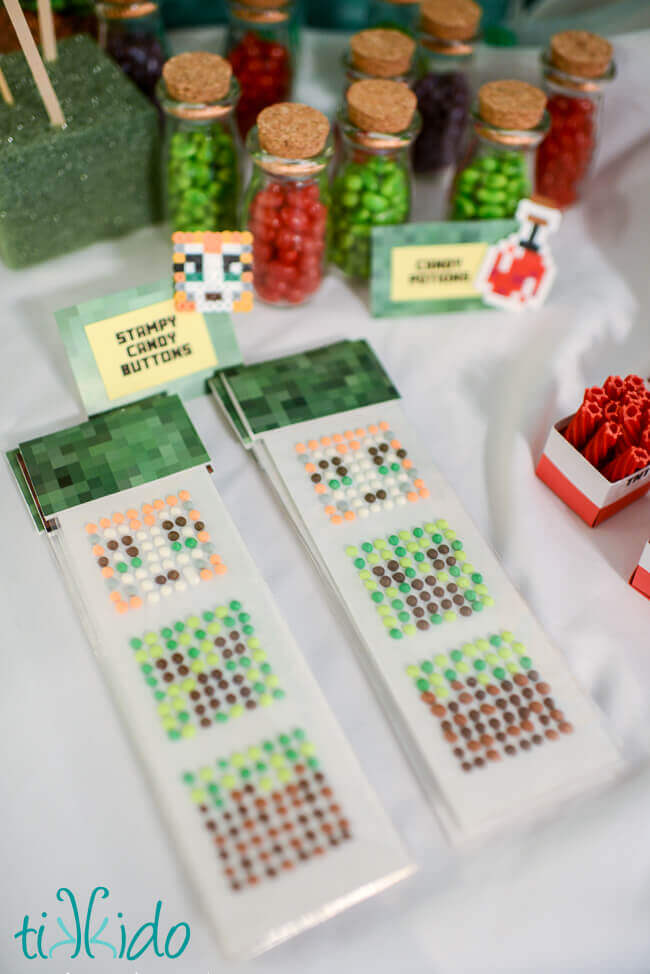 ...Stampy Minecraft homemade candy buttons, licorice TNT...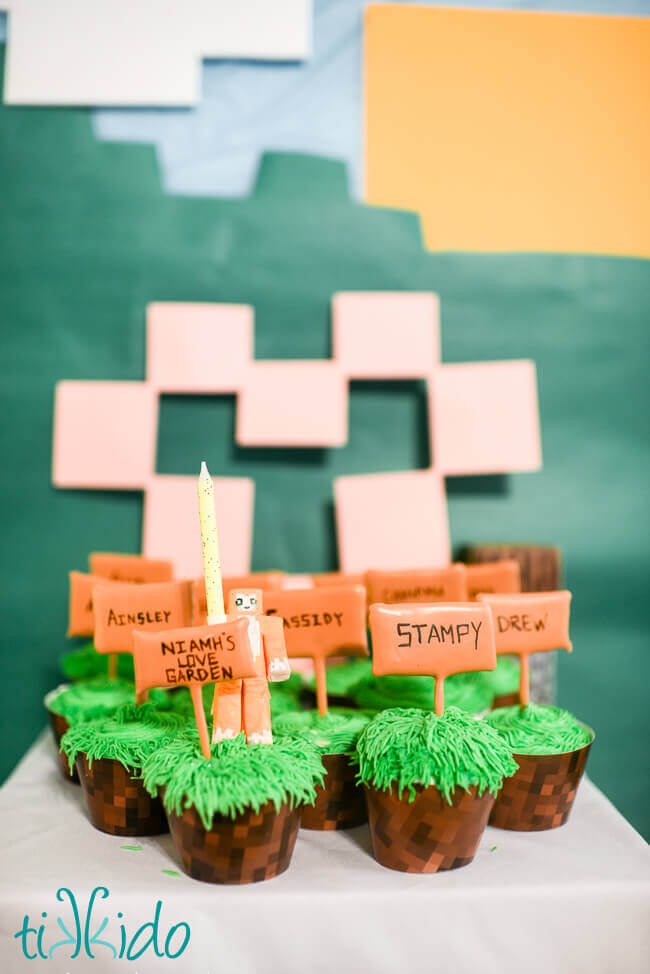 ...and of course, Niamh's Cupcake Love Garden, complete with a gum paste Stampy, and edible icing signs for all the people she loves (including Stampy himself, of course!).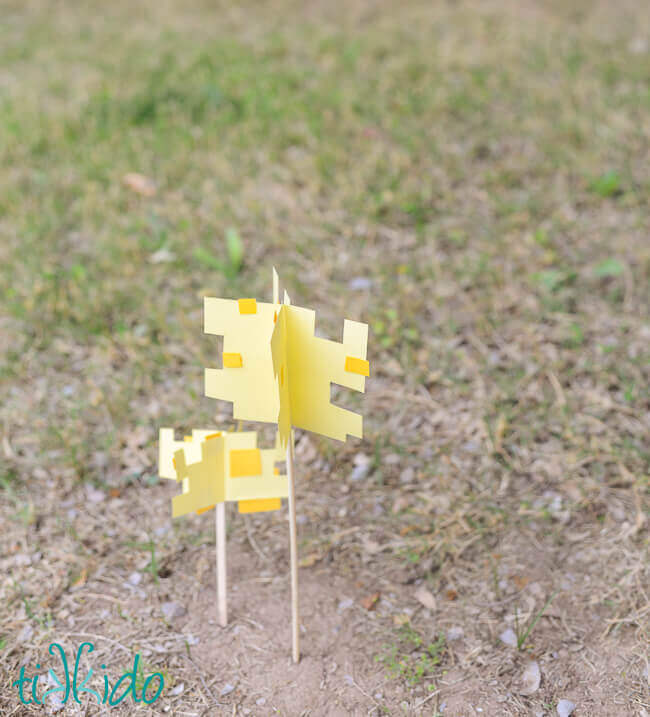 I love fun little decor details, like the Minecraft-style pixelated looking paper flowers we had scattered through the lawn.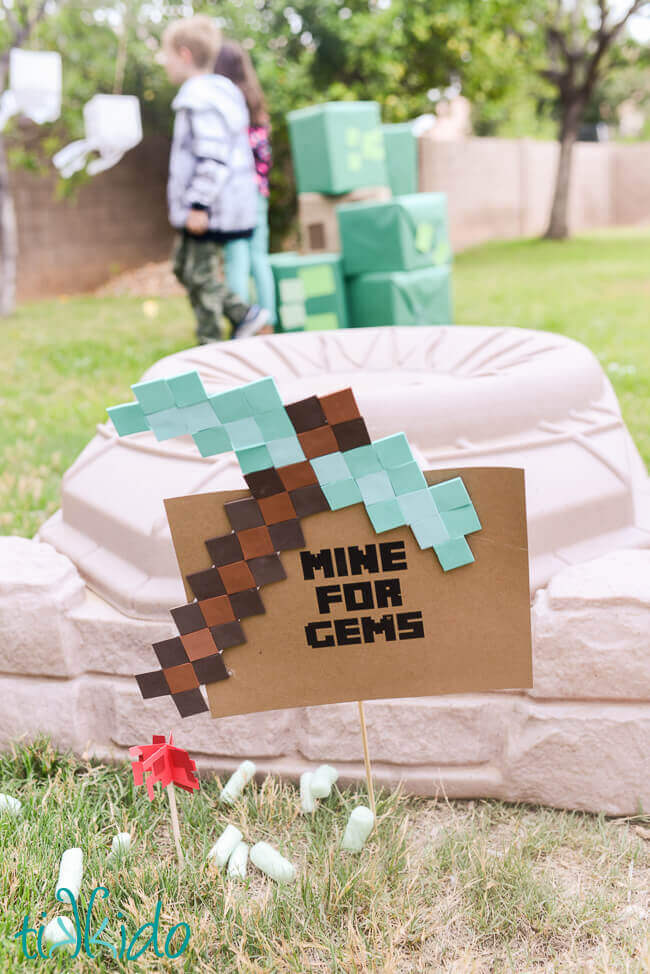 The kids went NUTS for the mining for gems activity.  I borrowed a neighbor's empty sandbox, and filled it with biodegradable packing peanuts instead of sand, and hid plastic gemstones inside for the kids to find.  The wind really screwed up this activity for a while, but the wind storm eventually passed, and we were able to let the kids go for it.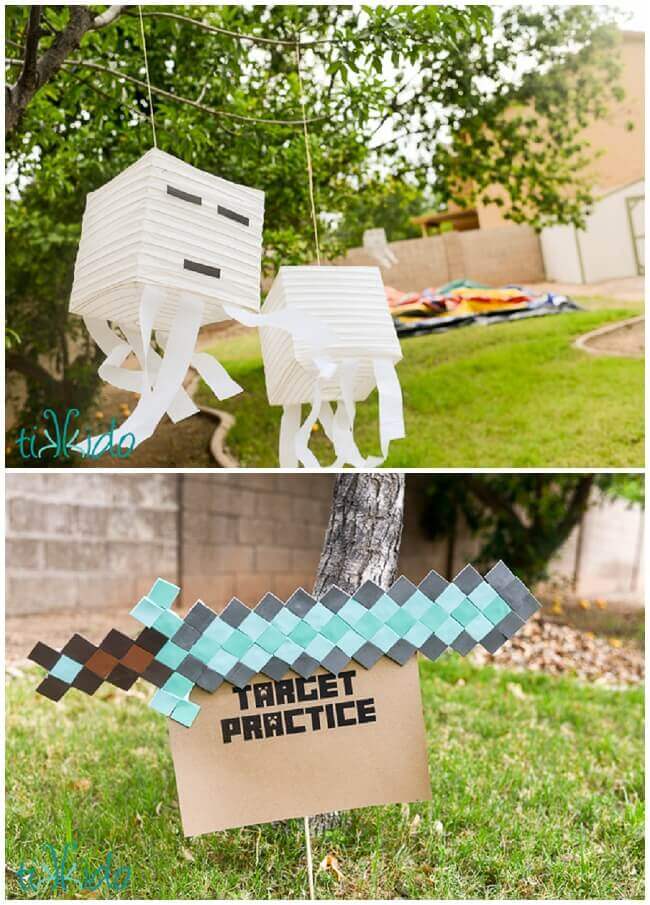 The ghasts looked pretty spectacular floating around in the wind, actually!  I had a creeper to use for target practice, too, but it was too windy to keep him upright.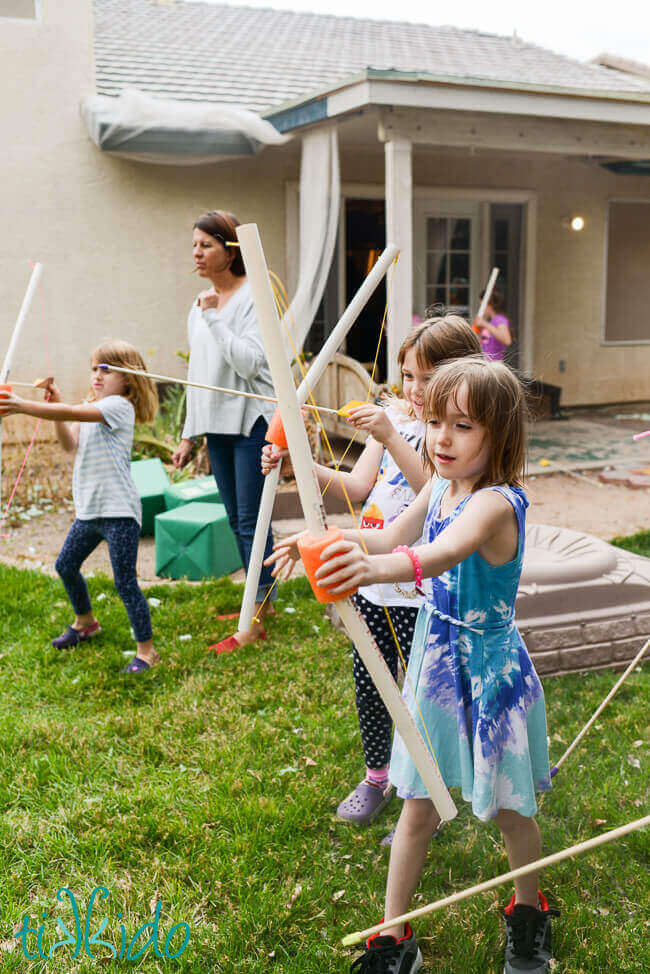 We shot at the ghasts with PVC bows and arrows (which were REALLY fun) .  I loved playing with them, too!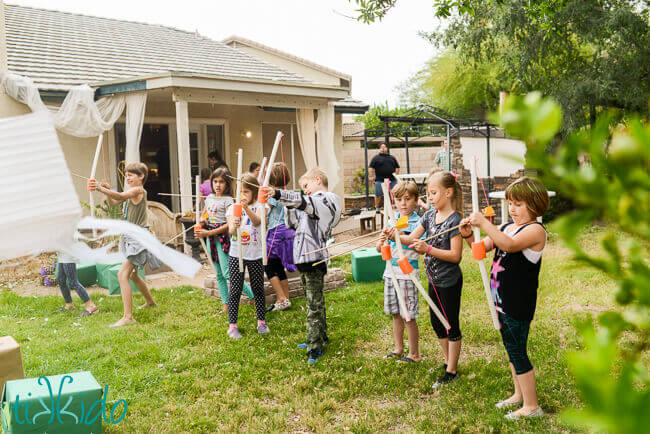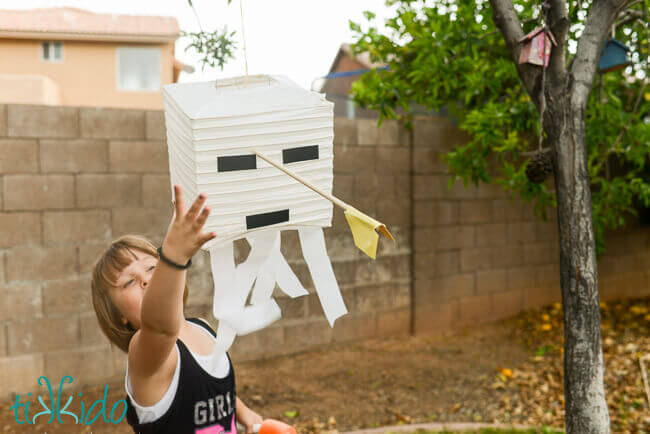 It took a little practice learning how to shoot, but we had some gifted bowmen in our party.  The ghasts made really fun targets; they moved and were challenging to hit, but when you got a good hit, you could pierce them in spectacularly satisfying fashion.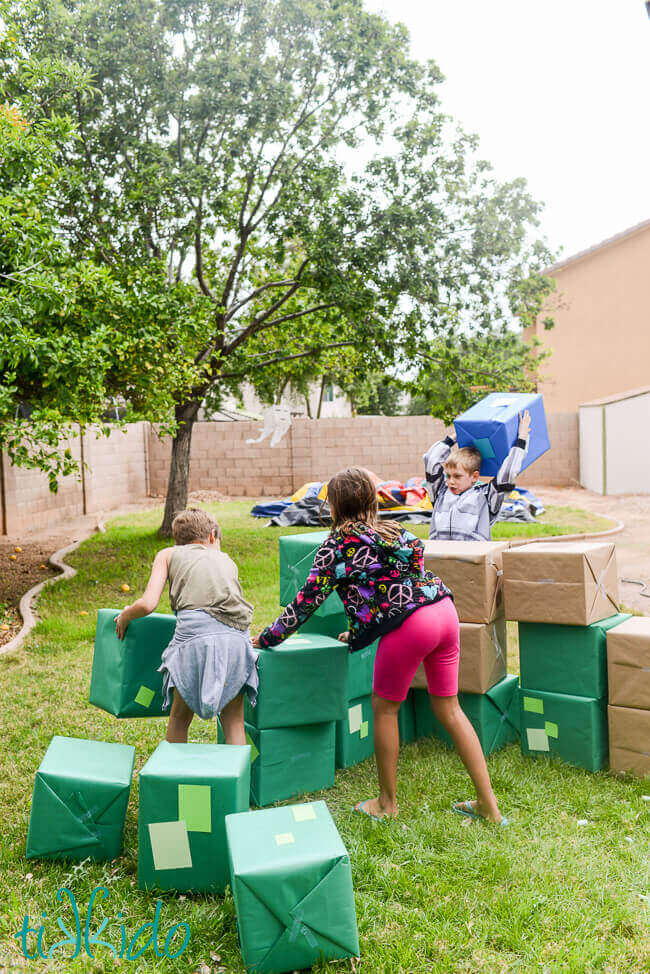 I also covered boxes with solid colored paper for the kids to use as real-life Minecraft building blocks.  Another huge hit with the party guests.  They'd build something, have a blast knocking it down, and then build something again.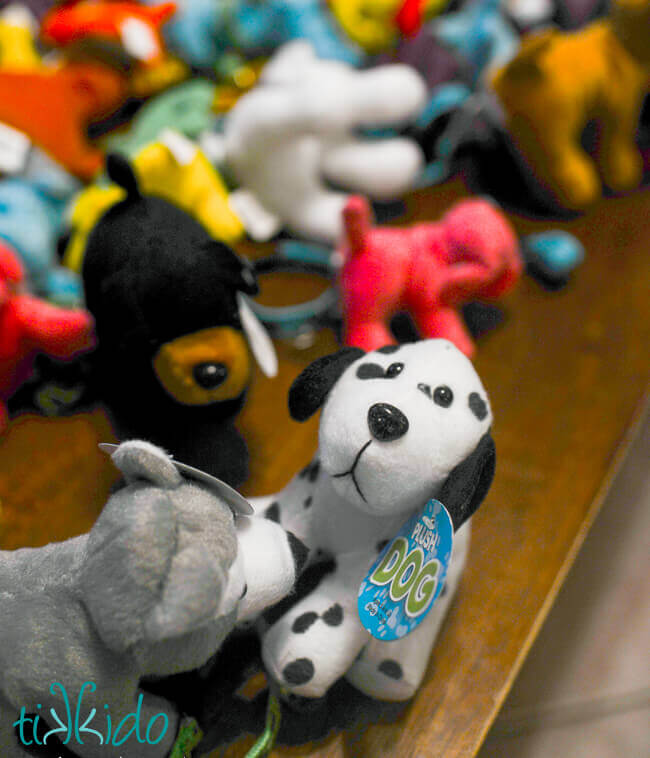 We also had a dog taming station.  The kids took this so earnestly, presenting their chosen puppy with (eraser) bones and then eventually giving them a collar.  I love things that are both activities and party favors.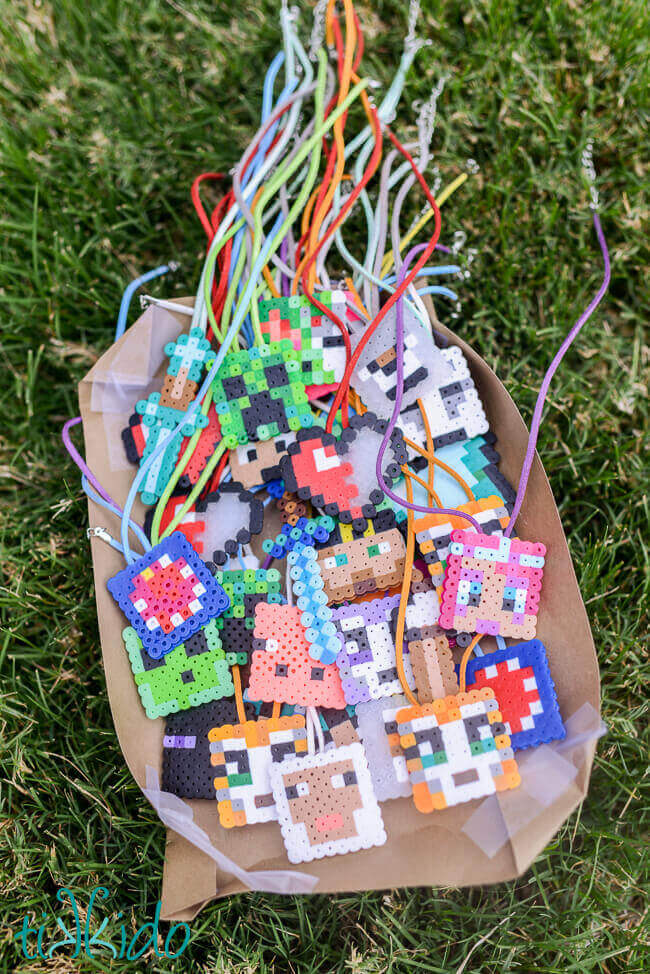 These party favors were just party favors:  perler bead Minecraft themed necklaces.  I totally wore a half-health heart necklace myself.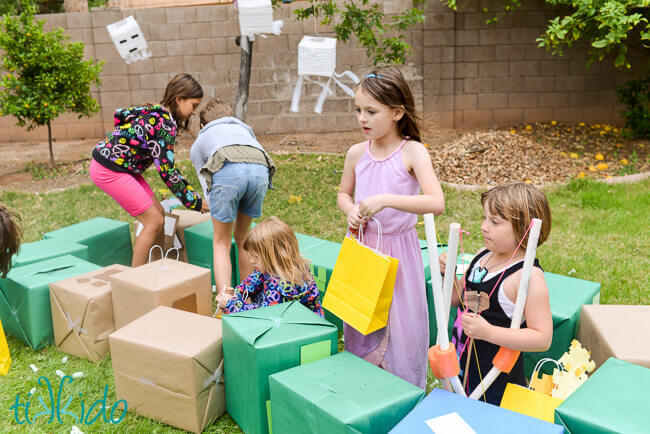 I essentially provided props for the kids, but not planned activities.  At one point, I noticed that the kids had gathered resources (flowers, gems, the bows and arrows, necklaces, puppies) and created their own economy, buying, selling, and bartering for goods and services.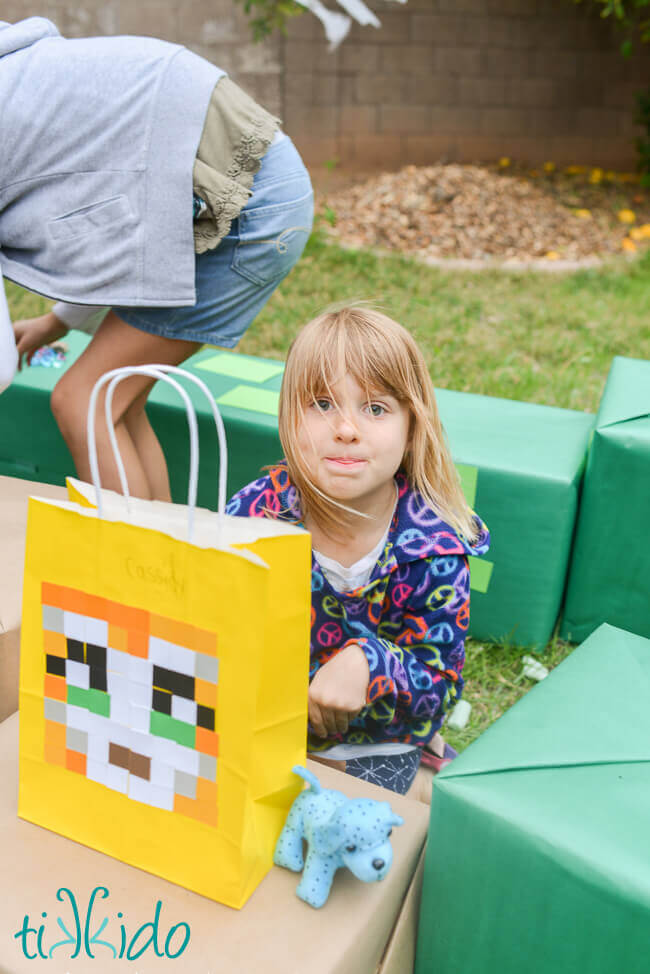 It was amazing!  I've learned over the years that the kids have so much fun just playing together, that it's hard to get them to stop long enough to play planned games.  I've stopped trying so hard.  Pinata and cake time are our only scheduled activities, typically.  It's less stress for me, and more fun for them.  Win win.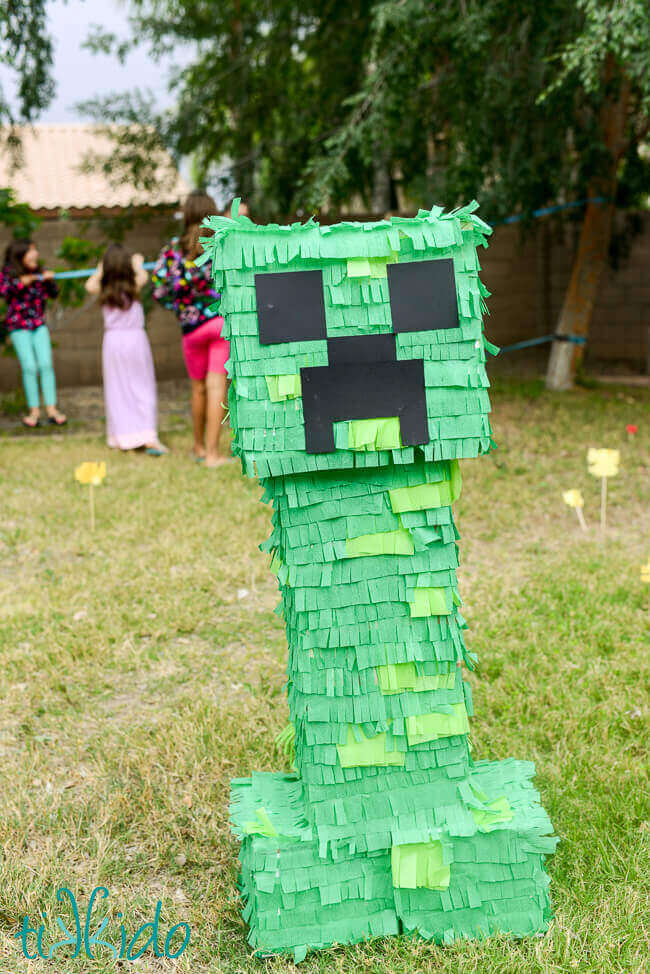 Here's our creeper pinata!  It was so windy, we never actually got around to stringing him up.  Some of the kids took it upon themselves to attack the creeper on their own later that night.  It was a little Lord of the Flies, but hey, at least it was thematic.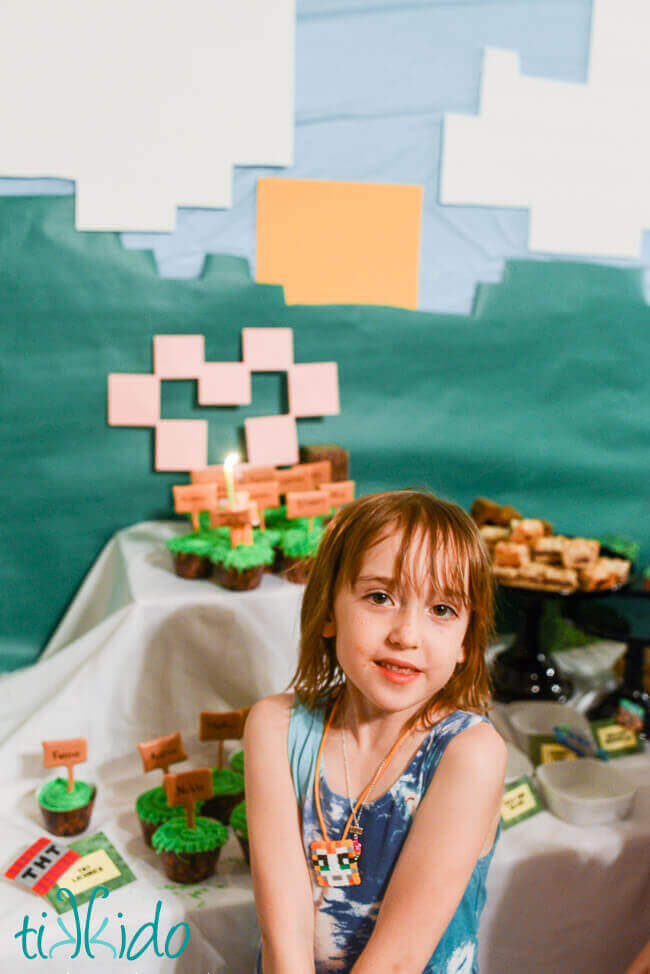 Here's the Stampy-loving birthday girl!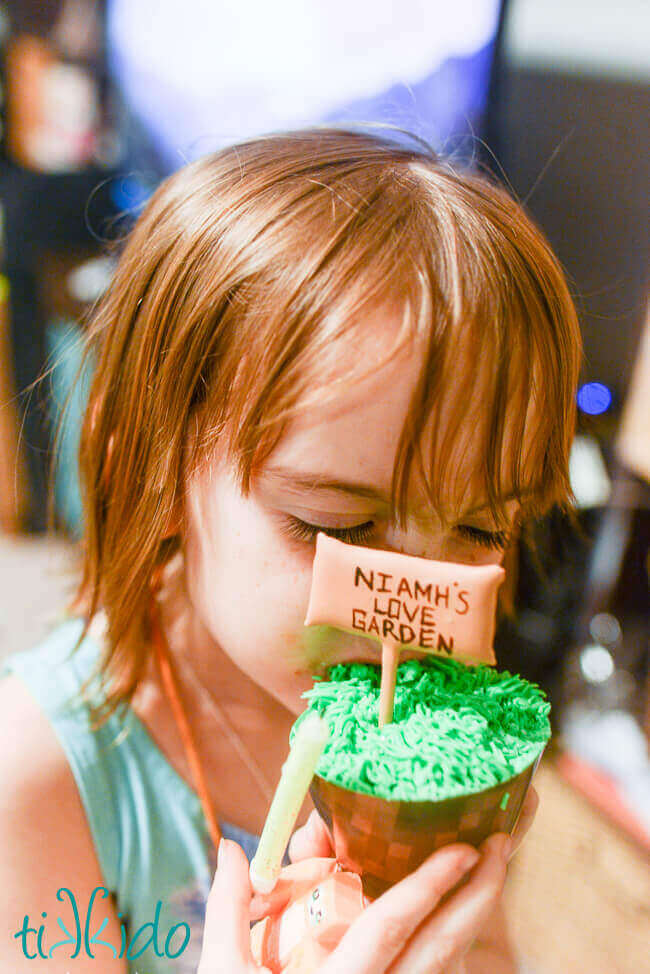 ​
Happy birthday, Niamh!