Printer-friendly version
I was recently invited to style a birthday scene for pottery barn kids at the Chandler mall. They, like pbk stores all over the country, were having a Star Wars event to help launch their new Star Wars themed products for the holidays. They asked me to design a party setup using some of their products, to help give people inspiration for using objects from around the house in a party plan. I absolutely love doing that kind of thing (no single-use purchases for me!).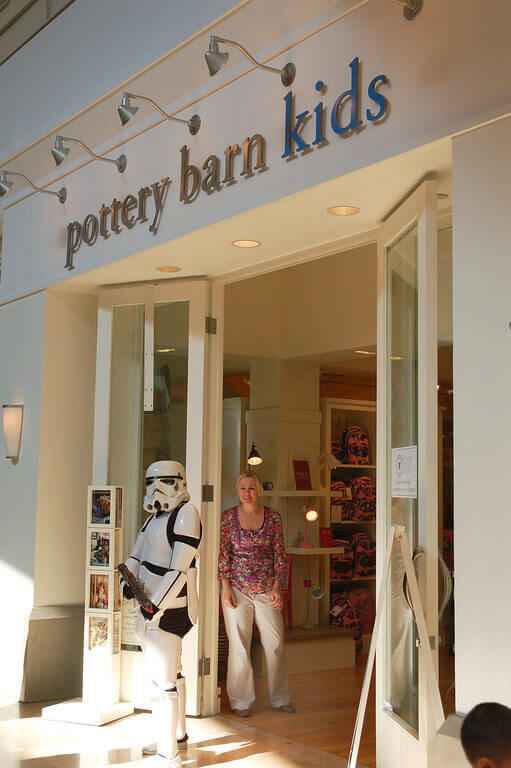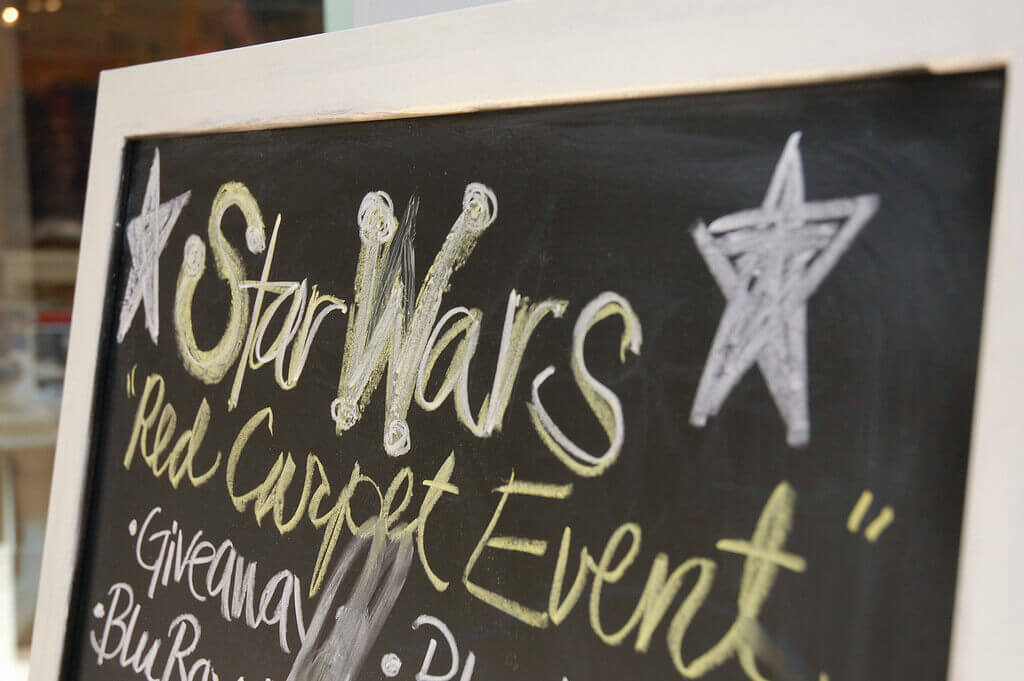 The showstopper was the backdrop for the goodie table, definitely. I had been wanting to make a fiber-optic star ceiling for my girls for some time now, and this was the perfect opportunity. I wanted everything in this party (or nearly everything) to have at least two purposes. I'm all about re-using, multi-purposing, and getting as much value as possible out of any purchase! It shimmered and sparkled and changed colors and looked fabulous, even in the bright store lights.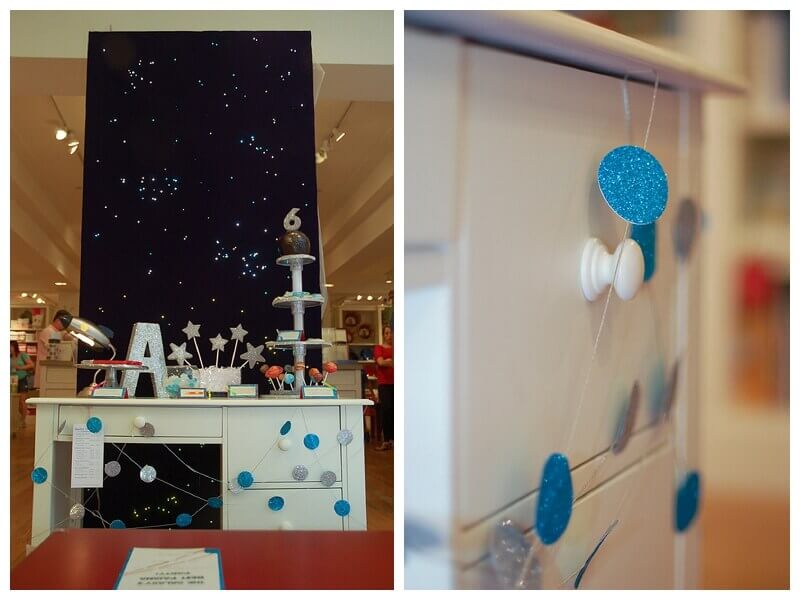 I had a plastic cupcake stand with a hollow core, and I immediately thought of filling the center core with glow sticks so that it would look like a lightsaber. I diffused the light by rolling the glow sticks in waxed paper. It looked spectacular! But the scalloped edges on the clear plates did not look spacy. Or Star Warsy. Or boy. At all. That problem was solved with some cardboard cake rounds, glittery silver wrapping paper, and a glue gun. Temporary plate caps to make the cake stand look like a sleek space station? Check!
On the top of the cake stand was the cake, a small round ball, painted black and dusted with sparkly edible glitter to make it look like the deepest space. It was topped with an edible, sparkly silver cake topper. Pralines and Cream flavor.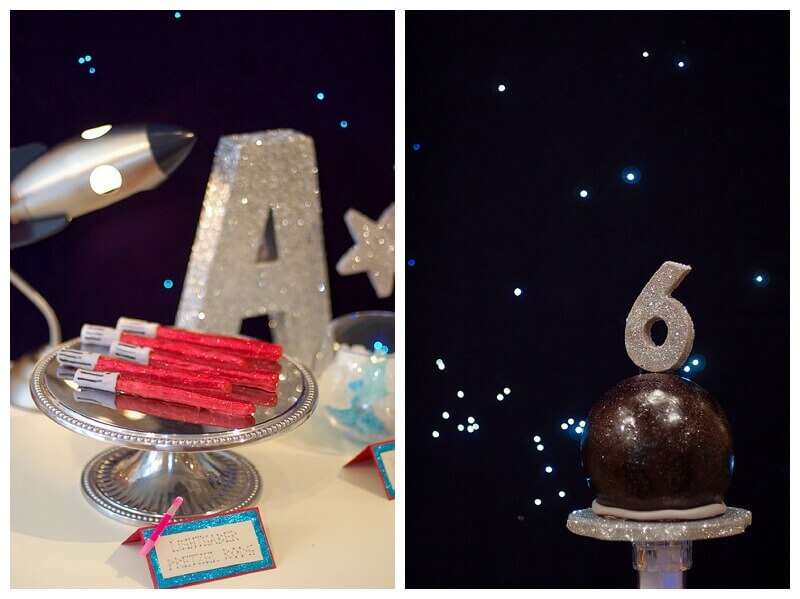 The middle two tiers housed the "galactic" sugar cookies--planet and shooting star shapes. Many people asked if they were real cookies. Absolutely! What fun are fake cookies? Sheesh.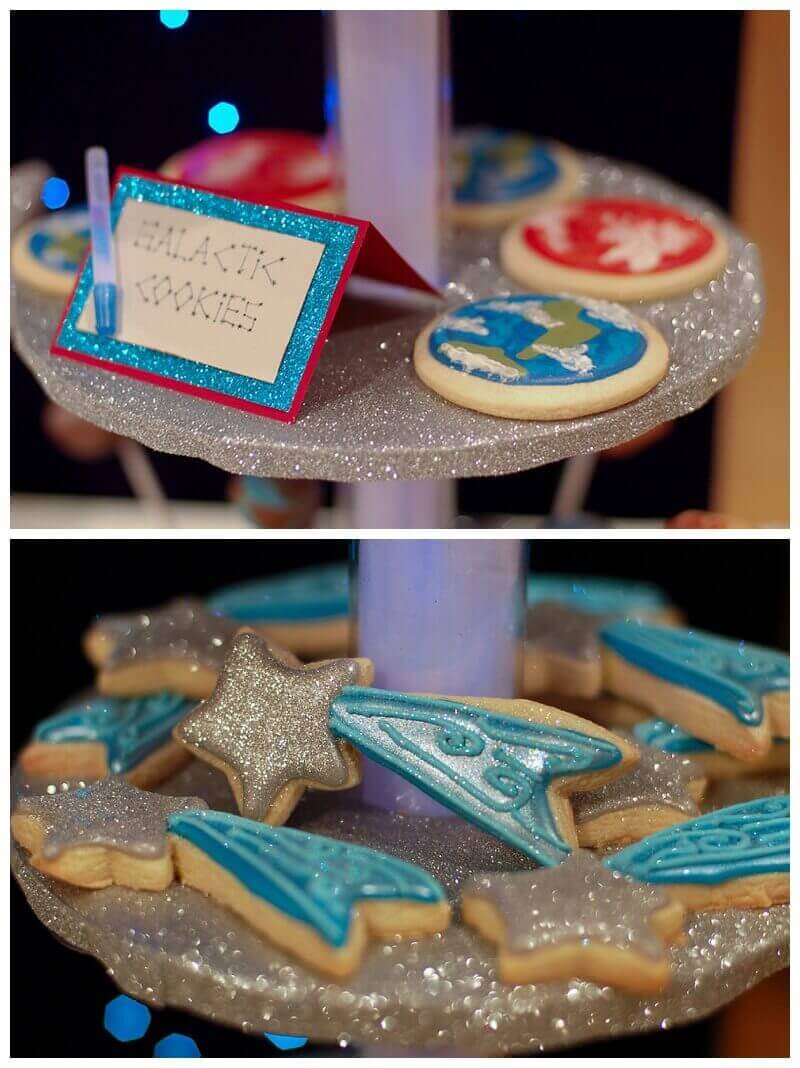 I also made peanut-butter planet pops for the lowest tier. Think Reese's Peanut Butter Cups, but in a cake pop style. I had three planets with rings originally, but the rings melted off two of them on the walk from my car in the parking lot to the nearby door of the mall! Phoenix weather is still brutally hot. Note: I'm perfectly awful at making cake pops of any sort. But I decided that lumps and bumps on my pops were not imperfections, but rather the roiling, gaseous clouds of the atmospheres. I totally meant for them to look like that. ;-)

Chocolate pretzel lightsabers, glowing meteorite rock candy, and sparkling shooting star lollipops (they also make excellent edible wands for princess parties) rounded out the dessert offerings.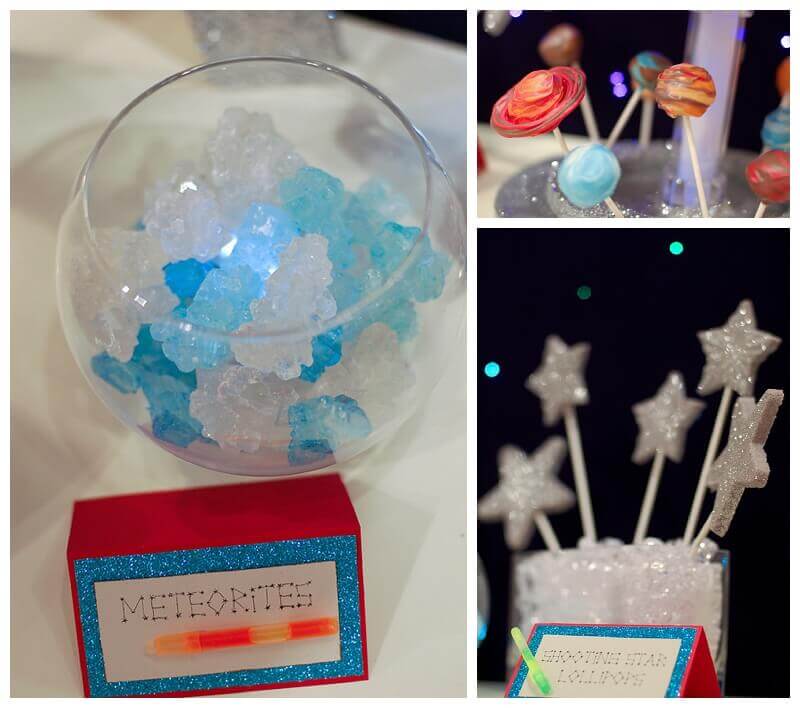 I made glittery "Stellar Play Dough" for the children to play with--a hit at any age.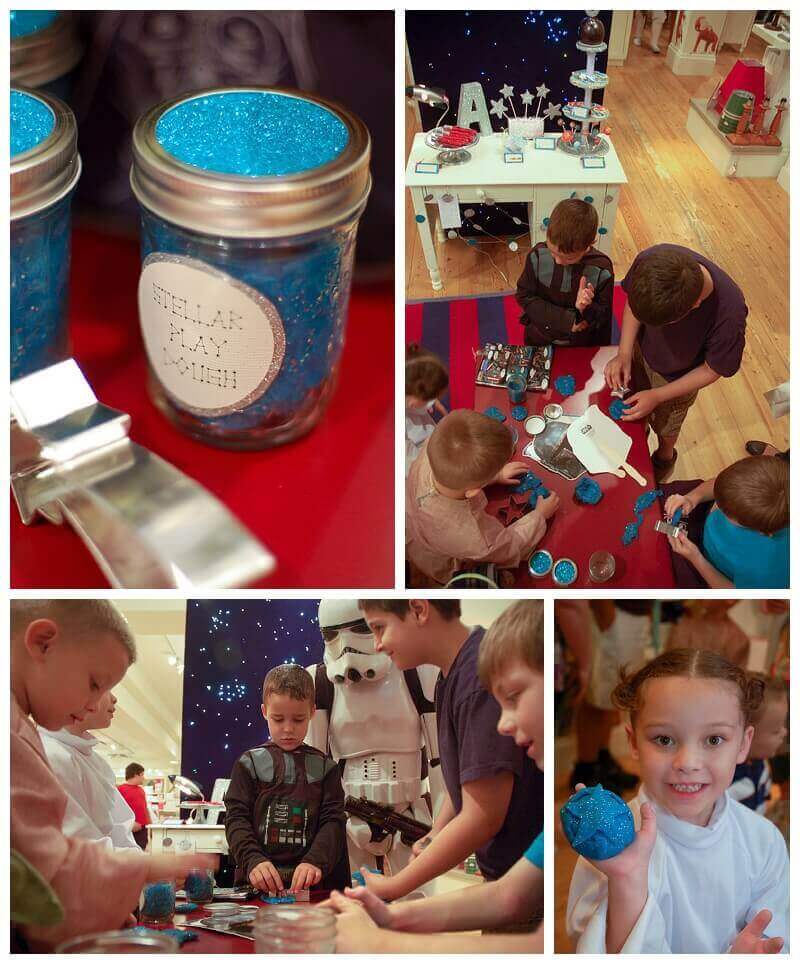 And yarn and felt Yoda ear and Leia buns headbands.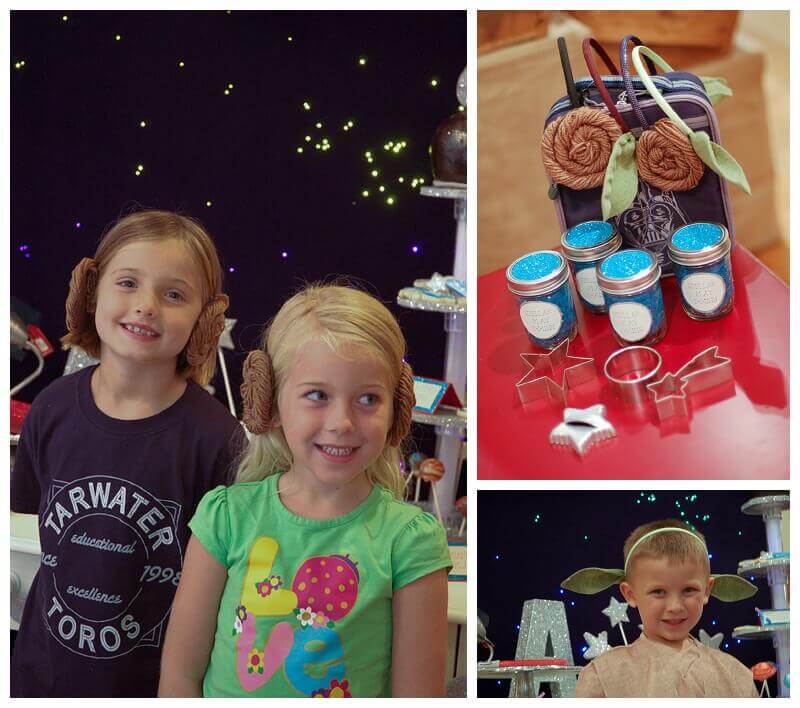 I knew I wanted to play with light as well as color when I designed this party, so I conceived of this celebration as a nighttime pajama party. The darker night hours would show off the glow sticks on the cake stand and the dessert table labels, as well as the fiber-optic star panel. And what better time to have a star or Star Wars themed party, complete with a viewing of the movie? A nighttime party was absolutely perfect for this event, so that's what the invitation reflects. I burned a little bit of the invitation and added glittery red laser beams to add some extra spice and interest to the card.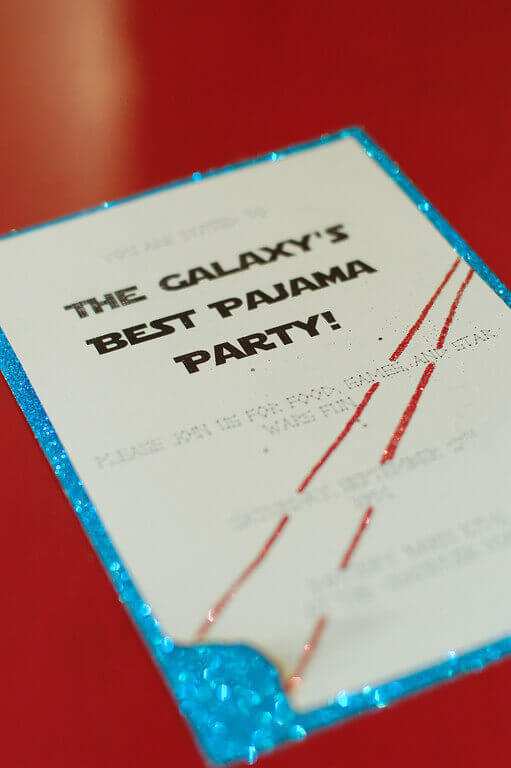 Dual purpose items in this party:
From Pottery Barn Kids (items that could be taken from your child's bedroom, or used to redecorate your child's bedroom)--Desk, kid-sized table and chairs, Star Wars pillows, red and blue rug, rocket lamp, Star Wars lunch bag.
Fiber-optic star ceiling. Initially created for this party, but will be an enthusiastically welcomed feature in my daughter's bedroom. (I think I'm going to record my seven-year-old's exclamation "You are the BEST MOM EVER!" and make it her ring tone when she's 15.)
Play Dough containers--recycled jam jars. I liked the diamond pattern on the glass for this event.
Cookie cutters--of course I use those many times! For play as well as cookies.
Garland--I made this for the party, but with a punch I already had, using glittery wrapping paper I'd already bought for the cake stands and a punch and silver string I already owned. And I'll give them to my daughter to decorate her Christmas tree in a couple months.
Cupcake stand--these can be used again and again, especially if you can adapt them to your needs like this one!
Meteorites--I created the glow by resting the rock candy on top of Aquabrites floral lights I originally bought for my daughter's Cornish Fairy party and have used many times since.
Glittery A prop--made for this party, but will be used to decorate my daughter's room afterward.
Shooting Star lollipops--used a vase I had on hand, extraStyrofoamI had on hand from the giant paper flower backdrop I made for the Secret Garden baby shower, and fake ice that was left over from the Neapolitan Ice Cream April Fool's Day Party.
Reuse I do. Recycle, yep. Reduce? Working on that one. My stash of party stuff just seems to keep growing, despite how much I love to re-use!

Being a tiara designer as my main profession, I, of course, had to design a sparkly hair accessory for me to wear to this event. I thought it evoked an atomic-age style with Swarovski sparkle.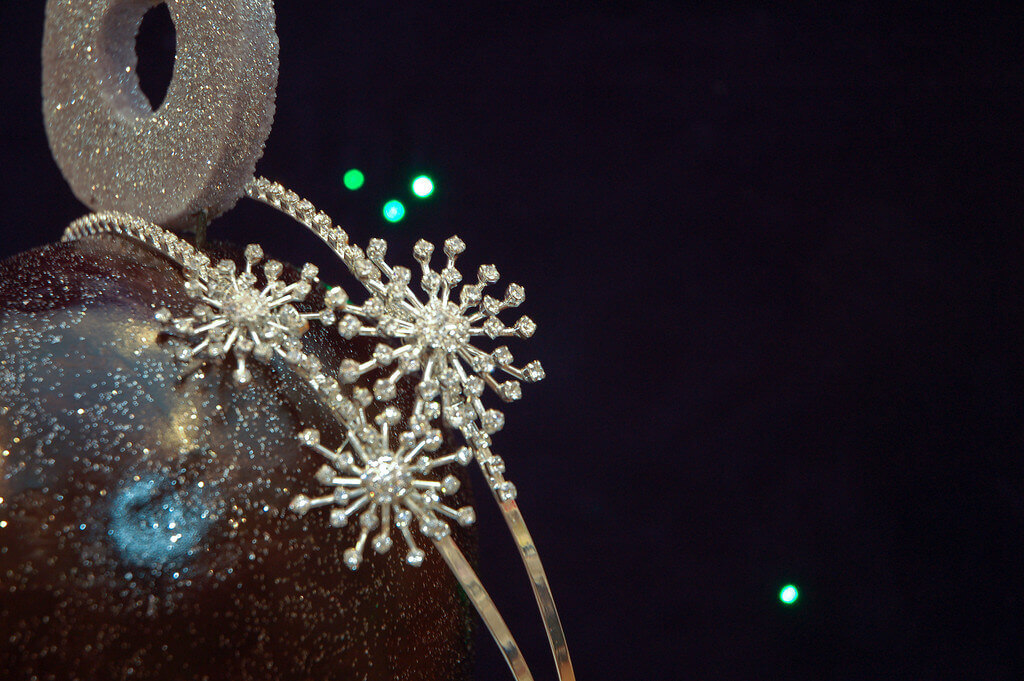 It still needs a name. Suggestions, anyone? I've already vetoed "Chewbacca." ;-)