Printer-friendly version
We have a lemon tree in our backyard that produces tons of lemons.  TONS.  And we make really good fresh squeezed lemonade.  So what's more fun, if you're a kid, than using some of our backyard bounty to make a lemonade stand?  (We didn't actually sell any of our products, but Niamh had an awesome time giving them away to our friends and neigbors.)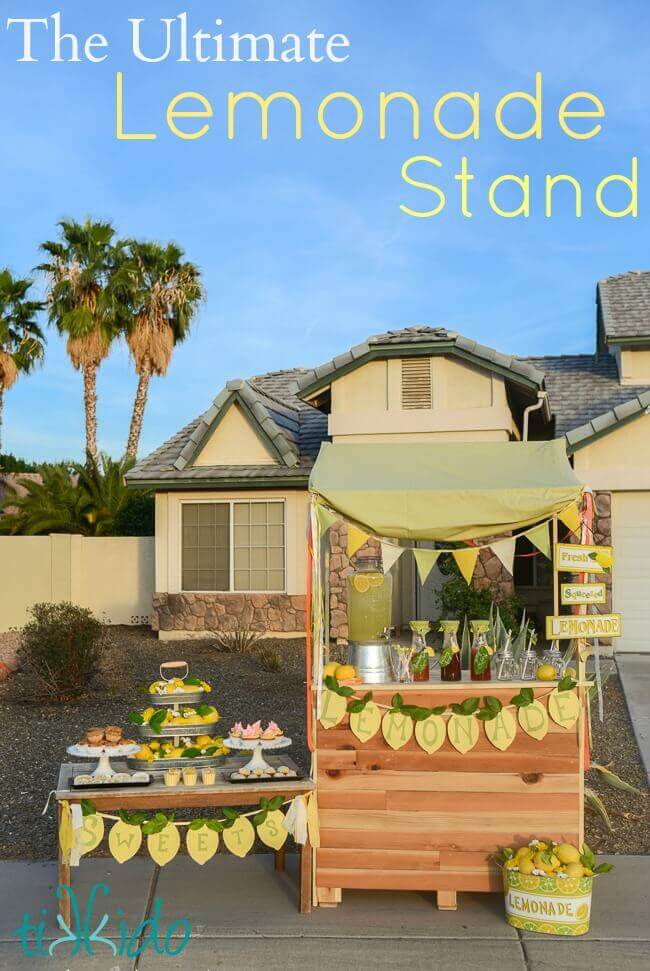 I saw free wooden crates being given away on Craigslist and thought it would be the perfect foundation for building an adorable lemonade stand to use time and time again.  We've already used it once for this photo shoot, then again a few days later for my neighbor's son's birthday party, and we'll use it again this Saturday at Niamh's birthday party!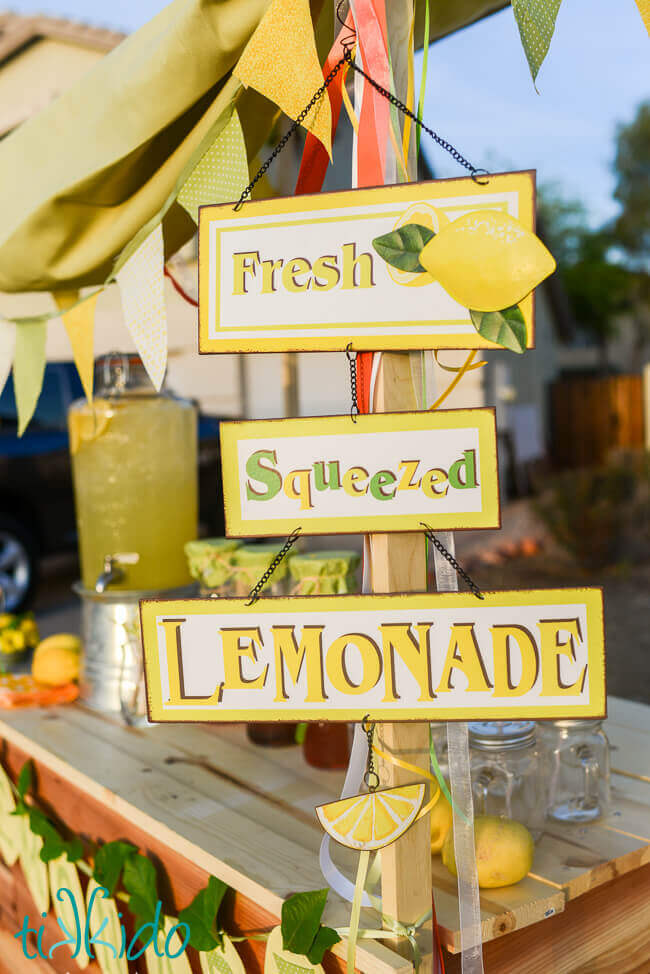 My neighbor saw me working on the stand in the driveway, and loaned us this adorable sign for the stand.  Doesn't it look absolutely perfect?  It's like I found the sign and designed everything around it, rather than it coming last!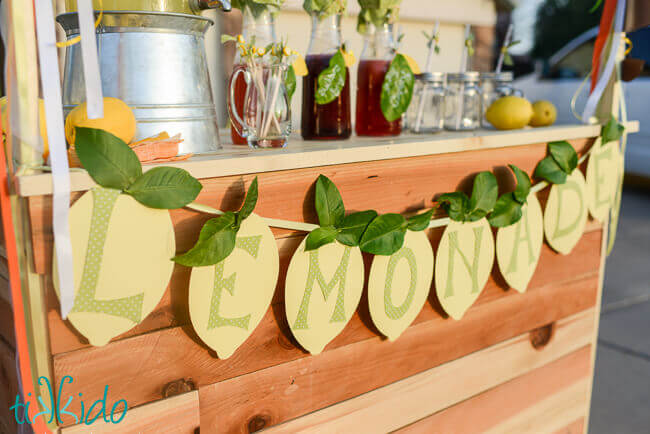 I used real leaves from our lemon tree to embellish the lemonade banner.  I'll have to replace the leaves the next time we use the garland, of course, but we'll be able to use the sign again and again.  And I absolutely loved the fresh look the real leaves gave to our bunting.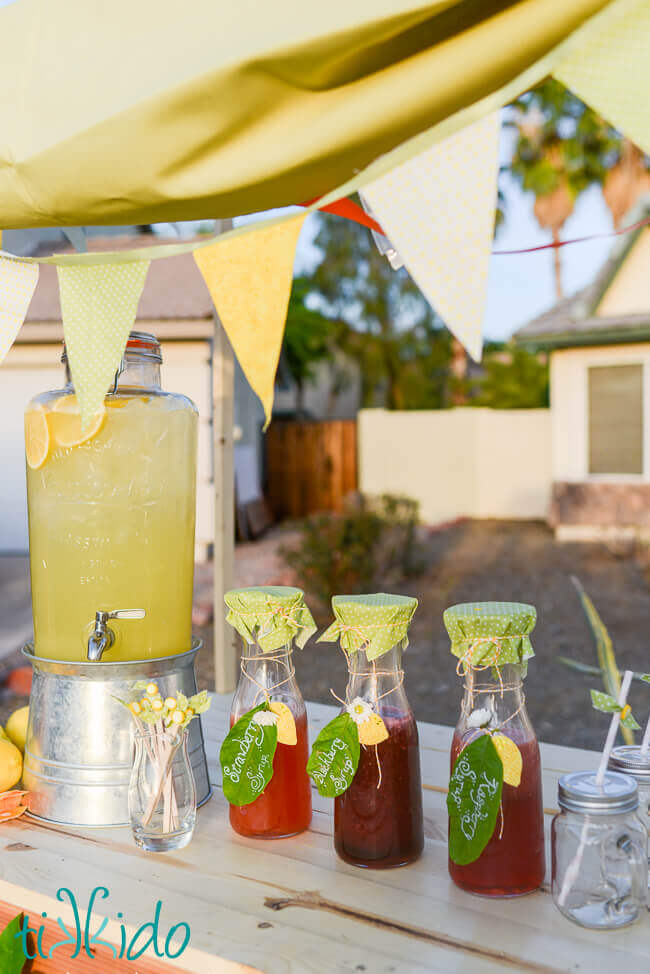 The glass drink dispenser, with its mason jar styling and galvanized stand, was absolutely perfect for our rustic lemonade stand.  I really like drink dispensers that come with built in stands, so that I don't have to put the vessel right on the edge of the table to be able to fit the glasses beneath the spigot.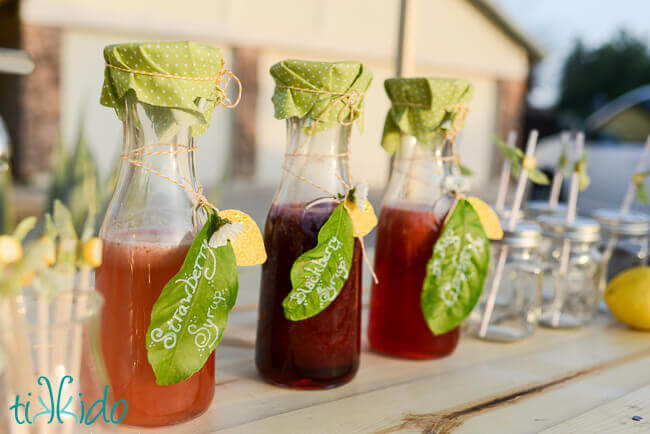 I also made strawberry, blackberry, and raspberry simple syrup mix ins to add to the lemonade.  The glass carafes actually came with plastic lids; the fabric is just a decorative cover.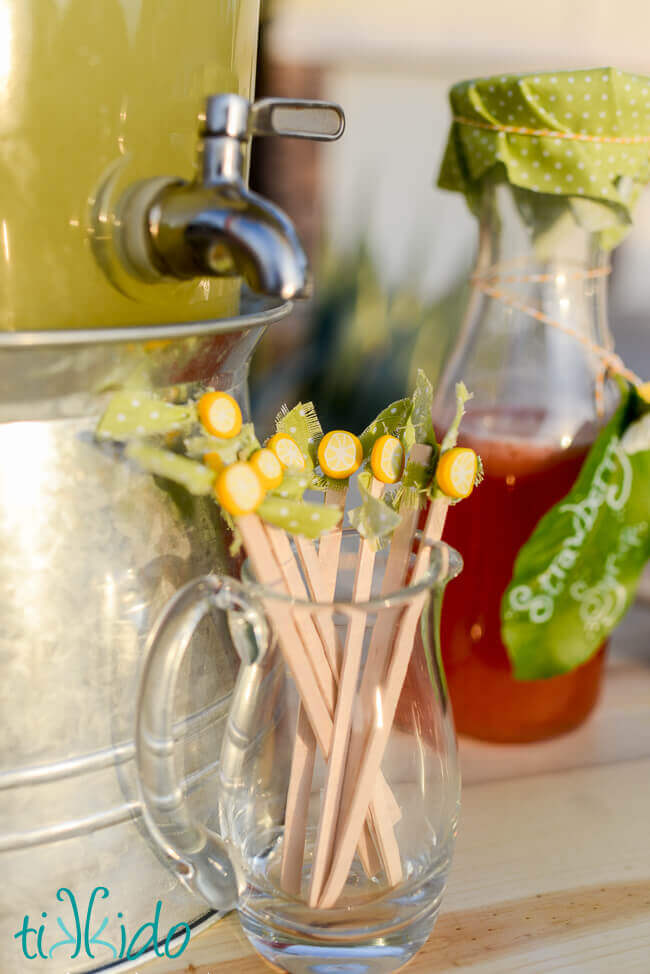 If you have syrup to mix in, you obviously need stir sticks!  I tried my hand at making polymer clay cane lemon slices.  Mine look decidedly more...rustic, let's say, than the YouTube tutorial I followed, but I still loved them, and it was a fun new craft experiment for me.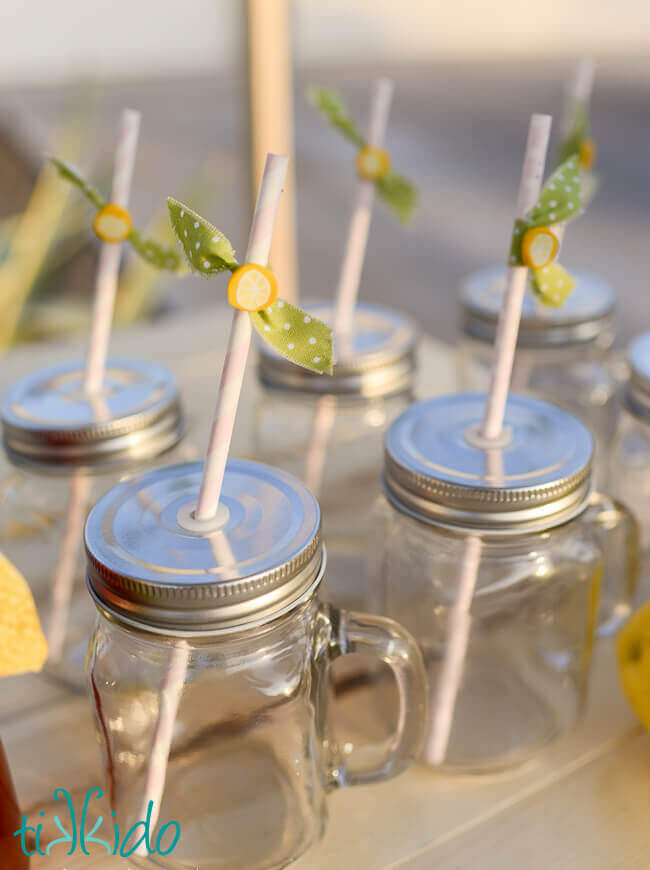 I used the polymer clay lemon slices to embellish the straws, too.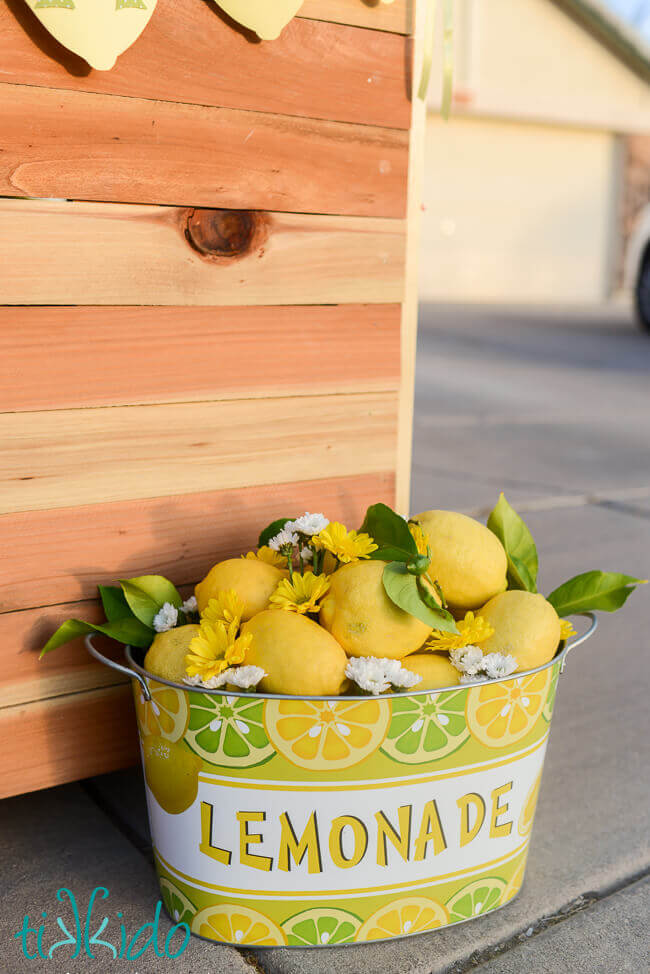 I've talked about this on the blog before, but I'm a huge fan of scavenging the yard for free materials to make pretty party decor.  What could be more perfect and easy than using piles of lemons from our tree?  I fancied them up in the easiest way imaginable: I trimmed some inexpensive flowers from Trader Joe's and just nestled them in the gaps between the lemons.  No foam, no water, nothing special necessary.  The flowers looked great for hours and hours, and even looked pretty darn good the next day, too!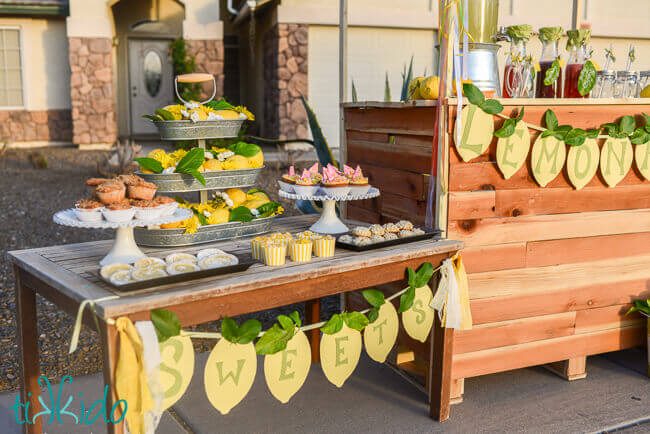 All of our treats were lemon themed, of course--we had a LOT of lemons to use up and I'm always looking for new recipes to try to use up our bountiful citrus!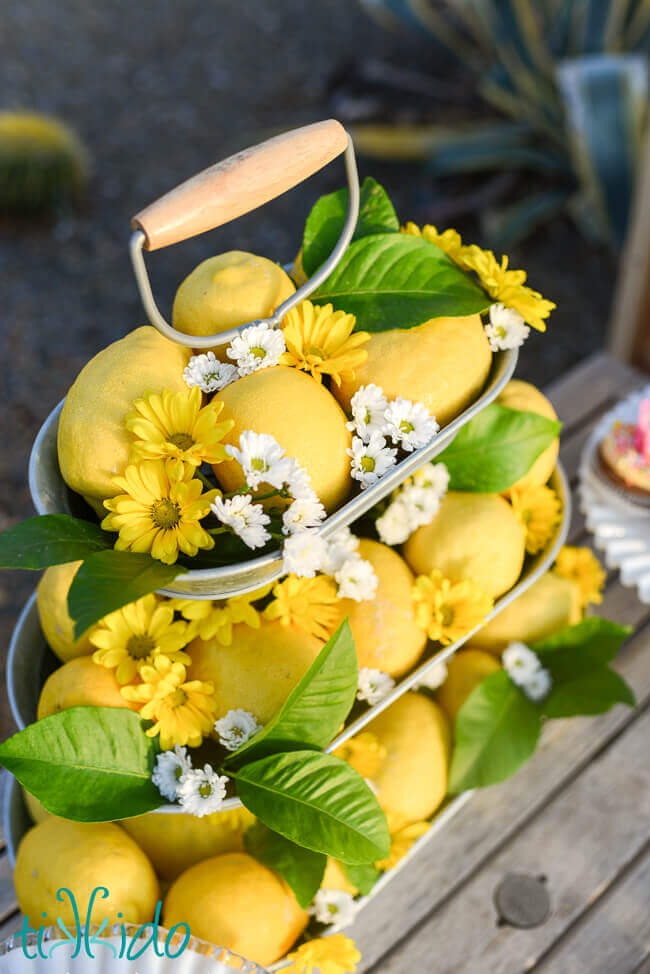 More lemons and flowers!  I got this galvanized metal, three tier stand at Sam's Club last year (and I think I saw them there a few weeks ago, too).  It was around $25, and I absolutely love it.  Great buy.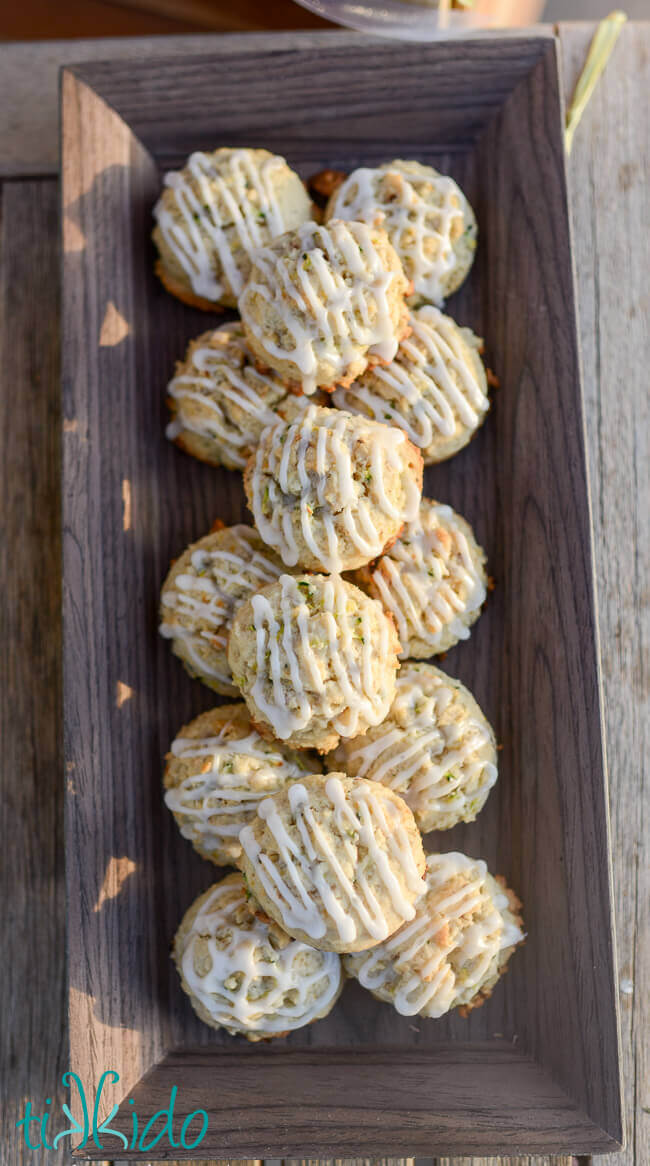 Zucchini lemon cookies.  Mmmm, these were my favorites.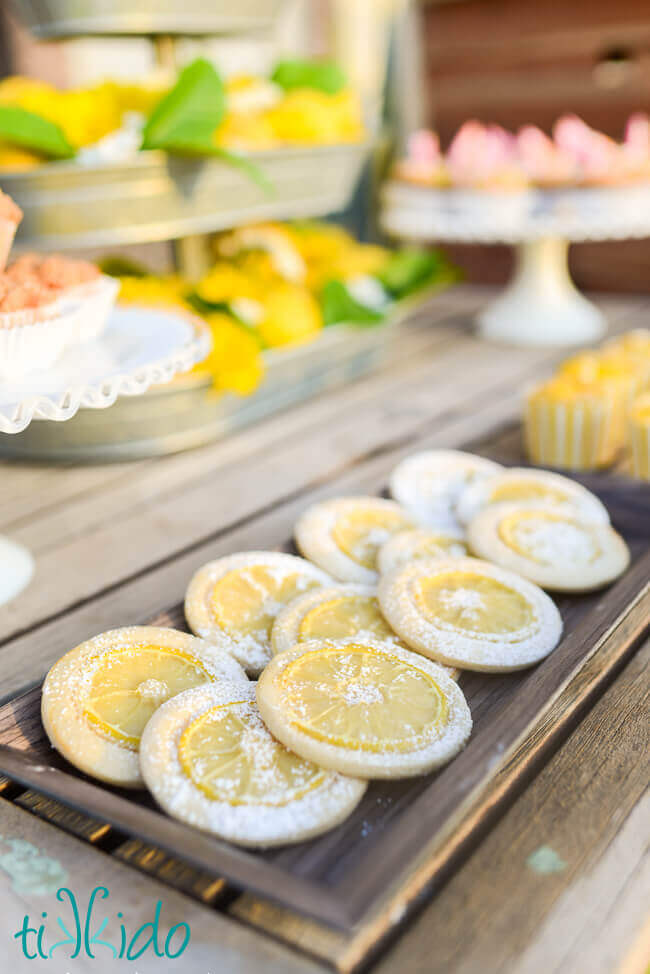 Sugar cookies with embedded lemon slices (tart, intense, but heavenly!).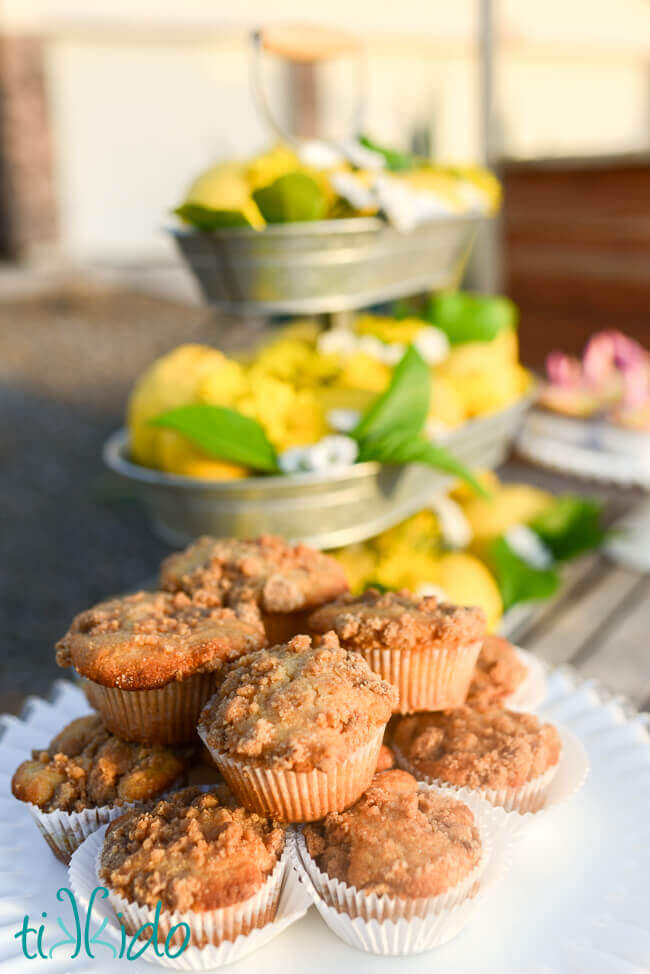 Lemon muffins with crumb topping.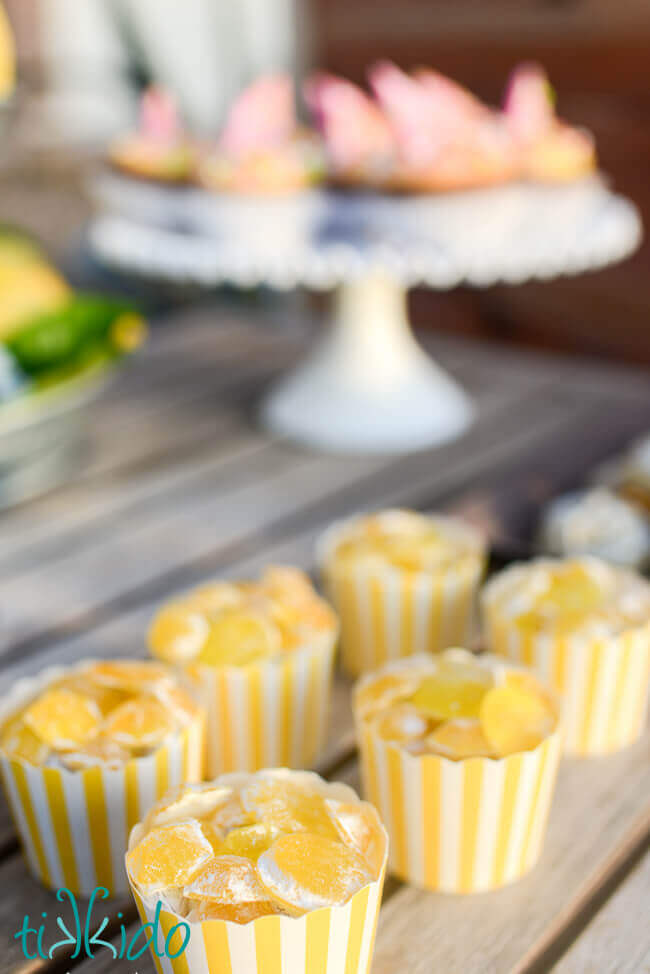 Homemade lemon drops!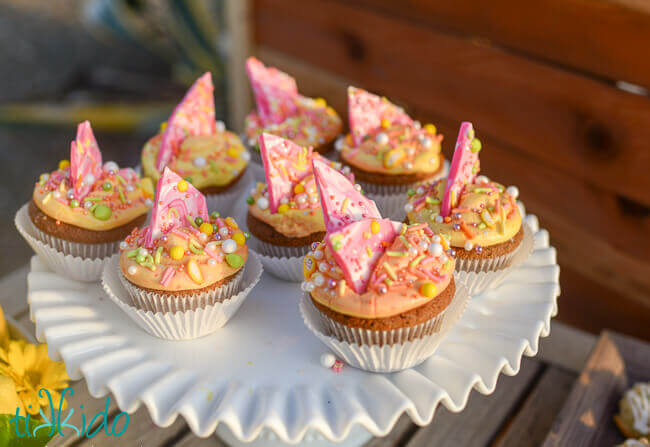 Katherine Sabbath inspired lemon cupcakes.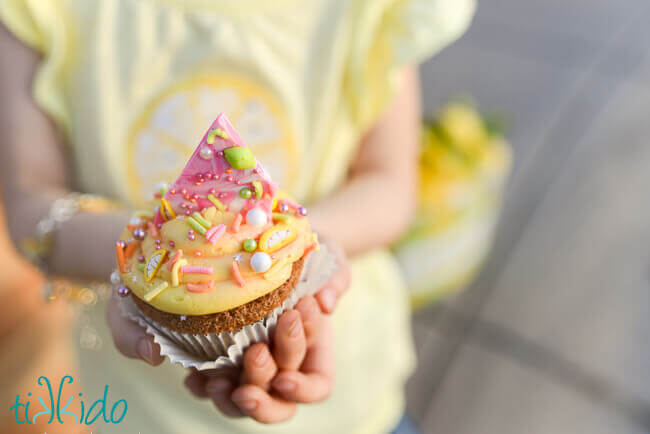 And you guys, I made homemade sprinkles!  Still not sure if it was worth it, but I do love them.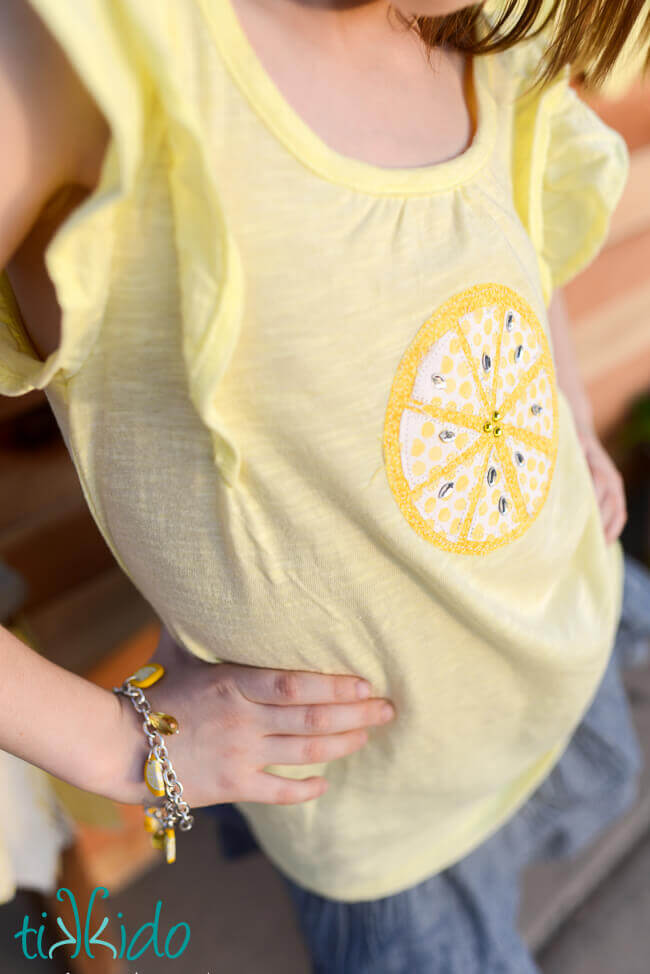 My little lemonade mogul got a thematic new outfit for running her business empire.  I used some of the polymer clay lemon slices to make a matching charm bracelet for her, too.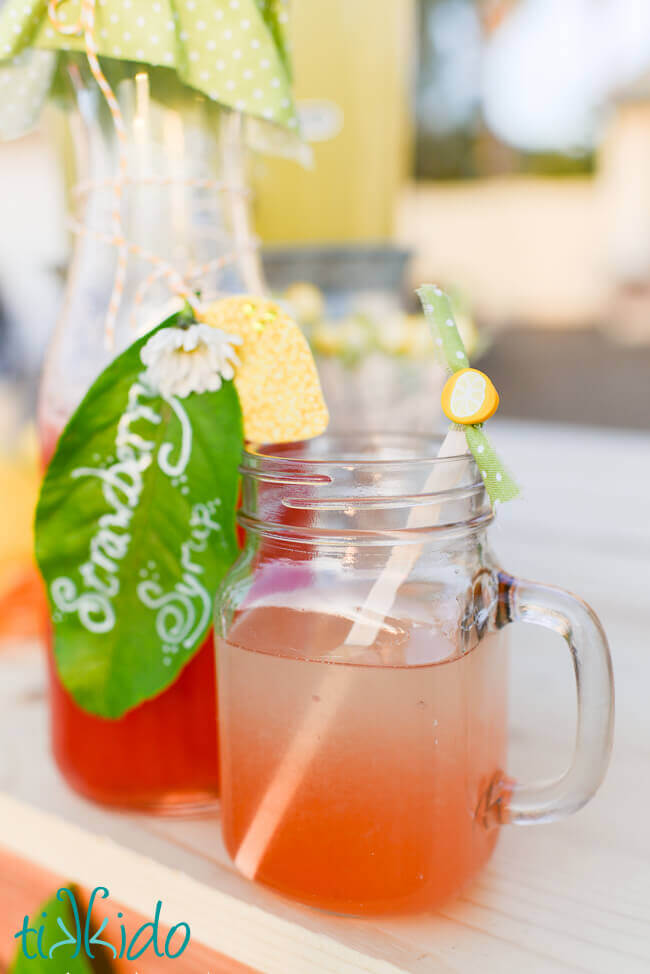 The tags on the berry mix-in syrups were made from real lemon leaves, too.  I love using fresh greenery in unexpected ways.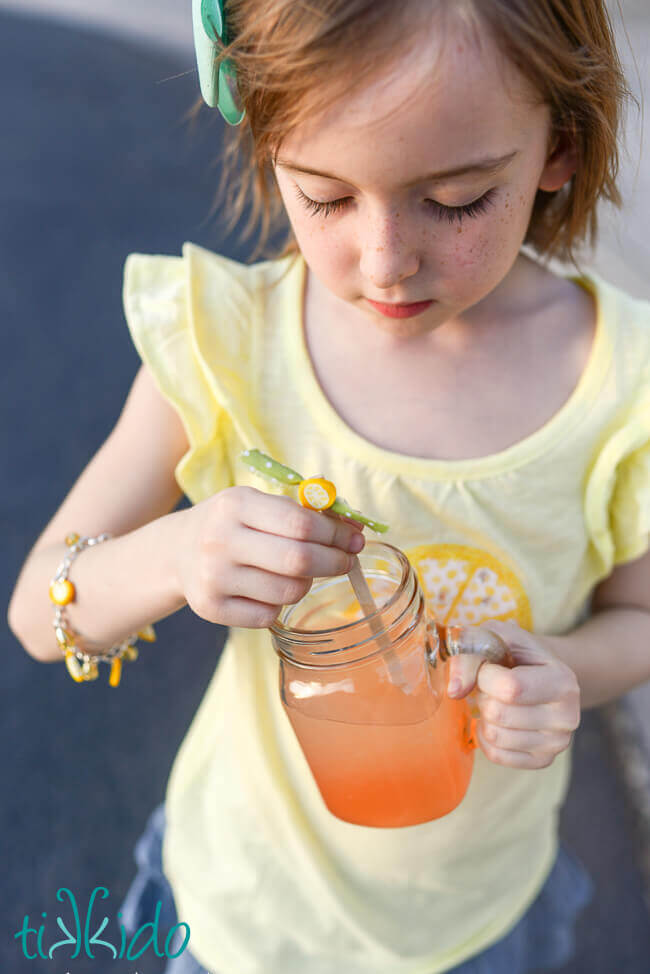 Niamh gave the strawberry syrup a try first.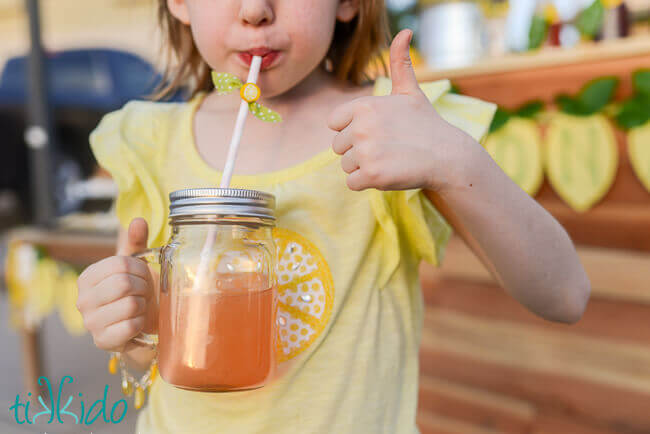 Verdict?  A big thumbs up!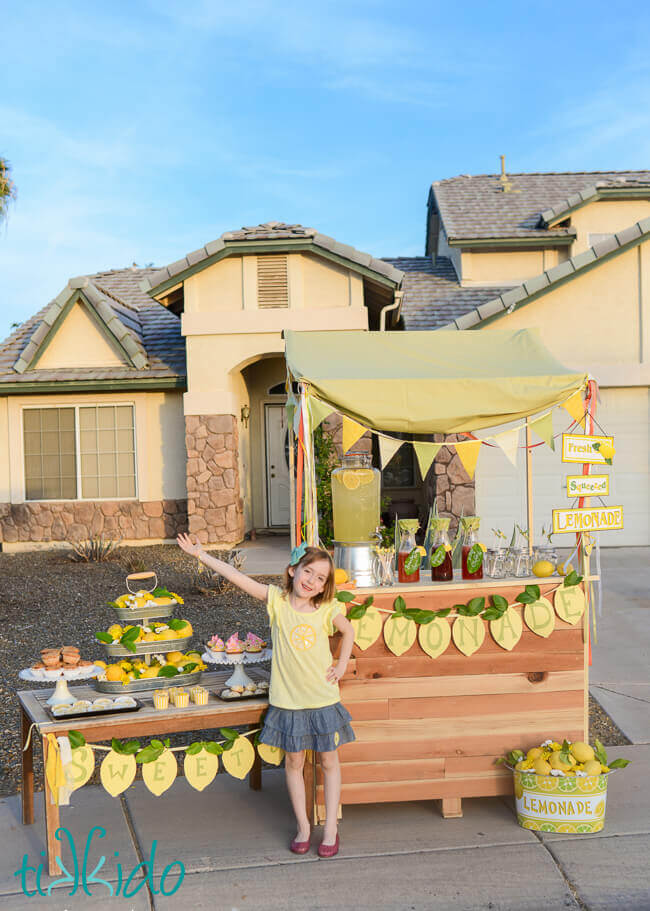 More than one teenage boy neighbor stopped by the stand and declared the lemonade the best they'd ever had in their lives.  I figure if teenage boys give such unsolicited high praise, we're doing something right.  ;-)