Printer-friendly version
There's nothing sweeter for a summer picnic than an easy-to-pack hand pie.  Who wouldn't love that?  Pie!  That you can hold in your hand!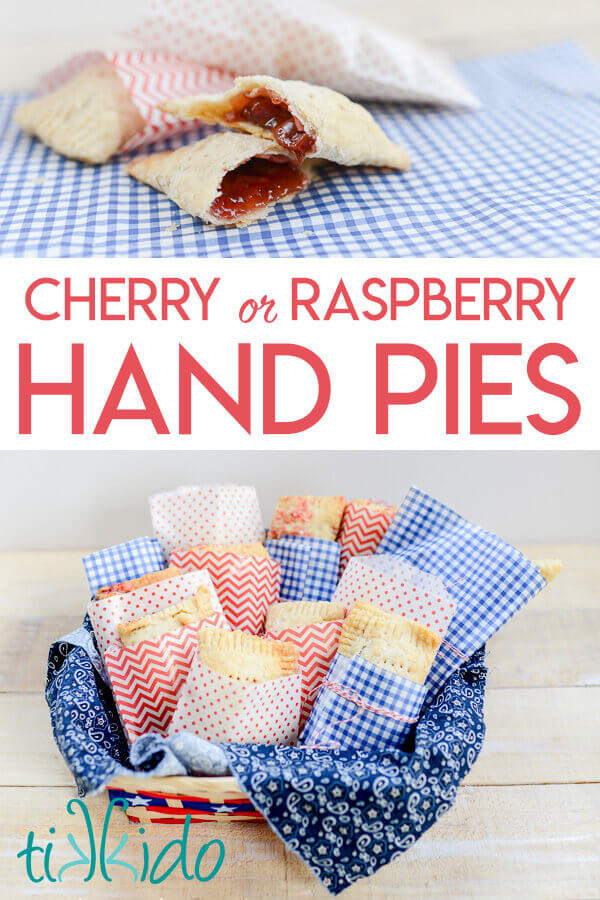 These cherry and raspberry hand pies are perfect for summer outings.
(Let's ignore, for the moment, that I've been known to eat regular pie with my hands, too.  Especially for breakfast.  These hand pies are way less messy.)
And they're so, SO good.  I suppose you could use canned pie filling, but I hate the plastic, gummy taste of those products.  If you're going to go to the trouble to make these, I'd recommend taking a couple extra minutes to whip up some homemade filling, too.  Here are a couple of brilliantly red, delicious options for your hand pies (or regular pies):
Cherry Pie Filling Recipe
1 15oz can of tart cherries, with juice (or a similar amount of fresh or frozen cherries)
1/2 cup sugar
4 t cornstarch
1 T instant tapioca
Mix, and let sit while you make the pie crust.  Note:  I adore tapioca, but if you don't like the texture, feel free just to use cornstarch as a thickener.  
Raspberry Pie Filling Recipe
16 oz raspberries, fresh or frozen (thawed, with juice)
1/3 cup sugar
2 t cornstarch
1 T instant (minute) tapioca
Combine all ingredients in a bowl and smash up the berries a bit.  Let sit and thicken while you make the pie crust.
How to Make Cherry and Raspberry Hand Pies (Recipe and Tutorial):
Hand pies need pie crusts, of course.  Start by either making a pie crust (here's my favorite pie crust recipe) or buying pre-made, refrigerated pie crust.  The benefit to making your own pie crust, besides saving money and making it taste just the way you like it, is that you can roll and cut it out in any shape you want for the hand pies.  You'll be more limited with a pre-made crust.
I wanted to be as efficient as possible with my pie crust, so I opted for rectangular shaped pies.  (Pie crust really doesn't like to be re-rolled.  It can get so tough it can be hard to bite!).  Place a dollop of your pie filling in the center, wet the edges lightly with water, and fold in half, sealing the filling inside.
Press the edges firmly to seal.  I like using a fork to get a good seal and a pretty pattern, all at once.  
Brush the tops of the pie lightly with water, and sprinkle with sugar.  Prick the tops of the pie with a fork to let steam escape, and bake at 375 degrees Fahrenheit for 30 minutes, until the edges of the hand-pies are a light golden brown.
We're heading up north to cooler weather for the 4th of July, and I'm definitely packing these in our picnic basket!  
Intimidated even by store-bought pie crust?  An incredibly easy and fast variation on hand pies can be made using sheets of puff pastry.  
A box of puff pastry will make 8 hand pies.  (You'll probably have enough filling for 16 pies using either of the recipes above.)  
I tried using red crystal sugar on these.  Next time, I'd stick with the regular clear.  It wasn't so pretty.  Luckily, I'd found these adorable waxed paper bags and pattered waxed paper at my local Michael's, and that covered up most of my aesthetic misadventure.
Whichever method of making hand pies is your favorite, these portable pastries are sure to please.