Printer-friendly version
This traditional wassail recipe is the perfect adult beverage to serve for your Christmas parties.  The roasted, spiced fruit and warm beer punch makes wassail a cozy Christmas drink.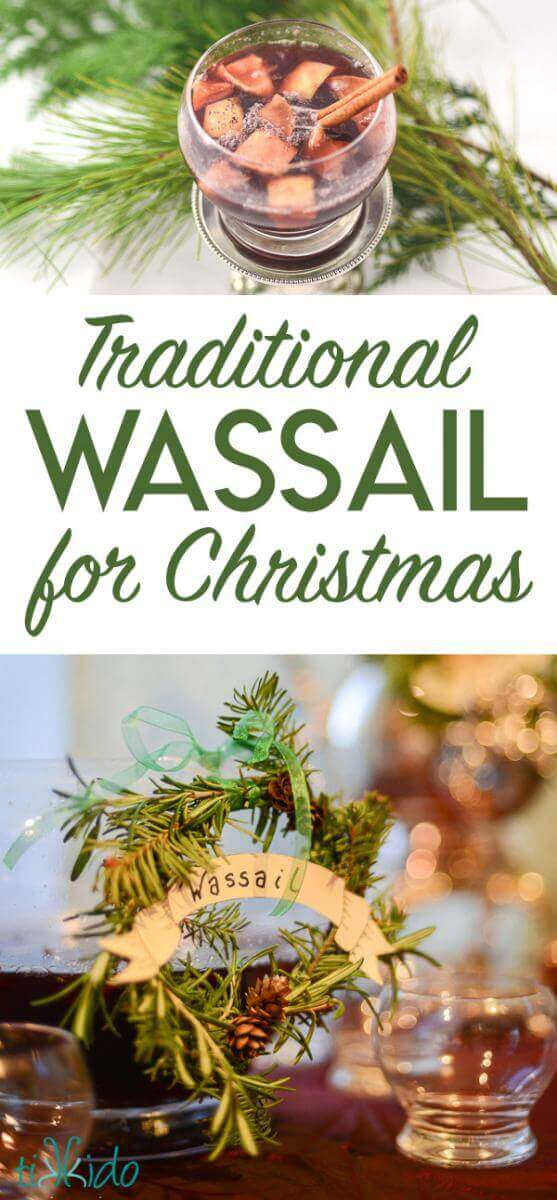 No jokes about Brits and their warm beer.  Every beer I've had in England (and, ahem, I've had many on my visits!) has been served at a perfectly delightful and refreshing temperature.  But I was still a little surprised when I decided to make wassail this Christmas, and discovered that it was a warm, mulled, wine and beer beverage.  Huh.  Hot beer.  I had to try it, of course.
I knew I wanted to serve wassail at our annual gingerbread house decorating party this year, so I started researching the drink.  I discovered that a lot of people these days basically make spiced cider and call it wassail, because hot beer drinks aren't very popular these days, or because they're serving children.  But the traditional wassail recipes called for beer, wine, spices, and roasted apples.  That was what I wanted to make.
Traditional Wassail Recipe
3 12oz bottles of ale
1 bottle of red wine (I used a shiraz)
10 whole cloves
10 whole allspice berries
1 cinnamon stick
a thin slice of fresh ginger
1/2 t freshly grated nutmeg
two or three apples, cored and chopped
1/2 cup brown sugar
1/2 cup water
Chop enough apples to fill the bottom of an 8x8 pan.  Sprinkle with the brown sugar, pour the half-cup of water in the dish,  and bake at 350 for around 45 minutes.  You want those apples nicely roasted, so they release their juices and create these amazing caramel apple flavors.  Don't skip this step--it adds such amazing flavor and complexity to the finished wassail.
While the apples are roasting, pour beer in a large saucepan on the stove.  I used Anderson Valley Brewing Company's Winter Solstice Ale, and it was just perfect in the wassail.  
Add the cloves, cinnamon, ginger, allspice, and nutmeg.  
Add a bottle of red wine.  I used a shiraz, but Madeira wine is more traditional. My wine rack overfloweth, however, so I decided not to make a special purchase for the wassail.  Heat over a very low flame while the apples are roasting.
When the apples have finished roasting, pour the chunks of apple and all those delicious juices into the spiced wine and beer mixture.  
Keep warm over the stove (or in a crock pot) until ready to serve.  
I thought the wassail would mostly be a novelty, but it was seriously delicious, and a big hit at the party.  
You can bet that wassail is going to appear at many more of our future Christmas parties.  Let's all raise a glass and toast warm, boozy, beer drinks!