Printer-friendly version
Gingerbread tastes amazing when dunked in a cold glass of milk, so why not celebrate that and make gingerbread cookie sticks that are designed for dunking?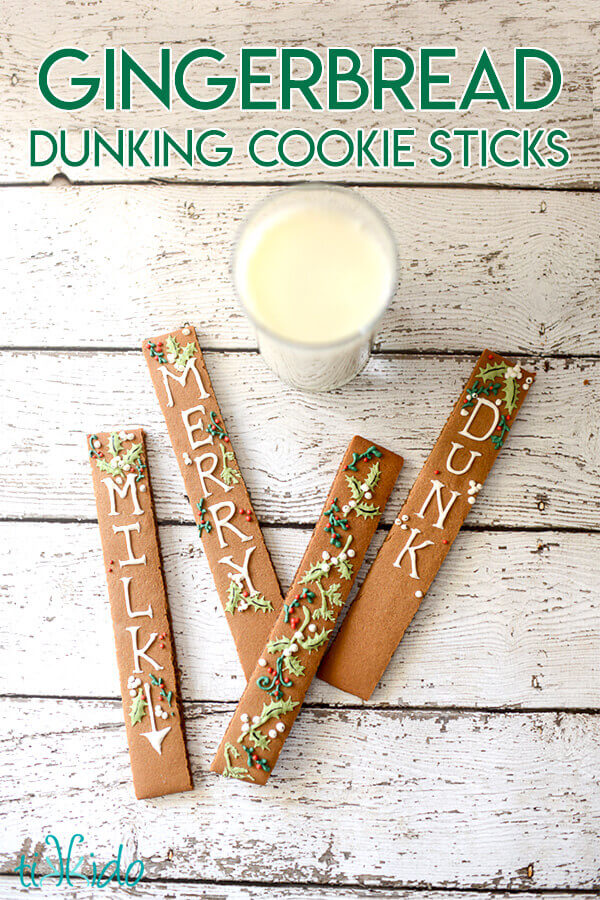 Dude, I am SO on top of things this holiday season.  I even already ordered my Christmas cards from Shutterfly (I don't usually get around to that until December 20th...if ever).  
How cute are those?  I know my strengths, and good graphic design is NOT one of them (though I appreciate it when I see it!), so being able to drag and drop elements into the easy templates was awesome.  
I even ordered REAL invitations for our annual gingerbread house decorating party.  REAL PAPER, you guys!  And envelopes!  Pretty ones!  With matching return address labels!  Not a last minute evite or text message to my friends.
I love the invitation design so much that I want to design my whole party theme around it.  Holly, chalkboard accents, mistletoe.  Simple, classic, but with a very current, casual vibe.
We've been doing gingerbread house decorating parties for a lot of years, and we pretty much have it all figured out.  But despite the amazing amount of candy and icing at the party, some kids just can't wait even until they get home to taste the gingerbread.  In an effort to preserve their artistic creations, at least for a day or two, this year I'm deploying a new tactic: having gingerbread cookies at the party, ready to nibble.
And dunk in milk, of course.  The only thing better than a fresh gingerbread cookie is one dunked in a cold glass of milk. They needed to be a good shape for dunking.   But what if I could make it even better?  Suddenly I had a flash of inspiration: CHOCOLATE GINGERBREAD.  I had to try it!
Chocolate Gingerbread House and Cookie Recipe:
2 C white sugar
1 C plus 2 T brown sugar
1 C solid vegetable shortening
4 eggs
3 T molasses
1 1/2 t salt
2 t baking soda
1 T ginger
1 T cinnamon
1/2 cup cocoa powder
5 cups flour
This is just a variation on my regular gingerbread house recipe.  Honestly, I had hoped it would look darker brown and more chalkboard-like to match the invitations, but it looks pretty much the same as my normal gingerbread recipe.
Roll out the dough on parchment paper, and trim so that it's about 8 inches tall, and as wide as will fit on the pan.  
Bake for 14 minutes at 375 degrees, and when it comes out of the oven, while it's still piping hot, use a straight edge and a sharp paring knife to cut the gingerbread into long sticks, perfect for dunking in a tall glass of milk.
Once the cookies have cooled completely, you'll be able to pull them apart into perfect gingerbread dunking cookies.
They're delicious totally plain, of course.  The chocolate added to the classic gingerbread recipe is delicious, but not overpowering.  It still tastes like gingerbread...just deeper, and more complex rather than actually chocolaty.  
But I thought it would be fun (since I'm so ahead of schedule this year) to decorate the sticks a bit, using the same motifs from the invitations for the gingerbread house party.  
Go ahead, dunk it in!  Eat!  Enjoy!  That's what they're there for.
Now, if you'll excuse me, Shutterfly might have given me everything I need, from stamps to stickers, to send out my Christmas cards, but I still do need to address the cards and get them in the mail!
Thank you so much to Shutterfly for sponsoring this post.  All opinions are entirely my own.
Thinking about making a real gingerbread house this year?  Check out my new e-book, Gingerbread for Beginners, with all of the recipes, tips, techniques you'll need, and five different gingerbread house templates:
Other Christmas Cookies You Might Like:
Other Gingerbread Recipes You Might Like: