Printer-friendly version
Homemade popsicles were always a staple of summer when I was a kid.  My kids love them, too, but sometimes instead of a sugary treat, I make these amazing, 100% fruit watermelon popsicles.  The kids love them, and I love letting them eat these healthy watermelon popsicles all summer long.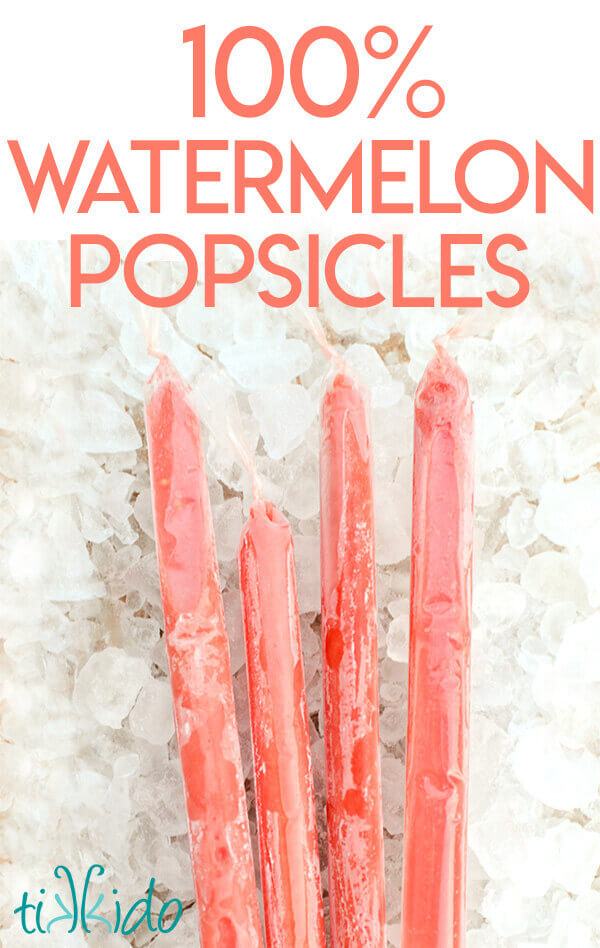 The watermelon-themed pool party featured lots of fresh fruit rather than sugary snacks.  But that doesn't mean we didn't have some fun with our food!
I had a bunch of watermelon that I'd scooped out from the watermelon I used for the ice bucket for the drinks, so I decided to turn the chunks of fruit into my favorite healthy frozen treat:  watermelon popsicles.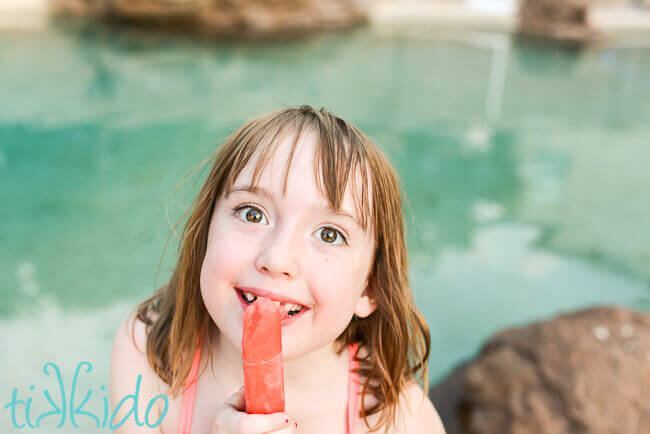 Only one ingredient:  watermelon!  But somehow, when it's frozen in popsicle shape, it's the most amazing summery treat ever.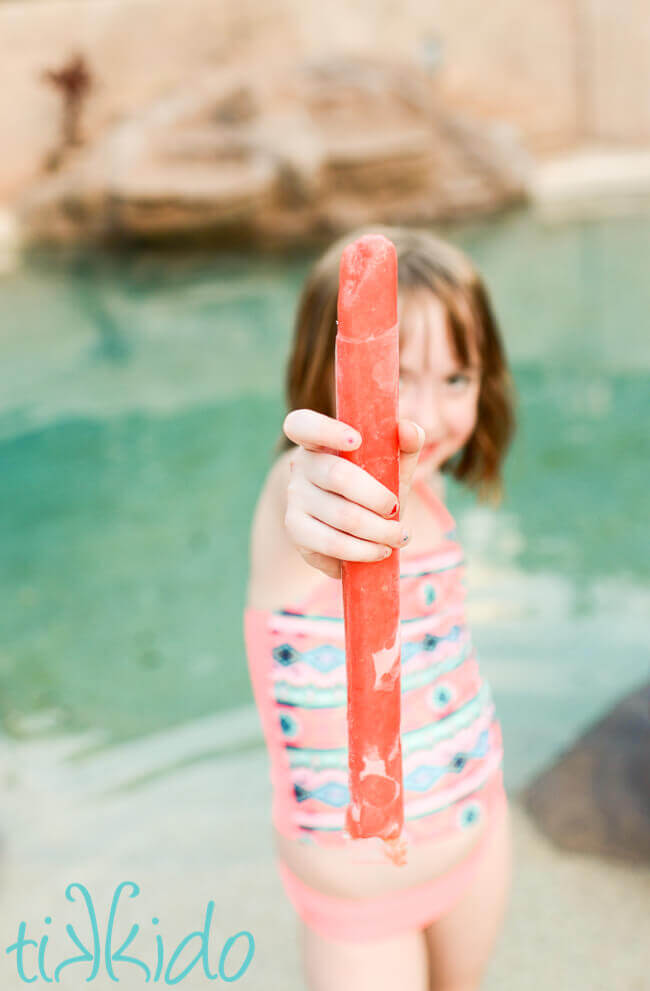 Kid AND adult approved.
Ready for the full tutorial (I can't exactly call it a recipe if there's only one ingredient, can I?) and all the details, including where to buy those awesome ice pop bags? 
100% Watermelon Popsicles Recipe and Tutorial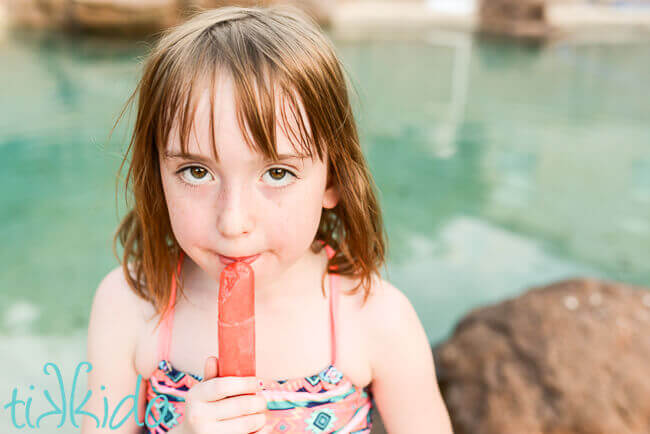 An ingredients list is pretty pointless for this recipe.  You need watermelon.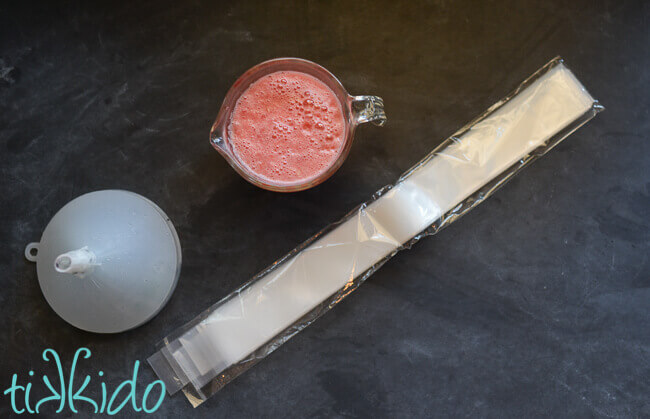 Chunk up the watermelon (seedless is best, but not required), put in a blender, and blend into a slushy liquid.
Use a funnel to pour the watermelon puree into the ice candy/ice pops bags.  I love these popsicle bags.  I'm pretty sure my mother became familiar with them when we lived in the Philippines, and she made popsicles for me and my brother with them when I was growing up.  They're a lot like Otter Pops or Ice Pops, but bigger.  
Tips for Using Ice Candy Bags to Make Homemade Otter Pops:
Fill the bag up only about 2/3 full with liquid.  Resist the temptation to fill it up as much as possible.  You need space to tie it off, AND you actually want the liquid to flatten out as you freeze it, rather than staying firm and very full and round.  It's easier to squeeze out of the bag that way
Actually tie the bag to close it.  Don't try using twist ties.  They don't work.  Trust me on this one.
I like to put mine on a half-sheet pan and put the whole thing in the freezer to keep the popsicles nice and straight while they're solidifying.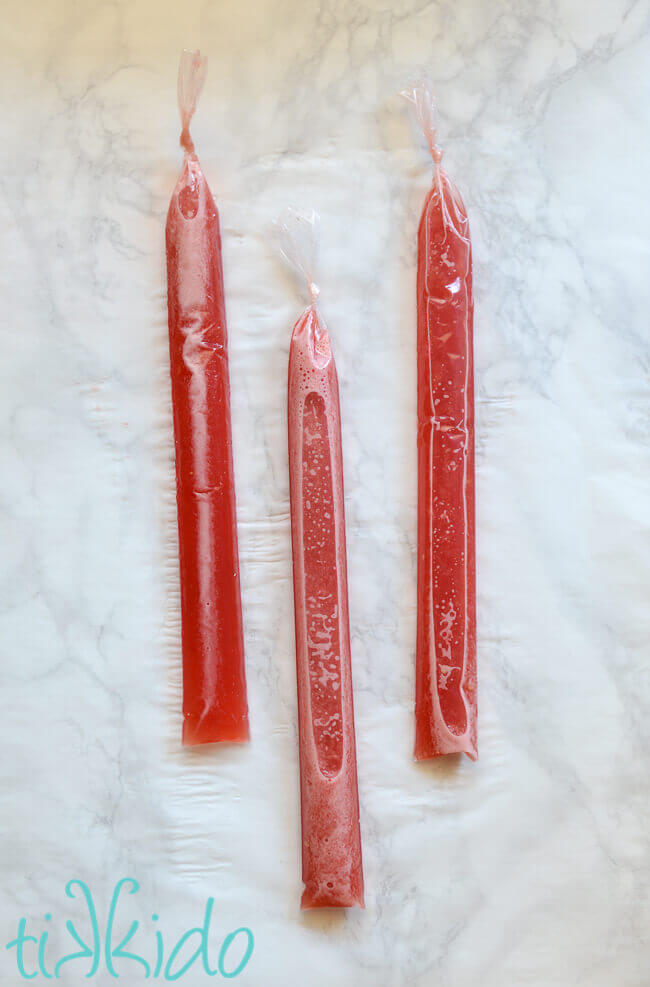 Place the filled popsicle bags in the freezer.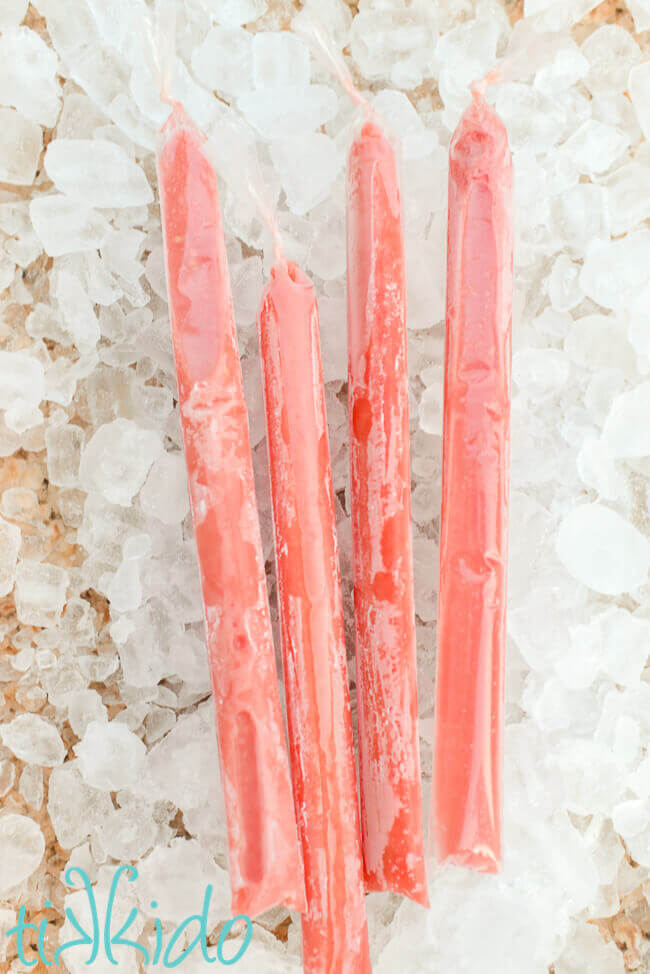 I love the fact that these are made with whole fruit, but really, you can fill them with anything.  My mom used to make amazing homemade fudgesicles when I was a kid.  My youngest daughter goes nuts for popsicles made from lemonade.  I've seen recipes for frozen cocktail popsicles that look delicious! (I'd have to be careful where I put those in the freezer, though.)  What's your favorite kind of popsicle?