Printer-friendly version
This post is all about the dessert table at the Tykki-Dyw is Turning Two party, the centerpiece of the celebration.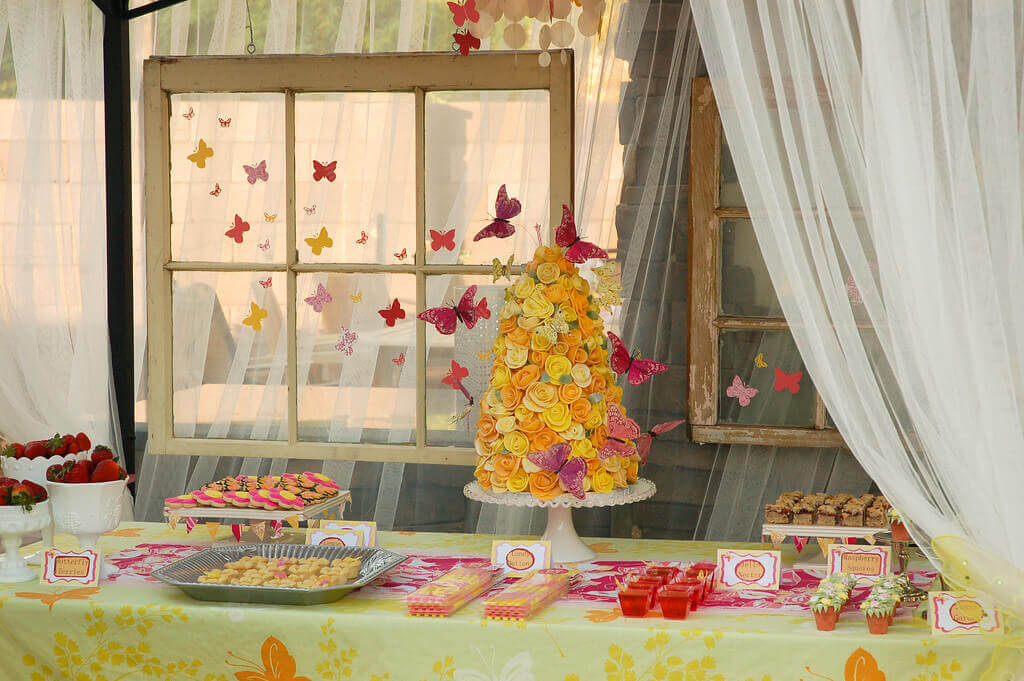 I was inspired by trips to butterfly pavillions--those glass conservatories filled with lush gardens and thousands of butterflies. I wanted to evoke a little bit of that sense, so used soft tulle curtains on the dessert table tent, and hung antique windows embellished with paper butterflies as the backdrop. So simple, really, but I loved the effect.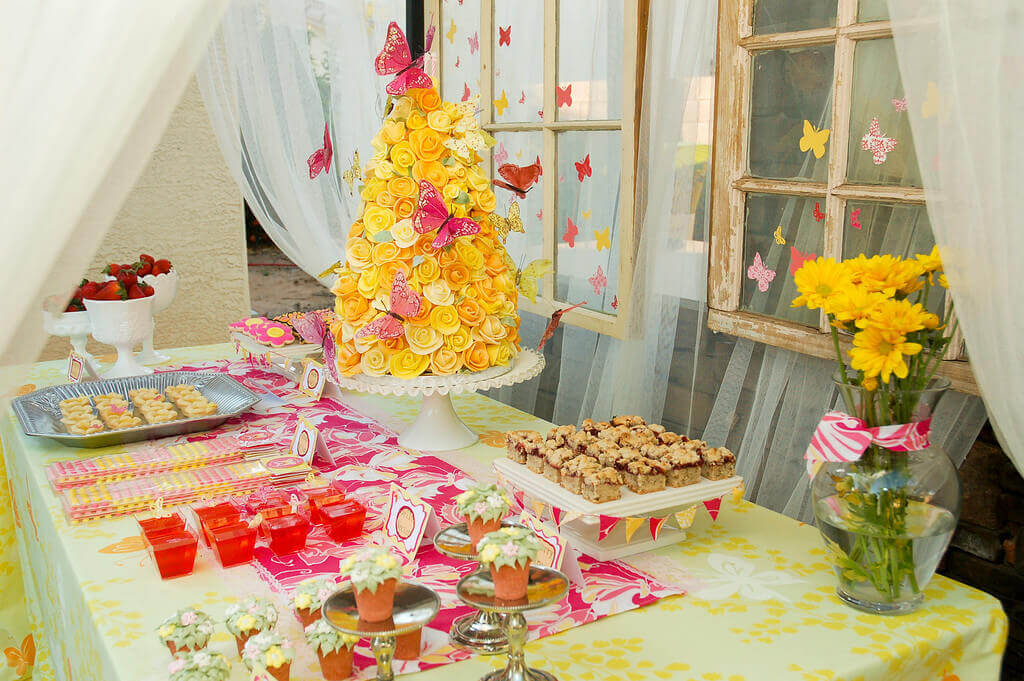 I used the Dab of Jazz fabric again on the table runner I made, and the bunting on the tent (just taped right on there, no sewing involved!). But the actual tablecloth was an old bedsheet my parents had. I've been using it to protect our citrus trees when we get a hard freeze for a couple years, but it was absolutely perfect with our theme! And made out of some miraculous man-made material that didn't require any ironing. ;-)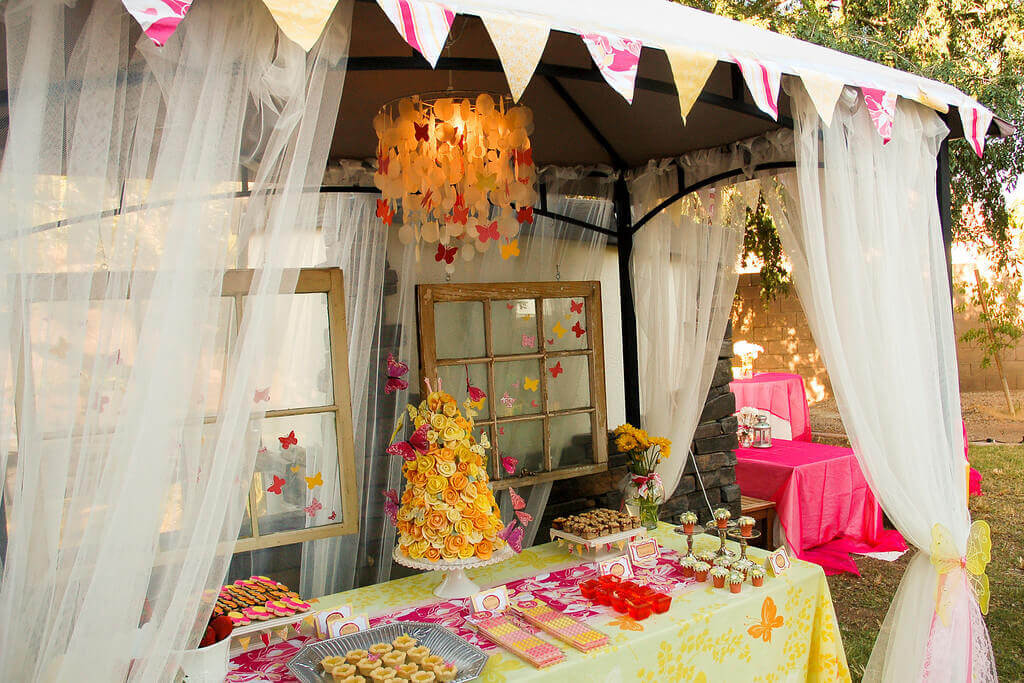 I'd made the cake before (a Peggy Porschen design) with pink roses and yellow butterflies, thought it would be absolutely perfect for my party. But I don't like to do exactly the same thing twice, so I switched the colors around. I wanted my dominant color to be yellow, anyway. There were about 200 roses on this sucker.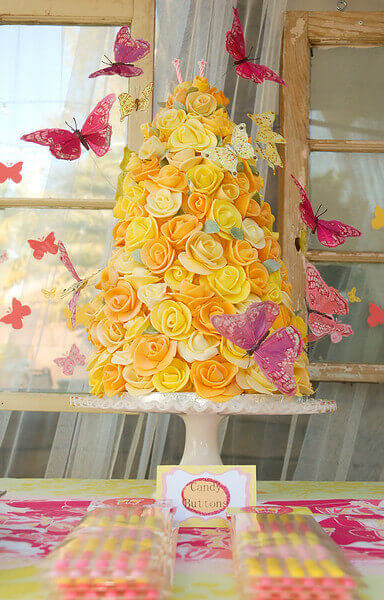 I loved the candy buttons on the dessert table best of all. I adored candy buttons when I was a kid, and had the idea of making them in my party colors. All packaged up in a bag and with the amazing printables from
Frog Prince Paperie
, they looked completely professional. I had so many people ask where in the world I was able to find candy buttons in my party colors. Tutorial coming soon, so check back next week!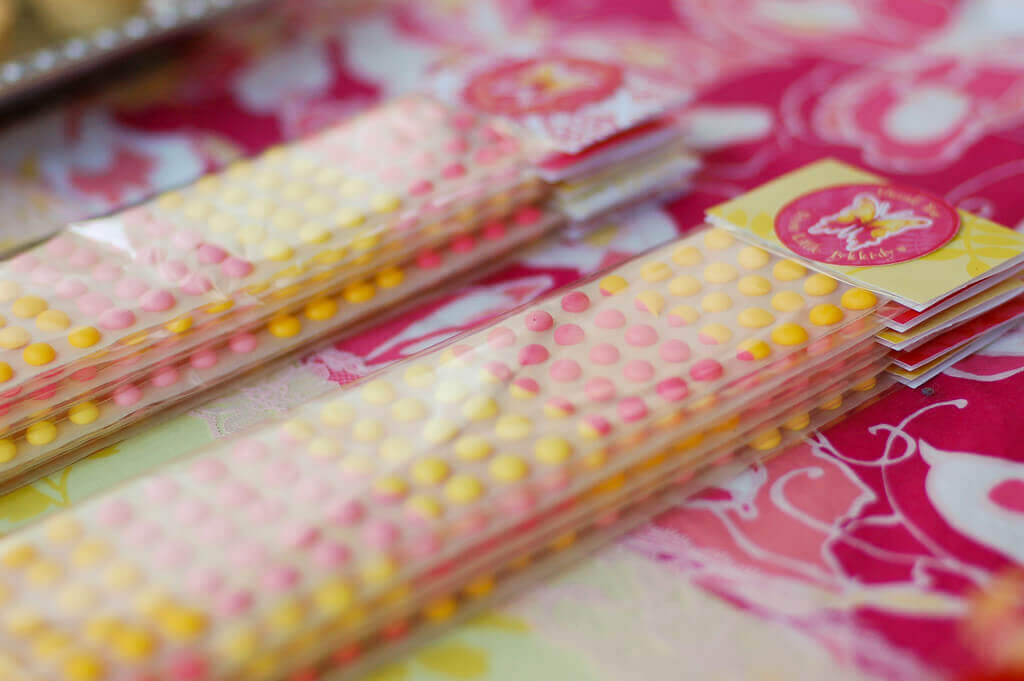 I made sugar cookies, of course, in the party colors.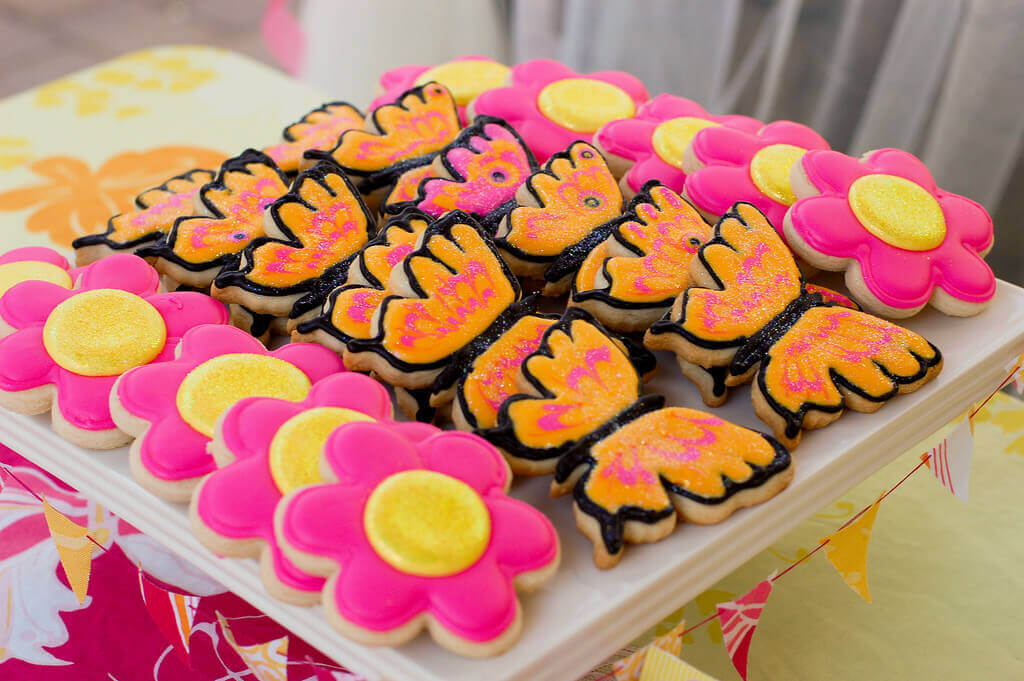 I wanted the flavors and colors to all be inspired by my fabrics, so I made my favorite cookies ever, Old World Raspberry bars. They're so good, I didn't eat any of the cake. Or anything else. Just these.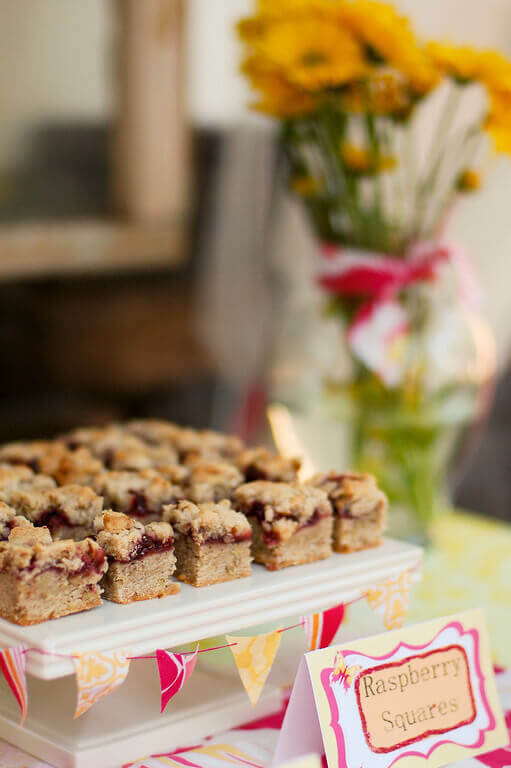 I made lemon curd with the last of the lemons from our tree, and made these tiny flower-shaped lemon tartlets.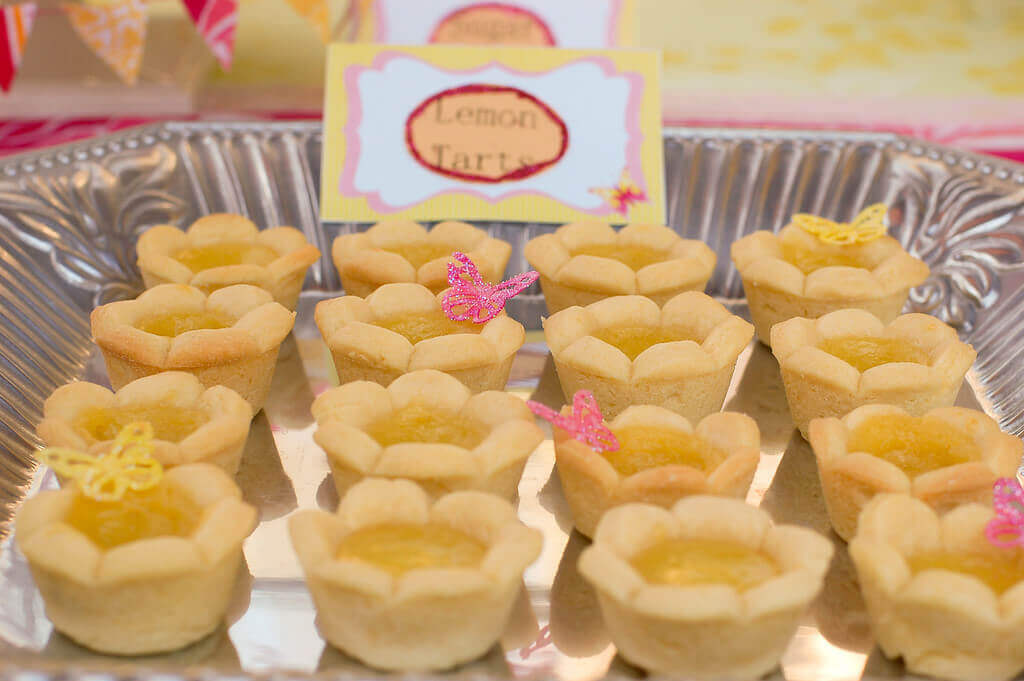 Edible butterflies garnished these and the layered strawberry and lemon jello "nectar."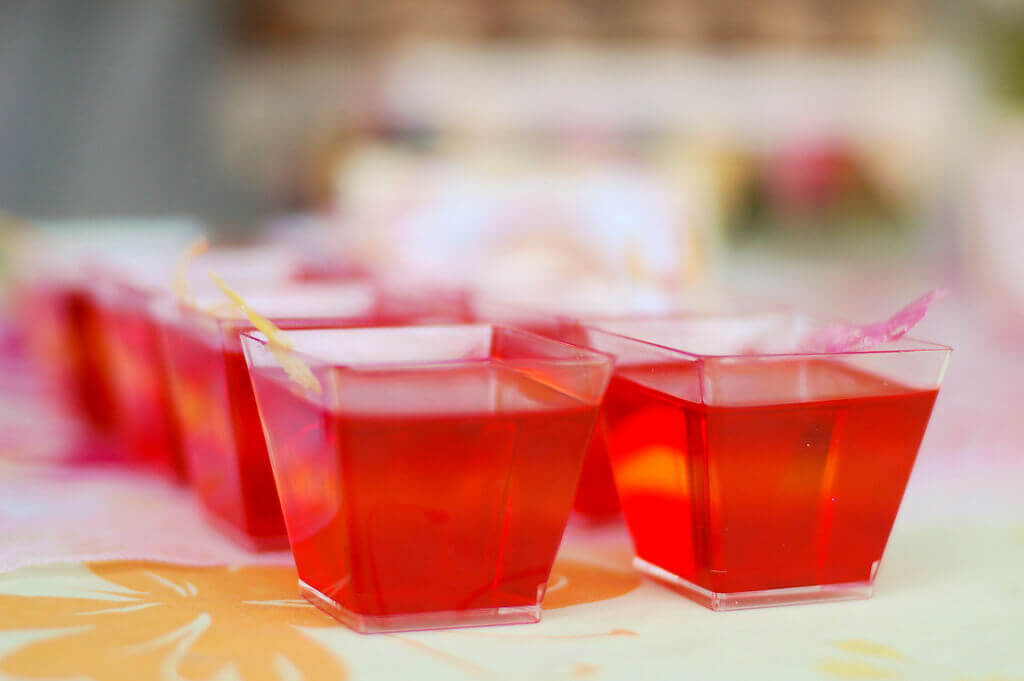 Fresh berries are always popular, and I like to have at least one healthier option on the table.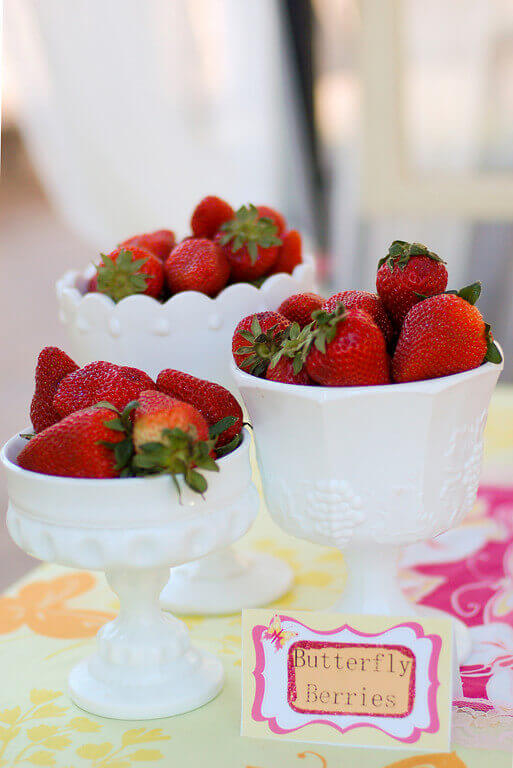 I should note here that Paula from Frog Prince Paperie made these GORGEOUS table tents for me. Stunning. I didn't want to mess them up with my absolutely atrocious handwriting, but letting my seven and two year olds be in charge of the glitter was almost as bad. I didn't do service to her gorgeous design, but my kids had fun, and I was out of time. Something has to give in the last hours before a party!
I found some adorable flower pot shaped chocolate molds on one of my trips to my local cake decorating store.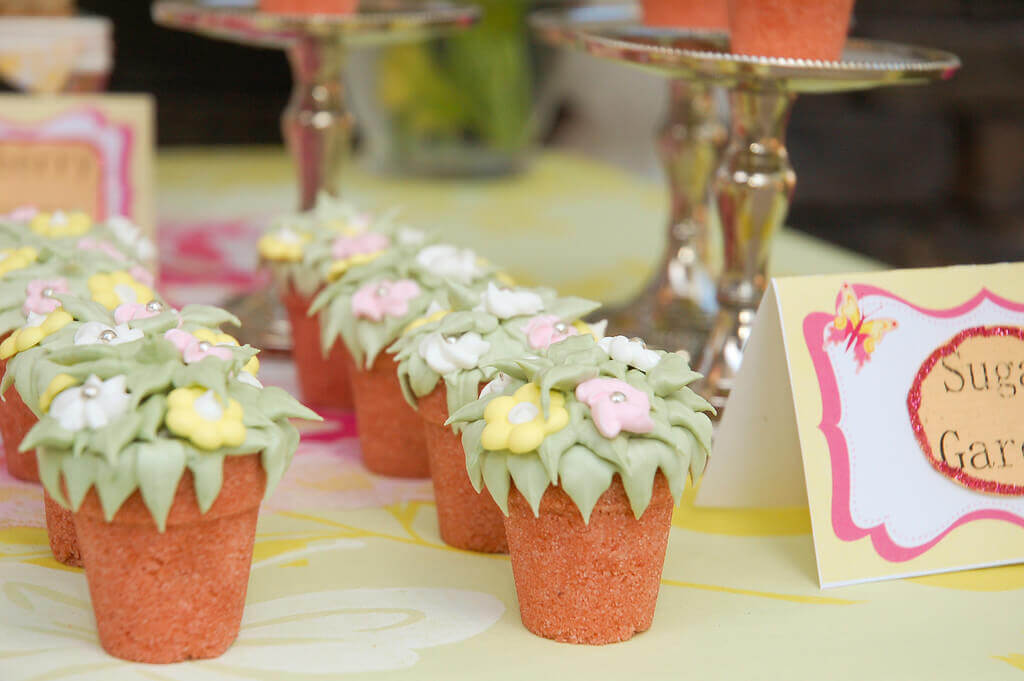 But knowing that temperatures would be around 100 degrees for the party, I knew I couldn't do chocolate. I remembered gorgeous sugar eggs that my grandmother used to make, and decided to use thattechniqueso I could still use the absolutely precious mold. (Tutorial on this also coming up next week.) Sure, it was like handing a kid a giant sugar cube, but they looked adorable, and the kids loved them! Turns out it took them a long time to eat, too, so it wasn't quite the sugar bomb I'd feared.

Come back Monday for the final post on the butterfly party, and the start of the tutorials. I have all sorts of great projects to share!