Printer-friendly version
If you read the gingerbread tutorial we wrote for Frog Prince Paperie's blog, you know that we take gingerbread houses very seriously in my family! We've made literally thousands of houses over the years. This year I made about 70 houses, and threw fiveseparategingerbread house parties. That's a record for me, but I'm only ramping up to what my mother used to do at the height of Operation Gingerbread! It's a lot of work, but some of my fondest memories are of my mother making gingerbread and throwing parties for my preschool, my girl scout troop, and of course my friends and family. I'm passionate about continuing the tradition, and giving that same gift to my two beautiful daughters.

I'll get back to the Sugar Plum Fairy party tutorials again tomorrow, but I wanted to interrupt that line of posts to bring you photos from our annual friends and family gingerbread house decorating party. This year I went with a Swedish theme--so pretty with its handcrafted elements, and simple red and white color scheme, with accents of silver.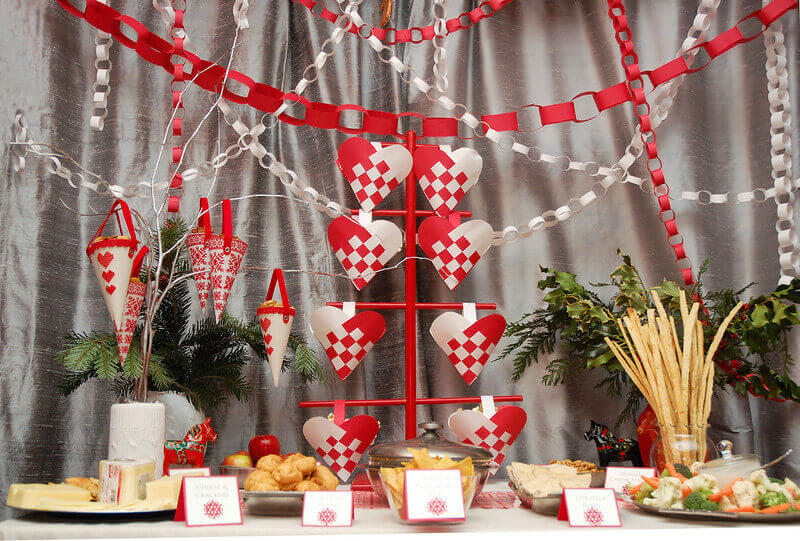 The first thing you have to realize about a gingerbread house decorating party is that the LAST thing you'd ever need is a dessert table. People nibble a candy here, swipe a bit of icing there, and before you know it, they're all practically in sugar comas. So I decided to create an Antidote Table instead. A table styled inthesame way I'd make a dessert table, but full of savory snacks. We served asiago cheese sticks, crudites, tortilla flats, spinach artichoke dip (a healthy low fat version that I like better than most recipes!), cheddar puffs, a cheese plate, apples, cashews, chex mix, and popcorn. And pizza from our wood-fired oven, of course, but that wouldn't fit on my already-crowded anti-dessert table.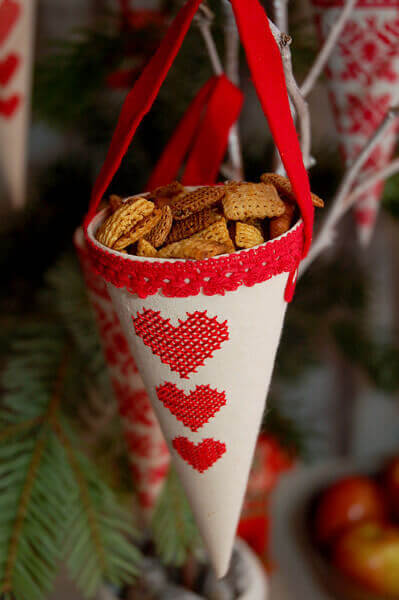 I made Chex mix and put it in these incredibly cute cones I found at Ikea. They were perfect, and even came with a plastic lining so that I didn't have to worry about the butter from the Chex mix making unsightly grease spots! I needed a way to display the cones, so I spray painted some sticks silver, secured them in a vase filled with silver rocks (a happy accident from the overspray, and looked so much better than the plain rocks I needed to create enough weight to make the display stable).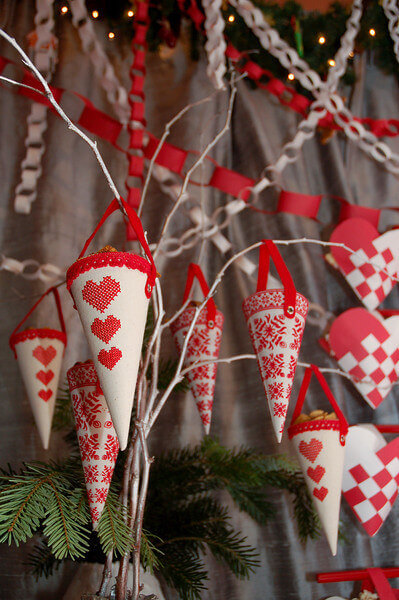 I used one of my snowflake punches with a Scandinavian flare to make simple table signs like this: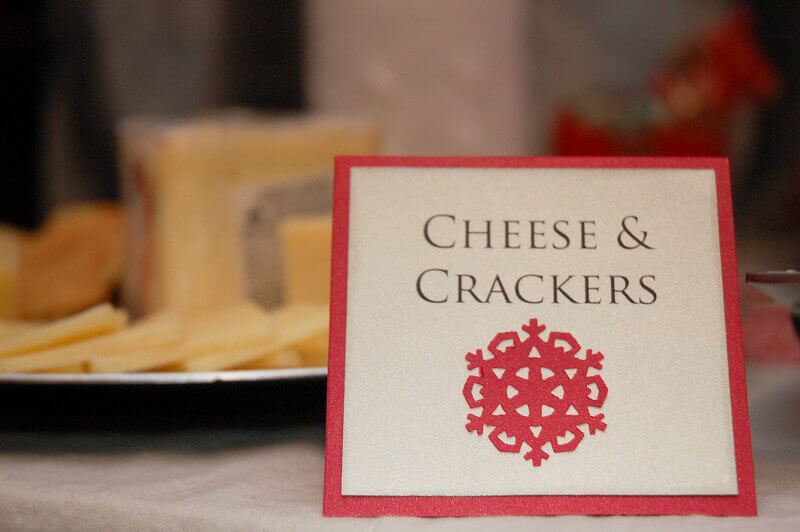 It may not have been as glorious and adorable as the Frog Prince Paperie's designs, but I loved the way the simple graphic look worked for this party.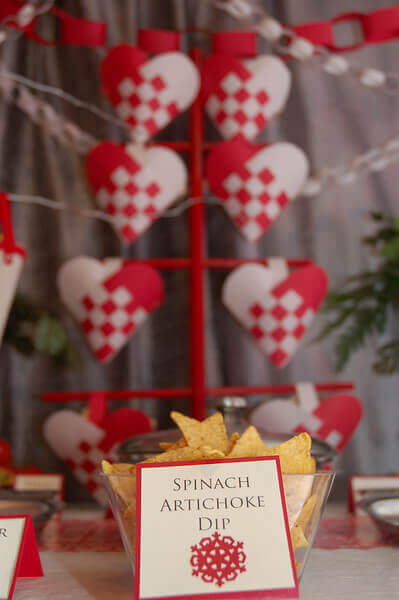 I knew from the moment I conceived my Swedish-themed savory table, that I wanted somehow to use the Swedish cookie tree my dad made for my mother years ago. Usually, gingerbread men, decorated sugar cookies, and sometimes apples are hung from these simple cookie trees. I eventually decided to make traditional Swedish woven heart baskets, fill them with popcorn, and hang those from the cookie tree.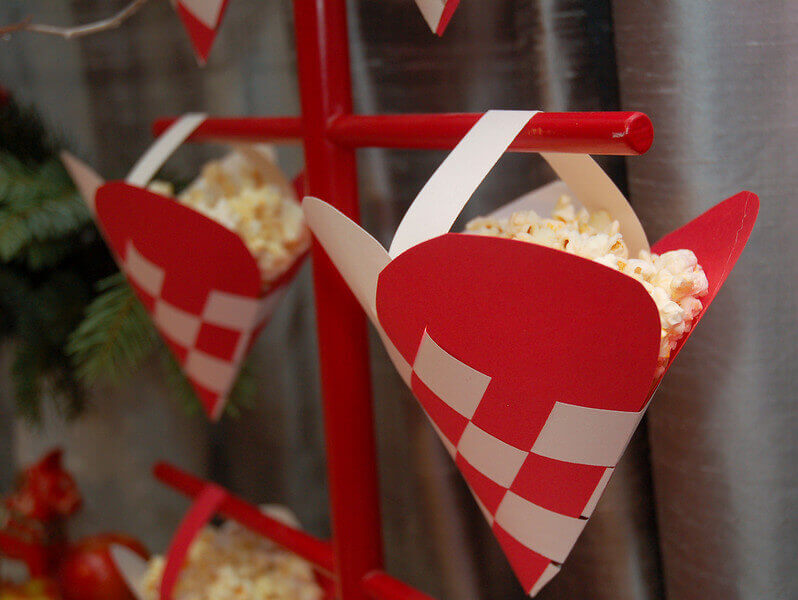 I over-booked myself (as always) and my mother came to my rescue, making a few extra gingerbread houses for late RSVPers, the tortilla flats, cheddar puffs, and my favorite Asiago cheese sticks for me. Thanks, mom!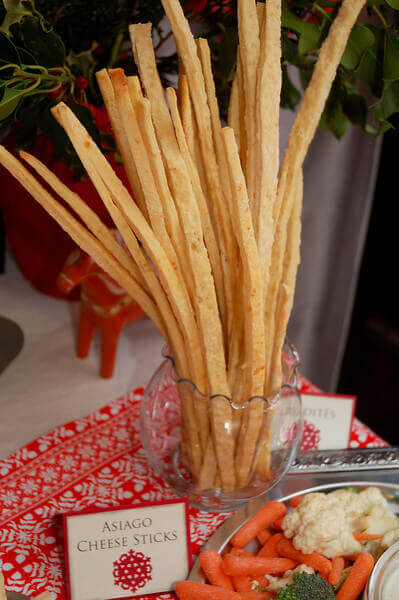 You can also see in this picture one of the table runners I made. I actually just used some wrapping paper I also bought at Ikea. It was fast, looked fabulous, and couldn't have been better for cleanup!

Other decor included little dala horses scattered around the tables, silver dupioni silk curtains as the backdrop (stolen from my master bedroom, where I'm working on a new gray and yellow color scheme), and swags of white and red paper chain made in various sizes and hung haphazardly over the tables.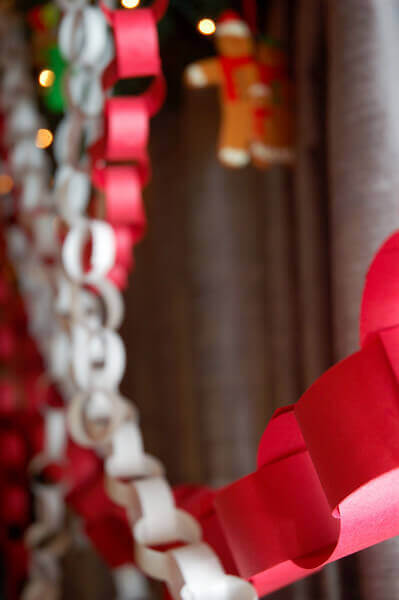 I was also particularly happy with how the vases turned out: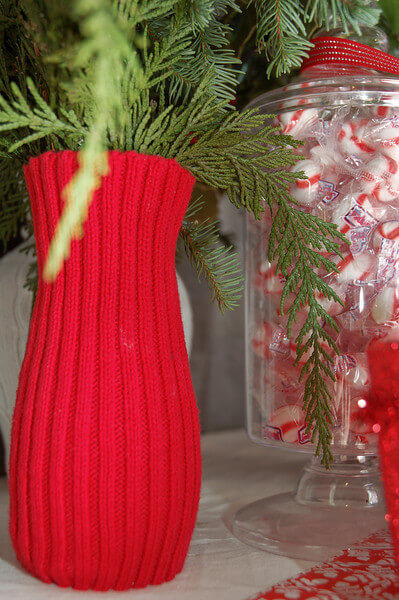 I bought a red and a white sweater from the thrift store for just a few dollars, and cut off thesleevesand slipped the knit tubes over vases I already had in the house. So easy, and such a fun way to customize absolutely every element of the table!

I set up twoseparatebeverage stations for this party: one full of kid-friendly drinks, and the other with decidedly more adult libations.

I always make mulled cider at my holiday parties. It's delicious, it's thematic, but best of all, it makes the whole house smell absolutely amazing! Using a percolator for this task makes in an incredibly quick and easy element to throw together for any celebration.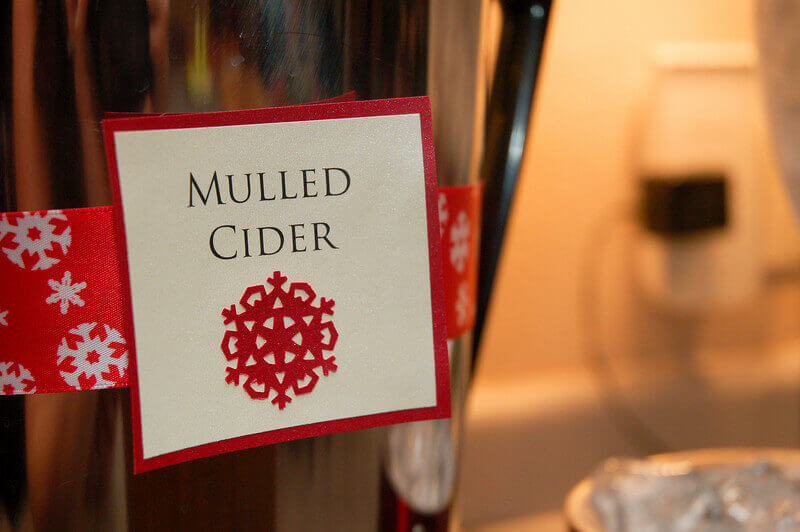 I found the perfect paper cups and plates at Target!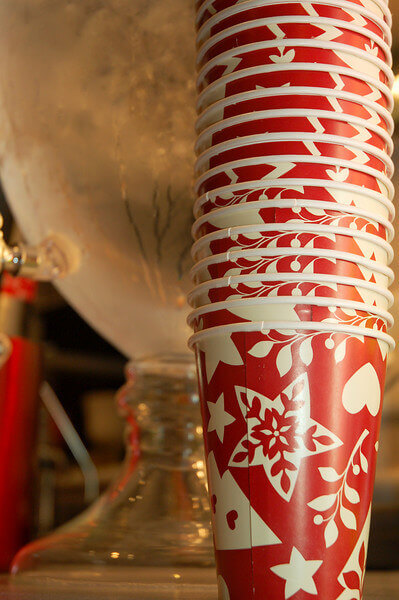 I tried to get red and regular cream soda for the party, but I wasn't able to find red cream soda in bottles anywhere. Who knew it would be so hard to find? I settled on cream soda and green apple soda, instead.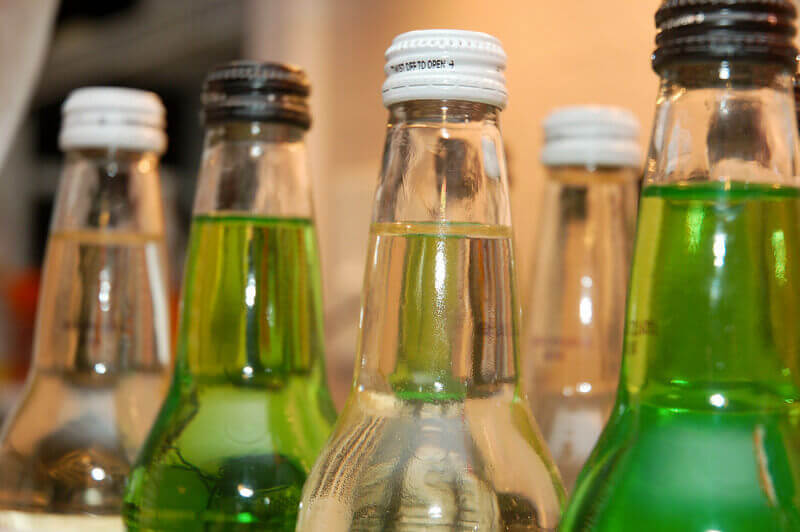 For the adults, we had a selection of wines and beers...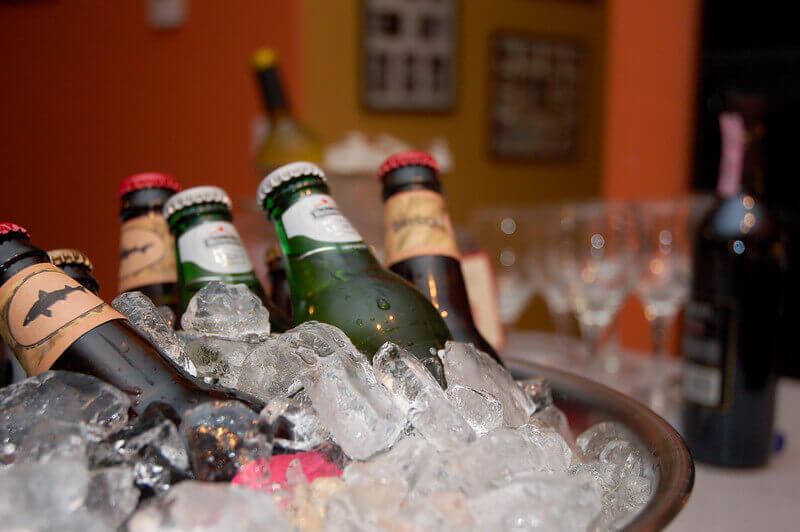 ...and I couldn't resist making glögg, a traditional Swedish mulled wine drink, especially popular at Christmastime. I expected it to mostly be a novelty, but it turned out to be quite popular, even here in Phoenix, where it was unseasonably warm that night!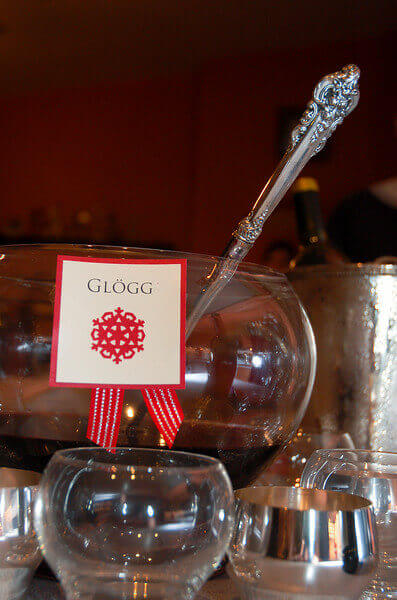 Next year, if I can manage to order a sugar loaf in enough time, I'm going to try the flaming version!


This post seems to have gotten quite long enough already, so I'm going to break it down into two posts. Tomorrow, you'll see the main event: the gingerbread houses and the candy table!!
Thinking about making a real gingerbread house this year?  Check out my new e-book with all of the recipes, tips, techniques you'll need, and five different gingerbread house templates: