Printer-friendly version
Our black light Halloween party had a separate drinks station, so needed its own decorations and backdrop.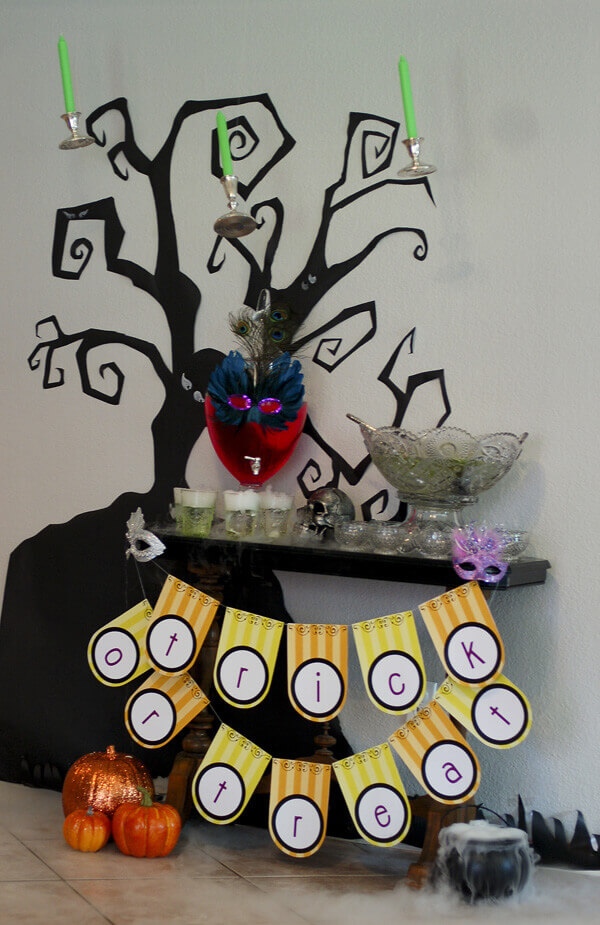 This paper tree was just the right blend of spooky and cute.  My three year old loved it so much, she asked if she could have one in her room!  
It looks like a fancy, expensive vinyl wall cutout, but actually, it's just made from paper.
All you need is bulletin board paper, tape, a pencil, and scissors.
I bought my bulletin board paper from Joann Fabrics.  It's usually $7.99 for a 4x12 foot roll, but with a 40% off coupon (I always use a coupon!) it was less than $5.  
Tape paper to the wall where you want the tree to be.  You don't want to be moving this after you're done.  All those branches are pretty delicate and easy to rip, and it's easier just to do it in place.  
Sketch a tree shape with pencil.  I chose a more cartoonish design, but you could easily make a much more realistic silhouette.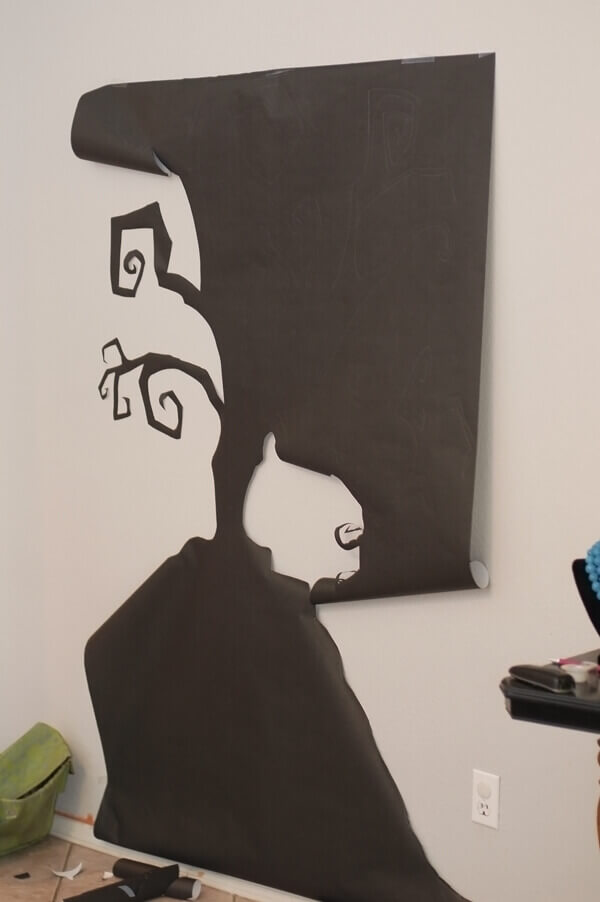 Then it's just a matter of cutting out the shape!  I used scissors for the most part, but there were a few areas where an Exacto knife was handy because of the angle.  Just be sure not to slice into your wall if you use a blade.
As you cut out each branch, tape it to the wall.  This gets it out of your way, and helps support the rest of the paper as you cut your way around.  I started at the bottom and worked my way up, so that the original tape holding the paper to the wall could do its job for the longest amount of time.
I used rolled tape to adhere the paper tree to the wall.  Mostly because I couldn't find my double stick tape, but I actually liked the way it gave a little bit of dimension in a few places.  It made the white back of the paper catch and reflect some of the black light glow, and made the tree look especially good under black light.
For more black light fun, I also painted on some eyes with white paint that glowed nicely under black light.  
This backdrop was pretty much ruined when I took it down, so this isn't a good craft for creating something that can be used year after year.  But for less than $5, I'm ok with that!  And I still have enough paper left over to do it again next year if I want.