Printer-friendly version
When I was a kid, I was an Irish step dancer, and I absolutely loved it.  I took every class under the sun--drawing, horseback riding, flute, violin, piano, ballet, tap, modern dance, tennis, ice skating... you get the point.  And I loved doing it all, really!  But Irish dancing is the one thing that really stuck with me, and that I absolutely love to this day.  A night at a ceili (Irish social dance) sounds like my idea of perfection.  When I enrolled my oldest daughter in Irish dancing lessons, the most important thing to me was that she love it, too.  I was very low pressure and hands-off about it, hoping that she'd come to love the art form as much as I do.  When she asked for an Irish dancing themed 9th birthday party, I knew my patience had paid off!
I'd been so busy leading up to the latest issue of Festivities magazine, that I only had a few days to throw this party together.  No big props made, very few crafty elements--but this party is proof that you don't need all of those things to make a party that's a ton of fun.  And that's the most important element in any party!
Decor was fast and easy, but colorful and perfect for the theme.  I created a simple backdrop with crocheted tablecloths, and then hung Irish step dancing costumes.  Some were mine, one was Ainsley's (the birthday girl), and several were generously loaned to us from Kirsten, one of the instructors at the Bracken School of Irish Dance.  You might recognize some of the dresses from last year's TCRG party celebrating Kirsten becoming a certified Irish step dancing teacher.
Music is inextricably a part of Irish dancing, and instruments made the perfect props for our party.  No crafting necessary!   The guitar and two violins are ours, and I borrowed the bodhran (Irish drum) and two harps from my parents.  My father actually built those two harps!  
And, of course, Irish step dancing shoes (hard shoes and soft shoes) accented the display.
I didn't have much time for baking, so cupcakes were a fast, easy solution.  One was topped with a golden pressed-sugar number 9 cake topper, just for the birthday girl.
I'd agreed to make cookies for a friend's baby shower the day before the party, so instead of baking for each event, I just doubled up and made duplicates.  These are my favorite Italian biscotti cookies.  Not very Irish, but oh-so-delicious!  Soft, pillowy bites of yumminess.
I made royal icing soft shoes and poodle socks, and then let Ainsley be in charge of decorating the sugar cookies.  she loved being involved in teh party prep, and I loved not having to do one of the items on my list!
Snickerdoodle blondies are the birthday girl's favorite cookies, and are outrageously fast and easy to make.  Lemon tea cakes were from the baby shower effort.
I had to make Irish soda bread, of course!  It's so fast and easy to throw together, and absolutely delicious.  Here's the link to my favorite recipe, posted last year.
Those of you not in the Irish dancing community might not realize that it's intensely focused around competition.  We do plenty of shows at St. Patrick's day, of course, but the rest of the year, it's all about the competitions, just like any other rigorous sport.  Except with much sparklier dresses.  And curly wigs.  And tiaras.  These little trophies were a nod to that important element of Irish step dancing.
Activities were kept very basic.  I found an old hotel ballroom dance floor on Craigslist--my major splurge of the party, but I'll be able to use it again and again.  In fact, it's in the garage right now, where Ainsley uses it as a practice dance floor!
I set up a photo booth for the kids, with Irish dancing style crowns instead of party hats, trophies, and of course, extremely curly wigs.  
The wigs were a particular hit with the girls who weren't from our Irish dancing classes.
The Bracken school's Feis (say FESH, it's an Irish dancing competition) committee graciously let me borrow the award podiums we use at the annual Bracken feis each January.  
They were enjoyed in both the expected and unexpected ways!
We had Irish music playing the whole time, and got most of the guests on the stage to teach the Seige of Ennis, a fun group ceili dance.
Ainsley was especially tickled that several of the older dancers from the school came to her party.  There had been a competition in town earlier that day, so they came all decked out in their wigs and crowns.  How perfect!
And, of course, there was a lot of dancing!
For favors, I made shoe bling for each girl.  This is an Irish dancing thing.  It's an elastic band that straps around the hard shoes, to add some sparkle and flash to the basic black leather shoes.  But they were just as much a hit with the non-Irish dancers as the dancers!  The girls loved the idea of adding some extra sparkle to their everyday shoes. 
I also made some simple hair bows in a blingy Irish dancer style in case someone wasn't interested in the shoe bling.  They liked the bows, but I shouldn't have worried!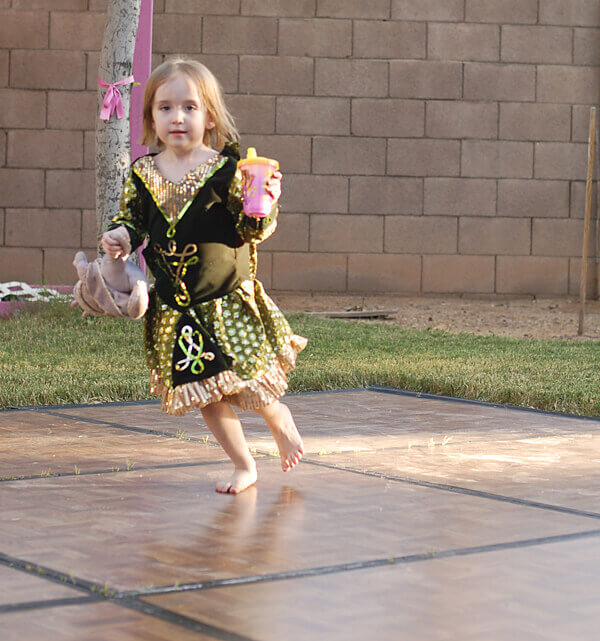 One of the things I love about Irish dancing, especially in a social setting, is that it's so family friendly.  You see everyone, from babies to great-grannies dancing and having fun together at ceilis.  Ainsley's little sister, Niamh (Say NEEV, it's Irish), loves to join the fun!  And you couldn't keep me off the dance floor if you tried.
I hope this post got your toes tapping and ready for St. Patrick's day!  I can't wait for the performances this year.  For the first time, Ainsley and I are going to be dancing together, performing a mother-daughter two-hand reel.  It may be corny, but I've dreamed of this moment since the day she was born!