Printer-friendly version
Did you know that the World Championships of Irish step dancing are just a few short days away?  Well, I don't blame you if it had escaped your attention, but for dancers, it's a HUGE deal.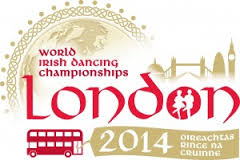 Mary Elizabeth, one of the dancers from the Bracken school of Irish dance (our school here in Arizona) went off to college this year in England, and started dancing with the Kelly Hendry School of Irish Dance.  Mary Elizabeth, an exceptionally gifted Irish step dancer who has been to the Worlds many times, has been drilling some of the students at Kelly Hendry as they prepare for the world championships in London next week.  
Mary Elizabeth's mother was preparing to fly out to visit her daughter in Newcastle, England, and asked if I might be interested in sending along some special cookies for her daughter and some of the girls heading to the World Championships.  Of course I wanted to!

 I made some simple heart-shaped cookies inspired by the colors and logo of the Kelly Hendry school.  Royal icing transfers of soft shoes and hearts made these easy and quick.  I'm getting really good at making oodles of icing ghillies with poodle socks.  ;-)
The school dresses (and the team that took home the world championship ceili trophy!) inspired some fun dress cookies.
And I made a very special solo dress cookie for Molly, the girl Mary Elizabeth is coaching for the Worlds.
On the right, the dress Molly will be wearing to the World Championships in London.  The left, the delicious edible version.
I tried to incorporate the logo for the London Worlds, but whoever made that logo design made it really busy.  This is as close as I got.
This is actually the second time I got to make cookies that flew overseas to the World Championships!  Check out the other ones I made for Makenzie, another one of our fabulous Bracken dancers.  
Good luck to all the dancers heading to the World Championships of Irish Dance!