Printer-friendly version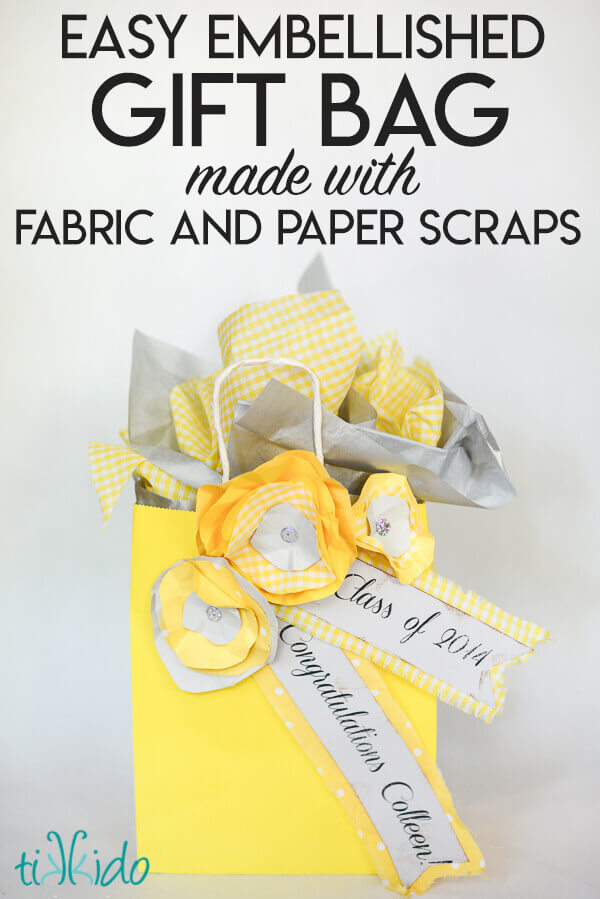 I'm all about entertaining on a slim budget, so I often hit the dollar store for inspiration and supplies.  Sure, the stuff in there isn't all that great on its own (at least usually), but with just a little bit of creativity, it can be transformed into something custom and beautiful.
Like this gift bag I made for Colleen's Shutterfly-inspired Graduation party.  Well, I didn't make the bag.  I bought that at the dollar store for $0.99.  They always have gift bags in plain colors there, and I easily found the perfect, sunshine-yellow one for what I wanted to do.
I started by making these incredibly easy paper and fabric flowers.  You could easily use just paper, but I wanted to add a few fabric touches to the bag to add extra texture, too.  Start by cutting circles of paper and fabric out of your scraps.  All different sizes.  Don't worry about making perfect circles--in fact, imperfect circles are preferable.  
Crumple the paper circles up, then open them back up again.  Really.  Smush them.  You want the circles to be crinkled and somewhat crushed.
Stack the circles of paper and fabric, largest on the bottom to smallest on the top.  Glue the layers together with a hot glue gun.  I put a sequin in the center, but these look adorable using buttons or rhinestones as the flower centers, too.  
Note:  this technique does not work with just cut circles of fabric.  Without the dimension added by crinkling the paper, it looks flat and uninteresting.  
The pennant shape I used for the tags was inspired by the Shutterfly invitation, and was repeated throughout the party.  These gift tags were incredibly easy to make by printing out my message on cardstock, then trimming them into the pennant shape.  I cut slightly larger pieces of fabric, and trimmed those into the pennant shape, too (just slightly larger than the cardstock version).  A little bit of rubbing and pulling on the cut edges of the fabric added a charming, shabby-chic look to the gift tags.
Once I had all the elements assembled, it was a simple matter to attach them to the plain yellow bag with my hot glue gun.
The final special touch was the addition of scraps of the yellow gingham fabric stuffed in with the silver tissue paper in the bag.  I used up more fabric scraps, and the finished gift looked so much more premium and custom!  Just try buying a gift bag with fabric!  You'll pay out the nose for it.  But this was a fantastic way to use up some scraps of fabric that I had sitting around, left over from past projects.  I can't bear to get rid of it, but I had no particular use for it until this project came along.  
A gorgeous, perfectly-matched, custom gift bag, for just one dollar.  That's the kind of party gift I like.